Sarrissa Jeng was a Jedi Knight who fought and died in the Battle of Geonosis in Attack of the Clones. Actress Karen Wilson played Sarissa Jeng in Attack of the Clones.
You have to go to the Internet Archive Wayback Machine to find an illustration of Sarrissa Jeng from "Gotal Standoff Ends Violently" from the Holonet News. The art is by Joe Corroney.
Jeng is also one of the four figures in the Battle of Geonosis: Jedi Knights pack pictured below.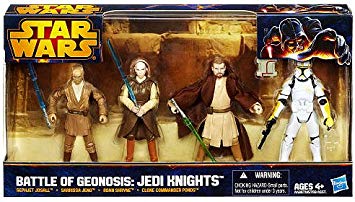 Check out the entire list of women in 365 Days of Star Wars Women in the Women in Star Wars Index. It includes highlights from each post plus notes which posts include new 365 interviews with actresses, writers, artists, and more.