Alyssa Bradley was the Art Director for the docuseries Looking for Leia. She answered a few questions via email for this interview.
What was your introduction to Star Wars?
I don't remember a time when Star Wars wasn't in my life. One of my earliest memories was watching A New Hope with my dad when I was around the age of 4. It completely captured my imagination and I was just as obsessed with watching the "making of" documentary of the original films. Star Wars is the thing I credit to giving me my love of genre, my passion for the visual arts, my fascination with storytelling, and how stories are made.
Do you have favorite films, characters, or Star Wars books and if so why are they your favorites? Have those favorites changed over time?
I immediately connected with Princess Leia as a kid, and she was my favorite character and role model pretty much all my life. I loved Luke too, so I was a Skywalker twin stan for a long time. Then as I got into Clone Wars, Ahsoka became another favorite. Now that we have the Sequel Trilogy, I adore all the new characters and I love Star Wars more than I ever have before. I love Rey for her kindness and strength, Kylo for his conflict and rage, and Rose for her passion and optimism (just to name a few!)
My favorite thing about Star Wars is that it's so expansive and there are many new stories to enjoy and characters to meet. There's also so much to revisit. I enjoyed the Prequels when I was younger but recently I've rekindled a new appreciation for Padmé. So my favorites haven't really changed, I now just have more of them!
Did you always want to have a career in graphic design? What was your path to get to where you are now as a visual storyteller?
My path has been all over the place, and honestly I'm still in the middle of it and figuring things out! The arts have always been a huge part of my life, so I think I always knew I would have a creative career even though I didn't have a clear idea of what that could look like. I think I initially pursued a graphic design degree because it was the "most obvious" career for an artist. In high school I took a Photoshop class and loved it, so continuing to learn about design work and choosing to get my degree in it was a natural thing to decide to pursue in college.
The more I designed the more I loved it, but I wanted to explore other mediums, too. I took classes in photography and illustration, and ended up adding a second illustration major. Post-college I found myself surrounded by a lot of indie filmmakers and I worked on their productions, so that's how I received training and experience in video and film. Now for my day job, I'm a video producer at Michigan State University.
Throughout my life I've had a lot of careers I was interested in: writer, Disney animator, comic book artist, designer, photographer, filmmaker…it's why I took so many classes and tried so many new things for a while. I felt like something was wrong because I couldn't pick just one thing to do with my life. At some point though, I realized that the common denominator of all these interests was actually a love of storytelling. Telling stories is one of humanity's oldest traditions, our brains are wired to process them, and it's how we create empathy and connection with each other. Celebrating and telling stories is something I have always felt like I was meant to do, it just took a while to discover and articulate that. I feel the most fulfilled when I'm working to tell a story, no matter what medium I'm doing that with.
How did you get involved with the Looking for Leia production and why did you want to be a part of the crew for this project?
Back in the spring of 2017 I remember reading an article on The Mary Sue about the project. Even though I had loved Star Wars my whole life, I never really connected with anyone in the fandom other than a couple guy friends (plus the guy who is now my husband). I only had one female friend who liked Star Wars too, so I just assumed we were outliers and that other female Star Wars fans didn't exist! When I saw not only that female and non-binary fans existed, but also Looking for Leia was shifting the lens to highlight them, I was completely amazed. I just knew I had to be a part of the project somehow and do whatever I could do help amplify these voices and stories.
I went to the Looking for Leia website and filled out the contact form and sent over my portfolio. I just assumed that Annalise would want a quote about how much Princess Leia meant to me or something. However, just hours later I had an email from her wanting to talk to me more about my skills and discuss creating an exclusive illustration for the Kickstarter campaign that was just about to launch. I honestly had not been expecting to ever hear back and was absolutely floored by her message.
After creating the Kickstarter illustration, things kind of snowballed and she asked me to design more rewards and merch for the Seed & Spark campaign and then the merch for the pop-up shop. Finally, I was brought on officially as the Art Director.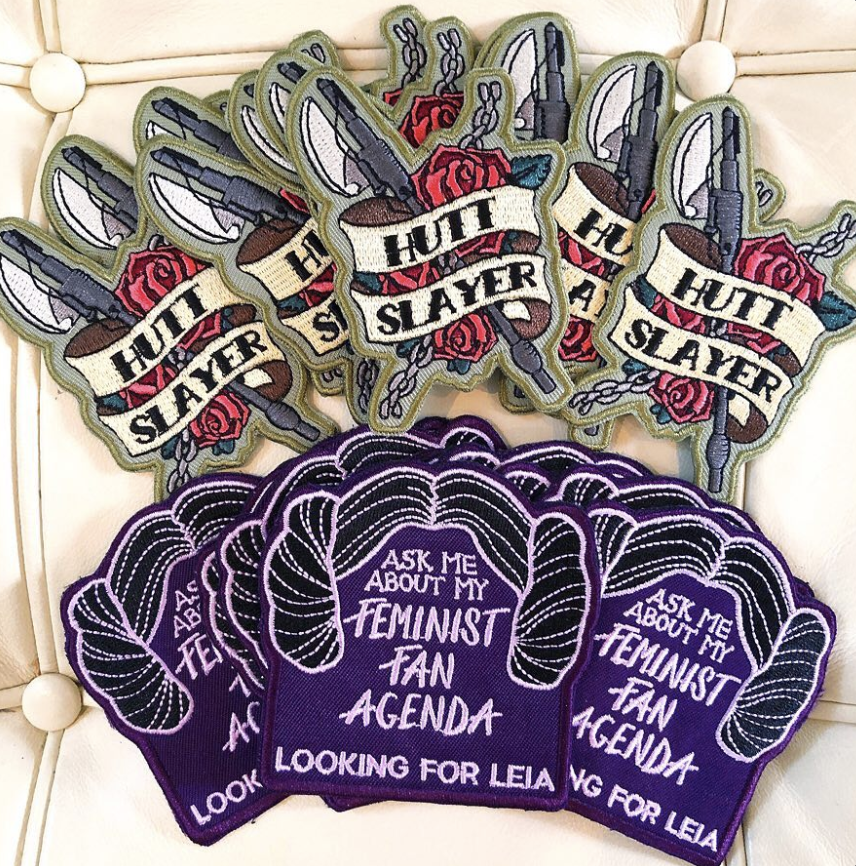 Can you talk a bit more about what your role as Art Director entailed for Looking for Leia and share some of the pieces of art you created that were your favorites (or maybe even most challenging or complicated) to produce?
As the Art Director, I essentially had my hands on all the art during production. In addition to designing merch, reviewing portfolios and creating a "wishlist" of artists we wanted to work with, I also created most of the motion graphics sequences shown throughout the series. My main responsibility was working closely with Annalise and thinking through how to create b-roll that would best visually emphasize what was being said on screen in each episode. Once we landed on the list of sequences we needed to create, we selected artists we wanted to commission for sequences that needed to be illustrated. I worked with the artists on the specifics of what we needed and managed the deliverables. After receiving their final illustrations, I took the pieces into After Effects and added animations, parallax effects, camera pans, etc.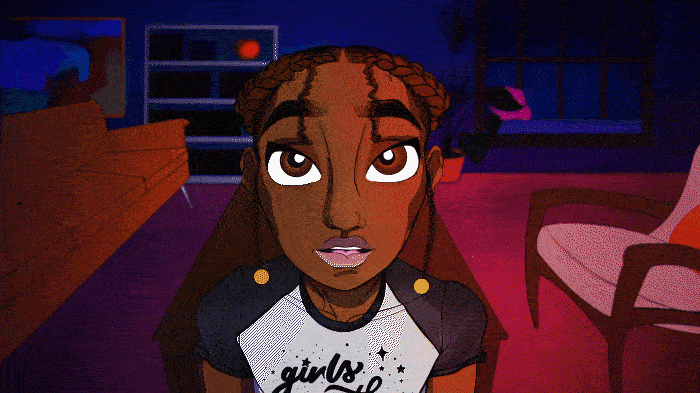 I didn't illustrate any new pieces for the series, but I did a ton of animating. Each sequence was fun to work on but had its own set of challenges, since After Effects is a newer program for me. We had sequences where we knew what we wanted to achieve but I didn't quite know how to make that happen in AE, so it took some research and a lot of trial and error. Some sequences were harder than others to make, but I learned an incredible amount throughout the whole experience and now I'm really comfortable with After Effects.
My favorite sequences to work on were probably Audrey Estok's basement scene in "More Than the Basement" and Sierra Edd's audience illustration in "What We Preserve". Both these illustrations are absolutely gorgeous, and I thoroughly enjoyed finding ways to give them extra depth and life, while not going overboard and distracting from the original work. That balance is tricky but so satisfying when you figure it out. There's a fun tool in After Effects that lets you make a digital camera and move it around a 2D scene, and we used that on both these illustrations. It's my favorite thing. I loved working on these sequences and I adore how they turned out.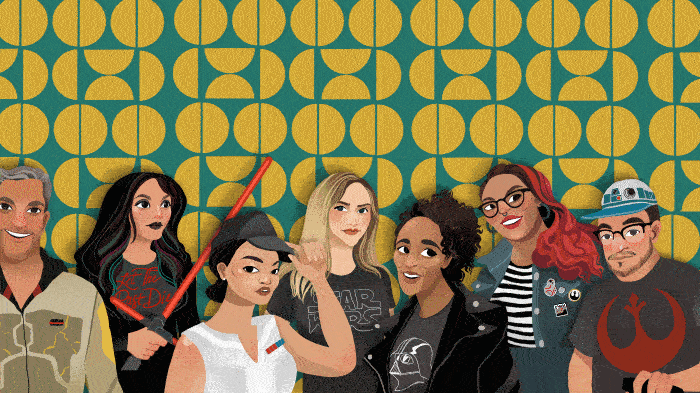 How did you find the artists you worked with on Looking for Leia? Was it a unique experience to work on such a female-driven project?
The whole creative process on this project has been incredible and refreshing. As I alluded to earlier, one of the early things we did in post-production was create a "wishlist" of artists whose work we loved. We scoured the internet and reviewed portfolios, and then made a list of all the artists we liked. While we weren't able to commission everyone on our list, it was important for us to include as many artists as we could that were also from a variety of backgrounds and experiences. Every single artist we worked with was a delight, and the illustrations they delivered to us exceeded all our expectations. You could really tell that this project is something that everyone is passionate about because it absolutely shines through all the work.
In my day job I have worked on a couple of projects with small teams of women, but nothing of this scale and definitely not in film production. It's no secret that the world of filmmaking is lonely and challenging for many groups of people, women included. So to work with this big team of creatives and producers, where everyone is on the same page and speaks the same production language and is all extremely passionate and kind and professional, it was just absolutely incredible to be a part of.
What was it like seeing people wear shirts and pins and other merch you designed for Looking for Leia in pop culture conventions in 2019?
It's really surreal, honestly, and it's been so encouraging to see how positively these designs have been received. I'm actually not new to making wearable designs. Back in college, I used to create shirt designs and submit them to "tee-a-day" sites that were really popular at the time. A few designs were picked up and sold but mostly it was low sales or just outright rejections. I remember one of my friends told me that my designs weren't selling because they were "too feminine." That always stuck with me.
Now, seeing the amazing reception to the Looking for Leia designs is almost hard for me to process. I wanted these designs to be a reflection of the beauty and joy I have experienced while working on this project and my love of Star Wars as a woman. These designs definitely have a feminine and whimsical touch, but it's been incredible to see people of all identities connect with them.
Do you have a favorite episode of Looking For Leia or one you're the most excited for audiences to see?
I adore all the episodes for different reasons, but I would have to say my two favorites are "What We Preserve" and "How We Carrie On". I've seen these dozens of times, but without fail there are specific parts in each that make me cry. They are both beautiful stories of creation, hope, and how Star Wars has helped preserve legacies. That's all I will say about the episodes, you will have to watch them for yourself 🙂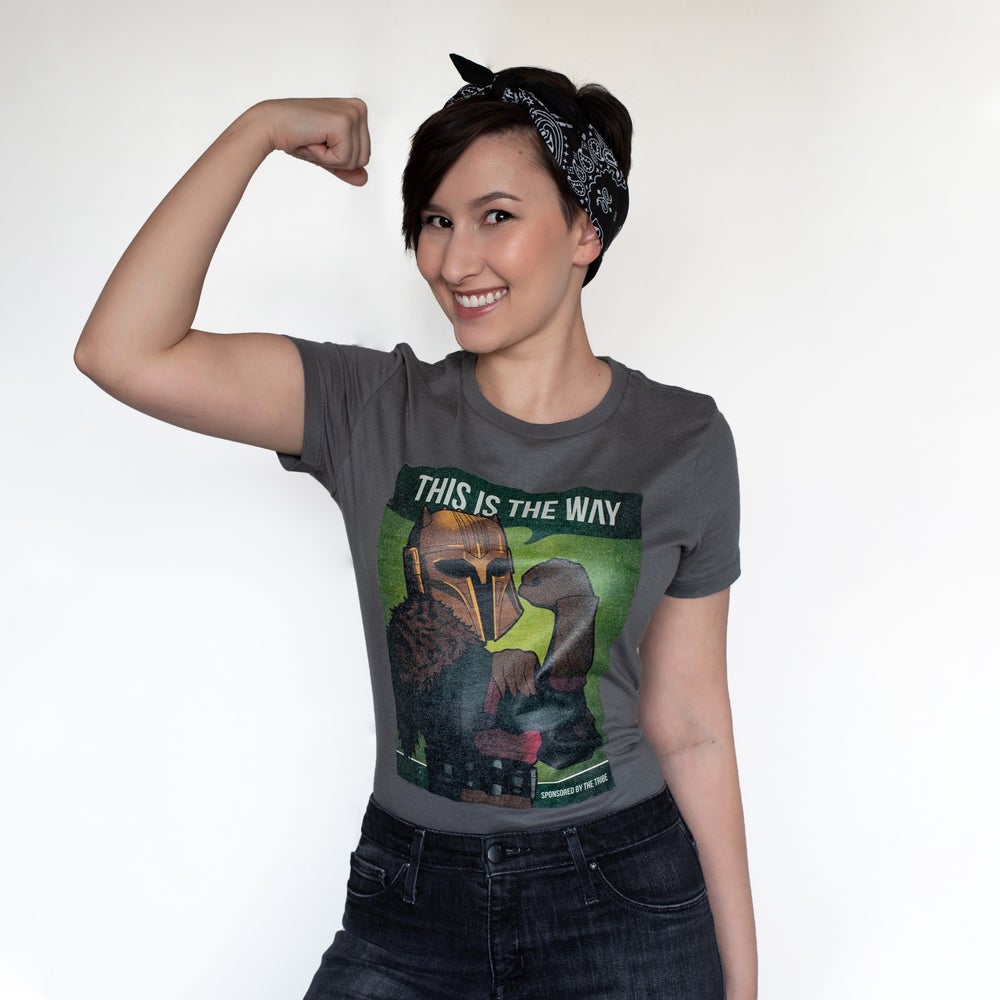 You recently created an image of the Armorer from The Mandalorian for a T-shirt for The Dorky Diva. How did you become involved in that project? What are your thoughts about the show so far?
The Mandalorian was definitely not a show I was thrilled about when it was first announced, but now that it's out I absolutely adore everything about it. I love the inclusivity and talent both behind and in front of the camera, I love the Mandalorian as a character and Pedro Pascal's acting, and of course I'm obsessed with everyone's favorite alien baby. When Savanna reached out recently and commissioned me to illustrate this piece, I was so excited and more than thrilled to do it! Being asked to draw Star Wars fan art is my favorite thing in the world. (note from Amy: you can buy a T-shirt or a poster of this design here).
If Lucasfilm asked you to design an illustration for Celebration Anaheim next year what characters do you think you would draw?
Oh wow, this is an incredibly difficult decision! I think I would love to do a diptych of Rey + Luke, and Leia + Kylo. I love how the Sequel Trilogy is about exploring legacy and the effects the past can have on us. Leia and Luke were my favorites as a kid and now I also love Kylo and Rey. So it would be a wonderful personal experience for me to be able to illustrate pieces that explore these character's relationships, parallels, and legacies.
Can you share any upcoming projects with us?
I can't but that's mostly because I don't have a lot lined up right now as far as I know! I hope to hit the con circuit with Looking for Leia and maybe pick my webcomic, Pandora, back up. However, one of the biggest things I discovered while working on Looking for Leia is that one of the things that brings me the greatest joy is working with other creators, uplifting them and being in a position to give them more work and opportunities. I'm not really sure where I'll end up or what I'll be doing in the future, but I want to do more of that kind of work. Telling stories, encouraging others, and lifting them up so they can succeed. Definitely the dream job.
You can see more of Alyssa Bradley's designs on her website.
Watch the entire Looking for Leia series on SYFY.
You can read all of the 365 Days of Star Wars Women posts here.