Zephee was Lumat's wife and the mother of Latara, Nippet, and Wiley. She appeared in Star Wars: Ewoks and Return of the Jedi.
Zephee's first appearance was in the 1984 children's book The Baby Ewoks' Picnic Surprise. She was referred to as Mama Ewok in that book. She also appeared in the book The Haunted Village.
It's not easy to spot Zephee in Star Wars: Ewoks because she only pops up in a few scenes. Here's a screenshot of Zephee and her husband Lumat from the episode "The Haunted Village."
And here she is with Lumat and her daughter Latara from "The Curse of the Jindas."
Special thanks to this article in Droids and Ewoks for help in identifying Zephee.
Zephee also isn't obvious or easy to find in Return of the Jedi. In the screenshot at the top of this article Zephee is seen in the sequence after Luke and Han's capture.
The 2013 digital card game Star Wars: Force Collection has been credited with inserting (retconning) Zephee into Return of the Jedi. Here's her card.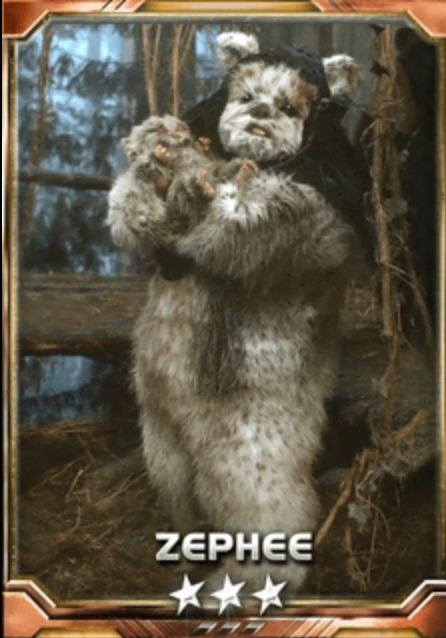 You can learn a bit more about Zephee on her Wookieepedia page.
You can see all of the 365 Days of Star Wars Women posts here.
If you enjoyed this article and other content on 365 Star Wars please check out the 365 Star Wars Patreon page.