Amy Richau is the creator of 365 Days of Star Wars Women. She's also a contributing writer for StarWars.com and had a brief but lovely opportunity to work at Skywalker Ranch in the Lucasfilm film archive in 2004-2005 when she went by Amy Witcher.
Here are several things you probably don't know about Amy (me, really, I'm the one writing this) plus what's next for 365 Days of Star Wars Women.
One of my first memories is of seeing A New Hope in a movie theater. The shot below is the entirety of what I remember from that experience. (although this screenshot is from the enhanced Special Edition version of the Death Star blast) But this probably explains why I've always had a soft spot for Death Star troopers.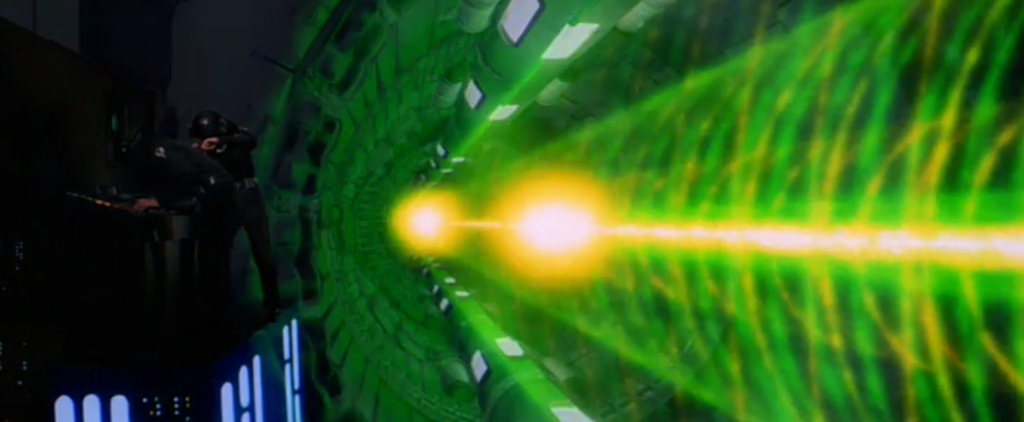 My Mom recently told me that when my Dad saw A New Hope in 1977 right after it opened he came home and told her that she and my sister and I (who were 7 and 4 at the time) needed to see it because we would all love it. He was right. Good people have always known Star Wars is for everyone.
Both of my parents loved movies – all kinds. Some of my favorite memories from my childhood are of watching movies with my parents. My Dad and I especially bonded over our love of the Indiana Jones movies and Close Encounters of the Third Kind. We even went on an impromptu road trip to Devil's Tower one summer. The photo on the left means even more to me since my father passed away in 2011.
Some of the movies that had the biggest impact on me were movies my parents recorded on their VCR. I watched these movies dozens and dozens of times. Some of them included: Citizen Kane, 1,2,3, Some Like it Hot, Silver Streak, Foul Play, North By Northwest, Little Women (the one with Elizabeth Taylor as Amy which I will always think is the best one), That's Entertainment, an animated version of The Lion, the Witch, and the Wardrobe, and a creepy live-action version of Snow White.
I was born in California but grew up in Montana (which I wasn't a huge fan of at the time). I returned to California for college and wept like a lost child at the mall when I saw A River Runs Through It in a movie theater my freshman year. I still love that movie.
I talked my way into an interview for a movie that was filming the summer between my sophomore and junior years of high school in Montana. The two women who ran the art department couldn't hire me because of my age (16) but let me hang out there all summer. This was my first film credit as a Production Assistant. The movie was Bright Angel and if you can find it you should watch it. The cast was amazing. Dermot Mulroney and Lili Taylor were extremely kind of to me (I still have the book Mulroney gave to the cast and crew). I met them at the wrap party but sadly didn't get to meet most of the other cast – Sam Shepard, Valerie Perrine, Burt Young, Bill Pullman, Mary Kay Place, Delroy Lindo, Will Patton – seriously, they are all in this movie no one has heard of and I think I'm leaving some people out.
My first real job after college was working in various positions on a campaign finance proposition campaign in California. I worked on this 5-7 days a week for over a year and when we lost by less than .5% I got really drunk and threw up on the Santa Monica Pier on election night (classy).
I worked for a stock footage library at one point. There was a really demanding secret client that wanted a ton of historical footage. That job lasted forever and I pretty much hated them until I saw Apple's "Think Different" commercial late one night in my Burbank apartment. OK, Apple, you are forgiven.
I have a Film Studies degree from UC: Santa Barbara (which was very focused on film history, analysis, and theory). I made a few very short films and no, you will never see them because they are really, really bad (really). As an aside, my freshman dorm room had an ocean view. I'm not sure why I don't still live there honestly. I enjoy any excuse to go back to Santa Barbara.
Years later I got a Film Preservation Certificate (I'm putting that all in caps for some reason) from the George Eastman House in Rochester, New York. Through that program, I was able to visit the top film archives in the US and worked at one of them for a while – the UCLA Film & Television Archive in Hollywood.
Some of the nicest people you will ever meet work in film archives – except the guy from the Academy Film Archive who told me he put me on the list to be a seat filler for the Academy Awards and then "forgot" after he asked my friend to go with him to the show as his date – fuck that guy. But seriously, film archivists work in not great conditions and make very little money. All because they love movies. If you know one take them out to dinner.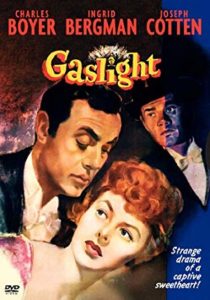 I also worked for several years at YCM Laboratories which is the lab that did some of the work on the Star Wars Special Editions (that was right before I got there). I learned a lot of amazing things there, met a lot of wonderful people, and worked on a bunch of great films including both the US and British versions of Gaslight (timely).
I did a lot of film repair and quality assurance screenings for the first serious DVD restorations for several films. I repaired the best surviving elements of Citizen Kane (the original negatives were destroyed in a fire years ago) and the 3-strip original technicolor negatives of The Adventures of Robin Hood and Gone With the Wind. Talk about holding history in your hands. These negatives were both historically irreplaceable and highly flammable (because they were made of nitrate) – so no pressure. Fun fact: some of the "fades" in those 3-strip technicolor negatives were the result of the film being dipped into a chemical that removed the emulsion. The original negatives!!!!! Not so fun fact: you will never feel as bad as the day you are working too fast and rip about a foot of the best surviving elements of Citizen Kane.
Despite occasionally destroying a frame or two of negatives from films you love while you are trying to help them (sorry about that Aliens) I will smugly point out that since Christopher Nolan in 2014 awarded an Academy Award of Merit "to all those who built and operated film laboratories, for over a century of service to the motion picture industry" in my mind I have my very own Academy Award shared with many, many other people. Which is nice since the people who work in film labs are rarely if ever credited in DVD/Blu-ray restorations even though some of them worked dozens if not hundreds of hours on these films. The same can be said of several women I profiled in 365 – most recently Gloria Katz and Liz Moore – which isn't a comment on gender (this happens to men regularly as well) but more a comment on how the making of a film involves an incredibly large group of people that can rarely be captured in the end credits.
While I was working at YCM I went to my ten-year high school reunion and soon after fell in love and married a guy I knew mostly as the geek whose lab report I may have snuck a peak or two at in Chemistry class that one time. Weird, right? His aunt was my 6th-grade teacher. The best man at my wedding ended up being one of my co-editors from our high school yearbook. It's practically the plot of a Netflix Christmas movie! We've been married over 13 years and have two kids, two cats (Maverick and Goose – Goose is very excited for Captain Marvel – they are both excited for the new Top Gun movie), a leopard gecko named Hollywood (my daughter loves a theme), and a betta fish named Red because he's red and my son named him.
I would like to point out I'm REALLY restraining myself by not putting in here a photo of my high school yearbook that shows what my now husband wrote in my yearbook. I will say that there may have been a "Live Long and Prosper" doodle in there though. I highly recommend marrying a geek.
There's a long story about how I got my job at Lucasfilm (this was after YCM and before getting married) and an even longer one why I left and didn't force them to remove me kicking and screaming from Skywalker Ranch even though it was always supposed to be a short-term contract.
Even though the job at Lucasfilm was entry-level, which was a few steps in the wrong direction career ladder wise for me, I really enjoyed it because – well, Star Wars. Sadly I didn't get to meet many people who worked at Lucasfilm at Big Rock Ranch (the Presidio campus opened a few weeks after my last day) or even the rest of Skywalker Ranch because the film archive at Skywalker Ranch was (and I'm guessing still is) isolated from pretty much everything else – plus I was super shy back then. But I made one of their yearbooks (I think the 2004 one).
While I was at Lucasfilm I helped collect information for a database that now doesn't exist and did a preliminary catalog report on the original trilogy deleted scenes which had not yet been released. One day I helped someone in London by finding and shipping them a few boxes of audio elements. For this one very basic thing I ended up with a "Special Thanks" credit complete with blue letters and starry background on Star Wars: A Musical Journey which came as a bonus disc with the soundtrack to Revenge of the Sith. If I remember correctly it's like a Star Wars music video compilation hosted by Ian McDiarmid. They really should re-release that thing.
Lots of amazing and fun and sad and interesting things have happened since I moved from the Bay Area to Colorado 13 years ago. I'll save those stories for another time.
So what's going to happen with 365 Days of Star Wars Women in 2019 and beyond? Here are a few thoughts.
I plan on adding posts (I have a long list of women and characters who didn't make the 365 for one reason or another) but not daily, maybe weekly. But for Jan/Feb perhaps not at all. A short break seems wise.
Long-term goals for the site include a new overall look, an actual logo (forever at the end of my to-do list), and better searching.
I also hope to add interviews to older posts and update some 2018 posts with new information (although I'm not going to update every post – this will always be more like a Star Wars time capsule than an updated wiki).
I hope to write more analysis content not only about the women from 365 but Star Wars topics in general.
I'm also hoping to dive back into a site I barely started See Classic Films. Especially since people keep subscribing to that newsletter (apologies if you are one of them since I haven't sent anything out this year).
Thanks to everyone who helped me throughout the year creating all of this content and to everyone who read and shared the articles and interviews. A special thanks to all the women who did interviews for 365 – you all inspired me in different ways and I hope to thank you all in person someday soon!
And keep those suggestions for women and characters coming!
MTFBWY
Amy
P.S. I'm going to be at SWCC next year. Please say hi – and if I have my act together I'll have 365 stickers or buttons or something else fun to hand out. Like trading cards …