Julie Dolan has voiced Princess Leia in Star Wars Rebels, Star Tours, LEGO Star Wars: The Freemaker Adventures, and several video games. Julie was kind enough to answer a few questions via email for 365 Days of Star Wars Women.
What was your introduction to Star Wars? Do you have a favorite film, character, or time period?
I saw the original Star Wars film (Episode IV – A New Hope) in May of 1977 when it premiered. Honestly, It wasn't my style of film in the beginning. I wasn't into Science Fiction or "Other Galaxy" movies. After I saw the film I went to Europe for a month to study Shakespeare so I didn't really think about the movie again. When Episode V & VI came out, I went to see them and did like them because I was already familiar with the characters. . .but again . . I didn't become a huge fan. . . yet. When Episode I, II & III came out. .. nope. . didn't even bother to go.
I, now, of course LOVE the original trilogy, but honestly. . Rogue One impacted me more than any others. Because it told the story behind that weakness in the Death Star that we all KNEW was there. I never bothered to think HOW the weakness came to be in the Death Star when I watched A New Hope . . and I loved the story leading up to when they handed the plans over to Princess Leia. When I booked the first role of Princess Leia I did A LOT of studying and watched all of the movies several times. (There were only 6 at that time) I did love Attack of the Clones because it gave me some insight on Leia's mother Padmé.  It allowed me to see where Leia got her strength and passion from.
How did you get into voice acting? Can you share some of your non-Star Wars voice acting work you've done?
I worked in Theme Parks for years dancing in children's shows (Costume Character work) It lead to TV shows where I would get asked to do a voice here and there. My sister said to me "You keep booking these voice overs jobs, why don't you put some effort in. . . get a demo made, get an agent and see what happens".
So I took my first Voice Over Workshop with Bill Holmes, recorded a demo, got an agent and booked a national On-Star Commercial with Tiger Woods and Jeff Gordon. I've done a few commercials, a couple of random characters on Cowboy BeBop and was in a very popular episode of Sofia The First where Prince James has a spell put on him and he becomes a baby. I did the baby voice.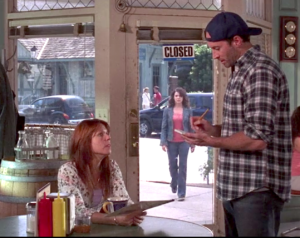 You also appeared in several episodes of Gilmore Girls as Anna and two episodes of Without a Trace as Sharon Brooks. Can you give a quick description of those characters or episodes for fans of those shows?
I was in five episodes of Gilmore Girls spanning over Seasons 4, 5 and 6.
Luke has a sister (Liz played by my friend Kathleen Wilhoite) and I played one of Liz's best friends in a couple of episodes. My character's name was "Anna" and then they brought me back for a couple of quick one liners on different episodes. I loved working on that show.
On Without A Trace I did recurring episodes playing a "Madame" running a sex-trafficking house with Henry Thomas ("Elliot" in E.T. – the Extra-terrestrial).
I read in an interview you did with Endor Express that you are the voice of Princess Leia in the Star Tours cutscene where she talks about the Rebel Spy (as a hologram). I am definitely one of the people who assumed that was Carrie Fisher's voice! Can you share how you got that job and how you were able to voice such an iconic character?
One day my agent called me and asked me if I could sound like Princess Leia. My first response was. . "Ummm probably not." ha ha. She sent me the famous hologram speech – "General Kenobi, years ago you served my father in the Clone Wars". . and told me to work on sounding like her and record it and send it back. So I did.
I played that speech over and over talking along with it trying to match the pitch, the rhythm, the gait, the emotion until it sounded like one person. We were not told what the project was. I recorded it and sent it in and didn't hear anything for a long time.
Then several weeks later my agent called me and told me I had a callback. I went to Disney Imagineering Studios in Burbank and met with a team of Disney / Lucasfilm folks and a dialect coach and 2 other actresses.
We were the final chosen 3. The Dialect coach (Eliza Schneider) coached me to sound like Carrie in A New Hope with the quasi English accent that Carrie had. (Carrie had just come back from England studying theatre so she had a slight accent that bled over into the movie).
We still didn't know what project this was for. After I recorded the speech in the studio – I stepped out of the booth and saw a video of the famous hologram scene but they had manipulated Carrie's mouth to make it look like she was saying what I just recorded. I said "Is that my voice or is that Carrie's?" and they said "Yours". We were all blown away. It sounded just like her.
After I left. . I STILL didn't hear anything for a while and STILL didn't know what project this was for!
Finally I got the call that I booked it. . and went back in and re-recorded it in the same studio and that is the speech you hear on the "Star Tours – The Adventures Continue" ride at Disneyland, Disney Tokyo, Disney Paris & Disney World.
Apparently they read over 200 girls the first time around. Didn't find what they were looking for. Then brought in Carrie. She didn't quite sound like she did in A New Hope. They had another round of auditions – 200 more girls . . . and I was in that group.
How did you end up being cast as Leia for the Star Wars Rebels episode "A Princess in Lothal" and the LEGO Star Wars: The Freemaker Adventures episode "Crossing Paths"? Once you had done Star Tours did all of these other jobs follow?
Dave Filoni heard my voice on the Star Tours ride and brought me in to meet me and do an "in-house" project for Disney/Lucas Film. After I didn't that project he asked me to do Star Wars Rebels. After I did Star Wars Rebels, I kept getting calls do to several other projects as Leia (young Leia AND older Leia) and LEGO Star Wars: The Freemaker Adventures was one of them.
What are some highlights from your experience on these two shows?
Working with the cast on both shows was amazing. For Rebels, we were all in the room together so it was almost like doing a radio play. Bringing Princess Leia to life for Star Wars Rebels is one of the most exciting acting jobs (if not THE most exciting) I have ever had. I put in a lot of work after I booked Rebels. I watched every Star Wars movie several times and read everything I could on Princess Leia. As an actor. . if you are creating the character from scratch, then you can come up with a past history and make choices on who the character is but when it's such an iconic character as "Princess Leia". . you better do your homework and find out everything you can about her . 🙂
You also voiced Princess Leia in the video games Disney Infinity 3.0 and Star Wars: Uprising. Were these the first video games you provided voices for? Were there any challenges or surprises about voicing a character in a video game vs. a television episode?
These were the first video games I had ever done. I was surprised to find that I had to yell a lot. (over gunfire ha ha).
Do you have a favorite Leia from the work you have done in these different productions?
Star Wars Rebels by far. It changed my life.
From social media it looks like several women who have voiced Princess Leia in different Lucasfilm productions have gathered together for a few events. What's it like to chat with other women who have portrayed the same character? In my head, you all have amazing matching Leia jackets.
Ha ha. . no jackets yet but that's a good idea! We call it "Leia's Who Lunch". There are 4 of us and we just love each other. We briefly shared our "Leia" stories with one another but quickly moved on to other acting tops. We are really getting to know each other. I did a play after our first lunch and they all came to see it. One of the gals is a magician and performed at the Magic Castle and we all went to see her. Very supportive group.
Can you tell us about any projects you have coming up?
I am in re-shoots for a film I did in January Chompy and the Girls. Should be coming out soon I think! I am also a keyboard player and I play in several Cover & Tribute Bands. "INXSIVE" – A Tribute to INXS, "Summer of 69"- A Tribute to Bryan Adams, The UnderCoverGirls – (Classic Rock) to name a few. I will also be making an appearance at TOYXPO in Santa Clara August 24, 25, 26 & at GRAND RAPIDS CON on November 9, 10, 11th.
You can find Julie Dolan on Twitter @JustCallMeLeia and on her website.
Check out the entire list of women in 365 Days of Star Wars Women in the Women in Star Wars Index. It includes highlights from each post plus notes which posts include new 365 interviews with actresses, writers, artists, and more.