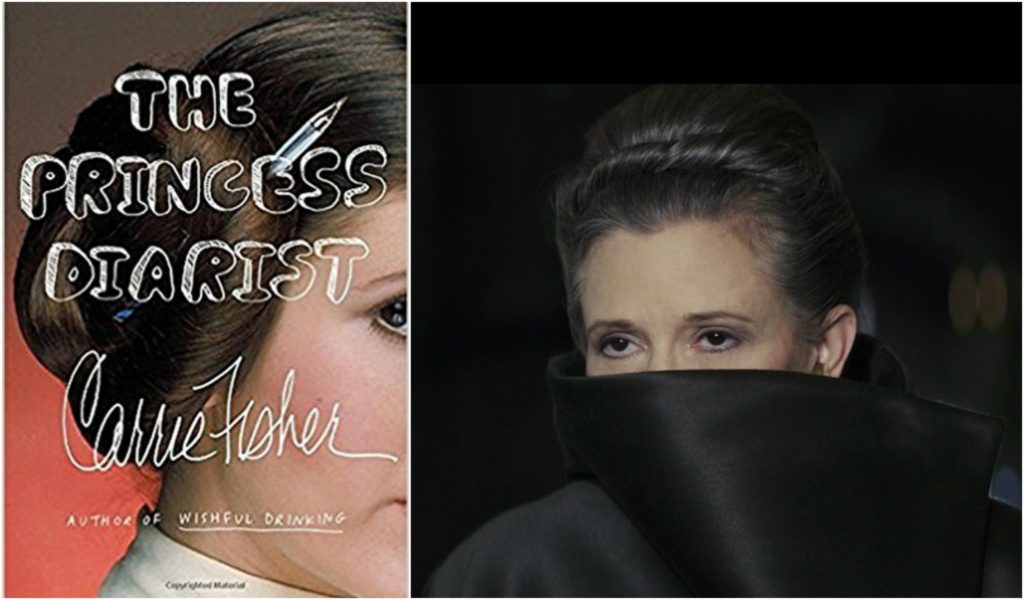 Carrie Fisher played Leia Organa in five Star Wars films. But that iconic role was just a small part of her audacious life and career. Fisher acted in many non-Star Wars films such as The Blues Brothers, Hannah and Her Sisters, and When Harry Met Sally…. She was nominated for an Emmy for roles in 30 Rock and Catastrophe. She won a Grammy for Best Spoken word album for reading her memoir The Princess Diarist and she was nominated for a BAFTA Screenplay Award for adapting her novel Postcards from the Edge. Other books Carrie wrote include Wishful Drinking, Shockaholic, Delusions of Grandma, and Surrender the Pink.
And you should read them.
I don't think I knew what a "script doctor" was until I heard Carrie Fisher talk about her roles in sharpening up scripts from Hook to Sister Act to The Phantom Menace. You can read more about this part of Fisher's career in this article from Mashable – the best quote from Fisher talking about scripts being "Make the women smarter and the love scenes better."
Carrie Fisher will also be remembered for her bravery and openness talking about drug addiction and bipolar disorder. Carrie said things most people only dream of saying out loud about a variety of subjects and this boldness just made her fans love her even more.
If you don't believe me, check out Carrie roasting George Lucas at the 2009 AFI Life Achievement Awards.
Finally, here's the tribute video Lucasfilm put together after Carrie was taken away from us much too soon in 2016. I doubt I would be a Star Wars fan (or as much as one) without Carrie Fisher. She was one of my heroes growing up and she inspired me throughout both of our lives. It's always sad when people who created art you love die, but when Carrie passed away it was much more like losing a mentor – someone whispering in your ear encouraging you to speak your mind, face your demons, and laugh at life.
Check out the entire list of women in 365 Days of Star Wars Women in the Women in Star Wars Index. It includes highlights from each post plus notes which posts include new 365 interviews with actresses, writers, artists, and more.