Rystáll Sant (she's half human/ half Theelin) first appeared in the 1997 Special Edition of Return of the Jedi. Sant was one of the backup performers in the musical number "Jedi Rocks" and caught the attention of bounty hunter Boba Fett in a later scene.
Sant also appeared in a background shot of an opera scene in Revenge of the Sith. I'm not making this up. Here she is on page 29 of the Revenge of the Sith Visual Dictionary complete with the interesting "Crime syndicate concubine hairstyle" caption.
If you're interested in finding out how Sant went from the high life in Coruscant to Jabba's Palace in the wastelands of Tatooine you're in luck. Both the 2011 Star Wars Character Encyclopedia and the 2016 Updated and Expanded version have bits and pieces about Sant's history for you. Her character spread includes mentions of her adoptive parents, the Black Sun crime organization, and even Lando Calrissian.
Is this Legends? Is this Canon? I don't really know, but Wookieepedia seems to think we've gotten into Legends territory for those who track these things.
If you need more Rystáll Sant in your life I also found this Power of the Force Cinema Scene that includes Sant.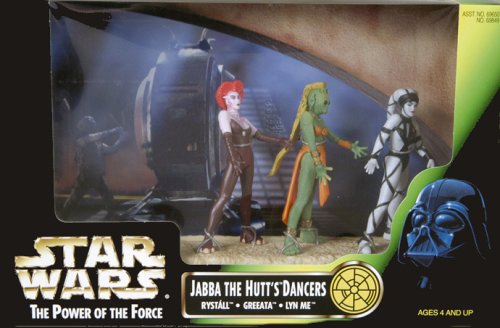 Check out the entire list of women in 365 Days of Star Wars Women in the Women in Star Wars Index. It includes highlights from each post plus notes which posts include new 365 interviews with actresses, writers, artists, and more.