Kelly Knox creates and writes about Star Wars crafts for StarWars.com. She answered a few questions via email for this interview.
What was your introduction to Star Wars?
One of my first memories in a movie theater was seeing Return of the Jedi in its original release. After that, it was years and years of watching blurry VHS tapes with handwritten labels, recorded from HBO.
Do you have a favorite character from any of the Star Wars films or TV series? If so have your favorites changed over time?
I have recently realized that my favorite character is Darth Vader, thanks to getting to know him more in the comics and Star Wars Rebels. Luke Skywalker has been my guy since childhood, but maybe in my old age I've turned to the dark side!
Why do you think Star Wars has remained popular with so many age groups for so long?
There's something very personal about the movies that speaks directly to the kid in all of us. It's a universal story of fighting against all odds that continues to live in the imagination long after you watch it. Whether Star Wars reminds you of happy times as a kid or motivates you in your current daily battles, it really is all about hope.
When did you start writing about Star Wars and other geek-related subjects online?
I started writing professionally about Star Wars in 2008 when I joined the Star Wars Galaxies community team. A few years later after I became a stay-at-home parent, I started writing for parenting blogs as a hobby, and that's what really kickstarted my freelance writing and eventual Star Wars work.
When my daughter was a preschooler, she would wake up before the sun most mornings and I'd be at a loss for what to do together. We started out doing crafts I found on Pinterest — lots of handprint painting, toilet paper roll creatures, and the like — and one day I looked at a handprint of hers and realized it could look like Chewbacca. I shared it on a parenting blog and the rest is history.
You've done a lot of geeky craft how-to articles. Where do you get the inspiration for these crafts and what's the most challenging part of creating a how-to article like these?
I still get some inspiration like I did those early mornings, looking at traditional crafts and putting a Star Wars spin on them, but I also take trips to toy stores and the craft store just to wander the aisles and see what jumps out at me. (The toy store gave me the rathtar idea, for example.) Rarely I will start with a character, like Maul, and think about how I can make them.
You're going to laugh, but the hardest part is coming up with a catchy headline or title for the how-to! I can spend way more time stumped on that than actually coming up with a craft.
How did you start writing for StarWars.com? What are some of your favorite articles from the official site?
On social media, Twitter in particular, I started sharing my DIYs posted on my (now defunct) personal crafting blog. They caught the attention of Dan Brooks, the editor of StarWars.com. I remember I was sitting in one of the big panels at Emerald City Comicon and my phone popped up a notification from Dan asking if I'd be interested in writing some crafts for the official site; I couldn't get it to load to send a reply because the internet connection was horrible inside the hall. I ran outside to message him!
Ever since then–it was 2016, wow–I've created and posted a new Star Wars craft monthly. I love making the Halloween jack o' lanterns every year, and I think my personal favorite craft is the spice rack turned into an action figure display. Eventually, I started contributing features and interviews as well, and I think the original trilogy behind-the-scenes facts post is probably my favorite.
What are some of the other sites where you have written articles about Star Wars and what other geek-related topics do you enjoy writing about?
I've written about Star Wars for Nerdist, Geek & Sundry, and IGN, along with other pop culture and geek culture topics like comic books and video games. I've also done family-friendly DIYs for Marvel Comics and DC Comics on their official sites, which is still sort of unbelievable to me.
Next month you're moderating a Star Wars author panel at Emerald City Comic Con. How did that opportunity come your way and is moderating panels at comic cons something you'd like to do more of in the future?
I follow a lot of my favorite Star Wars authors on Twitter, and I noticed Delilah Dawson and Jody Houser talking about ECCC. I sent a joke tweet that I'd love to host a panel and just watch the two of them talk Star Wars, and I realized… why does it have to be a joke? Just ask! So I did, and they agreed, to my surprise, so I pitched the panel to ECCC. It was approved and I added two more authors after I saw they were attending, Cecil Castellucci and Katie Cook. I can't wait.
I've moderated panels before, like a kids tabletop gaming discussion at PAX West last year, but this is probably the biggest panel I've put together myself.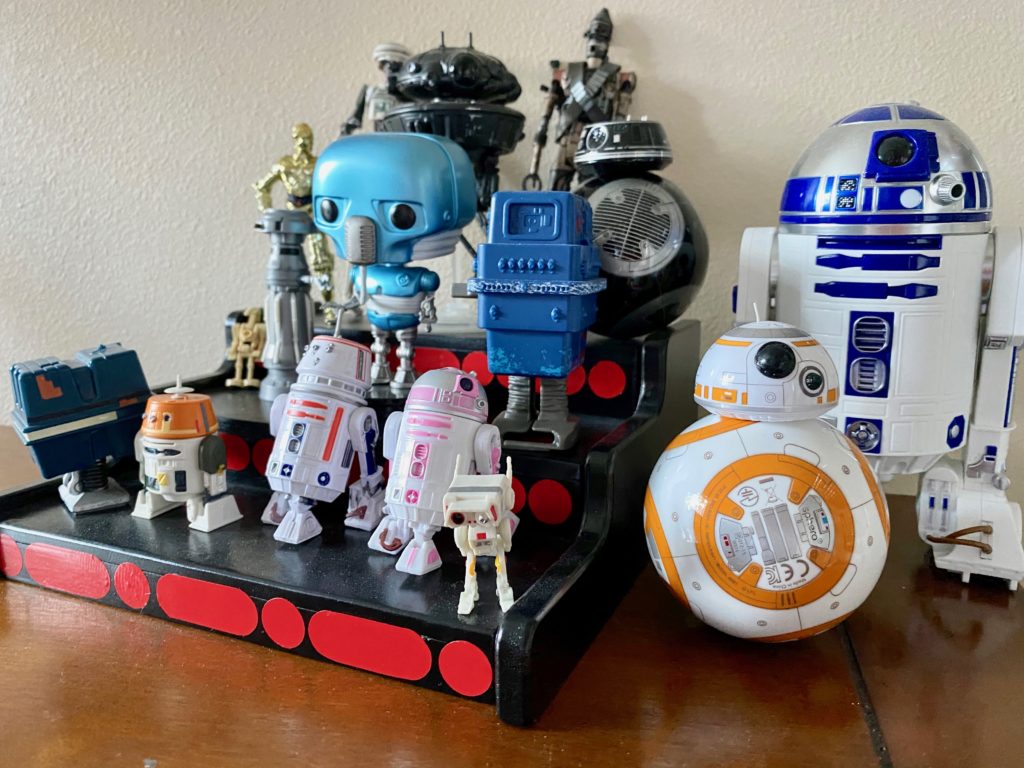 Do you have a dream Star Wars writing project?
My dream is to write a Star Wars craft book for those other 5AM parents out there!
If you could choose the subject (character or times period) for the next Star Wars film or TV series what would it be?
In The Clone Wars, Obi-Wan tells Anakin that he met Satine Kryze when they spent a year on the run on Mandalore with Qui-Gon Jinn. Give. Me. That. Story. Please!
What have been some of your favorite Star Wars books and comics over the last few years?
I really enjoyed Kieron Gillen's Darth Vader run. It seems almost magical to me that a writer and artist can portray so much of Vader's emotions through an expressionless mask. More recently I thought Galaxy's Edge: Black Spire was such a novel concept (no pun intended) and can add so much to a real-life visit to Batuu.
What series are you the most excited to see – The Mandalorian Season 2, the Kenobi series, or the Cassian Andor series?
Each of those series are extremely exciting, aren't they?? If I had to choose, I'd say Kenobi, because I always wanted to see the story of his time on Tatooine.
Do you have any advice for people who want to start pitching articles to media websites?
Promote yourself because no one will do it for you! It might feel weird and a little vain, but if you're proud of what you're writing and creating, you have to get some eyes on it. Write your own blog or contribute to blogs with a pool of writers to start building your portfolio.
Also, all of my opportunities, from Star Wars to DC Comics, have happened because of Twitter. How you treat others on social media absolutely matters.
Can you talk about any projects you have coming up?
I'm super happy to say that in addition to my regular StarWars.com crafts, you'll find all-new kids crafts this season on Let's Make Star Wars! A DIY series on the Star Wars Kids channel, they've made some of my projects before, but the new season will feature entirely new crafts I created just for the show. Working with Lucasfilm to design them and help a little with the show production was an absolute blast.
Check out a video from last year's season of Let's make Star Wars – based on one of Kelly's crafts below!
You can find Kelly Know on Twitter @kelly_knox.
Search the 365 Star Wars Women Archive to find all the posts that have been done for characters and women working behind the scenes sorted by films, TV series, books, etc. (canon & Legends) here.
Read 50+ interviews with women who have worked on Star Wars projects here.