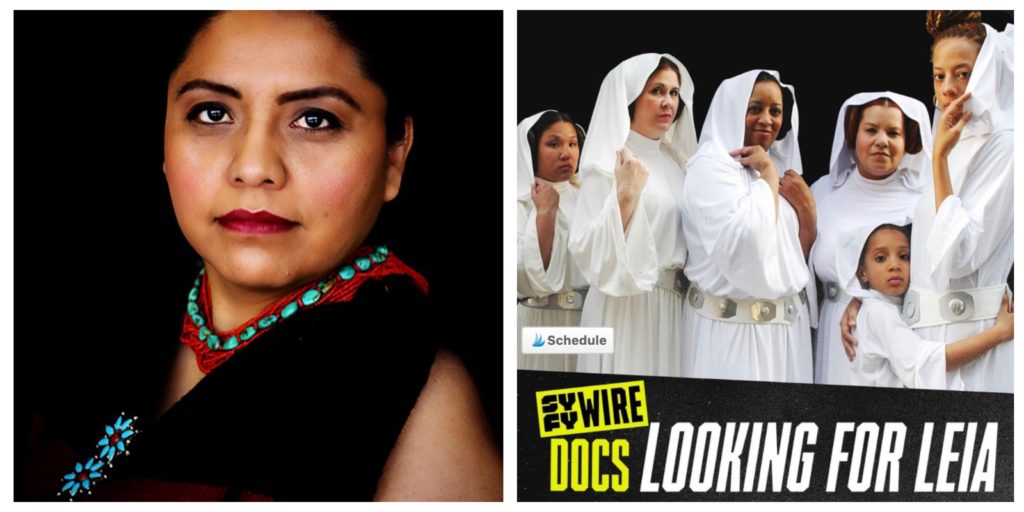 Clarissa Yazzie voiced Leia Organa in the Navajo translation of A New Hope. She is featured in the Looking for Leia episode "What We Deserve" and answered a few questions via email for 365 Star Wars.
What was your introduction to Star Wars?
I would say that I wasn't technically "introduced" to Star Wars. I think I've always been aware of its presence in pop culture during my childhood.
Do you have a favorite character from any of the Star Wars films? If so have your favorites changed over time?
Princess Leia has always caught my attention. From the short bits I've seen over the years, there was just something about her onscreen presence that made me grow fond of her. I don't think any other character had caught my attention, that is until a few weeks ago – the Mandalorian. There is something about his onscreen presence and his story that drew me in. And I'm pretty sure I wasn't the only one.
How did you hear about the Navajo translation of A New Hope and why did you want to be a part of it?
I was scrolling my Facebook feed and came across a news article that mentioned there was going to be a Navajo Star Wars movie and it listed the audition dates. It was exciting to think of the first Navajo translated major film and the positive impact it would have in helping to preserve our language.
Over the next couple of weeks, I received messages from friends and family, "You should audition!" I did theater in high school and college, so my family knew I had some "acting experience". And in addition to Navajo being my first language, I also knew how to read and write the language. I was hesitant at first. Mostly because I hadn't seen the movie in its entirety. Days before the audition, my coworker brought me a copy of the DVD and I knew then I had to do it. I have seen firsthand, the challenge our Navajo people are facing in losing our language. People assume that because I am fluent in my language, my children are as well. Unfortunately, that is not the case. I believed that a project as such would ignite that spark and get people motivated and excited about learning the language.
Were you able to take in any of Leia content other than A New Hope and did about Leia surprise you while you were watching that movie?
I had 3-4 days to prepare and I focused mostly on the film. What surprised me was how BIG of a person Leia's character was. How much power she had. It made me admire her character even more.
What was your audition for Leia like?
It was like a job interview. Haha! I was a nervous wreck. I had seen and heard how many talented ladies had already come through to audition and I was intimidated. I didn't think I had a chance but ultimately decided to continue the audition process, especially since I drove nearly 10 hours. My ability to read the language made the audition process much easier than I anticipated. So a shout out to all my Navajo language teachers at Rock Point Community School.
I loved it when you said in Looking for Leia "Anyone can say lines, it's bringing that character to life that's the most challenging." I'm curious with Leia, who is so closely attached to the actress who played her Carrie Fisher, if you tried to sound like Carrie at all or if you worked more on Leia as a character (or a mix).
I think it was a mix and that process got easier as I started to realize that I was pretty much a Leia in "real life". The way she speaks and the way she carries herself; especially her sarcasm.
How did you hear about the Looking for Leia production? What do you hope people will take away from the episode "What We Preserve"?
Annalise Ophelian reached out to me and I was in. I wanted to express how important our language preservation and revitalization is and the role, A New Hope (Navajo), plays in that.
Have you received any reactions from people who have seen your episode?
I think my brother's reaction to the episode was my favorite. He grew up speaking fluent Navajo as well. And now he has children, and like mine, they don't speak Navajo. He said the episode "hit home and was emotional." I think the episode emphasized just how important our language is and to remember that as fluent speakers, we have a big role as well – to keep the language alive and active.
How accessible is the Navajo translation of A New Hope?
It is not as accessible as I would like. I know they released a limited number of copies and they are no longer available. It would great if they would make a digital copy available.
Do you hope more Star Wars films will be translated into Diné in the future? If so, would you want to voice Leia again?
YES! Absolutely! I'm waiting….
Learn more about Clarissa Yazzie's experience voicing Leia (and the making of the Navajo translation of A New Hope) in the Looking for Leia episode "What We Preserve" below.
Search the 365 Star Wars Women Archive to find all the posts that have been done for characters and women working behind the scenes sorted by films, TV series, books, etc. (canon & Legends) here.
Read 50+ interviews with women who have worked on Star Wars projects here.