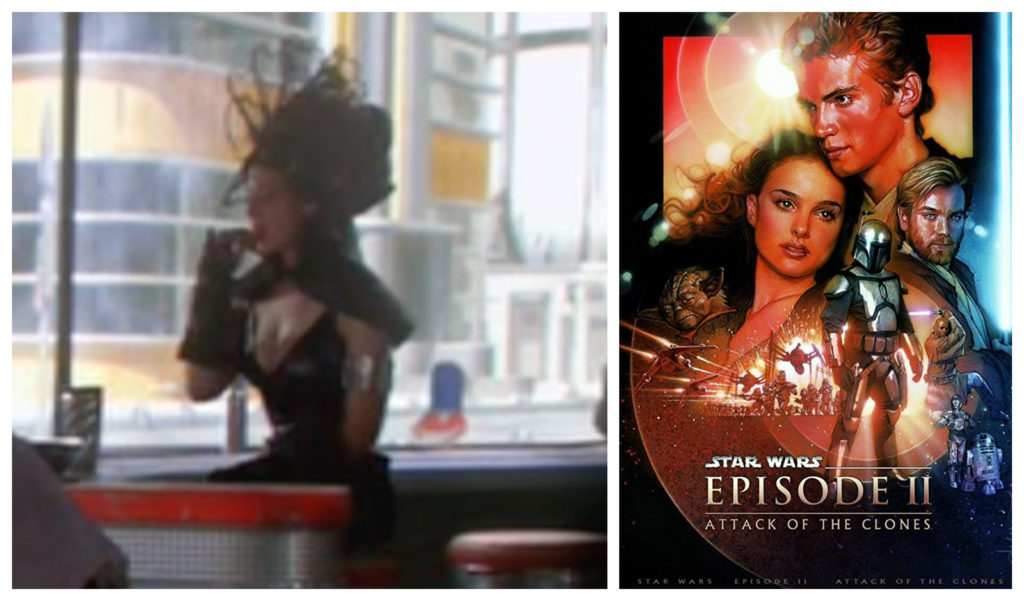 Lowle Ch'red was a customer at Dex's Diner in Attack of the Clones.
If you've never noticed Ch'red before – there's a good reason for that. She doesn't have any lines of dialogue and can only be seen in the background of a few shots like the one below.
So why am I including Lowle Ch'red in 365 Star Wars Women? Well, because she's clearly amazing. Have you seen her outfit? Who is this woman of mystery and why don't we know more about her?
In the IMDB listings for Attack of the Clones actress Sara Elizabeth Joyce was credited as "Dex's Diner Bounty Hunter". I think this has to be Lowle Ch'red. (UPDATE: this wasn't true though. Sara Elizabeth Joyce played a bounty hunter in Dex's Diner but not Lowle Ch'red. Read an interview with Joyce here.) But Ch'red wasn't described as a bounty hunter in one of the only places you can find to say anything about her character – exclusive content from the Attack of the Clones DVD-ROM (remember those?)
If you look at Ch'red's Wookieepedia page the plot thickens. Because in archived StarWars.com Databank files you'll find this.
You'll also find the same woman in the Attack of the Clones Visual Dictionary.
The two images of the woman above are obviously not the same woman who is in Dex's Diner in the film. What happened? Lucasfilm's Pablo Hidalgo had a simple explanation.
I'm not the first Star Wars fan to have noticed Lowle Ch'red and her fantastic outfit.
Kate (you can find her on Twitter @bb_kate_art2) drew her last year enjoying a yummy pancake breakfast.
If there's ever a From a Certain Point of View anthology about Attack of the Clones I hope we can learn a little bit more about this woman of mystery!
I wasn't able to spot Ch'red in the nightclub scenes in Attack of the Clones but if you spot her let me know and I'll add a screenshot.
You can see all of the 365 Days of Star Wars Women posts here.
If you enjoyed this article and other content on 365 Star Wars please check out the 365 Star Wars Patreon page.