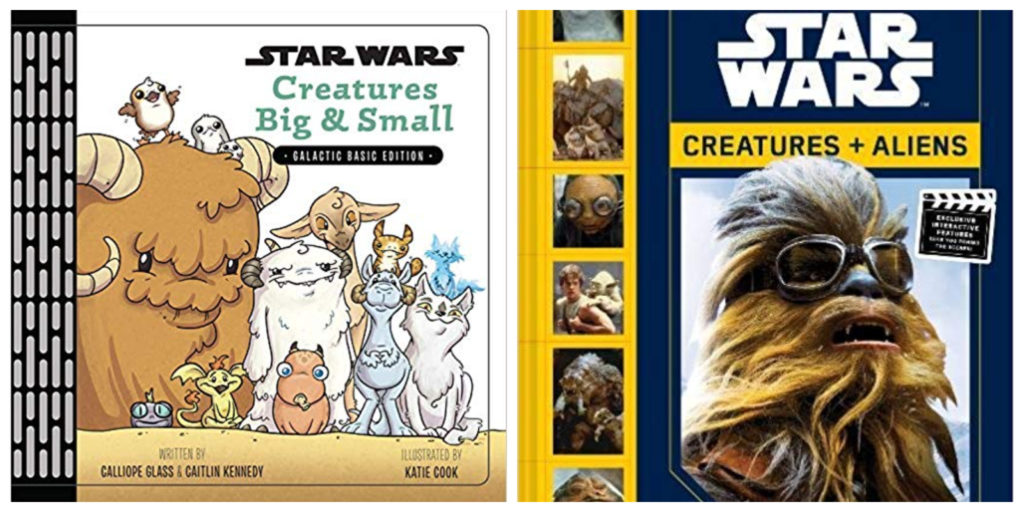 Creatures have always been a part of the magic and mystery of Star Wars. Dewbacks, Tauntauns, Wampas, Sarlaccs, Rathtars, Nexu, Opee Sea Killers – the list of creatures from Star Wars films, TV series, books, and comics is seemingly endless.
Luckily fans who want to take a closer look at Star Wars creatures and learn more about how they were created have many books to choose from. Here are five books targeted at readers of all ages about Star Wars creatures.
(this article includes affiliate links so we may receive compensation from items purchased through the links below)
Star Wars Battle Cries written by Pablo Hidalgo and illustrated by Scott Park released this April and is suggested for 1st through 3rd-grade readers.
Battle Cries book description: With bold, original illustrations, each spread lets readers delve into infographic-style facts about each character. Then pit one against the other in five epic hypothetical battles, complete with each character's signature sound effect. Who has enough brains, brawn, or cunning to win? Decide for yourself!
Who would win in a Wookiee verses Sarlacc battle? I personally would never bet against a Wookiee.
Young readers can also learn more about Star Wars creatures from The Big Golden Book of Aliens, Creatures, and Beasts from writer Thomas Macri and illustrator Christ Kennett.
This selection is part of the Golden Book Star Wars series that also includes the books Starships, Speeders, & Space Stations, and Tales of the Force.
What's cuter than a Loth-Cat? A Loth-Cat sitting on top of a Tauntaun of course!
If the two previous books are missing some of your more recent favorite creatures, Star Wars Creatures Big & Small might need to be added to your to-buy list. This book comes out October 1st and includes entries about Purrgils, Tookas, Gorgs, and Puffer Pigs in addition to classic creatures like the Rancor and Wampa.
Mark Salisbury wrote this extremely fun behind the scenes book about Star Wars aliens and creatures in 2018. Moviemaking Magic of Star Wars: Creatures & Aliens is filled with both concept art of creatures and a look at how practical and digital creatures and aliens were brought to life.
If you're looking for an in-world perspective on Star Wars creatures Star Wars: Alien Archive is well-worth checking out.
Illustrator Tim McDonagh spent six months drawing over 200 creatures and aliens for Alien Archive. Each entry gives you new insight into creatures from a variety of Star Wars stories. In a few cases McDonagh had to create illustrations for creatures from text-only descriptions.
You can see more images from this truly spectacular book and hear from the artist himself in the interview I did with McDonagh for the official Star Wars site earlier this year.
Other fun books about Star Wars creatures include The Wildlife of Star Wars: A Field Guide and Star Wars: The Visual Encyclopedia.
If you enjoyed this article and other content on 365 Star Wars please check out the 365 Star Wars Patreon page.