Tales from the Podcast Stage continues with The Resistance Broadcast.
Tell me a bit about your Celebration experience. How many have you been to? Have you ever been on the podcast stage before (or applied but didn't make it before)? Why did you apply to be on the podcast stage?
John: So this was my first Celebration. I had been to NYCC before, but that's it. I wasn't sure what to expect. We applied to the podcast stage because we felt we had a fun and interactive show that would translate well to a live setting, though I really had no idea we'd be selected. I know it's not a big deal to some, but to me it was. I called my Mom like a kid who made the baseball team.
James: To me there is something about being "official" that always drives me to be a better content creator. I wanted to be a part of the program. "Official". Something that gives myself validation of success. There are plenty of other things not on the program more successful than us and plenty of room to continue to grow but as a fan, who looked at Celebration and the official stages as a goal, I wanted to apply and see if we can be a single part of what makes Celebration special for so many people.
Lacey: This was my 4th Celebration, and honestly, the best one yet. I attended the Anaheim, London, and Orlando Celebrations. There is nothing better than being surrounded by people that love Star Wars as much as you – the energy is contagious. I've never been on the podcast stage before, but it was truly an unforgettable experience. We applied for it because we love talking about Star Wars, and thought we had something special and fun to share with other fans. I'm not gonna lie, I wasn't sure we'd get chosen, but I was just so floored when we did. I remember screaming out loud and telling everyone around me that I was going to be on a panel. We were so lucky to be chosen.
How did you prepare for the podcast stage? Did you have a set structure for the conversation? Did you invite guests? Give out SWAG? Do giveaways?
John: So we wanted to make the show feel like our show, we didn't want to deviate from what we normally do too much. We have our segments and discussions we normally do, but sprinkled in some additional surprises and bits for the live aspect and atmosphere, including the audience in some of the segments so they can give their takes on things and make it more of an interactive engaging environment. I think we pulled off the balance well.
We jokingly invited JJ Abrams and even had a name card and empty chair for him, and we worked his obvious absence into the show using a pre-recorded voicemail from "JJ" apologizing for missing it (aka me doing an impression of him) the crowd got a real kick out of it.
James: Making sure that we were able to catalogue what was done that day was very important to us. Video and Audio was high priority to make sure that we could bring fans not at Celebration a taste of what it was like. This meant a lot of prep when it came to cameras, cables, audio recording equipment and many things in that vein.
Lacey: We did a lot of preparation for the Podcast Stage. Because we were just so honored to be chosen, we wanted to do it right. We did the normal stuff like creating banners and name cards for the panel, but we also spent time running through our show notes and talking points. We were very aware of the 45 minute time limit, so we had to make sure our segments were properly timed.
My favorite part of our prep was how we really let our personalities shine through. I think that is what our listeners connect with most, so we made sure to include jokes and fun moments that made it feel like chatting with friends. We also had sunglasses, stickers, pins, posters, lightsabers and more to giveaway throughout the panel. We wanted people to leave our panel with SWAG to remember their time with us.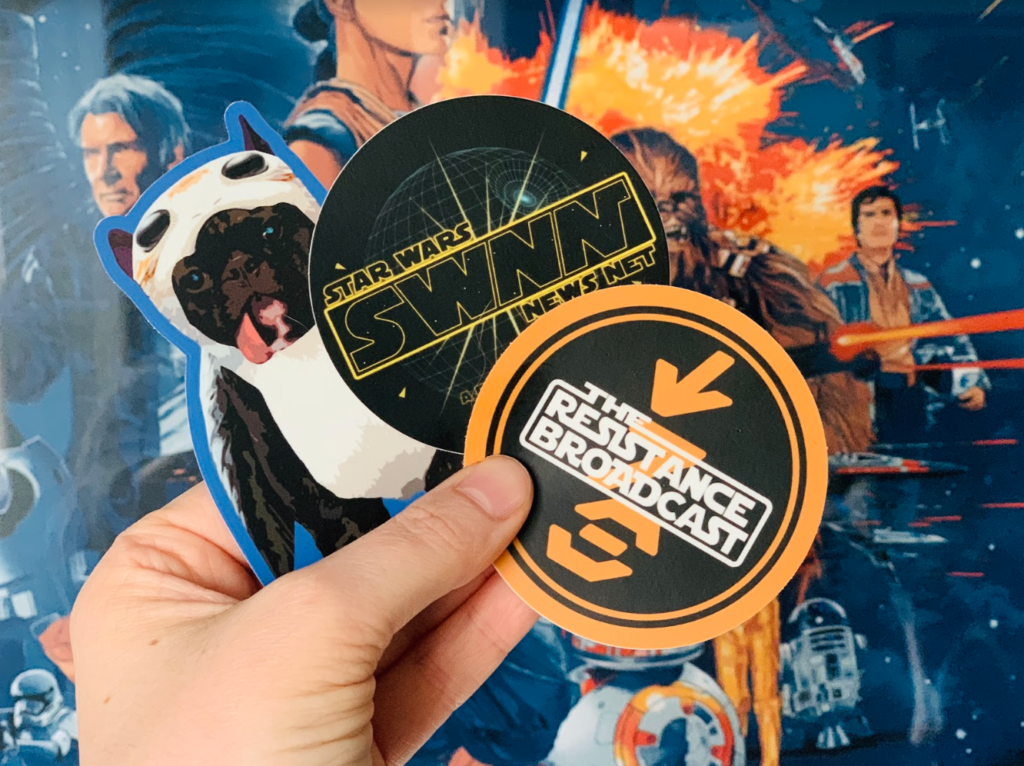 What were the highlights from your appearance on the podcast stage? Any big surprises (good or bad)?
John: Well the only hiccup was some technical issues which had us start about 15 minutes late, but the staff there, led by Mark Newbold (who might be the nicest guy I've met), let us make up the time by extended us out 15 minutes which truly saved us.
The biggest highlight was seeing a packed room, I was floored, legit floored. The audience laughing and responding to what we were doing immediately calmed my nerves and made for a fun time. Then when we finished we received a standing ovation and took a group selfie. There are moments that stick with you in life, and there is no question I'll relive that one like it was yesterday when I am a crotchety old man.
James: We have a regular segment called "Will of the Force" where we ask a "will they or won't they" question to each other and it was insanely crazy to ask the audience and have them shout back at us. We almost did a raise of hands or made signs, but I'm glad we had them shout in unison because the response really surprised us.
Lacey: There are so many moments that come to mind about the whole experience. As John said, we did have some tech issues, but after working in events for so many years, it wasn't that big of a deal. Our listeners were understanding and we joked around with them for 10 minutes while we got everything fixed. Shout out to Mark Newbold!
I don't think anything will top that moment we took the stage and everyone was cheering for us. It was a bit overwhelming to have everyone supporting us like that. It was truly a magical moment.
Is there anything you wish you would have done differently?
John: I wouldn't change a thing. Well perhaps Lacey's spray bottle not shooting me directly in the ear hah! But I'm kidding. It was too fun of a time, and I really couldn't think of anything I'd want to do differently. If I had to pick one, I guess maybe I'd stop and look around a couple more times, it was a bit of a blur of emotions and excitement.
James: I hesitate to say there would be things I would change because the entire event blew me away, but I think that there is always room to grow and experience to learn from. Our next Celebration will be even that more prepared.
Lacey: No, I loved how everything turned out – especially the spray bottle. I am so proud of these guys and all the work we've put into the podcast in the past year. I'm so thankful to be part of this. There is something really special about it.
Will you be at Anaheim in 2020 and if so do you think you'll apply to be on the podcast stage again?
John: The plan is to be at Anaheim without a doubt! This was StarWarsNewsNet.com's first big presence at Celebration and the response to our coverage and podcast has been overwhelmingly positive. I may even try to work out how to bring my family this time, as my son will be almost 2 by that time. I would love to apply to be on the podcast stage again. It was an incredible feeling and was such a good time and success for us that I would do it weekly if I could! It'd be an honor to be able to do this again, no question or doubt in my mind we want to apply again!
James: There is no doubt in my mind that we will be attending Celebration in Anaheim. Whether we are honored to be asked back to the podcast stage again will be up to the staff behind the convention, but we are absolutely willing to come back if they would have us.
Lacey: Absolutely! I love Anaheim and can't wait to attend that venue again. I loved interacting with the crowd and sharing my love for Star Wars. There's no doubt, I would apply again in a heartbeat. It was one of the best experiences of my life and I hope we get to do it again.
How can people find your podcast online?
People can find us John Hoey (@johnnyhoey), James Baney (@mirahtrunks), and Lacey Gilleran (@laceygilleran) online via twitter @RBatSWNN and on YouTube, Soundcloud, iTunes (also Apple podcast app), and Spotify, and of course our website StarWarsNewsNet.com (@starwarsnewsnet on Twitter)! We want to thank the owner of SWNN Val Trichkov for selflessly supporting us since the podcast re-launched two years ago. Also thank you to everyone who came to our event and listen/watch the podcast, and we hope more of you decide to join the Resistance!
You can see The Resistance Broadcast episode from the Podcast Stage at SWCC below!