I asked podcasters from Rogue Podron to share their thoughts about being on the Podcast Stage at Star Wars Celebration Chicago.
Tell me a bit about your Celebration experience. How many have you been to? Have you ever been on the podcast stage before (or applied before but didn't make it)? Why did you apply to be on the podcast stage?

Heath: This was my third Celebration! My first was Anaheim in 2015 and I also went to Orlando in 2017. We applied to be on the Podcast Stage for Orlando in 2017 but didn't make the cut, so we were elated when we heard we'd made it this year. Our podcast is very centered on community and our listeners, so the opportunity to do a live show with all of them in person always felt really special. I'm so glad we got to do it!
How did you prepare for the podcast stage? Did you have a set structure for the conversation? Did you invite guests? Give out SWAG? Do giveaways?
Meg: I wanted our live show to be like any other episode of Rogue Podron because that's what we do best. I made shownotes that looked like the ones I usually do, except much shorter. We kept the way we open the show, our intros, and our host and listener questions. I know it works for us and I wanted to make sure we were on our a-game. Having a live audience also allowed us the unique opportunity to actually give away a Glistening Bodhi (accolades for really funny responses to our listener questions) or six. I actually bought a Bodhi action figure and painted him with shimmer paint. For other great audience responses I had Rogue Podron stickers. It was so fun to see how excited people were about getting our silly prizes!
Danny: On the technical side of things, I brought pretty much all of my podcasting equipment because I was unsure what we would need in order to record the show. Turns out, we didn't need any of it! The supervisor of the podcast stage, Mark Newbold, kindly recorded our episode for us and I was able to easily upload the file immediately afterwards, so we could share with all of our fans that weren't present! I also asked our friend Britt Barnum to take some photos for us, because how often do you get a chance to get some professional photos of your podcast crew podding together?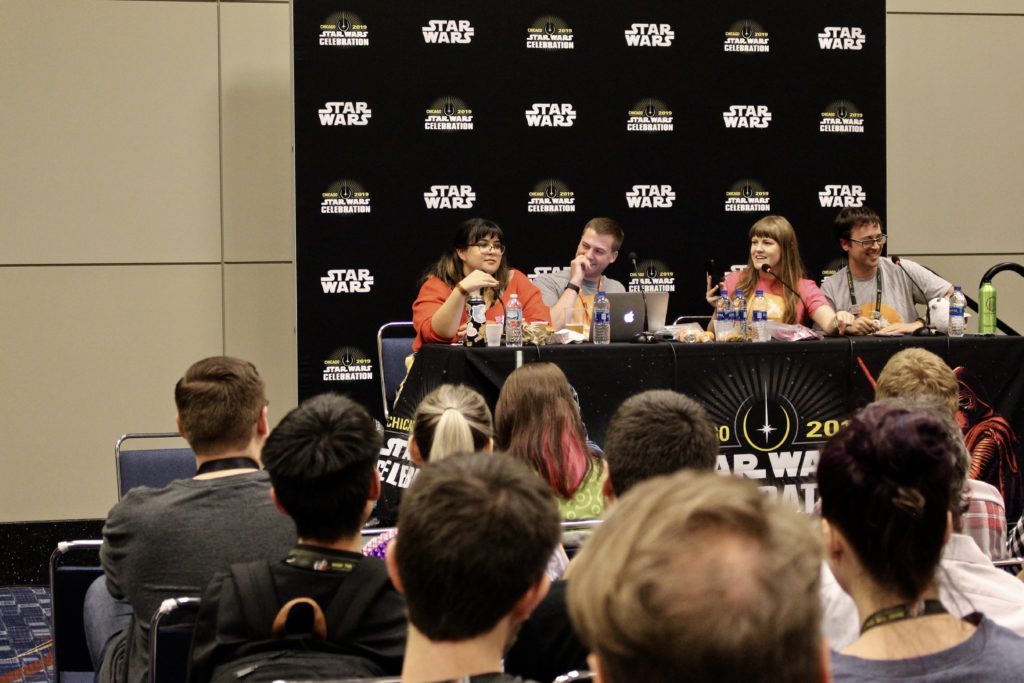 What were the highlights from your appearance on the podcast stage? Any big surprises (good or bad)?

Meg: The whole thing was pretty magical! Starting with being able to do a real episode in person with my three other Rogues. We don't record with video on so this time we actually got to see each other's faces and habits when we talk. That crowd was also something else! We joked about not having enough people to get rid of our 50 exclusive pins to, but there were so many people there. A dozen or so friendly faces we knew, but then a whole lot of others new to us or people we knew of through Twitter. It was so nice to put faces to names or to see that our listeners go beyond the same eight folx who answer our listener questions every week. I was also stunned by the twenty or so people who had never listened to an episode before but ended up there! I hope they all had a fun time and they keep listening in the future!
Danny: We record our podcast over Skype, typically, and it is just the four of us, having a good time talking about Star Wars. We can see how many people download each episode and that's exciting, but it is an entirely different experience for all of those people to be in the same room as you, to be able to look into their eyes, hear their laughter, feed off of their energy. I felt a different kind of pressure in front of all of those people, but every time they laughed or smiled, I felt a little relief, knowing they were there because they love us and love listening to us laugh about the franchise that we all love – what a strange and uniquely rewarding experience!
Saf: I've always felt like Rogue Podron largely grew into what it is now because of our listeners and their interactions with the show, so getting the chance to record live with people who've been part of the show in some form in the same room was amazing. So really, the entire show was one big highlight! And also seeing people actually crack up laughing at our bad jokes in person because it really shows how much joy we really do bring our listeners (or the random stragglers dragged along for the ride).
Heath: My biggest surprise was how many people showed up. It was hard in the hours right beforehand to not feel this kind of crippling anxiety that there would be, like, two people in attendance which obviously wouldn't have felt great. But as soon as we started the show and heard those cheers, that all went away.
Is there anything you wish you would have done differently?

Meg: it's pretty tough to do an episode of Rogue Podron in 45 minutes, and that's without direct audience input or the time it takes to run around the room with a microphone. It would be awesome to extend the time windows to 75-90 minutes – hint hint – for next year!
Danny: We had no control over this, but the 45-minute time limit was really a crunch. We kind of felt like we were rushing through our show-notes so that we could get everything in before our time was up.
Heath: We saw some photos of other podcasts who did shows who had really clever or funny decorations for the stage itself. We didn't even think to do any of that, so we just showed up with ourselves and some prizes for listeners. I definitely think our show was still a success, but I think if we were to do it again, I'd add thinking about that to our planning process.
Saf: I wish I hadn't tried to eat orange skin in front of the ENTIRE AUDIENCE (except it did give everyone a good laugh, so maybe it can stay?)  I agree with Heath though, it would have been really lovely to do set decorations, it never even occurred to me that we even had the option of making our stage look cute! WE COULD HAVE BEEN SO CUTE.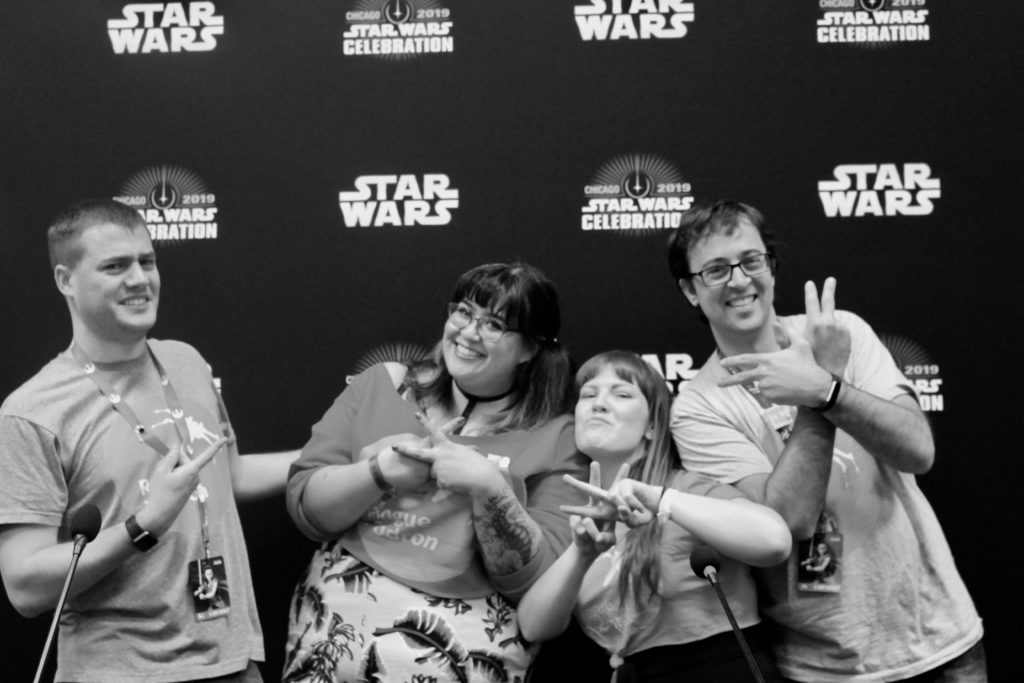 Will you be at Anaheim in 2020 and if so do you think you'll apply to be on the podcast stage again?
Meg: I think right now it's hard to say if all of us will be able to make it to Anaheim 2020. But if we do, I can confidently say that we would all LOVE to do another live show, and hope our listeners would want us to come back!
How can people find your podcast online?

Saf: Our podcast is on iTunes, Google Play, Spotify, and pretty much any other podcatcher someone might use. If you want to chat with us, we're on Twitter at @roguepodron and have a website at roguepodron.com!
If you missed Rogue Podron in Chicago you can listen to their Star Wars Celebration Chicago episode below!
Look for more Tales from the Podcast Stage articles throughout this week on 365 Star Wars.