Mollie Damon is the manager of the YouTube channel Star Wars Explained. She answered a few questions for 365 Star Wars via email for this interview.
What was your introduction to Star Wars?
My earliest memories of Star Wars were seeing the big VHS box set of the original trilogy that my parents owned. I don't remember when I actually watched the movies but I do remember being friends with a few kids in elementary school who got picked on for being nerds and liking Star Wars and I distinctly remember one day going up to the bullies and telling them to leave them alone – they can like whatever they want and you shouldn't make fun of them for it! I of course became friends with the 'nerdy' kids after that and they got me into Star Wars.
Which Star Wars characters/stories are your favorites? Have your favorites changed much over time?
As far as characters go I always loved Princess Leia because she was strong and independent – not a damsel in distress. I also like to talk about my love for R2D2 because let's be real without that little droid the main characters wouldn't have gotten very far. Now that we have the sequel trilogy Rey is another favorite because again-strong, independent woman AND her story starts as a nobody and is shaping to be something great. I love the message that sends to kids growing up watching the movies now. I relate to Rey a lot because I didn't have the best upbringing and we didn't have a lot of money but I was the first in my family to graduate high school and go to college and now I consider my life to be fairly successful and I love what I do.
If you could be dropped into the Star Wars universe at any place or any time where would you want to go and who would you want to meet?
I think I would like to be someone like Cassian Andor, Rebel Intelligence, but during the sequel trilogy and part of the resistance. I loved Cassian's character in Rogue One and I feel like I'd be pretty good and sneaking around and spying on the First Order.
How did you become involved with Star Wars Explained and how has your role changed there over the years?
My husband Alex started the channel in 2014 as a way to study for this REALLY hard trivia contest we did every year at Dragon Con. He thought it would be cool to have short little videos explaining the details behind specific characters, events, vehicles etc. It was originally called Star Wars Minute because the videos were only around a minute long.
We were both still working full time jobs at the time but after a few years the channel picked up momentum and I started out helping him with sharing the videos on social media. After a while we decided we wanted to make longer content so that's when we changed the name to Star Wars Explained. Sometime in 2016 we decided to go full time with the channel and quit our day jobs which was VERY scary at first but it quickly became the best decision we ever made.
I still do all the social media work as well as participate in weekly Q&A videos, find potential sponsors and basically anything else I can help Alex with. I also started monthly vlogs which right now is a patreon reward and vlogging any events that we go to. I love being more involved in videos and having my own identity so to speak – Mollie Damon as opposed to Mrs. Star Wars Explained.
How would you describe the channel to people who are unfamiliar with it?
We try to keep it simple because we get asked this all the time – what do you do? Oh we talk about Star Wars on the internet – haha. We usually say we run a family friendly educational youtube channel that covers Star Wars lore, news, books, comics etc. We knew from the start we wanted to keep everything family friendly because parents can watch with their kids and then they can learn all about Star Wars from a safe, reliable source.
How much time do you spend working on Star Wars Explained on an average week and what kinds of things are you doing for the channel? Do you have a daily routine or does it change a lot week from week?
We try to keep some sort of daily routine. Alex's days are more structured that mine. He has certain days he write scripts, records and we have certain filming days. We try to get as much done as we can during the normal work week so we can have weekends to relax. We made sure to get way ahead of schedule with video releases so if something comes up there will still be a daily video no matter what.
I am on social media constantly which may or may not be good for my sanity but I like to keep up to date with news and the communities we've built like our Facebook group, discord server, Instagram stories, twitter – all the big ones. So you could say I spend upwards of 10+ hours a day with all that. Some days are busier than others like when news breaks and some days we just have to watch The Clone Wars to record our commentaries (also a patreon perk!)
How far in advance do you plan out the schedule for Star Wars Explained?
We typically have around 4 weeks of content ready and scheduled to release at any given time. When Alex first started the channel he has done a lot of SEO work for other jobs which really helped get us started on the right track.
What kinds of content are your favorites to help produce?
I love doing the Q&A videos and talking to fans during livestreams! Anything where we get to showcase our viewers. I make a Star Wars cosplay video every year for Dragon Con that I adore working on. I also love vlogging but can get a bit lazy with it at times.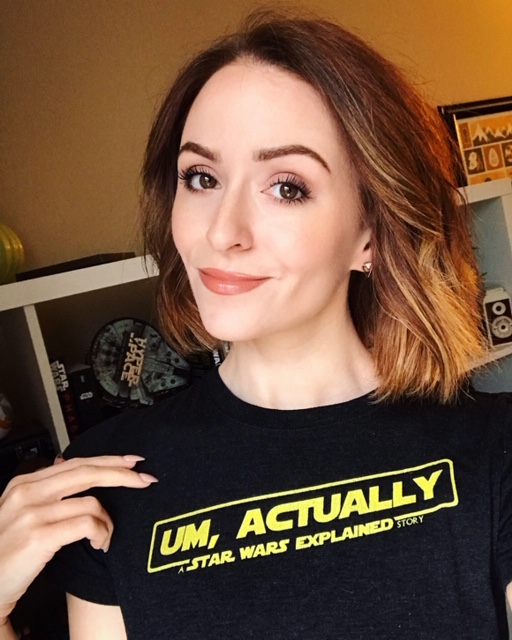 Are there any SWE videos that stand out to you as your favorites or ones that proved to be the most challenging?
The yearly canon timeline video is a big one. Alex does a lot of the work for that but I liked coming up with music and different ways to transition images to make it more entertaining. We also like to do a Star Wars holiday gift guide video every December which can be a lot of work but still fun.
Do you feel pressure to stay up-to-date with all of the TV series, books, comics etc. or do you just and pick and choose what interests you/what you're working on?
I do feel some pressure – not as much as Alex though since he is usually the one to read everything first and review it. We recently added my own separate review in our video about Queen's Shadow and for future books I'd like to try and keep up with them so I can take part in the review videos. Alex just reads so much faster than I do!
I've seen several cosplay photos of you online. What are some of your favorite characters you have cosplayed as and are you working on anything new for SWCC?
I think my favorite has been Sith Rey just because it's different and I like to take characters and put a different spin on them. I hope to wear that at some point during celebration. I also loved cosplaying as Princess Leia and taking pictures with kids – seeing their faces light up is so adorable and it makes me want to cry! I'm going to be part of a group of handmaidens at Celebration on Saturday with @Jedimanda dressed as Queen Amidala which will be fun!
Since you have such a public online presence as a woman who loves Star Wars I'm sure you receive a fair amount of garbage to wade through in your notifications. How do you handle trolls and hate-filled comments both on your personal account and for Star Wars Explained?
The mute feature on twitter is quite a magical little tool. I will usually just mute anyone with really hateful things to say and at times block certain users just so they don't still show up for our other followers in any of our threads. I'm pretty thick skinned but the internet is an…interesting place full of people dying to argue with you about absolutely anything. I don't need that kind of negativity so I just make it so I don't see it.
What other Star Wars (or media) YouTube channels do you watch?
I like to keep up with Eliot at Battlefront Updates for gaming – we do a monthly news and canon update videos with him. Also HelloGreedo, Black Series Rebels, Collider Jedi Council, Eckharts Ladder, Spacedock, Templin institute and a handful of podcasts like ForceCenter and Resistance Broadcast.
I know you're going to be at SWCC. What are your plans for the convention and where can people find you to say hello?
We plan to go to the big 501st party Thursday night, Friday I am competing in a Star Wars trivia Schmoedown at 2:30 and we have a panel we are both on Monday at 2:15 all about creating content and building positive online communities. We plan to do a few meetups here and there but we aren't sure when or where yet so just make sure to follow us on twitter to stay updated! We'll be running all over the place I'm sure.
Speaking of the Schmoedown, can you explain to people who aren't familiar with it what that is and how you are preparing for it?
It's like movie trivia meets wrestling…sounds a bit weird at first but it's SO much fun and Kristian and everyone at Collider work really hard to put on great shows. There is regular movie trivia, innergeekdom and Star Wars leagues and as you would expect from a wrestling viewpoint plenty of 'drama' and lots of laughs. I'm not much of a showman but I will try to do my best to put on a good show!
Can you share any other projects you have coming up?
We go to Dragon Con every year during Labor Day weekend and it's always a blast – especially for cosplay! It has some of the best cosplay contests in the country. We hope to take a trip out to LA this summer to do some work with EA and collab with some of our podcaster friends out there and of course we would love to visit Galaxy's Edge and whenever we do I plan to vlog as much of it as I can! Also for anyone interested I started my own channel that is more about beauty/lifestyle type stuff which is still very much a work in progress but you can check that out from the link below!
Here are some places you can find our more about Mollie and Star Wars Explained:
Star Wars Explained YouTube Channel: http://www.youtube.com/c/starwarsexplained
Mollie's Personal Channel: https://www.youtube.com/c/MollieDamonmua
SWE Patreon: https://www.patreon.com/starwarsexplain
Mollie's Instagram: http://Instagram.com/molliemander 
SWE Instagram: http://instagram.com/starwarsexplained
Mollie's Twitter https://twitter.com/MollieDamon  

SWE Twitter: https://twitter.com/StarWarsExplain
Facebook: https://www.facebook.com/groups/starwarsexplained
Check out all of the interviews from 365 Days of Star Wars Women project here.