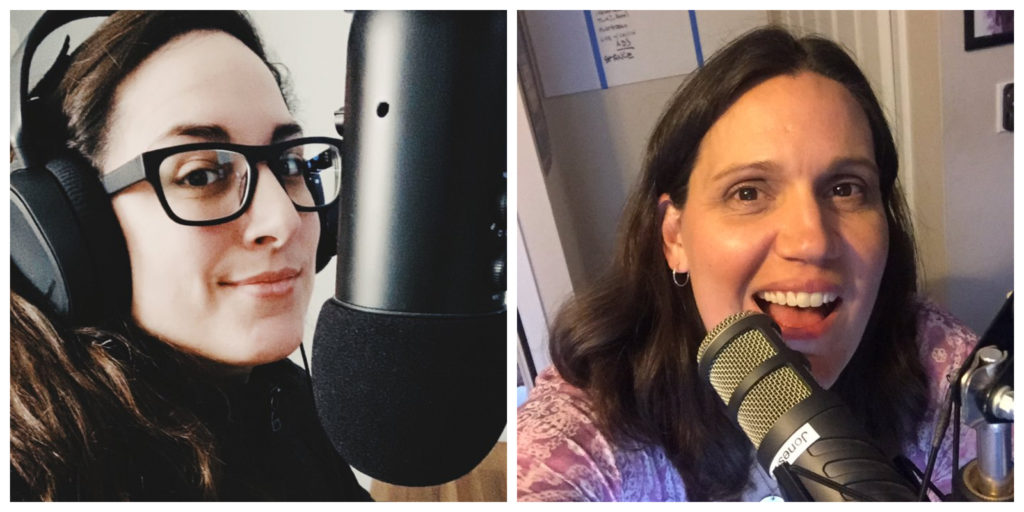 If you're looking for a Star Wars podcast that has at least one female host – look no further. Here's a list of them. They are in alphabetical order and include descriptions from the podcasts social media accounts and/or websites.
The Balance: A Star Wars Podcast
#swrepmatters hosted by @nedi_nerfherder & Lincoln. She's a college student, he's a 9 year old. It's a wild ride kids.
Blaster Canon
A podcast by @Blogfullofwords, @Wanderlustin & @Hermann22 dedicated to breaking down Star Wars canon from @denofgeekus
Exploring Star Wars through its many media ? Hosted by @lu_sitania (KLS), @itskeeks (KMS), @chrissedor (CS), & @realbabybird (ME). Part of @ToscheStation!
A Star Wars podcast where we discuss the books, films, TV and everything to do with our favourite Galaxy Far Far Away! Hosted by Phil and Soph
A Star Wars podcast from @cantobritt and @eflind. We also talk about food a lot.
A positive, progressive, family-friendly podcast about Star Wars by Al Nowatzki and his two kids, Anna (12) and Liam (10).
All things Sci Fi and Fantasy. Warning: lots of Star Wars talk ahead. http://thesciencefictionary.com & Coruscant Radio Underground: Star Wars Podcast.
A Star Wars podcast hosted by @Madison_Thames. Join her every Saturday as she breaks down the latest news and content! Member of http://theaudiogeekdom.com.
The Dorky Diva Show- a Star Wars discussion podcast hosted by @thedorkydiva and @JediBrian.
Teresa Delgado, Tricia Barr & Sarah Woloski give you the fangirl point of view on Star Wars in a monthly podcast. Social Media Manager is Sandra Choute.
A podcast where we geek out over Star Wars.
Star Wars podcast hosted by @dmt1196, @JasonBWilliams1 and @UpsieDazies.
Explore and celebrate Star Wars with @KenNapzok, @JosephScrimshaw & @jenniferlanda // #prequelist // #databankbrawl //
Force Toast: A Star Wars Happy Hour is a new podcast hosted by a couple of lushes who love wine and Star Wars. Hosts: @sLeiaAllDay & @ShutUp_Laura.
A #StarWars related podcast w/ hosts @ThaMike @swankmotron and @surliestgirl.
Two gals talking about the galaxy far, far away. Listen because of Star Wars. Stay for the silliness | Co-host: Lauren (@loroknows) and Andrea (@R2_DTWOSTEP)
Geeky Bubble is mother-daughter duo podcast hosted by @BlueJaigEyes and @Whovian214. Dedicated to the SW animated shows. Part of @WeAreEscapePods.
Official Twitter of Emrys & Lúthien. Providing pop culture analysis with backgrounds in literature, art, music, & drama. Check out the YouTube channel!
A podcast hosted by Rae and Christy that explores characters, themes, and relationships in the Star Wars universe.
Holocron Speakers
A @Starwars Podcast hosted by @manny_castell & @sailor_Iuna talking in depth about SW characters, themes, & Canon books/comics.
Hyperspace Theories, a monthly podcast discussing Star Wars through the perspective of storytelling and speculation. @fangirlcantina @Geek_Kay and @RedPenofLex
A podcast dedicated to Star Wars chat & hosted by @CMWAshby, @Naquicious, @kristenkbates & @cstribs
I Rebel is a unique, fun, and exciting podcast all about #SWDestiny. It is hosted by @JediGeekGirl & @MissSevans.
A #StarWars podcast with two fangirls from nowhere fangirling together! Our separate accounts: @mortisgods & @abandonedporg

Kamino Radio
Star Wars podcast featuring @skyloren0418 @jakethesith and @thechelle218. The birthplace of Star Wars news!
The Star Wars Podcast that's rated "E" for Everyone! Hosts @urangelb & @Red5Mom
The Kanjikast is a monthly Star Wars podcast that you never made a deal with. Hosted by Bria, Brian, and Jay, the Kanjikast looks at the galaxy far, far away from an Asian perspective and focuses in particular on celebrating the ever growing number of Asian Star Wars characters.
Star Wars podcast hosted by @ally_m_andrews spreading love of the animated shows, films, & the franchise as a whole! ?❤️
Lattes with Leia
A Star Wars podcast from a certain point of view. Presented by @CoffeewthKenobi, hosted by @arkhamasylumdoc and @amy_geek.
Legends and Lore
Your one stop podcast for a discussion of Star Wars canon and Legends stories. With hosts @storyhobbit, @tveitlight25, @megzcull, @mapplebee7567, & @K8Applebee!
Official twitter of Long Time Ago Radio, a positive podcast about Star Wars. Whether you're in the class of 77 or Solo was your first film, you're welcome here!
Podcast/youtube channel about #starwars and pop culture.
Lousy Beautiful Town
Doing talking about all things Star Wars and putting our fists through things. Hosted by @spacejessss and @abbymcecilia.
This is a French YouTube channel all about Star Wars!
Who you callin scruffy looking? We are a husband and wife managed podcast dedicated to having the nerdiest Star Wars convos possible and sharing them with you! Tweets by Denise.
Never Tell Me the Pods is a Star Wars podcast that is designed to welcome old and new fans from all walks of life, hosted by Pranks, Kat, James and Johnny.
Weekly Star Wars podcast that brings you the latest news and cool topics in 30 minutes or less. Hosted by @LauraDuncombe1 and @NightsistrAshla.
A podcast from the group at Fantha Tracks led by Clair Henry.
Rebel Dispatch is a podcast focused on SW Television (currently RESISTANCE focused) hosted by two queer women (@MandaTheGinger & @_Hollytweets).
@cardiganvixen & @sonofescudero of the @Vundacast talk Star Wars on the road to Episode IX.
A podcast dedicated to Star Wars animation, including Clone Wars, Rebels, Resistance, and more! Hosted by @arkwulf @thekrankster and @cassiescutch.
Official podcast of @StarWarsNewsNet || @JohnnyHoey, @Mirahtrunks, & @LaceyGilleran talk @StarWars twice a week on iTunes, YouTube, SoundCloud, and Spotify!
1 in Apple Podcasts under the Rogue One Category /// lovingly hosted by @thponders and @alicewhitethp who watch Rogue One every month and podcast about it.
Perhaps you've heard of Rogue Podron. Or perhaps not.
A podcast focused on female characters & LGBT rep in Star Wars ? Hosted by @lynnyneal and @EMfys_Nest. Part of @nsfwpodcasts network.
A Star Wars podcast hosted by Rachael and Kirsty, offering insight into the latest news, as well as analysis of stories and spoilers.
Sistas with Sabers is a Star Wars podcast dedicated to giving a voice to black women in fandom.
Talking Star Wars with @DarthHockey, @krittterrr, and @teekhouse.
A Star Wars podcast hosted by @Ferretliciously and @ersatzash. New episodes every Friday! Part of the @butwhythopc community!
Skytalkers is a @starwars podcast that hosts in-depth, 3-part discussions. Join @crerrity and @caitlinplesher every other Saturday!
?A Podcast highlighting amazing Star Wars fans who've overcome incredible obstacles. ??? Host @megzcull-breast cancer survivor
Scoundrels! Join @DJKver2, @DarthTaxus, & @JoyceKrebs as they discuss news, offer analysis, and discuss all things #StarWars
The best podcast about Star Wars; the ONLY podcast about Star Wars Collecting.
A a biweekly show covering news, reviews, and in depth research into Star Wars on the Geek Ultimate Alliance podcast network.
Star Wars Bookworms
A podcast where we discuss and review the latest Star Wars literature releases. Hosted by @icecoldpenguin and @avgoins #StarWars
OUT NOW! A laid-back exploration of the captivating, and sometimes ridiculous, galaxy far, far away. Hosts: @stellelontane and Loya.
A @StarWars Literary Podcast | Hosted by: @MarkESutter and @urangelb.
Award-winning #StarWars podcast. Dedicated to promoting positivity in fandom.
Welcome to the Vongcast, the most heretical podcast out there! (Or at least according to the Yuuzhan Vong we asked…) Join your hosts Bria, Megan, and Rocky as they reread the New Jedi Order series from Star Wars Legends and re-experience some of the books that they all loved and found vastly influential as teenagers. The podcast looks at one book every month and is perfect for both new and returning readers as they don't discuss spoilers from future books.
Join your hosts Karl, Jason, and Katie as they discuss all things Star Wars in the Wampa's Lair!
A very meta Star Wars Podcast *** & home of the Fangirls Audio Drama! ***
Our Podcast intro is officially no longer ABBA. We apologize for any inconvenience.
Star Wars from female perspectives • A podcast by @nedi_nerfherder ?@megmegpenpen ? & @benscalligraphy ?
WSTR Media is responsible for 'Galactic Public Access', a weekly @starwars podcast by @hawkawesome, @aaronhouillon @tizzzzod.
Y tu Bantha también
A Star Wars podcast featuring and highlighting Latinx voices from throughout saga & fandom history, both on screen and off w/ hosts @Maria_Giesela & @ohcatrina.
Did I miss 1? Or 16? Or yours? Email me at amy (at) richau (dot) org or DM me @365_StarWars and I'll update this article. If you'd like to change the description below or opt out of this list also just let me know.
If you enjoyed this article and other content on 365 Star Wars please check out the 365 Star Wars Patreon page.