Emma Grange is a Senior Editor for DK Licensing. She has helped bring many Star Wars reference books to life including Rogue One: The Ultimate Visual Guide, Star Wars: The Visual Encyclopedia, and several LEGO Star Wars young reader adaptations. She's also the author of the new book Star Wars: Meet the Heroes R2-D2 that comes out May 7th.
What was your introduction to Star Wars?
In the spirit of International Women's Day and women celebrating other women I actually have to first credit my best friend Rachel here. She grew up with Star Wars, whereas I didn't (we were much more a Star Trek: Voyager and Captain Kathryn Janeway household!). So my first insight was through her eyes, as she described these imaginary worlds with such enthusiasm. Plus she seriously shipped Padmé and Anakin! She also loved all the novelisations, so it's slightly ironic that it's now my job to write and edit books that help expand the galaxy. My second entry point was watching the prequels in the cinema as a family. My sister was the exact right age to find Jar Jar Binks hilarious!
Who are some of your favorite Star Wars characters and have those favorites changed much over time?
I'm sure everyone says the same, but the loss of Carrie Fisher hit us all hard and I'm finding everything about Leia's character so important, inspiring and only more relevant these days. I'm personally biased from my work on the Rogue One books, but I also adore Jyn Erso. Clearly I'm a rebel looking for a cause right now!
How long have you been with DK and what was your path to your current position?
I've been at DK for eight years now. I share a similar story to many graduates who left university during the financial crash: it took us all a while to find our feet! I was quite dogged and refused to give up on my dream of working in publishing. I took a gap year, during which I did a lot of work experience (in a few different departments, to determine it was definitely editorial I was interested in) and was fortunate that DK's Licensing department had an editorial assistant opening shortly after I'd been there for a week's placement. So I encourage anyone in a similar position now to persevere.
You're currently a Senior Editor at DK. Can you explain what you do in this role and what a typical day (if you have them!) might look like?
As a Senior Editor it's a lot of project management balanced with creative brainstorming and editorial work. We work closely with the designers to choose images for layouts. I might then send pages to an author to write or, if we're working on it in-house, undertake the writing myself or supervise another member of the team. In the process of getting a book to print there are a lot of planning meetings to agree on styling, tone of text, and addressing comments from licensors, before finally sending the approved files off to print. On a recent craft book we worked on (Disney Ideas Book) a typical day might have found me painting pebbles at my desk, creating button artwork, throwing glitter around, or helping a child put on Jungle-Book-themed stilts for a photoshoot. No two days are ever the same!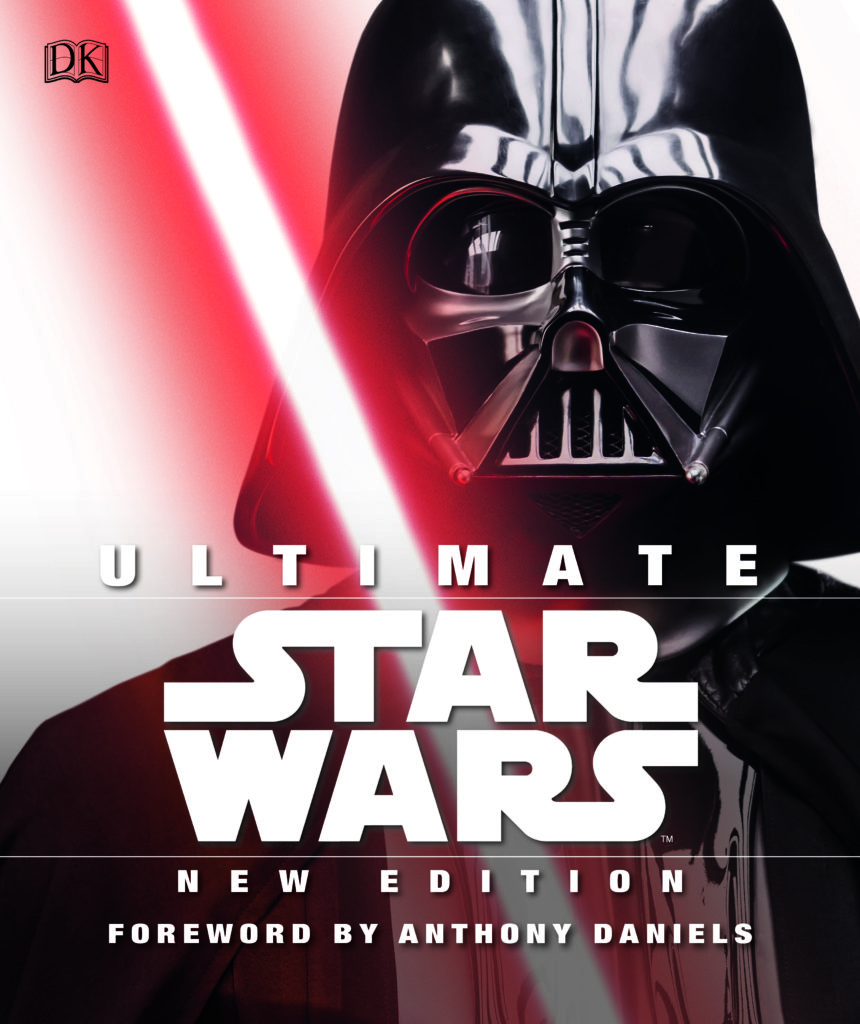 How many projects are you usually working on at the same time?
It very much depends on the size of the book. Recently a small team of us worked on launching a new series for children – Meet the Heroes and Meet the Villains – the first of which will be out in May. For that we were working on four books at the same time, focusing on Chewbacca, R2-D2, Darth Vader, and Stormtroopers. For Rogue One, we had three books on the go at once. And currently we're updating the epic tome that is Ultimate Star Wars, which is now 350 pages in length, so I'm working on just the one other title beside that.
The Rogue One Visual Guide is one of my favorite Star Wars reference books. I'm curious if you and the team that worked on this book wanted to set a different tone or distinguish this book in some way from the other visual dictionaries that DK has published (like The Force Awakens Visual Dictionary). It seems much more in-depth to me than previous dictionaries.
It's one of my favourites too, thank you so much for the compliment! It was such an intense but special experience. We were very keen from the outset to take the opportunity that the stand-alone movies offered to produce something different. And knowing how the film would end (a secret that was very hard to keep for the duration of the nine months we were working on birthing the books!) we felt confident that we didn't need to leave things "untold". This was our one shot!
There are so many photos in this visual guide – did the large number of reshoots and edits that occurred during the production of the film Rogue One change anything in the process of making this book (like needing to switch out photos or take out or add in characters?) Or was the layout and spread already locked down before that happened?
We were all in agreement about the styling quite early on. Ironically we were actually worried that the reshoots would mean we wouldn't have enough images, so we concentrated on making what we had go a long way – hence the story/ thematic spreads where we get to discuss key scenes. We were excited to be able to discuss the story in this way, as the Visual Dictionaries have a different, more object-led, style and approach.
One of my favorite spreads in the Rogue One Visual Guide is of the rebel pilot helmets. Who came up with the names for all of the pilots that we either never heard referred to by name in the film or we may not have seen? I'm also curious who decided to include a helmet for Evaan Verlaine – who wasn't seen in the film but is a character introduced in a Princess Leia comic series. That was such a nice touch.
I'm so glad you've mentioned this page! This and the cute page on Jyn's childhood toys were late additions to the book, necessitated by not being able to get other material in time for our print dates. But we were so glad we added these pages as they offer exclusive information that we know the fans love to see and don't get anywhere else. We relied on Story Group maestro Pablo for the names and the easter eggs, but there are a few inventions of our own in there!
Do you have a favorite section of the Rogue One book?
It's so hard to choose! I personally really love what we call the "splash spreads" with the single images. Gareth Edwards' cinematography is so luscious that it's fantastic to see the scenes given such space. I also love the cross sections by artist Kemp Remillard. It was so exciting to see these evolving as the book progressed and all the tiny details: look out for the coffee cup in the tank and the stormtroopers stashed beneath the cargo shuttle, for example! I'd also like to give a quick plug to our Rogue One Sticker Encyclopedia: a marriage of facts and stickers suitable for young fans of the film aged 9+! That was also a brand-new format for us, which was enjoyable to work on.
You wrote several LEGO young readers adaptations of many Star Wars films. I find this fascinating because you're both adapting a film to a book but you're also putting a LEGO spin on it. What comes first with these books, the text or the layout? Were any of the films particularly challenging to adapt into one of these books?
Writing these books is always fun. Personally I often start with the text, whilst being mindful of what LEGO Star Wars sets are out there. Despite the extensive LEGO range, not every moment from the movies has been recreated in cheerful plastic, so I have to be mindful that I'm choosing to write about moments that can be depicted.
How close do you have to stick to the film (or canon) version of the stories in these LEGO adaptations?
We're always very faithful to the canon. What's nice is that with LEGO minifigures, of course, there's always an opportunity for humour and puns. One of my highlights of writing these was reading LEGO Star Wars: A New Hope to a group of younglings. Whenever Darth Sidious or Darth Vader entered a scene I tried to encourage the kids to boo, but they just wanted to cheer!
Can you share anything about the upcoming book Star Wars: Meet the Heroes: R2 you wrote for DK?
Be ready to have all your questions answered! – such as can R2-D2 swim? can he fly? who are his friends? These are real fun entry-level books for early readers with bright, captivating designs.
Do you have a favorite Star Wars book you have worked on at DK?
Apart from everything Rogue One, I really revelled in the challenge that was our LEGO Star Wars Ideas Book. We worked with some fabulous LEGO fan builders and commissioned builds to recreate and expand on things you might find in the Star Wars worlds, then photographed them all. Plus we rebuilt some iconic LEGO sets into brand-new configurations. Personally I love the chapter on practical makes – who wouldn't want an R2-D2 stationery tidy for their desk?! Or a Gamorrean Guard piggy bank whose tail really moves?!
How about a favorite Star Wars fact you discovered while working on one of these books?
I remember the moment I learned that tauntauns are in fact lizards. That really blew my mind.
Have you had the chance to interact with many Star Wars fans over the years? Will you be at Star Wars Celebration Chicago?
I was lucky enough to attend Star Wars Celebration London and have been to a few comic-cons and LEGO Brick festivals over the years. Meeting fans is always a highlight as I love to hear what they like about our books, and even what they don't like! Getting kids to love reading is what brought me to publishing in the first place. Sadly I won't be at Chicago, despite my as-yet unfulfilled wish to cosplay as Doctor Aphra!
Can you share any news about any other upcoming Star Wars books from DK or other projects from DK you are excited about?
We're currently really enjoying promoting Marvel Fearless and Fantastic! following the cinematic release of Captain Marvel (which I can't wait to see!). This month an exhibition is running at Orbital Comics in London, showcasing some sample pages from the book. We found putting that book together so rewarding as we learned more about iconic and lesser-known, but all inspiring and worthy of championing, women from Marvel comics.
Check out an interview with another Senior Editor at DK, Ruth Amos, here. And all of the interviews from 365 Days of Star Wars Women here.