Welcome to the first day of 9 Days of Handmaidens on 365 Days of Star Wars Women! Today we're looking at the most well-known of Padmé Amidala's handmaidens, Sabé.
But first, who are the handmaidens? The Naboo Handmaidens appeared in all three Star Wars prequels films. Handmaidens were chosen to protect and support their monarch. Women who were chosen as handmaidens at times looked similar to the queen (so they could serve as decoys) and also acted as overall aides and confidants. Handmaidens may appear to be silent and meek servants to the queen, but they are ready, willing, and, able to come to her defense – even if that means endangering their own lives.
In The Phantom Menace, Queen Amidala had five main handmaidens: Sabé, Rabé, Eirtaé, Saché, and Yané. It's challenging in many scenes to ID these women in screenshots, but it's mostly easy to find Sabé who serves as a decoy to the queen throughout large sections of the film. In the screenshot below Sabé is on the far left and the true queen, Padmé Amidala, is second from the right. I believe the other handmaidens (left to right) are Rabé, Saché, and Yané.
Sabé (played by Keira Knightly, pre-Pirates of the Caribbean fame) can also be spotted in regular handmaiden attire in the celebration scene at the end of The Phantom Menace (below left).
Here's Sabé, again dressed as the Queen's decoy, in the Prequel Trilogy Graphic Novel (which is overall quite lovely if you haven't seen it).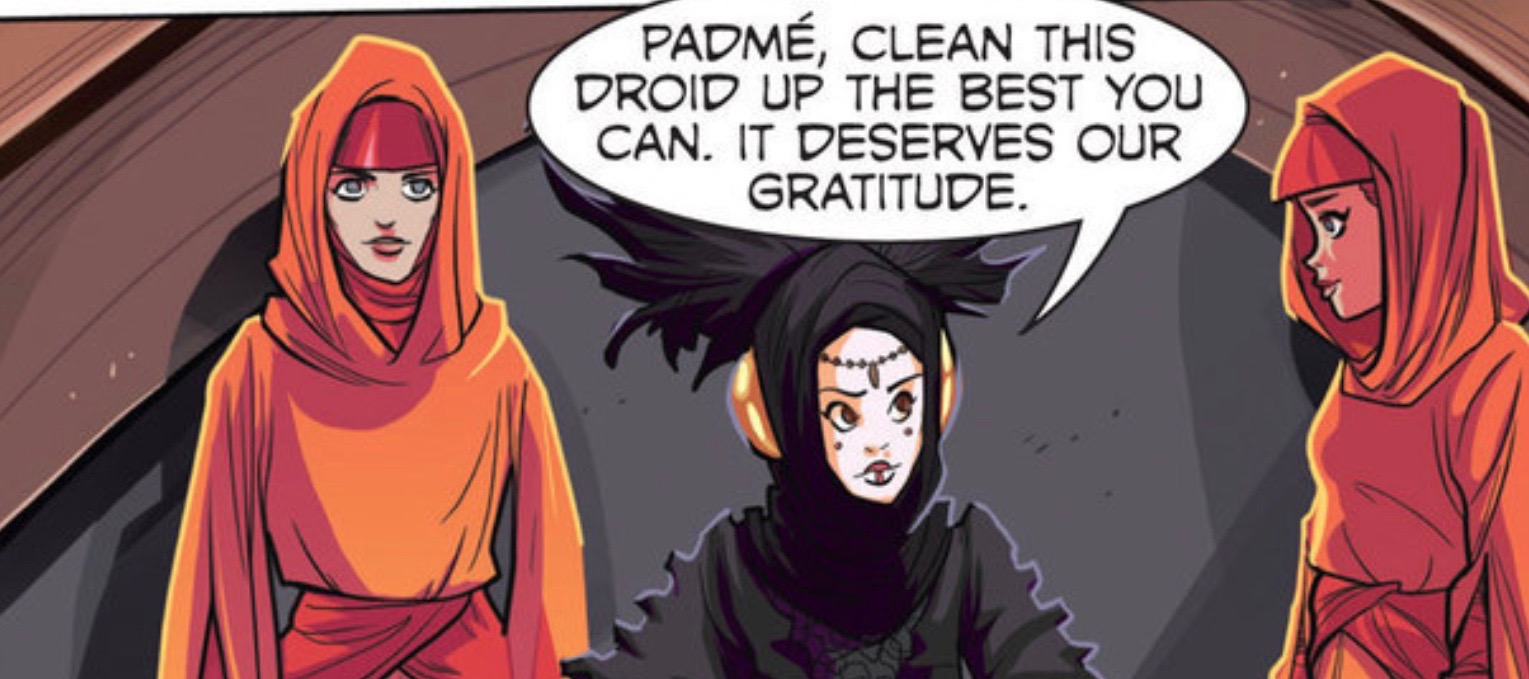 Sabé also appeared in several young readers books that came out during the release of The Phantom Menace including The Queen in Disguise where Sabé, Padmé, and several other handmaidens do some training. (It's as wonderful as you might imagine it would be.)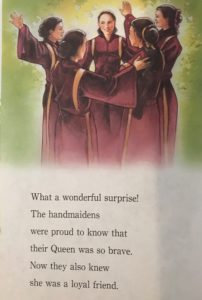 Sabé is the only handmaiden that gets her own page in the Star Wars Character Encyclopedia and you can read more about her life on her Wookieepedia page.
Coming up tomorrow – Rabé and Eirtaé.
Check out the entire list of women in 365 Days of Star Wars Women in the Women in Star Wars Index. It includes highlights from each post plus notes which posts include new 365 interviews with actresses, writers, artists, and more.