Tori Fox is a makeup artist, costumer, prop maker, scenic artist, and owner of Creature Cartel, an Etsy shop that sells accessories inspired by the galaxy far, far away.
What is your first memory of Star Wars?
My first Star Wars memories are visiting Star Wars Weekends at Walt Disney World with my family. That experience is such an essential part of why I love Star Wars. It made my fandom so very tangible and being up close with the different characters and those who worked on Star Wars really sparked my passion for its design and creation. It also was the first time that I realized there was an entire community of Star Wars fans, which was pretty powerful.
Is there a certain part of Star Wars you consider to be your favorite?
Rogue One and The Mandalorian are my absolute favorite parts of Star Wars. I enjoy the main stories featuring the Skywalkers, but I live for world-building and adding layers to that universe. The side stories about characters who may be a little lesser known have always appealed to me greatly, especially if there's an element of rebellion or scum and villainy involved.
Who are some of your favorite Star Wars characters and why are they your favorites?
This is always the hardest question for me! Some favorites include: Sy Snootles, Aurra Sing, Satine Kryze, Darth Maul, the Armorer, and K-2SO.
I'll spare you and only go into detail for a few!
The Armorer is a relatively new favorite but I really admire her courage and wisdom. I love that she's a space blacksmith, as blacksmithing is something I've been interested in for a long time and just started to learn myself at the beginning of this year. Additionally, I'm big on the design of a character and her outfit is gorgeous. The mixture of Mando armor and blacksmith attire is so visually interesting, I look forward to replicating it one day!
Sy Snootles is great because, as the Roots' Tariq Trotter says in his Star Wars rap, she is the Beyoncé of Star Wars. She's got talent, sass, and star power and she's not going to let anyone get away with breaking her heart. I guess for me I see what little time we have with her in Star Wars media (which is maybe 10 minutes collectively?) and we still know she's a great performer and she killed her crime lord boyfriend. If that's all we know from 10 minutes, can you imagine how interesting and incredible the rest of her life
My understanding is that you have worked as a makeup artist, costumer, prop maker, and scenic artist. Can you tell me a little about how you got into all of these creative fields and some of the work you have done?
I started out teaching myself special effects makeup in my free time in high school, having grown up on and become heavily inspired by creature and monster heavy films such as Star Wars, the Universal Monster movies, and E. T. When I got into college, I freelanced makeup on the side for proms, weddings, and Halloween and eventually took the plunge and went to a full fledged special effects makeup school. There I grew my love for creatures, painting, and mold making.
Fairly soon after makeup school I needed a steady place of work (as makeup is largely unpredictable in terms of consistency) and applied to work at a local scenic shop since many of the skills I had picked up in school weren't a far cry from the skills needed for the shop. I was very up front with my boss about my skills, lack of experience in the field, and passion and was hired on as an apprentice! I worked my way up to a project manager within a year and a half and have been in the scenic field for 3 years now. My work in scenic can be seen in nearly every theme park in Orlando, some in California, and some in a Galaxy Far Far Away. This work has spanned across various disciplines such as fiberglass work, carpentry, milling, painting, mold making and casting, and installation.
The costuming and prop making were disciplines I picked up on the side for largely personal projects and I now occasionally do commissions for such things. I love to dress up in a weird outfit or cosplay for any special occasion, so I've grown to enhance my costuming and prop making skills through those sorts of occasions over the years. The recent purchase of my 3D printer at the beginning of 2020 has thrown me even further into the realm of prop making and it's been a really fun ride.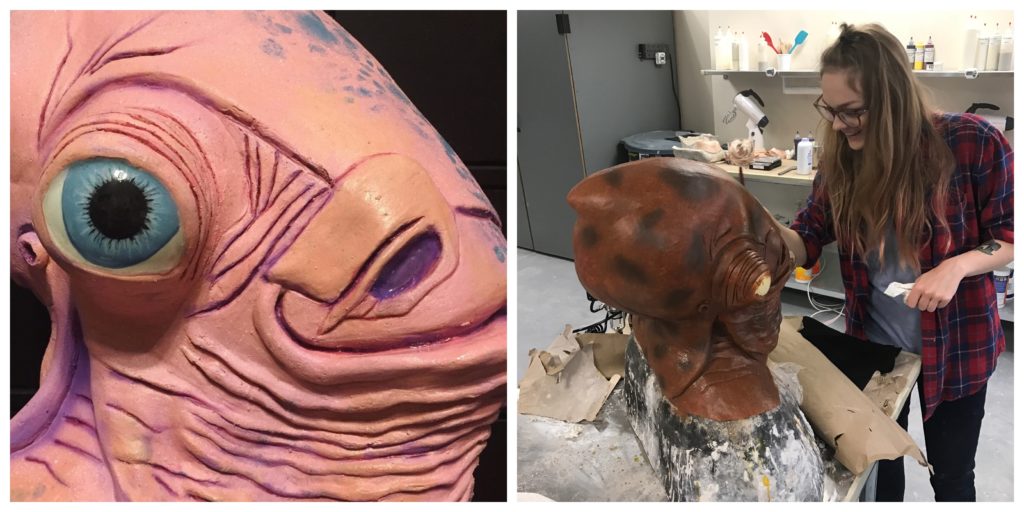 Related: since this is your field I'm curious what makeup and props in Star Wars you have been the most impressed with in films?
For makeup, the Canto Bight scenes from The Last Jedi pop out to me. Those scenes are such a fun intersection of high fashion makeup, prosthetics, and creature masks/CGI and it all seamlessly blends together. Every time I watch the movie I'm always so in awe of how rich those scenes look, and the makeup is definitely a large credit to that. I know there's a good amount of time spent on the making of Canto Bight in The Director and the Jedi documentary, but I could watch hours more of it. 
If I had to pick a favorite prop, I would choose the Mandalorian's phase pulse blaster. The shape, specifically the two pronged end, is so fun and I love the paint job on it, specifically the multi-colored scorching at the ends. I also am a massive Holiday Special fan, so it was very exciting to see that cartoon rifle interpreted in a grittier and more real life way. An honorable mention goes to the thermal detonator, it has such a great shape to it.
When did you start the business Creature Cartel? What inspired the creation of this store and what was the first product/s you sold?
Creature Cartel officially started about a year ago! I made a few Japor Snippets as gifts for friends at SWCC. They wore them all weekend and said they could not believe the compliments they were getting and that several onlookers wanted to buy one. I opened up the shop with just that listing for anyone who wanted one last July. The shop has actually done most of its growth in the past 6 months, with my first new products this year being the Qi'ra necklace, modeled almost exactly after what she wears in Solo, and Maul earrings, inspired by the horns that adorn his head. With this new growth, my inspiration has been to create subtle jewelry pieces that are still callbacks to the visuals we associate with iconic characters.
How do you decide what to make for the store and how long does it usually take from you deciding "I want to sell this" to the point where you're actually listing it?
I spend a lot of time looking at the visual dictionaries that have been created for the Star Wars universe. I find them fascinating and they have some of the best costume pictures. Often my ideas will start there, with a detail or a piece of clothing from a character. Then I try to decide the best way to interpret that design detail that will best represent the character. Most of my new products have been put together and listed over the course of a week or less, especially now that I have a sense of what materials I like to work with. When I have an idea, I'm pretty excited about it and want to get a physical prototype into my hands as soon as possible!
What kinds of materials and techniques do you use for the items in Creature Cartel?
A great deal of my pieces are either sculpted or 3D printed. If they are 3d printed first, I'll use either a 3D print file that is already on hand or one that my boyfriend collaborates with me on. Once the piece is printed, I'll prime it and sand it to get it perfect and then make a mold of it out of silicone. The pieces are then cast in a 2 part plastic with whatever pigments they need added in the process. I'll finish the pieces off with any paint or top coat they may need and then I assemble them with the appropriate jewelry supplies.
I know it's unfair to ask if you have a favorite product … but do you have a favorite product? Or one that presented a significant challenge you overcame?
My favorite product at the moment is my Sabacc Drop Earrings. They're inspired by the coins you would find as bets on a sabacc table and they definitely make a statement but are also at the same time very subtle Star Wars. They're a beautiful copper color and I love finishing them off with a quick bit of paint to bring the details out.
The Qi'ra necklace is very symbolic of my challenges and also my triumphs since opening the shop. It was a challenge figuring out how to assemble it in a way that looked close to the original and also was durable and I've been able to upgrade it to a second version more recently that takes me significantly less time to make and is more durable for the customer. It was a very frustrating piece, but we're now in a good place. I'm even looking into improving it further in the future. There's always room for improvement!
Can you give us any hints about future items we might expect to see at Creature Cartel?
Absolutely! I'm currently brainstorming pieces for Rose Tico, Rey, and Padmé (honestly when am I not making a Padmé piece or at least thinking about one). I have a massive list of characters and ideas, so I'm always thinking. I'm hoping to branch out into other forms of accessories such as hair pieces or small bags in the near future!
You recently announced a collaboration with The Dorky Diva and Whimsy Design & Illustration. What can you tell us about it?
Yes! Our collection Celestial Sisters is a line of apparel and coordinating accessories that is aimed at appreciating the women in Star Wars. We will be launching our first few pieces soon, which are based on some fantastic characters from The Clone Wars (a certain duchess and apprentice). If all goes well, we hope to make this an ongoing thing and continue releasing more pieces! It's been such an honor and a blast working with Savanna and Alyssa.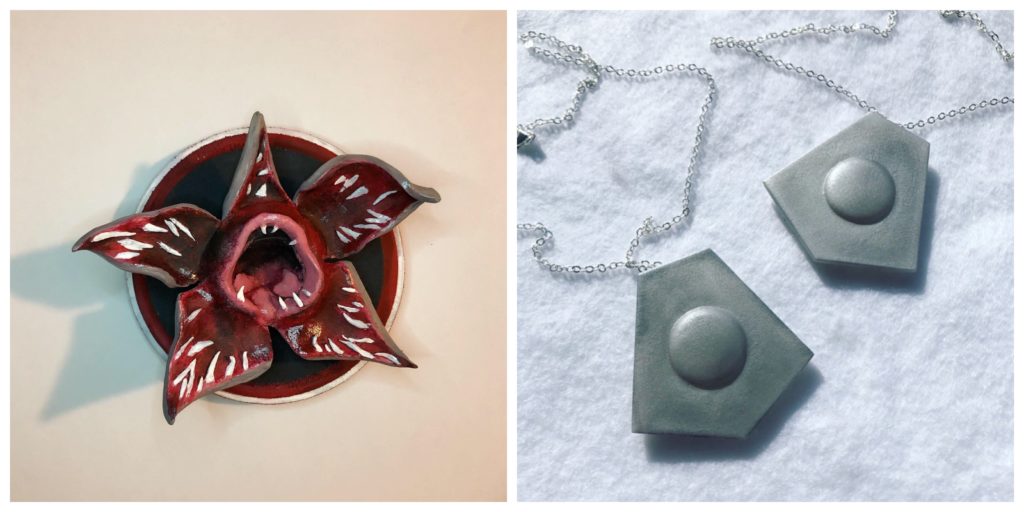 What future Star Wars project are you the most excited about?
Right now I can't get my mind off season 2 of The Mandalorian. This show is everything I've ever wanted out of Star Wars and the first season was so good. I really can't wait to see where these fantastic characters go next. I'm additionally very excited about The High Republic; the concept art on its own is enough to make me swoon. I'm in love with the time frame they've chosen and all the opportunities it presents. There's so much potential there and I can't wait to see what's in store.
If people reading this are interested in getting into SFX makeup and prop making – what advice would you give them?
As cliche as it sounds- if you want to learn to do something, just go for it! While I did go to school for SFX makeup, there's still a lot of techniques I taught myself prior to school and even after school. Prop making used a good portion of lessons from school but I still had to figure a lot of that out on my own as well. We're lucky in that information and tutorials are just a few clicks away now, take advantage of it! Do your research, be prepared, and be okay with failure. It's all part of the process, and as an artist you're never done learning!
Links to find Tori and her work:
Personal Twitter: https://twitter.com/theMandaTorian
Personal Instagram: https://www.instagram.com/the.mandatorian/
Personal Portfolio site: https://victoriataylorfox.weebly.com/
Shop Twitter: https://twitter.com/CreatureCartel
Shop Instagram: https://www.instagram.com/creaturecartelshop/
Shop Site: https://www.etsy.com/shop/creaturecartel
Search the 365 Star Wars Women Archive to find all the posts that have been done for characters and women working behind the scenes sorted by films, TV series, books, etc. (canon & Legends) here.
Read 50+ interviews with women who have worked on Star Wars projects here.