Emily Kless is the Communications Manager at Topps. She answered a few questions via email for this interview.
What was your introduction to Star Wars?
I was introduced to the Star Wars franchise when I was young – my parents, of course, showed me the movies! However, it wasn't until the past few years that I became a true fan. Seeing the power and influence that Lucasfilm and these movies have over so many different types of fans is remarkable.
Do you have a favorite character from any of the Star Wars films or TV series? If so have your favorites changed over time?
It's been really interesting to watch Rey's journey! From a character arch perspective, she's gone through some important changes and learned a lot about herself. As a viewer, it's been both frustrating and satisfying, and I believe it's important to feel both when you truly relate to a character. However, I am a sucker for comedic relief, so C-3PO has a special place in my heart!
Why do you think Star Wars has remained popular for so long?
Star Wars was lightyears beyond their time in producing such a complex movie when it originally came out in 1977. It's always been a forward-thinking franchise – from technology to its licensed products, spin-off shows and beyond. Star Wars has been able to cater to every type of audience – from animated shows for children, now The Mandalorian on Disney+ and more. I think this is a huge reason for its sustained popularity – Lucasfilm continues to find new ways to appeal to every type of fan.
Can you explain what an average day might look like for you as the communications manager at Topps?
Being able to work across such popular properties for a dominant brand like Topps is really a dream come true. Every day has its challenges and triumphs and witnessing the behind-the-scenes of how we create our products is such a cool thing. I handle our social media content and am the go-to person for many of our industry contacts, aside from assisting in our marketing and events efforts. My job straddles a fine line of making sure the general audience on social, as well as our hard-core collecting fan base, are both satisfied, educated and entertained with the information and content we produce.
Some people may not be aware that Topps has a strong relationship with Star Wars. Can you highlight someone of the Star Wars related projects Topps has offered over the years?
One of the longest-running partnerships in Topps history! We have a great relationship with Lucasfilm, all the way from the inception of the first set of Star Wars trading cards to our present-day The Child sticker set. One of my personal favorites is the Women of Star Wars set coming in honor of Women's History Month. The list of all-female autograph signers is remarkable and does a great job to showcase the strong, female characters in the Star Wars franchise.
What kinds of Star Wars projects have you been involved with at Topps?
One of my favorite experiences involving Topps and Star Wars was attending Celebration last year. I was stationed in the private signing room where I assisted in having Star Wars talent sign their Topps cards, which later appeared in various products. Many of the actors are so incredibly pleased with the way their characters' cards turn out – it's a very cool thing to watch!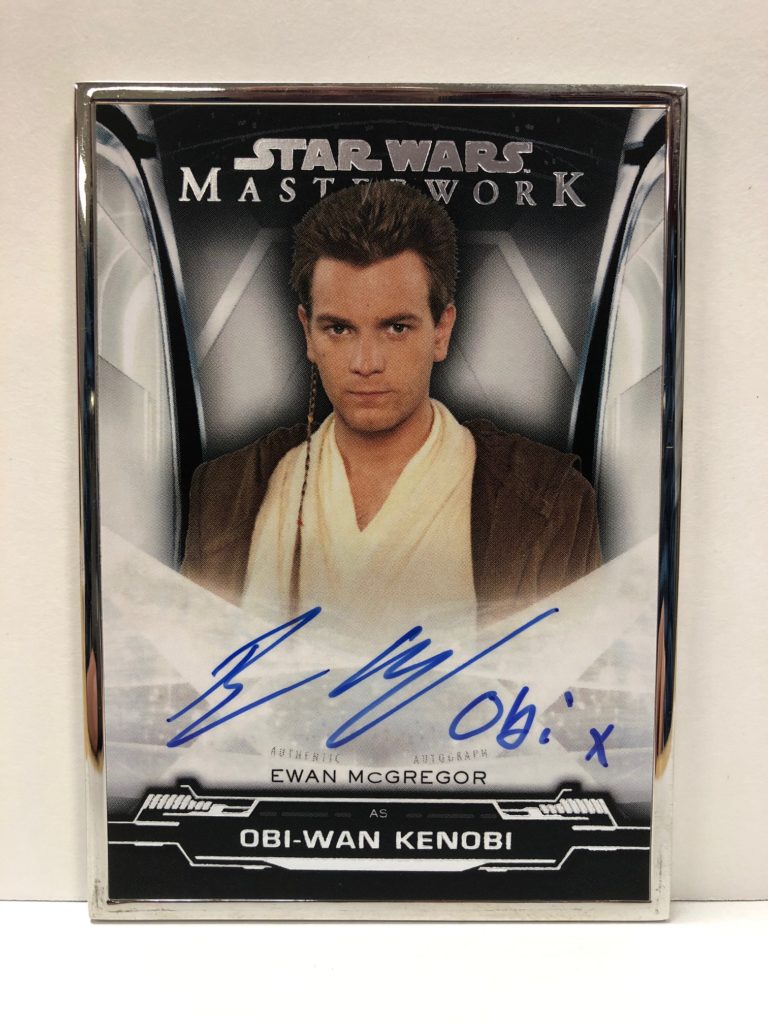 Besides the Women of Star Wars card set do you have another Star Wars product from Topps you are the proudest of being a part of or think is especially notable for fans to check out?
Topps Star Wars Masterwork is a literal work of art! The Masterwork set is always one of my favorites out of all of our Star Wars product, not only because of its high-profile autograph list, but because of the cards themselves – they're beautiful! Sending a big shout out to our incredible design team for the effort they put into creating and designing our products.
Do you have any advice for people who are interested in learning more about what a Communications Manager does or how to get into that line of work?
Being involved in the Marketing and Communications efforts at Topps is a wonderful whirlwind! From NHL All-Star games to Star Wars Celebration, we are involved in every property and attend every event. It's important to have a willingness to constantly learn. In the ever-changing landscape of social media, what's trending one day is old news the next. To be able to talk about MLB, Star Wars, WWE, UFC, Garbage Pail Kids, Bundesliga, NHL, Stranger Things, UEFA Champions League, MLS, XFL… you get the hint… it's important that I have a willingness to learn what works and what doesn't when talking to a particular audience. We have so many different types of collectors and I try my best to be a sponge, especially on social media, to not just communicate to, but to listen to and learn from the conversations that are taking place. 
Learn more about the Topps Women of Star Wars trading card set here.
Search the 365 Star Wars Women Archive to find all the posts that have been done for characters and women working behind the scenes sorted by films, TV series, books, etc. (canon & Legends) here.
Read 50+ interviews with women who have worked on Star Wars projects here.