Jessica Kanzer is an Entertainment Brand Manager at Topps. She answered a few questions via email about her work on Star Wars projects including the new Women of Star Wars trading card set.
What was your introduction to Star Wars?
My introduction to Star Wars was a little different than most people's experiences! I tend to have a silly sense of humor, so before I ever saw a Star Wars movie, I was watching and re-watching Spaceballs, clueless to the real characters being lovingly spoofed. While I'm sure my family absolutely loved my constant Spaceballs quotes, my dad decided I should know the source material. As soon as I saw A New Hope I was enlightened, and hooked! 
Do you have a favorite character from any of the Star Wars films or TV series? If so have your favorites changed over time?
While I don't identify with the Dark Side, growing up I was a big fan of Darth Vader – the voice, the suit, the lightsaber – what is cooler than that? As I rewatched the movies, I came to appreciate him as a determined, complex, tragic character and one of the best- on-screen villains ever created. While Vader still holds a special place in my heart, as I grew up with the films, I really appreciated Rey. She's a tough, kick-butt, compassionate, self-sufficient character and I appreciate that her much of her journey and struggles are internal, making her a fascinating character. I also love attending Comic Cons and seeing young kids cosplay as such a smart, strong female character. The next generation of Star Wars fans have a great role model!

Also, Ewoks. I'd be remiss if I didn't give them a mention. 
Why do you think Star Wars has remained popular for so long?
I think Star Wars has remained popular because at the core of the films is great, classic storytelling. The movies are so accessible to anyone willing to watch and the characters find a way into your heart that make you want to not only watch over and over, but share the love of the films with others. George Lucas built a tremendously immersive world ripe for exploring with compelling characters, full of themes we deal with every day. The Star Wars universe shows no signs of slowing down with new content like the final season of The Clone Wars (#AhsokaLives) and The Mandalorian. I am not a morning person and I was up at 6 am every Friday so I could watch the newest episode of The Mandalorian on Disney+ so I could be prepared to discuss with coworkers bright and early! 
Can you explain what your role as Brand Manager is and what an average day might look like for you?
I am lucky enough to be the Entertainment Brand Manager, overseeing all our Entertainment properties including Star Wars, WWE, Stranger Things, Garbage Pail Kids, TMNT, and more! It's an absolute dream to be in this position, working with so many brands that were childhood favorites. As the Brand Manager, I create the calendar of releases for the year, manage budgets, financial analysis, manage the relationship with licensors, and product development.
The product development piece is the most fun – determining  the themes of product, content like base and inserts, the look of the cards and packaging, and more. I'm surrounded by amazing teams of people that help bring all these ideas to life – from my two all-star Assistant Brand Managers who work on the day-to-day of the product, to the art teams who translate our visions into stunning designs, to project management who helps keep everyone on track and on time! There truly is no average day, we are always in various stages of product development so we might be creating a product description for a brand new concept and at the same time discussing marketing strategies for another card set, while meeting with player licensing to review autograph deals for another product. 
What kinds of Star Wars projects have you been involved with at Topps?
As the entertainment brand manager, I've gotten to be a part of all things Star Wars – from trading card products, to Topps.com releases, to fun events. My favorite things by far are the Cons and Star Wars Celebration. It's a blast to interact and geek out with fellow fans. Last year was my first Star Wars Celebration and I was blown away by the passion and friendliness of the fans. 
Tell me about the new Women of Star Wars cards set from Topps and your involvement with this set.
We have always wanted to do a Women of Star Wars set for quite some time but never had quite enough characters or autograph signers to make it happen. The original trilogy has Leia and a handful of others from ROTJ, while the prequels have much better representation with numerous female Jedi. But it wasn't until the new films where we had several leading ladies like Rey, Jyn Erso, Captain Phasma, Vice Admiral Holdo, and enough supporting characters that we could really craft a proper trading card set. Now, in 2020, over 40 years after the original movie was released, we have a stacked roster of awesome female characters and a fantastic autograph signer list to make it work. I'm excited to say that not only is this set celebrating the Women of Star Wars, it was also MADE by women. One of our female designers was heavily involved in card design as well as our female packaging designer.
Do you have a favorite card or two from this collection? Why are they your favorites?
Honestly, the entire base set is my favorite! It's so cool to have 100 different character cards celebrating the iconic women of Star Wars. The fact that the Star Wars universe has expanded so much to allow us to create the product is so meaningful and wonderful. If I had to pick one, it would be the triple autograph featuring Carrie Fisher, Felicity Jones, and Daisy Ridley. I'm excited we were able to capture 3 powerful women on one card and I hope the handful of fans that find this in product will be very happy!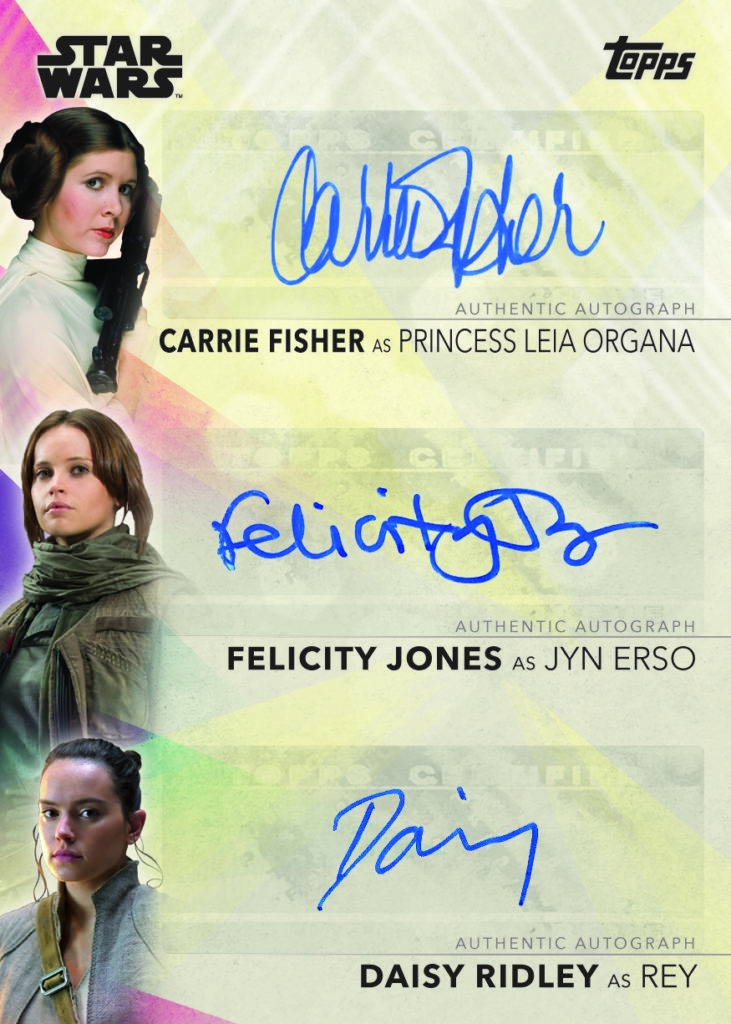 Besides the Women of Star Wars card set do you have another Star Wars product from Topps you are the proudest of being a part of or think is especially notable for fans to check out?
One of my favorite sets as a fan has always been Star Wars Galaxy. If anyone isn't familiar, it's a trading card set with a major focus on the art of Star Wars.  We work with many notable artists to have brand new artwork created to feature on trading cards, along with archived work from the Star Wars vault never-before-seen on trading cards. It's an incredibly beautiful set to open and I'm always in awe of the talent all the artists have.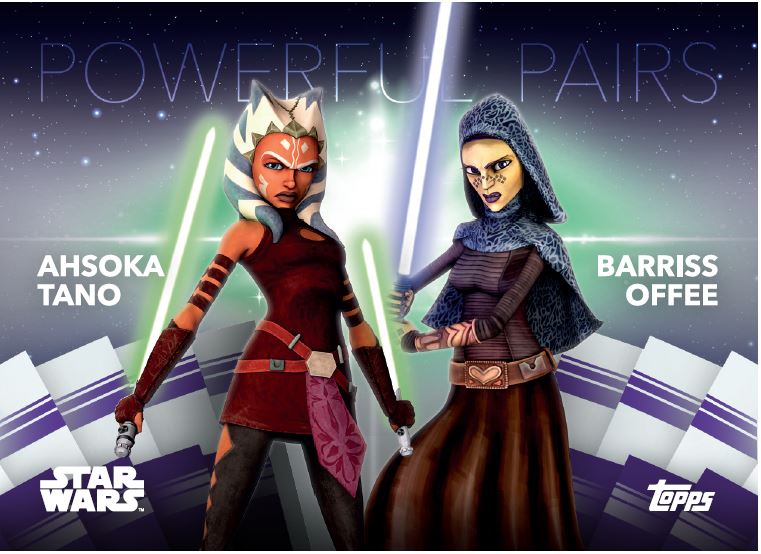 Are there any other Topps projects (Star Wars or otherwise) coming up soon you have worked on that you can share any news about?
There are a lot of exciting Star Wars sets coming up in 2020! Some perennial favorites like Masterwork and Stellar will be returning. Stellar will have the first on-card triple autograph in a Star Wars product and Masterwork will have the first dual costume relic cards. We're also very excited about The Mandalorian Season 1 release coming out later in the year. The base set will tell the story of the entire first season and we'll have inserts like Tools of the Bounty Hunter and Concept Art.
Learn more about the Women of Star Wars trading cart set here and here.
Search the 365 Star Wars Women Archive to find all the posts that have been done for characters and women working behind the scenes sorted by films, TV series, books, etc. (canon & Legends) here.
Read 50+ interviews with women who have worked on Star Wars projects here.