Savanna Oudit writes and podcasts about Star Wars on The Dorky Diva. She answered a few questions via email for this interview with 365 Star Wars.
What was your introduction to Star Wars?
This question always makes me giggle because the honest answer is that I have no idea! I grew up in a household that always had Star Wars playing on the TV. My mom grew up in the 1970s and was lucky enough to experience Star Wars for the first time with the rest of the world. She introduced my older brother to the movies as soon as he could sit up in front of a TV and I ended up getting wrapped up in the obsession too. Although I don't remember my first time watching Star Wars, I do remember seeing The Clone Wars series for the first time when I was probably 12 years old and it really stood out to me. That's when I think I really became a fan.
Do you have a favorite character from any of the Star Wars films or TV series? If so have your favorites changed over time?
Cad Bane! As soon as I saw him in The Clone Wars, I was hooked. My ride or die has always been Han Solo though. I love all of the western-inspired, smuggler, rough and tough kinda guys in Star Wars. Those two will always be my top favorites, but there are definitely other characters that fall into my top five category like Ahsoka Tano, clone trooper Fives, and Asajj Ventress.
Why do you think Star Wars has meant so much to such a wide variety of people for so long?
I think the overall message of hope is very appealing about Star Wars. No matter who you are or where you came from, you can make a difference. That speaks volumes! The characters we get to meet throughout all Star Wars content are very real and raw. They wear their hearts on their sleeves and struggle, just like we all do.
You have attended a lot of geek conventions and a lot of Star Wars Celebrations. What sets Celebration apart from other conventions and why do you keep going back year after year?
Star Wars Celebration is so special because my main fandom is Star Wars. I love other conventions, but they're always crowded with things that I'm not super familiar with. At Celebration, I'm in sensory overload because I want to see and do everything there. The part that keeps me coming back though is the people. I've made so many friends around the world since I attended my very first Celebration in 2012 and I love that Star Wars Celebration can bring all of us together. My husband and I met at that Celebration, immediately became friends, and got married six years later. It's a very special event for me.
There's a pretty big age difference between us but we both grew up looking up to the same woman – Kathleen Kennedy. I know you have had the chance to briefly talk with Kathleen one or two times at Star Wars events but if you had the opportunity to sit down with her lunch what questions would you want to ask her?
Wow, way to throw a heavy hitter at me! I would ask her how she faces challenges. I think overcoming obstacles is something everyone deals with throughout life, but I'm sure she's faced a lot of them, and I'd love to know her approach. Does she get fatigued? Does she get frustrated? How has she dealt with all sorts of challenges in both her personal and professional life? These are the things I'd love to hear her talk about. That woman is my hero.
You are a big fan of Disney Parks – how did the parks become a part of your life and what's an ideal afternoon for you at your favorite park? 
Again, it all goes back to my mom. She's been a Walt Disney World cast member for over 15 years, so I oftentimes say I grew up on Main Street U.S.A. of the Magic Kingdom. When I was a kid, I really enjoyed going to Disney, but the parks mean so much more to me now. It's like a second home. I briefly lived in Anaheim for about a year in 2017 and would go to Disneyland almost every other weekend to decompress and soak in the sights. Walt Disney himself is a huge inspiration of mine today and it's fun to take a step back and look at the parks for the amazing accomplishment they are, not just a place to go have fun.
My ideal day would be at the Magic Kingdom- sitting on the hub grass in the sun, getting a hot dog and lemonade from Casey's Corner, riding Big Thunder Mountain three times in a row (that's my max before I get sick) and watching the afternoon parade.
There are so many Star Wars things to do at Disney Parks now – does one stick out as your favorite?
I recently visited Galaxy's Edge back in October and had a great time there. I get extremely nit-picky about anything that's new in the Disney parks, but I really applaud the designers and Imagineers who created Batuu. It's a stunning place to see. I spent a couple hours of my vacation just sitting in a corner of Black Spire Outpost and observing all of the things around me. It's a lot to take in. Get a Ronto Wrap while you're there!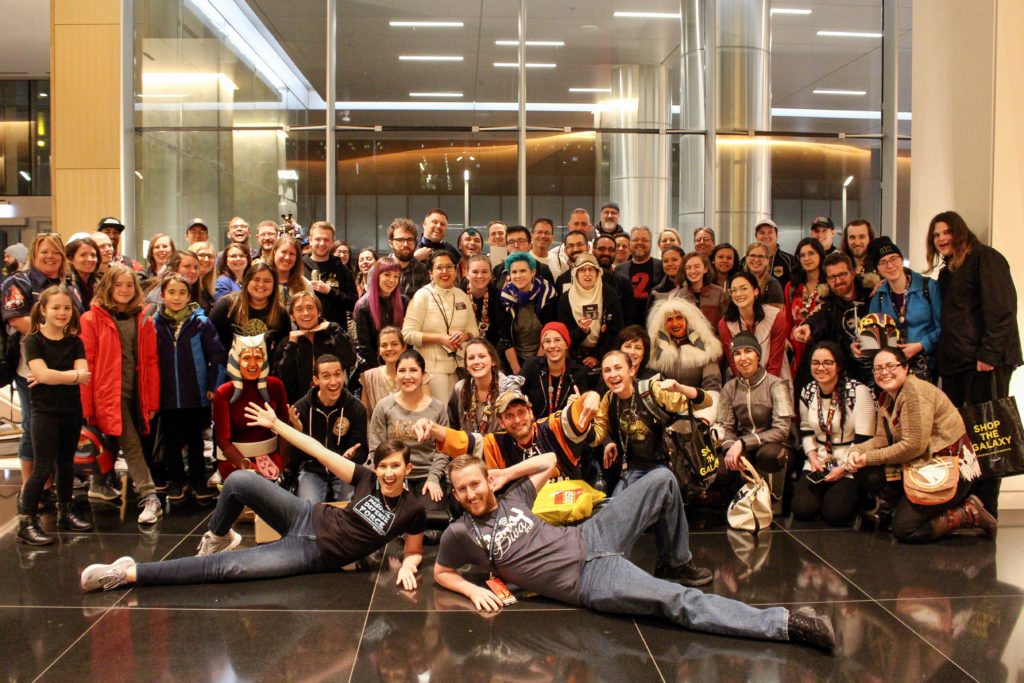 Tell me about The Dorky Diva – why did you start it and what came first the blog or the podcast? For people who haven't listened to the podcast yet what are a few episodes you would recommend to get a feel for what Dorky Diva is about?
When I was around 12 years old, I had a lot of time on my hands because I was homeschooled and lived in a really small town. When I was done with my schoolwork for the day, I didn't have many friends close by to hang out with, so I discovered the world of social media and online forums to chat with Star Wars fans that became close friends. This eventually evolved into blogging on The Dorky Diva.
After a few years of blogging, I turned to podcasting. I had co-hosted several shows in the past, but I never had something to call my own. The Dorky Diva Show is always a rip-roaring time because my co-host Brian Balance brings so much hilarity to our conversions. We hardly agree on anything, but we make it fun and pride ourselves in showing the world that people can disagree and still be friends. If you're new to the show, I recommend listening to our Prequel Defense Force series from Summer 2018 where we recap each of the prequel films and talk about our favorite moments. It's a good time!
Before you started your own company Oudit Creative Solutions you worked at Her Universe. What did you do for Her Universe and what are some highlights from that experience?
When I worked at Her Universe, I was an associate digital media producer and I also managed the Her Universe social media accounts. Ashley Eckstein was always heavily involved with her social media, but I helped plan social content, write copy in her tone of voice, and share behind-the-scenes looks at upcoming fashion collections. Her Universe is a part of the Hot Topic family of brands so my video production work often included shooting and editing fashion collection videos for BoxLunch, Her Universe, and Hot Topic. Each and every moment I got to spend with Ashley was a highlight of the job for me. She is without a doubt the hardest working person I've ever met in my life and the most determined woman that has ever walked this planet. She doesn't take no for an answer and works so hard for everything she has. I will never take my time working with her for granted.
Why did you decide to create your own business? Can you share who some of your clients are and the work you have done for them?
The short answer is that I've realized I like doing more than one job and all of my former positions left me desperate for more responsibilities. As the owner of Oudit Creative Solutions, I get to wear so many hats in one day. I'm very lucky to work with a wide variety of clients from licensed geeky brands, production companies, non-profits, photographers, authors, and more.
On a regular day I might be submitting Star Wars product photos to Disney for approval in the morning, meeting with Rooster Teeth in the afternoon to plan social media strategy for their online store, and ending the day with editing videos for Magic Wheelchair, an amazing non-profit organization that builds costumes for kiddos in wheelchairs. My job is more fulfilling than I can even express and the best part is that each day is always different. It's been a fun and extremely rewarding journey!
You appeared in the docuseries Looking for Leia and assisted behind the scenes as well. What did that experience mean for you?
This experience meant the entire world to me. I've only known Annalise Ophelian, the creator of Looking for Leia, for a few years now, but she's already become a huge influential figure in my life. For someone to say, "I'm going to make this massive project" and then actually do it is amazing to me! Working alongside her for the day and getting to assist her during a day of shooting in Seattle was a dream come true. I love everything about Looking for Leia, especially the fact that Annalise wanted to give the spotlight to female and non-binary fans not only on screen, but behind the camera too. It's difficult for me to express what the whole experience means to me because I'm still processing it today, but it means a whole lot.
What Star Wars characters do you hope will show up in new films, TV series, books, and comics? 
I'm crossing my fingers for a live-action Cad Bane in Season 2 of The Mandalorian! I would also love to see a live-action Ahsoka Tano one day, only if she's played by Ashley. I look forward to seeing where Star Wars goes next and who we will meet along the way.
Search the 365 Star Wars Women Archive to find all the posts that have been done for characters and women working behind the scenes sorted by films, TV series, books, etc. (canon & Legends) here.
Read 50+ interviews with women who have worked on Star Wars projects here.