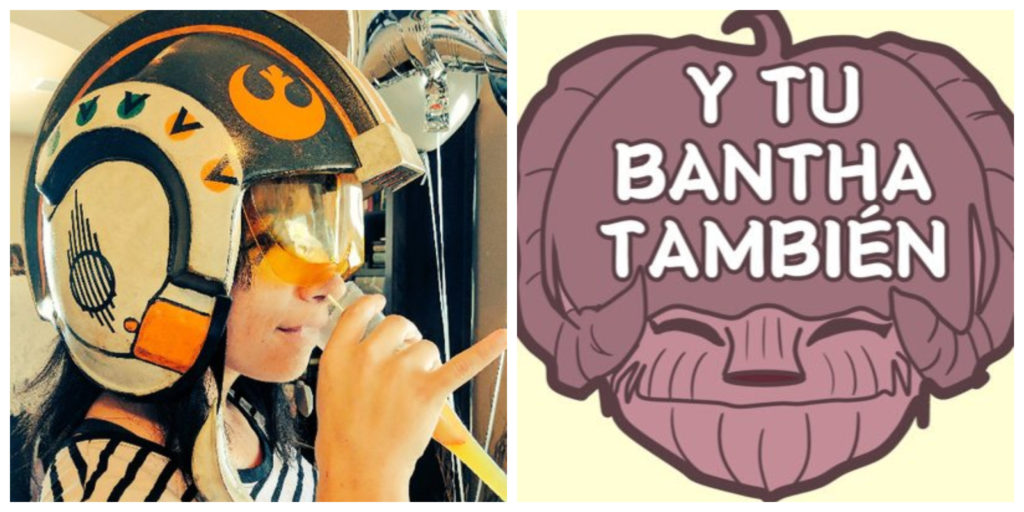 Catrina Dennis is a writer, producer, and podcaster who loves the galaxy far, far away. She was kind enough to answer a few questions via email for 365 Days of Star Wars Women.
What was your introduction to Star Wars?
My Dad is a big nerd, and it runs in the family. I'm sure he tried to get me into it earlier, but it wasn't until he took me to a Star Trek convention when I was about 5 or 6 that I finally clued into it. I found a pack of Topps Star Wars cards with Han and Chewie on the cover, and I hyper-fixated on them. Naturally, we went home and I watched A New Hope for the first time on VHS that very night. Everything from then on has sort of has Star Wars floating somewhere in the background. We went to every re-release, and when each prequel came out, Dad carpooled my little group of poorly-costumed friends to Dolphin Mall so that we could go see them.
Which Star Wars characters/stories are your favorites? Have your favorites changed much over time?
I would definitely say that I've had my phases. Han was my first favorite; I had books about him and a small collection of Han and Chewie memorabilia pretty early on (the previously-mentioned card pack included) but my favorites quickly expanded from there. Obviously, Leia and Padmé will always have an important place in my heart, but my current favorites include Cassian Andor, Asajj Ventress, Finn, and Shara Bey. I go through phases, but I think the moment I find an attachment to a character, I sort of just stay attached for the rest of my life. Needless to say, mentioning a good handful of Star Wars characters will have me zooming in pretty quick on your conversation.
If you could be dropped into the Star Wars universe at any place or any time where would you want to go and who would you want to meet?
I wouldn't mind exploring that shiny and mostly untouched New Republic Era, preferably on Naboo if we're talking about sight-seeing. If I could meet anyone, it would definitely be Luke Skywalker. I feel like that answer might sound generic, but Luke was going through huge changes at that time and taking on increasingly bigger responsibilities as a Jedi Knight, and then a Master. There's a lot of wisdom to be learned there. Torra Doza would also be a cool pick because she's adorable, and I love her.
A lot of Star Wars fans don't take in all Star Wars content and focus on a few categories (film, books, comics, TV shows, etc.) What do you feel you spend the most time writing/talking about from these categories?
I'm a little all over the place, but the comics, television shows and novels are where I spend most of my time outside of the movies. I grew up on the Expanded Universe, so reading Star Wars books has become something of a tradition for me, and I'm so happy to see the new canon expanding in the same way by giving storytellers the opportunity to open up the galaxy again. I think he shows are also pretty natural for me, because I'm definitely "of" the binge-watching generation, and I like consuming high-level crazy Star Wars lore, which every show so far has been chock full of.
Other than that, I have my hobbies: I love writing fanfic, drawing the occasional fan art and writing spec scripts for short Star Wars films that I definitely do not have the budget for. I think that as a writer, Star Wars played a big part in the way I organize my stories, so I've always been about following the deeper parts of the narrative. Star Wars doesn't skimp on that often, so I always have something to look forward to when new things are announced.
You wrote several articles for the official Star Wars website. Do you have a favorite piece of yours from that site?
I think my favorite piece to create was this coverage of An Evening with ILM at Gnomon University. I felt extremely fortunate to have this opportunity because I was able to chat with these folks ILM's Paul Giacoppo, Charmaine Chan, and Jay Machado ahead of the discussion and pick their brains about the production process. They each brought a unique sort of presentation that reflected their portfolios and their personalities in a very interesting way. They also showed off some really cool looks at things from Rogue One and The Force Awakens, including Machado's model of the Millennium Falcon!
What inspired you to create Treasure in the Core comic and where can people find it?
Treasure in the Core was a story that started as a one-shot writing exercise and sort of exploded into this Space Western Heroine's Journey. Obviously, Star Wars is one of the comic's inspirations, but it draws heavily from tv shows that were very important to me as a kid— shows like Cowboy Bebop, Outlaw Star, and Trigun that took old western vibes, jazzed them up and spun them out into the cosmos.
Treasure has been a lot of fun because my ideas for characters always start with personality and goal, then their looks and how culture works into their lives, so I've been able to explore characters of different races, gender identities and sexualities that don't usually get to take center stage in stories like this. The two main characters are a direct reference to my friendship with my pal Renee,  and as such, they're made to reflect who we are: women of color with big dreams and the occasional odd plan to achieve them.
Anyone who wants to read the comic can check it out for free on tapas and webtoons!
How did you get involved with the docu-series Looking for Leia? What are some highlights so far with your work on this project and why did you want to be a part of this project?
The creator of Looking for Leia, Dr. Annalise Ophelian, graced my DMs with her presence and asked if I had any interest in helping out with the project. Naturally, I flung myself at it and we worked out where my strengths would be at their greatest, which landed me the role of Assistant Producer. I'm so thankful to be part of this project because of what it is: the story of Star Wars from a point of view that almost never gets the mic. I've been fortunate enough to watch interviews on-set and hear stories from all sorts of fans who just needed a good platform to tell them.
I ran to the bathroom and split-second cried at least three times at the creativity and resilience of the fan community, and then while FamCon was still on, hit the train to NYC to join the @LookingForLeia crew for three days of the BEST on-set experience I've ever had. pic.twitter.com/c6IZIAMsFH

— Catrina Andor ?? (@ohcatrina) May 4, 2018
What Star Wars characters do you wish more people knew about or do you wish would get new stories in films/books/comics/etc.?
Oh, gosh. The entire cast of Lost Stars by Claudia grey needs to appear in some other form of media. From Thane and Ciena to Kendy and Yendor, that book is full of major Rebellion and Empire players who could fill a whole television show out on their own. I have others, of course: Hera Syndulla, Ventress, Luminara and Barriss, and everyone in Boba Fett's TCW-era Syndicate.
What are you most excited for in 2019 Episode IX, The Clone Wars, or the two announced live action series?
Honestly, at this very moment, I have no idea what I'm more thrilled to see coming. I've loved The Clone Wars for a decade now and seeing it tied up would be amazing, but now we have both The Mandalorian and the Cassian Andor TV shows coming up, both led by Latinos (Pedro Pascal and Diego Luna) — so my heart is bursting in all directions at the moment. I'm also preparing myself emotionally for Episode IX. I just can't put it in order and choose. I will say that today I looked at the fact that so many of the upcoming Star Wars projects are led by people of color, and that the people behind the camera are truly beginning to diversify on all levels as well, which sort of filled my me with joy.
If you could have a cameo in Episode IX what would it be?
I would a b s o l u t e l y be the person Poe chooses to marry. (But in all seriousness, I would probably go for a Resistance pilot. Anything to help out.)
Tell me about how the podcast Y Tu Bantha También came to be, what you've talked about the first few episodes, and what you hope the future holds for this podcast?
Y Tu Bantha También was at first an idea for a panel spun out into a podcast when I decided I wanted to do it more than once. I was so lucky that my co-host Kayla jumped right into the project because not only is she an incredible social media guru (our powers combined create some crazy stuff) but she's also so passionate about this franchise and she's always ready to go in on deep theories or lore discussions. We were honestly so surprised at how quickly the show's audience grew, and we're excited to have the show back (this week!) to its monthly schedule. As for the future… well, it looks like we have a whole lot to talk about now! I've got my fingers crossed for more amazing guests like our latest, but we have a few things cooking for 2019 that I can't wait to announce. It's going to be a big year for Star Wars fans, so we're planning ahead!
If you could have a meeting with Kathleen Kennedy what would you want to talk with her about?
I would want to pitch her a story. But if I had to ask her anything, I would ask her about keeping your head above water when managing so many huge projects. I'm still learning how to get that right on a small scale, and she's done some of the most incredible work in the biz, so I think I'd like to know about how she operates the way she does. Also, I would pitch Certain Characters coming back to life from a totally unjust death.
Can you share any projects you have coming up?
Absolutely! I've got Treasure coming back and YTBT episodes releasing monthly,  but I'm currently working on plotting out the story for DRIFTSCAPE, my first physical comic series, which is part of the ELITEWARE universe— something we're crowdfunding right now! I can't wait to tell this story because not only are there great opportunities for me to go wild with the action, but it focuses on unconventional and diverse leads. I have a few other, much more secret things coming up next year, but I will say that Looking for Leia has a planned release next Spring and I can't wait for the world to see everyone's hard work.
You can find Catrina on Twitter here and learn more about her work on her website.
Check out the entire list of women in 365 Days of Star Wars Women in the Women in Star Wars Index. It includes highlights from each post plus notes which posts include new 365 interviews with actresses, writers, artists, and more.