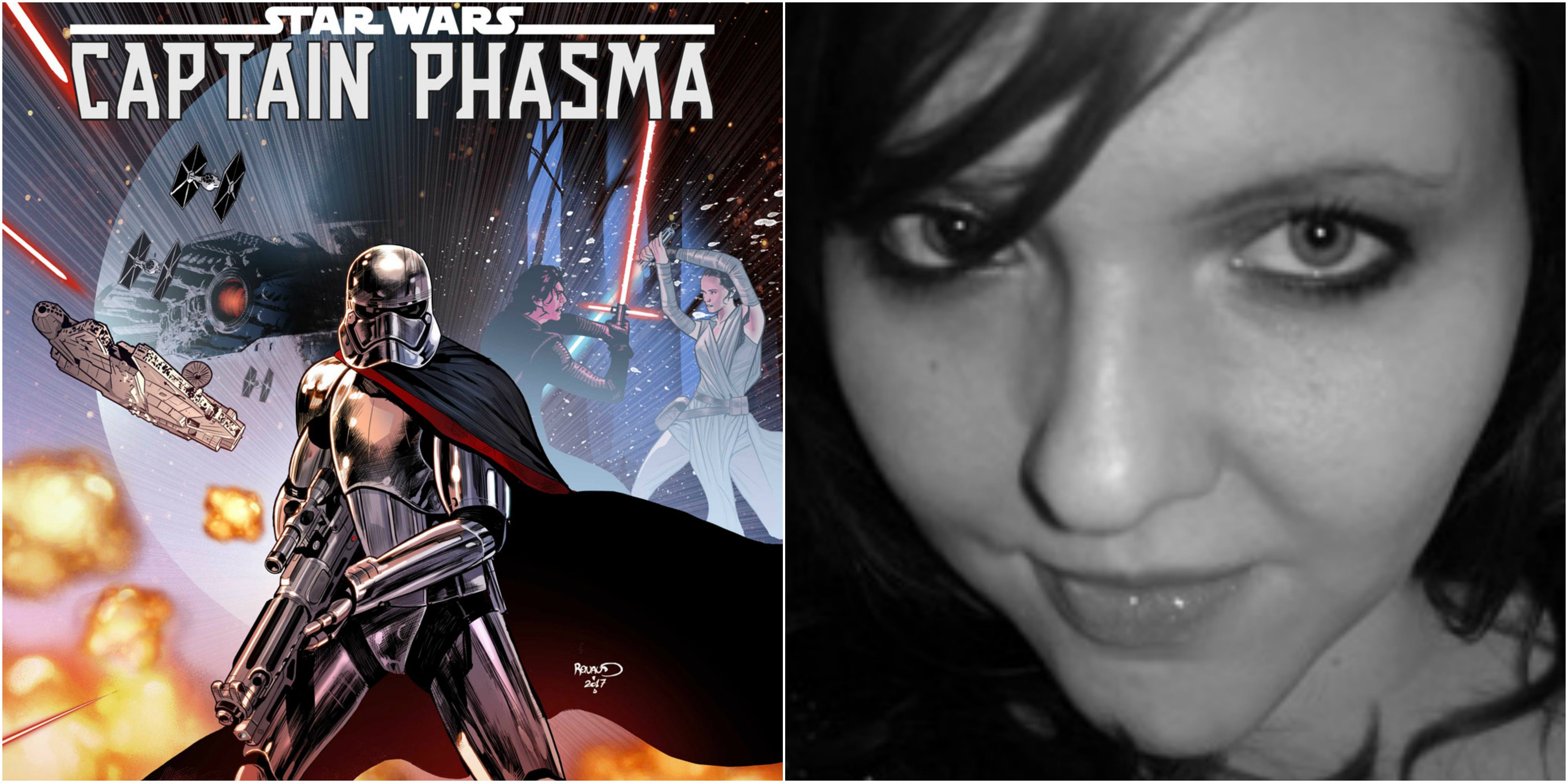 Kelly Thompson is a writer best known to Star Wars fans for her work on the Captain Phasma comic series. She also authored Star Wars Annual Vol. 2.
Other comics Thompson has written include Jem and the Holograms, Heart in a Box, Captain Marvel and the Carol Corps, Hawkeye, and Mega Princess.
Here's an interview with Thompson about the Phasma comic from StarWars.com.
Plus here's a brand new interview with Kelly for 365 Star Wars Women.
Do you consider yourself a Star Wars fan? If so what was your introduction to Star Wars and what are your favorite films/TV shows/characters/comic series?
Oh, of course! Like so many, I was raised on the original trilogy. And that love has never really lessened. I'm all over the map as far as media I love. Everything from The Wire to Buffy. The Good Place is a show that every writer I know is blown away by…the way it paints itself into a corner over and over again and manages to get out in the most clever ways. My all time favorite comic is probably Nextwave Agents of HATE. It's brilliant and funny and so weird and groundbreaking. Joss Whedon and John Cassaday's Astonishing X-Men still makes me laugh and breaks my heart when I pick it up. There's so much amazing stuff out there!
How long have you been writing comics? Was writing comics something you've always wanted to do?
I discovered monthly comics when I was a teenager and I started writing comics immediately. There was no moment of just being a reader, I immediately started trying to create…badly! After two years studying Graphic Design as a University I transferred to The Savannah College of Art & Design to study sequential art. So I've been writing comics since I was a teen, but I started actively trying to get published probably in about 2012?
For Star Wars fans who may not be familiar with your other work what previous projects are you the proudest of?
I'm very proud of Hawkeye. I had an incredible creative team for that book (Leonardo Romero, Michael Walsh, and Jordie Bellaire) and it was just like magic. From page one it knew what it was and where it was going and I love what we created. Only three issues of Rogue & Gambit are out so far but I love what we're doing there too. It's so fun and sexy but there's also a bit of esoteric weirdness in it that I enjoy. I'm also very proud of my first graphic novel with artist Meredith McClaren, Heart In A Box, which hardly anyone knows about but I get the most passionate reader emails about that book, about how it moved them, and that's an amazing feeling.
Your first Star Wars Comic was Star Wars Annual Vol. 2. How did that come about? Did you get to choose what characters were the focus of this issue (in this case Leia)? Do you think Star Wars fans will get to see more of Pash Davane in the future?
I was approached by Jordan White and Heather Antos who ran the Star Wars Editorial Office at Marvel to pitch for the annual. I told them right away I wanted to use Leia because I thought I had an interesting angle on her that I hadn't really seen before. They were on board and so I came up with a few different pitches – one of which is the story that we ended up doing. It was so exciting to get that first chance to create canon stories for Star Wars, and I knew if I was going to create a canon character she should be a giant badass that likes to hit people with bricks. And thus was born Pash Davane! I definitely hope she shows up again, I'd love to do a new story with her!
Your other Star Wars comic was the 4-part Captain Phasma series that served as a bridge between The Force Awakens and The Last Jedi for Phasma. Did Lucasfilm have an idea of what direction they wanted this Phasma comic to go (or a specific endpoint in mind for Phasma) or did you have complete control over the story? You spoke about guidelines you had to work around in your interview with StarWars.com that published before the Phasma comic came out. Now that the comic and The Last Jedi have come out can you share what any of these guidelines or restrictions were?
Yes. There were very specific parameters as far as where our story needed to fit. We had to fit somewhere between Phasma going into the trash compactor in The Force Awakens and where she needed to join up with The Empire in The Last Jedi. But they were very open about WHAT that story might look like. They gave me as much information as they could regarding Phasma's character and her intended arc, and let me go wild with a pitch. No writer doing work for hire projects has complete control, and certainly in an incredible complex shared universe like Star Wars there's even less control, but Lucasfilm were very open to my ideas and I felt really supported and encouraged by both Lucasfilm and Marvel. There was also good information and coordination with the novel about Phasma that Delilah Dawson was writing – they were sort of happening at the same time, but I knew in general what the Phasma novel was going to be about, and I got to read an advance copy I think when I was in the middle of writing the third issue, so I was able to add a little bit more context to things. It was honestly one of the smoothest and most pleasant comic making experiences I've ever had. Didn't hurt that I had an incredible creative team in artist Marco Checchetto and colorist Andres Mossa.
Do you think Phasma survived the events of The Last Jedi?
Well…first making clear that I have absolutely no access to secret Lucasfilm information…no way is she dead! As any genre fan knows – if you don't see a literal death coupled with a rotting corpse – do not consider someone dead! Especially someone as tough as Phasma.
If you could write another Star Wars comic are there any characters or time periods you'd jump at the chance to write about?
I'd love to do a Leia & Han adventure caper – big bombastic space adventure coupled with enough chemistry and sexual tension to cut with a knife – sort of set between New Hope and Empire, or post Jedi. I actually pitched a mini-series about just that to Marvel, but I think because of the Solo film, the timing wasn't great? But maybe someday! Leia is a character I'd love to explore more, regardless, Han too. And I'd obviously love to write Phasma (and Pash and Bruce!) again.
What advice do you have for people who want to start writing comics professionally?
It's trite but…keep reading, keep writing, don't give up, and always be polite and professional…the industry is small and everybody knows each other…bad behavior gets around fast. Use social media wisely and remember that the Internet is written in very permanent ink.
Can you talk about the recently announced Nancy Drew series? Do you think it's important for comics featuring female characters to have a female-heavy creative team like this Nancy Drew project?
I've been so lucky in my career to be able to write so many iconic characters but Nancy Drew has got to be one of the biggest, so it's pretty exciting. And I love sassy detectives, so it's right up my alley. I think female creative teams are amazing, and certainly inspiring for young readers of all genders to see. But to be honest, I'm always just looking for the best fit for the project (and team). However, there are a ton of insanely talented women in the industry and many of them are under-employed for whatever reason, which makes our all female creative team a really organic no-brainer I think, especially for a book like Nancy Drew.
Is Nancy Drew your last project to come out before your Marvel exclusive deal began earlier this year? Any idea when you'll be able to share your new Marvel projects or have any hints for people about what to expect with these projects?
Yes, like with Ghostbusters, I had already begun working on Nancy Drew when I signed my exclusive with Marvel and so they were very generous in allowing me to continue my work on some other projects including those. Unfortunately I am not sure when my Marvel projects are going to be announced. I'm getting to write some really cool projects though and the wait is killing me!
Thanks again to Kelly for taking the time out of her busy schedule for this interview. You can find Kelly on Twitter @79SemiFinalist .
Check out the entire list of women in 365 Days of Star Wars Women in the Women in Star Wars Index. It includes highlights from each post plus notes which posts include new 365 interviews with actresses, writers, artists, and more.