Day 121 – Ursa Wren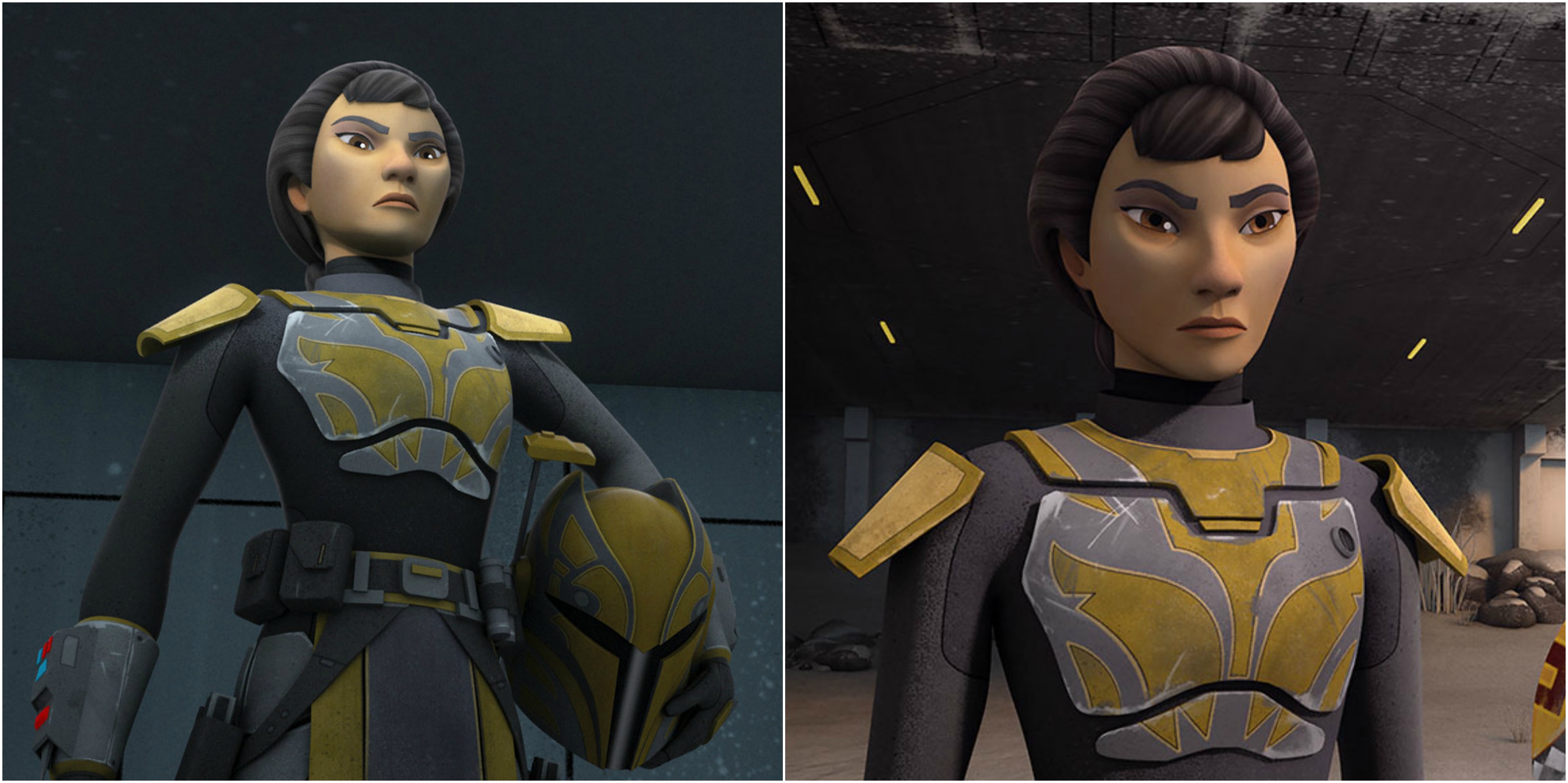 Ursa Wren was a Mandalorian warrior and the leader of Clan Wren in Star Wars Rebels. Ursa was also the mother of Sabine Wren, one of the main characters of Rebels. Actress Sharmila Devar voiced Ursa Wren.
Ursa is a character that hasn't been seen in other Star Wars books or comics (yet) but I'm guessing there will be more stories involving her in the future of Star Wars storytelling. She is the rare Star Wars mother who has not died, and I hope she is not the last character (who happens to be a mother) to survive beyond a few minutes of storytelling!
Here's a clip of Ursa and Sabine Wren from Star Wars Rebels.
Day 122 – Nakari Kelen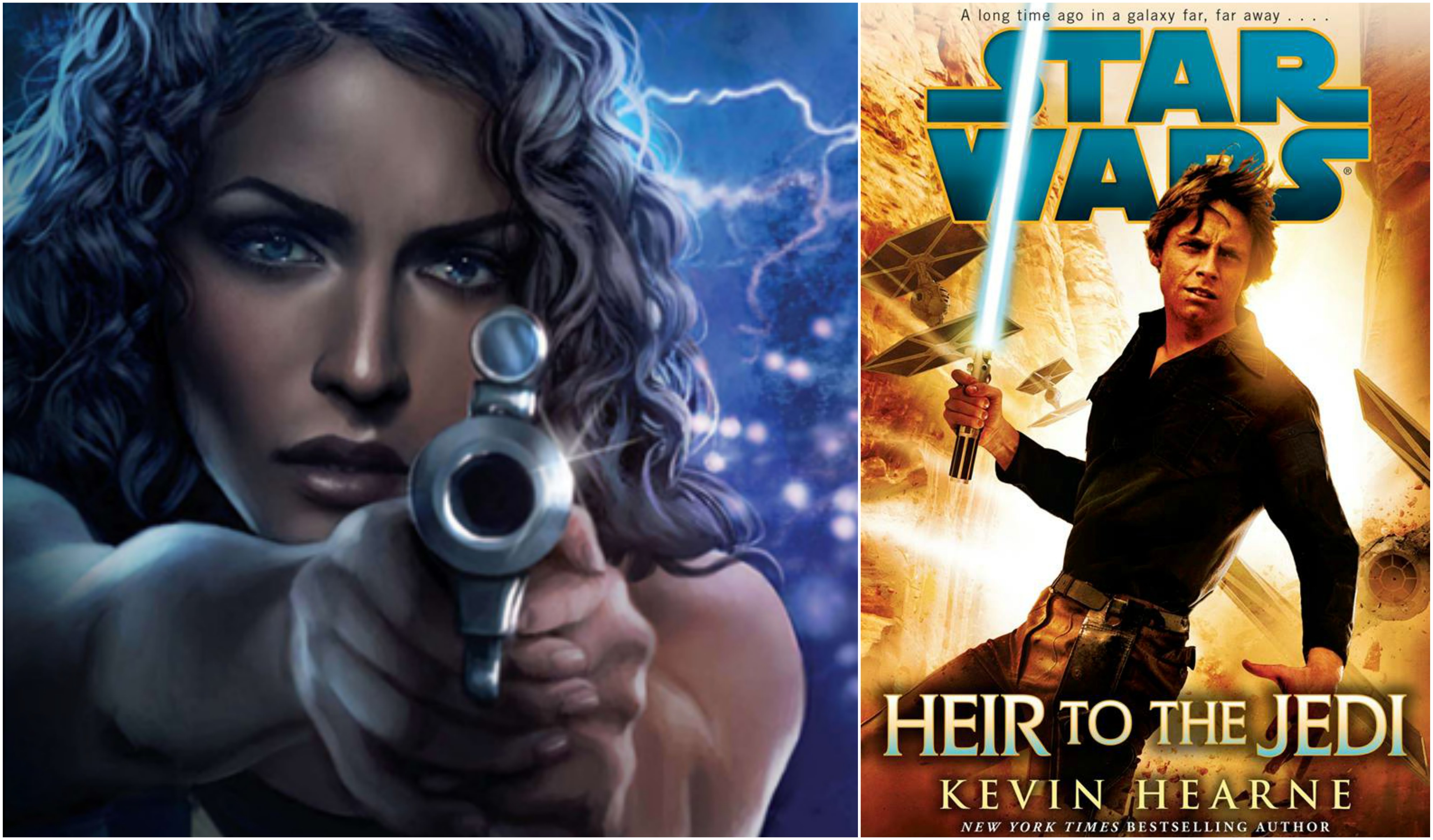 Nakari Kelen teamed up with Luke Skywalker on a mission for the Rebellion in Kevin Hearne's novel Heir to the Jedi. This is Nakari's only Star Wars appearance. Heir to the Jedi takes place between the events of A New Hope and The Empire Strikes Back.
Below is an interview with Kevin Hearne talking about Heir to the Jedi at C2E2 2014.
Day 123 – Andi Gutierrez
Andi Gutierrez was the host of the Star Wars Rebels deep dive/recap show Rebels Recon and is the co-host of the weekly Star wars news show The Star Wars Show. She was also recently credited as an associate producer for the most recent episode of The Star Wars show.
You can also usually find Andi at Star Wars Celebration and on red carpet Star Wars events.
Here's Andi interviewing Kathleen Kennedy on The Star Wars Show.
And here's Andi in the last episode of Rebels Recon.
You can find Andi on Twitter @DeeGoots.
Day 124 – Carrie Fisher
Carrie Fisher played Leia Organa in five Star Wars films. But that iconic role was just a small part of her audacious life and career. Fisher acted in many non-Star Wars films such as The Blues Brothers, Hannah and Her Sisters, and When Harry Met Sally…. She was nominated for an Emmy for roles in 30 Rock and Catastrophe. She won a Grammy for Best Spoken word album for reading her memoir The Princess Diarist and she was nominated for a BAFTA Screenplay Award for adapting her novel Postcards from the Edge. Other books Carrie wrote include Wishful Drinking, Shockaholic, Delusions of Grandma, and Surrender the Pink.
And you should read them.
I don't think I knew what a "script doctor" was until I heard Carrie Fisher talk about her roles in sharpening up scripts from Hook to Sister Act to The Phantom Menace. You can read more about this part of Fisher's career in this article from Mashable – the best quote from Fisher talking about scripts being "Make the women smarter and the love scenes better."
Carrie Fisher will also be remembered for her bravery and openness talking about drug addiction and bipolar disorder. Carrie said things most people only dream of saying out loud about a variety of subjects and this boldness just made her fans love her even more.
If you don't believe me, check out Carrie roasting George Lucas at the 2009 AFI Life Achievement Awards.
Finally, here's the tribute video Lucasfilm put together after Carrie was taken away from us much too soon in 2016. I doubt I would be a Star Wars fan (or as much as one) without Carrie Fisher. She was one of my heroes growing up and she inspired me throughout both of our lives. It's always sad when people who created art you love die, but when Carrie passed away it was much more like losing a mentor – someone whispering in your ear encouraging you to speak your mind, face your demons, and laugh at life.
Day 125 – Taun We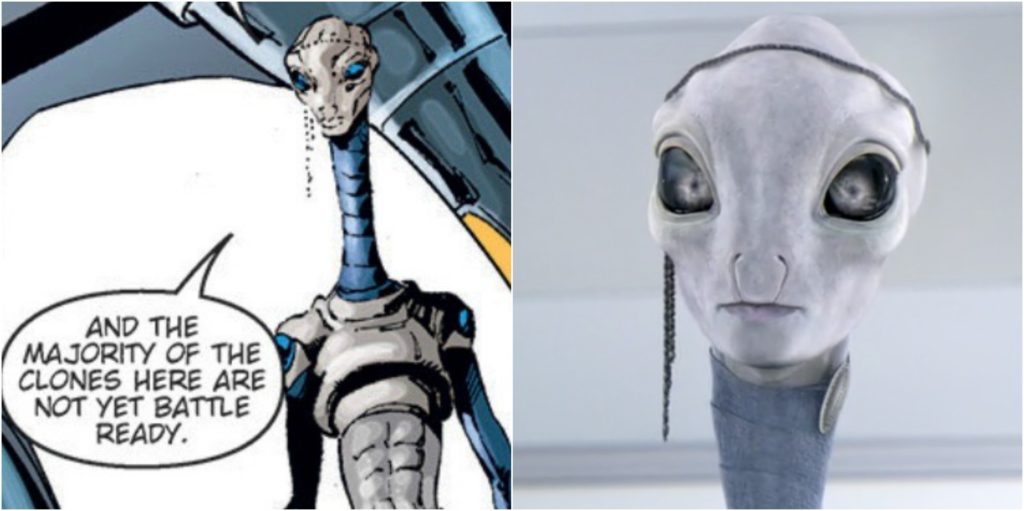 Taun We was an administrative aide in the Kaminoan factory that produced the clone army for the Galactic Republic. She appeared in Attack of the Clones and was voiced by actress Rena Owen.
In Legends materials you can find Taun We in several books and comics including the story "One of a Kind" from Star Wars: Clone Wars Adventures Volume 8 and Legacy of the Force: Bloodlines. Taun We also appears in LEGO Star Wars: The Complete Saga.
Here's a look at a Taun We action figure.
Day 126 – Deena Shan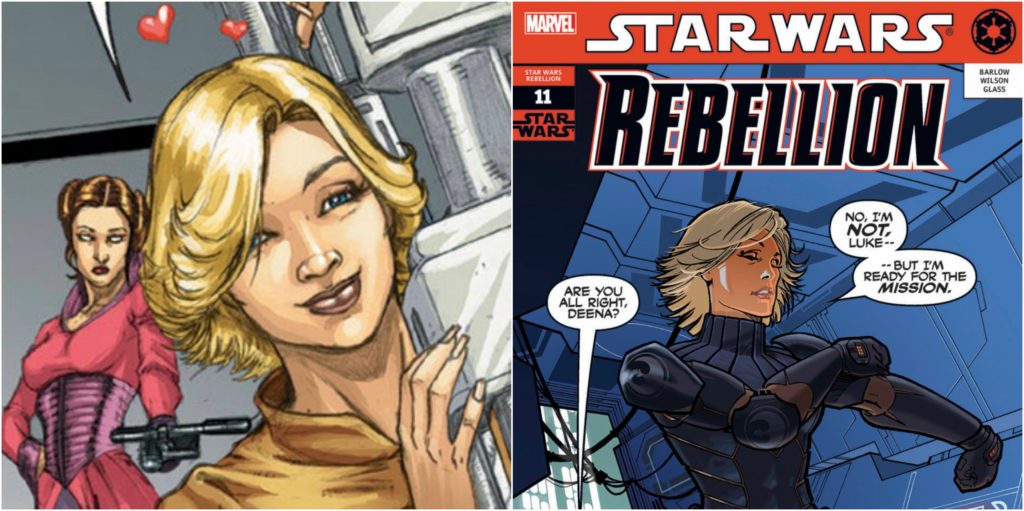 Deena Shan fought with the Rebel Alliance alongside Han, Leia, and Luke in multiple issues of the Star Wars Legends comics Empire and Rebellion.
Shan debuted in the comic Empire 22: Alone Together and went on to appear in The Wrong Side of the War arc in the same comic. She also can be found in issues from the My Brother, My Enemy, Small Victories, and Vector arcs from Star Wars: Rebellion.
During an undercover mission, Shan developed feelings for an Imperial officer but she always remained loyal to the Rebel Alliance.
Day 127 – Alcida-Auka & the Caretakers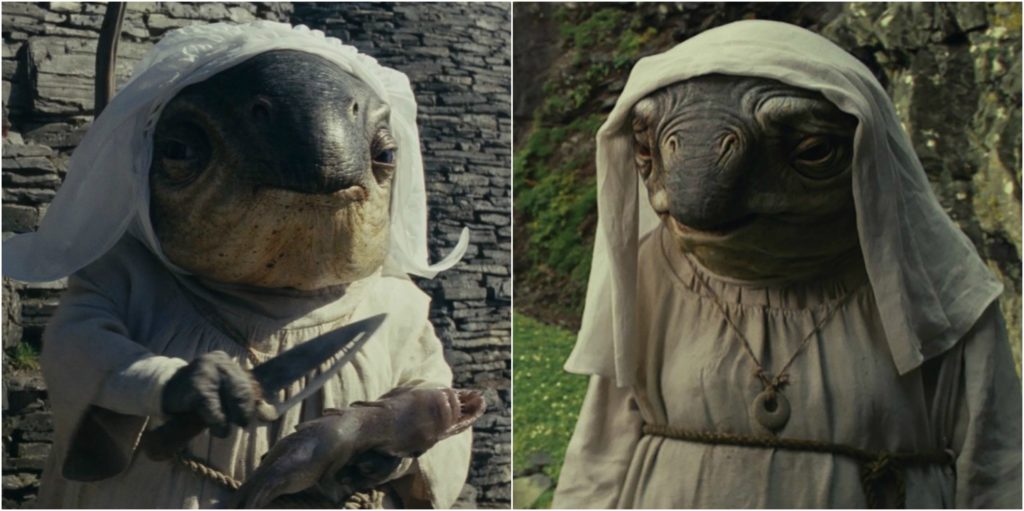 Alcida-Auka and her fellow Caretakers took care of the remains of the Jedi village on the small Ahch-To island where Rey went to find Luke Skywalker in The Last Jedi.
Alcida-Auka was brought to life by Nikki Bond with animatronic support from Patrick Comerford. The caretakers can be found in several scenes in The Last Jedi and they are also featured in many of the deleted scenes that were bundled with the film's home release.
Learn more about how the Caretakers were created in this article from the official Star Wars site.
Day 128 – Tricia Barr
Tricia Barr is the author or two Star Wars reference books – Ultimate Star Wars and Star Wars Visual Encyclopedia – as well as the award-winning space opera/fantasy novel Wynde. She's a regular contributor to Star Wars Insider, created the website FANgirl Blog, and co-hosts the Fangirls Going Rogue and Hyperspace Theories podcasts.
Tricia was kind enough to answer a few questions for 365 Days of Star Wars Women via email for this interview.
When did you become a Star Wars fan?
I was a Star Wars fan when there was just a movie called "Star Wars" and not a whole franchise. I was 8. It was 1977. We waited in line at the military base theater. Love the memories, but don't miss waiting in lines.
Who are your favorite Star Wars women?
Leia was my first heroine. She owned everything she did and had confidence, and that resonated with me. I cosplayed her for Halloween 1977. I loved Han and Leia together, too. Some people think 'shipping is only about romance, but it's really about rooting for the characters to be happy. Han completed Leia in a way that felt organic and true.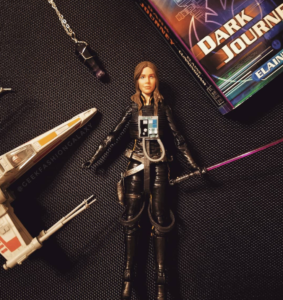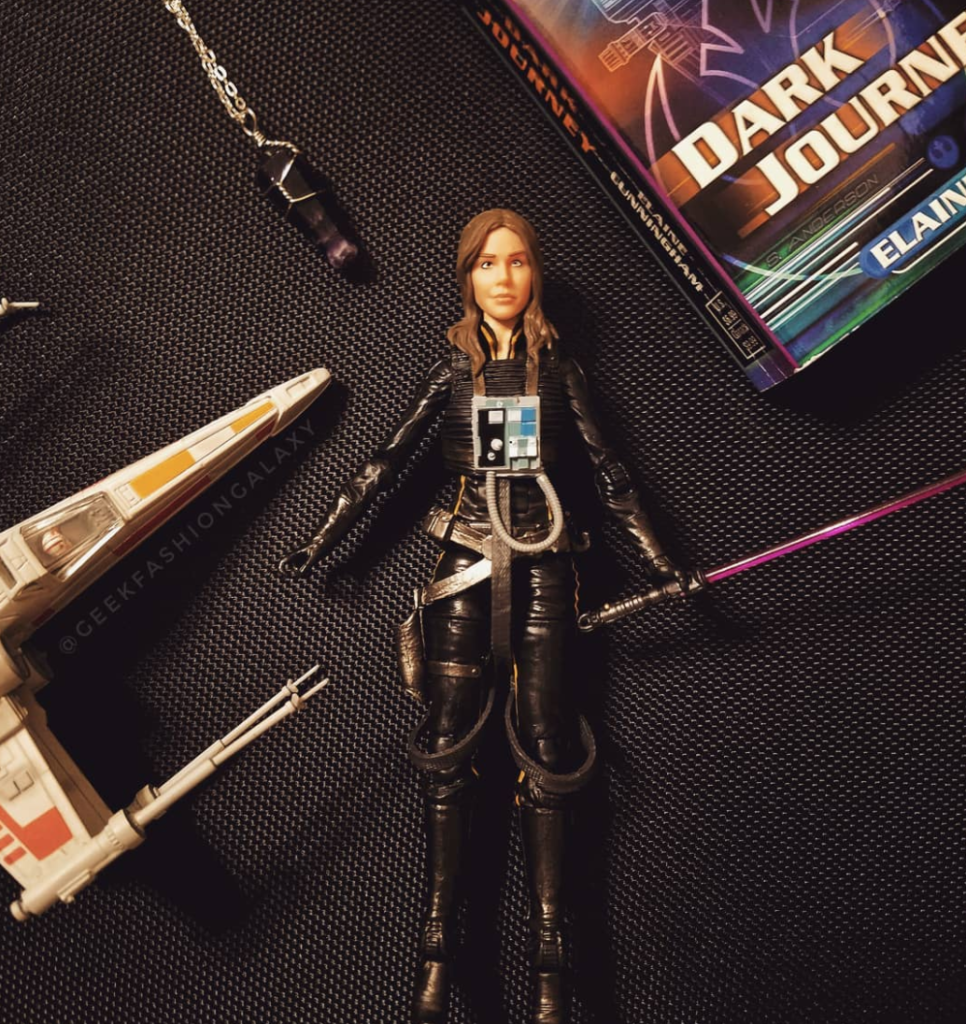 When Jaina Solo came along – daughter of Han Solo and Leia Organa in the Expanded Universe – she spoke to that fangirl in me that had been waiting for Leia to pick up a lightsaber. Jaina took over Luke Skywalker's X-wing squadron, Twin Suns. She had a purple lightsaber and dated her father's archrival's son, Jag Fel, all while going through a Heroine's Journey in the New Jedi Order book series. I see a lot of Jaina in Rey – Jaina scavenged an extra-galactic alien invader's spaceship – which is probably why I like Rey too.
Something from Jaina's adventures that we still haven't seen with Rey is that Jaina had female friends, especially Tenel Ka and Tahiri, and a female mentor in Mara Jade Skywalker. The New Jedi Order had all types of female characters like scientist Danni Quee, intelligence operative Iella Wessiri Antilles, who also had to balance motherhood and a husband, and pilot/Force-sensitive Tyria Sarkin Tainer.
When did you start writing about Star Wars? Was there a specific event that inspired you to start writing about Star Wars?
When my high school English teacher asked for a two-page report on symbolism in The Catcher in the Rye, I turned in a four-page report because I've always loved diving into the nuts and bolts of storytelling. My real deep dive into Star Wars came when I started writing fanfic. I'm also a nationally ranked equestrian, and one thing I've learned over the years is that there is no substitute for putting in the hard work. I scoured books for continuity and lore, read interviews with authors, and debated characterization in message forums. Looking back on the fanfic days, it stemmed from a compulsion to fix where I thought the Expanded Universe was going wrong, particularly with female characters. Everything I did for fanfic paid off when I started writing professionally.
Can you explain/share stories about how and why you started the FANgirl blog and the Fangirls Going Rogue podcast?
Being a Star Wars fangirl ten to fifteen years ago also meant you'd experience bullying. Back then I had opinions on Jaina's story in particular. Her Heroine's Journey stalled after Destiny's Way, just past the mid-point of the New Jedi Order series. I was frustrated by the repetition of harmful gendered tropes. Women who talked about storytelling were silenced, shamed, and bullied on message boards. Social media and blogs were taking off on the path to becoming the new age of the internet fandom. That's when I realized I didn't need message boards to talk about Star Wars. FANgirl Blog gave me an opportunity to not only express my thoughts, but also provide a venue to allow other female fans to flourish. I'm so proud of the many women who started at my site and are now writing for big name sites. That was the goal, to do it not just for me but for those that followed.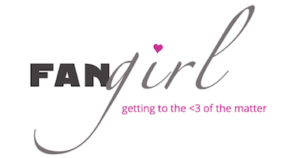 Starting the blog was the best decision because blogging in long form proved that I knew my Star Wars. Because of my constructive criticism and passion, Del Rey Star Wars invited me to write for their site, which led to Star Wars Insider assignments. I can still remember the day Frank Parisi, then editor at Del Rey, emailed to ask if I wanted to interview Aaron Allston for Insider. I was riding my horse, checked my emails, and nearly fell off.
Fangirls Going Rogue podcast evolved from Her Universe's Year of the Fangirl. Teresa Delgado and I met through that initiative. We did a podcast, Fangirl Chat, during Celebration Europe when they announced Star Wars Rebels. From there, RebelForce Radio brought us on board as a show in their network from the female perspective; by the time their network dissolved we had a big enough platform to pivot Fangirls Going Rogue into an independent, self-reliant podcast and website. Sarah Woloski, our third member, we met through Year of the Fangirl, as well. The show had such a passionate following that Sandra Choute came on to manage the social media. One of our goals was to highlight women and minorities working professionally or participating from a fandom side.
What are your favorite things you have written for the official Star Wars site and Star Wars Insider?
The favorite piece I wrote for StarWars.com was my first article. You have to love all your work, but it was a unique pitch that I made on a dial-up internet connection from the Galapagos Islands where I was going to celebrate May the Fourth. Throughout the whole trip I wore Star Wars attire as a way to start a conversation with my fellow travelers. I pitched the idea of telling the story of my adventures. It was really different than most of the content the site was posting at that time, but they accepted the piece.
I've loved writing for Star Wars Insider because you can get more into storytelling and analysis. Recently I have been primarily writing pieces on the Hero's Journey, breaking down the Campbellian model and showing how modern takes by Christopher Vogler (The Writer's Journey) and Maureen Murdock (The Heroine's Journey) are changing myth. I was chomping at the bit to do the Rey pieces (Issues #167 and #168) after The Force Awakens, so when the approvals came down those were fun to tackle. My favorite though was the "Fangirls Flying High" article that I wrote for Issue #151 in 2014. It was a piece specifically commissioned to acknowledge the women who were fans, all the way back to 1977.
How did you become an author for Ultimate Star Wars and the Star Wars Visual Encyclopedia? What was that experience like?
I wasn't actively putting my name in the hat to write a Star Wars book when I was approached to do Ultimate Star Wars, but I had some experience doing edits on The Essential Reader's Companion that helped show I had a nuanced understanding of the broader lore. Ultimate Star Wars was on an incredibly tight timeline, and we were tasked with establishing everything in canon at the point where they were coming into the new films. Initially there is excitement – or as we call it on Fangirls Going Rogue, fangirl flailing – then you are in the weeds writing for two months at the pace you'd write a term paper for just one night. The exhaustion and sheer terror that took over some nights was worth the launch party at Celebration Anaheim with Anthony Daniels.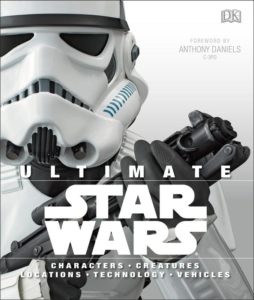 The Star Wars Visual Encyclopedia was easier. I knew how the publishing process worked and had a system for writing against the deadlines. Still, that book was something different than what we've typically seen. Adam Bray, Cole Horton, and I kicked off that book's writing with a pie party in the DK Publishing office in London before Celebration Europe. DK pulled so many images and their team kept massaging that book until it looked amazing.
I feel like my experience managing my own multi-million dollar engineering projects helps me understand what the publisher and the franchise expect. Having an excellent day job has afforded me the ability to write these books.
On both books I had a female editor: Sadie Smith on Ultimate Star Wars and Ruth Amos on Star Wars Visual Encyclopedia.
What are your thoughts about Star Wars having no female writers for the feature films (besides Leigh Brackett who wrote the first draft for The Empire Strikes Back) and few female writers for the TV series so far?
Not just no female writers on the films, but women haven't been given a chance to write the junior or adult novelizations, either. Star Wars from its inception was a story about oppression – it was conceived in a time of social upheaval. Everyone acknowledges that Leia was a breakout female character, and if you look at The Phantom Menace I think Padmé and the Handmaidens were, too. But they both fell prey to tropes. Lucas was truly struggling against the system and telling a personal story about his relationship with his father. If you want to keep Star Wars a story about the underdogs and oppression, then the underdogs need to tell those stories.
When Kathleen Kennedy came on to do Star Wars, I felt like George Lucas knew he needed a woman to take the reins or the franchise would quickly devolve into simply a fanboy wish-fulfillment vessel. Kennedy has spent a professional lifetime supporting male storytellers; she even admitted that when she first started working at Lucasfilm she was looking up "strong female character." She was on a learning curve, and the female hires in the Story Group were meant to bolster the voices in the room on that topic. Kennedy also has engaged in the double-speak that is common in Hollywood when questioned on the lack of diversity in her director and screenwriter hires. One of her points has been risk-taking or building women up to be successful. She could have made that happen through the animation, but the gender imbalance is as bad there.
Unfortunately it's going to take a firm commitment to inclusivity goals to change the culture within a corporation that has a longstanding pattern of diminishing women's place at the table. Marcia Lucas was written out of her role in making Star Wars a hit, Carrie Fisher had her own #MeToo moment, and Natalie Portman has been derided from inside the franchise simply for being an opinionated woman. All these things happened under George Lucas' watch, and I don't believe Lucasfilm has really acknowledged the problems that existed in their corporate culture from before the Disney purchase. You can look at Rey's role in The Last Jedi, where she spent the last act mostly out of the story, and wonder if the same pattern of failing the female character in the trilogy is happening again. I have no doubt that with a woman in the mix – think Hunger Games or Wonder Woman – Jyn's and Rey's stories would be different. That's not saying that their stories aren't good, but I believe they could be so much better and relative to women.
It's not just the writers and directors, but how they perpetuate the problem by hiring men who look and think like them. The Art Of books for the new movies rarely mention Story Group members, but discuss a lot of men who had a seat at the table. When it comes to the films, the brain trust is hardly talked about, and I believe that's because it is so male and white. They are the people making the high-level decisions on the myth: J.J Abrams, Lawrence Kasdan, Michael Arndt, Rian Johnson, Simon Kinberg, and Rick Carter. The Story Group provides the connectivity, but they aren't where the creative control rests. Hard data from scholarly research proves that having women in writing and directing roles changes the storytelling in front of the camera and the people working behind the camera at all levels. You can't really tell a story where the intention is to say "anyone can be a hero" when the meta of the story creation process doesn't give women or people of color a chance to be the hero of the storytelling process.
Do you have any Star Wars dream projects you'd like to work on? Related: any female characters you'd be the most excited to write for?
I'd love to see a Heroine's Journey book for Rey, once her sequel trilogy arc is done. Sort of a Making Of meets character's impact on myth. I was watching the season premiere of The 100, which has so many layered female characters, and I could see homages to the new Star Wars films. It would be fun to make a glorious coffee table book about Rey's influence.
Although I have written non-fiction, I am an award-winning science fiction novelist. On the fiction side, I want to write about Padmé and Naboo. When I started on Ultimate Star Wars I was surprised that the Handmaidens from the films were omitted in favor of some really minor characters from the animation. The list of characters came from the Story Group, which again highlights where there is room for improvement. I don't believe that is a misogynistic omission but rather no one is in the room going "but what about these characters?" (And yes, plenty of people love the prequels!) I hope, too, that one day Star Wars mines the alternate universe potential it has, and when that happens I want to write the novel about Jaina Solo completing her Heroine's Journey.
Has Star Wars inspired your own storytelling?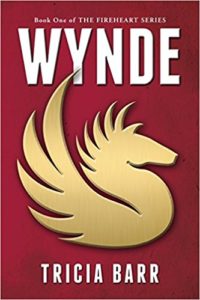 Yes! My novel Wynde is a space opera about a female pilot Vespa, who has parents that are in the global spotlight. The story opens with a Pearl Harbor-style attack perpetrated by an alien race, and the heroine must make an impossible choice, then face the consequences as war erupts between two worlds. It's absolutely inspired by my love of Jaina Solo and her story. One of the lessons I've learned from studying Star Wars is that the world-building can impact the inclusion so I worked hard on that upfront. I wrote what I loved to talk about, and I'm continuing on growing that universe with a sequel that's in the works.
You can find Tricia on Twitter @fangirlcantina.
You can find out more about Tricia on her website, FANGirl blog, and at Fangirls Going Rogue.
Day 129 – Hannah John-Kamen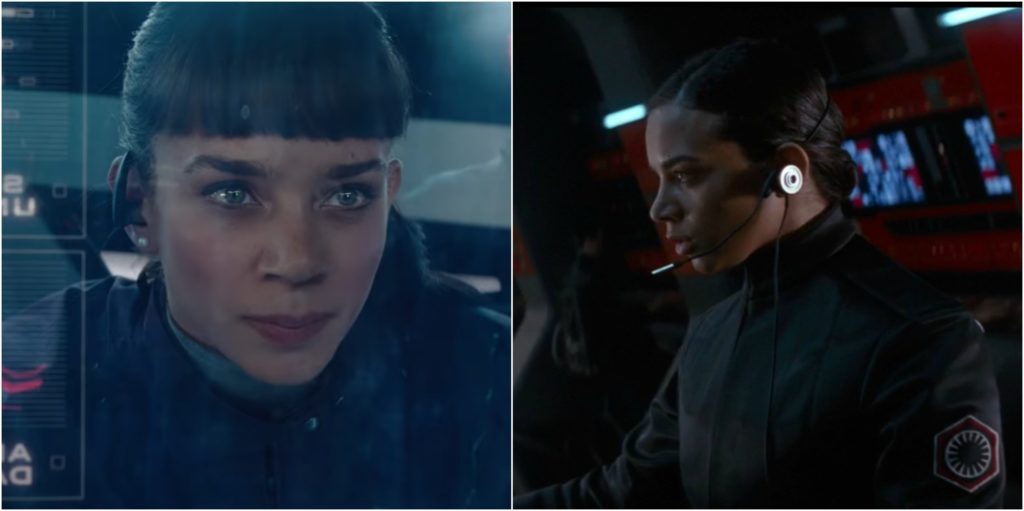 Hannah John-Kamen played a First Order Office in The Force Awakens. Over the last few years John-Kamen has played roles in Game of Thrones, Black Mirror, Tomb Raider, and Ready Player One.
You can see Hannah John-Kamen later this year as Ghost in Ant-Man and the Wasp.
Find out what Hannah's favorite Star Wars moment was in this video from EPNdotTV in 2015.
And enjoy this interview with Ben Mendelsohn (Krennic!!) and Hannah John-Kamen talking about their roles in Ready Player One.
Day 130 – Samantha Smith
Samantha Smith was the third assistant director on Revenge of the Sith. She was also a set production assistant on Attack of the Clones. Since Sith Smith has worked as second assistant director on the TV Mini-Series The Pacific and the films Great Gatsby and Jason Bourne. For Mad Max: Fury Road and Gods of Egypt she was the key second assistant director.
If you're wondering what assistant directors do on a set I highly recommend watching the Revenge of the Sith documentary Within a Minute. You can watch it below, or find it in the extras on a blu-ray or digital version of the film. The section on the directing team starts about 26 minutes in and you can see Sara Smith at work on set and hear from her in this section of the documentary.
The more complicated the film, the more assistant directors the film will need.
Day 131 – Iden Versio
Iden Versio was a pilot and Commander of Inferno Squad for the Galactic Empire. She is the main character in the video game Star Wars Battlefront II and the prequel novel Battlefront II: Inferno Squad by Christie Golden.
Janina Gavankar brought Iden Versio to life in the game Battlefront II and narrated the audiobook Battlefront II: Inferno Squad.
Even if you don't enjoy video games I highly recommend Golden's book. The story of Inferno Squad and Iden Versio does not disappoint. If you're never going to play Battlefront II check out this video from Star Wars Explained that goes through Versio's story.
Day 132 – Mahtee Dunn
Mahtee Dunn was a Rodian mother who was hypnotized by bounty hunter Cad Bane in an episode of The Clone Wars. In "Children of the Force" Bane kidnapped Dunn's force sensitive child, Wee Dunn. Her child was later recovered by Anakin Skywalker and Ahsoka Tano and accepted into the Jedi Order. This episode of The Clone Wars was adapted into the children's book Children of the Force.
Actress Jameelah McMillan voiced Mahtee Dunn. McMillan also voiced Day 39's Queen Neeyutnee.
Here's a clip of Dunn after she has been hypnotized from "Children of the Force."
Day 133 – Mother Talzin
Mother Talzin was the Clan Mother of the Nightsisters – a coven of Force-sensitive witches. She appeared in several episodes of The Clone Wars and three issues of the comic series Darth Maul: Son of Dathomir. You can also find Mother Talzin in the games Star Wars: Force Arena and Star Wars: Galaxy of Heroes.
Mother Talzin was also a mother. Her two sons were Darth Maul and Savage Opress. Talzin was voiced by actress Barbara Goodson.
Here's Mother Talzin and Mace Windu in an episode from The Clone Wars.
Day 134 – Tey How
Tey How was a Neimoidian communications officer for a Trade Federation ship in The Phantom Menace. Amanda Lucas voiced Tey How in the film. How also appeared in the comic and Manga adaptations of The Phantom Menace but her dialogue is either cut out or spoken by other characters so it's difficult to spot her.
How can also be found in the book William Shakespeare's The Phantom of Menace: Star Wars Part the First.
You can learn more about Tey How on her Wookieepedia page.
Day 135 – Teneniel Djo
Teneniel Djo was a part of the Singing Mountain Clan of the Witches of Dathomir and became Queen Mother of the Hapes Consortium shortly after she married Hapan Prince Isolder. Teneniel and Isolder had a daughter named Tenel Ka who was Day 98 for 365 Star Wars Women.
If the paragraph above makes no sense I recommend reading her Wookieepedia page or reading the book The Courtship of Princess Leia – which is the book Teneniel Djo debuted in. She also appeared in a couple of book in the Young Jedi Knight and The New Jedi Order book series.
If you don't have time to read The Courtship of Princess Leia (or have just heard about it and don't want to) check out the Chapters 1-5 recap from Rogue Podron below.
Day 136 – Shu Mai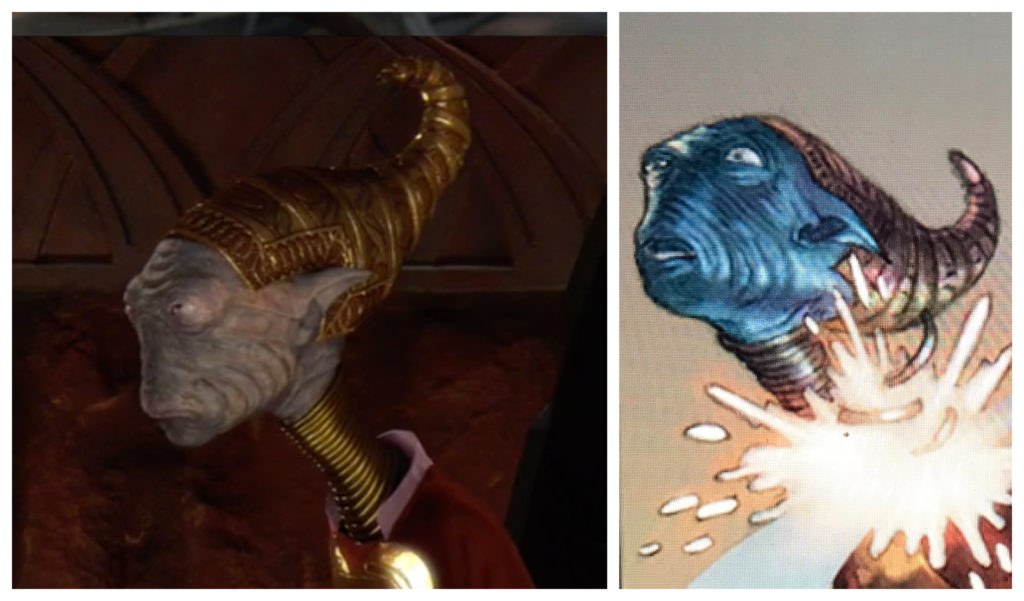 Shu Mai was President of the Commerce Guild and member of the Separatist Council in Attack of the Clones and Revenge of the Sith. Shu Mai was in the Geonosis meeting with Count Dooku in Attack of the Clones and she was killed, along with all the other members of the Separatist Council, on Mustafar by Anakin Skywalker near the end of Revenge of the Sith.
Shu Mai debuted in the Legends Attack of the Clones novel tie-in novel The Approaching Storm by Alan Dean Foster. You can also find Mai in the Clones and Sith comic adaptations, the comic The Clone Wars 4, and the novel Labyrinth of Evil.
The best shot of Shu Mai is in this clip from Attack of the Clones.
Day 137 – Amy Beth Christenson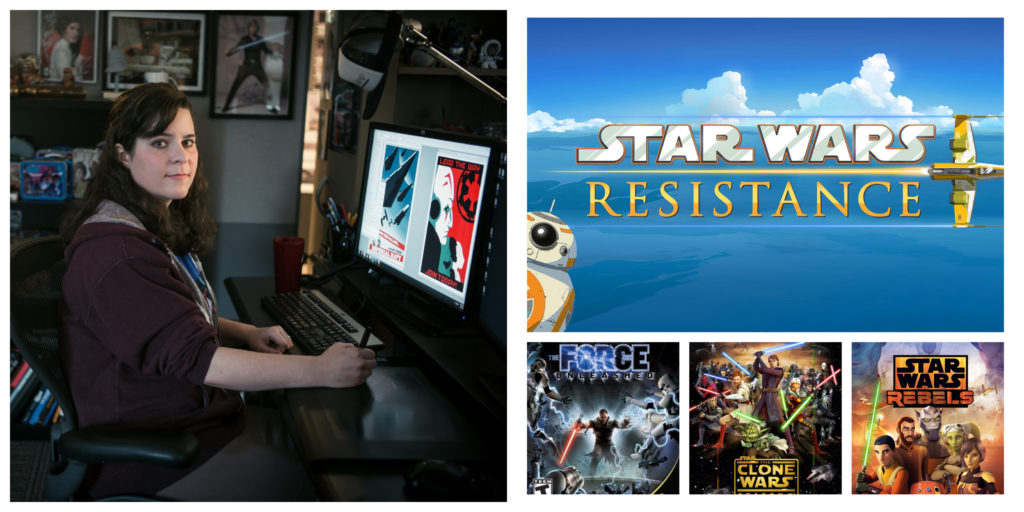 Amy Beth Christenson is the art director for the upcoming animated TV series Star Wars Resistance. She previously worked as lead concept artist for the video games The Force Unleashed and The Force Unleashed II, she was a design and concept artist for a few episodes of The Clone Wars, and she was the senior concept designer for Star Wars Rebels.
At the start of Star Wars Rebels Fangirls Going Rogue interviewed Amy Beth Christenson about her career. Amy wrote about some of her work for Rebels on the official Star Wars site and you can see some of Amy's art on her personal website.
Amy Beth Christenson was kind enough to answer a few questions for 365 Days of Star Wars Women via email.

What was your introduction to Star Wars?
Star Wars just happened to be the first movie that I ever saw in a theater, although I was too young to remember at the time. I do have vivid memories of seeing The Empire Strikes Back when it came out in 1980, and being completely hooked on Star Wars from that point forward. I already had some of the first Star Wars Kenner action figures, but my infatuation with the movies and toys started in earnest from 1980 on. My entire family bonded over the Star Wars movies, and the whole of my childhood was spent watching the movies over and over again, while collecting as many toys, comics, and novels as possible.
Do you have a favorite film, character, or time period?
The original trilogy movies are too ingrained in my childhood, so that era will always be the nearest and dearest to my heart. My favorite film is Return of the Jedi, and in particular the scenes in Jabba's Palace. One of the defining moments of my childhood is when Boushh takes the mask off, to reveal Princess Leia, there to save Han. The character of Leia will always be very important to me. As a child, it was great to see such a strong-willed, sarcastic, confident, caring female. To have a character like Leia in such a significant movie role really resonated with me at a young age.


What was your first Star Wars project and what was your art education and work background before you got that job?
My first Star Wars project was Star Wars: Starfighter, which I started working on in 2000. It was my first job out of college. I was hired at LucasArts just after graduating from Ringling School of Art and Design. Before that, I attended the Kansas City Art Institute. I focused on Design and Illustration, but had taken some 3D classes. That skill helped me to be both a modeler and a concept artist while working in games, and I still use 3D to block in sets and vehicles while I'm designing them.
Was working on a video game your goal at that time?
My other childhood obsession, (besides Star Wars and watching cartoons), was playing video games. My brother and I played video games together all of the time while we were growing up. In fact, I still have all of our old game consoles. Working at LucasArts was a dream job for me, since it combined both Star Wars and video games, and I've always been a huge fan of all things LucasArts. As it happens, all of the shipped titles that I worked on at LucasArts over my 11 years there were Star Wars titles. Between those projects, Clone Wars, and Rebels, I have been creating designs for Star Wars for 18 years straight.
For both The Force Unleashed video game and its sequel The Force Unleashed II you were the lead concept artist. Can you explain what a lead concept artist does on a video game?
For Force Unleashed I, my title was senior concept artist, and it actually wasn't until Force Unleashed II that I came to be lead concept artist. I was still designing characters, vehicles, and sets for the game. But in addition to those tasks, I worked closely with the other art leads, (environment, character, animation, etc.), to help ensure that everything worked well together and within parameter, and to help review assets all the way through from design to model, and on to rigging and animation.

You were also a concept designer on a few episodes of The Clones Wars and for Star Wars Rebels. Are there any major differences between working as a concept designer on a video game or on an animated series?
Some of the processes differ, but overall, it's the same approach to designing for an animated series as it is for a game. Creative problem-solving is just as important in both scenarios, and any design should be functional while telling a visual story, as well as look unique and memorable while staying within technical parameters. It's because of these similarities that several artists on the team have worked in a variety of industries: games, features, and other animated series.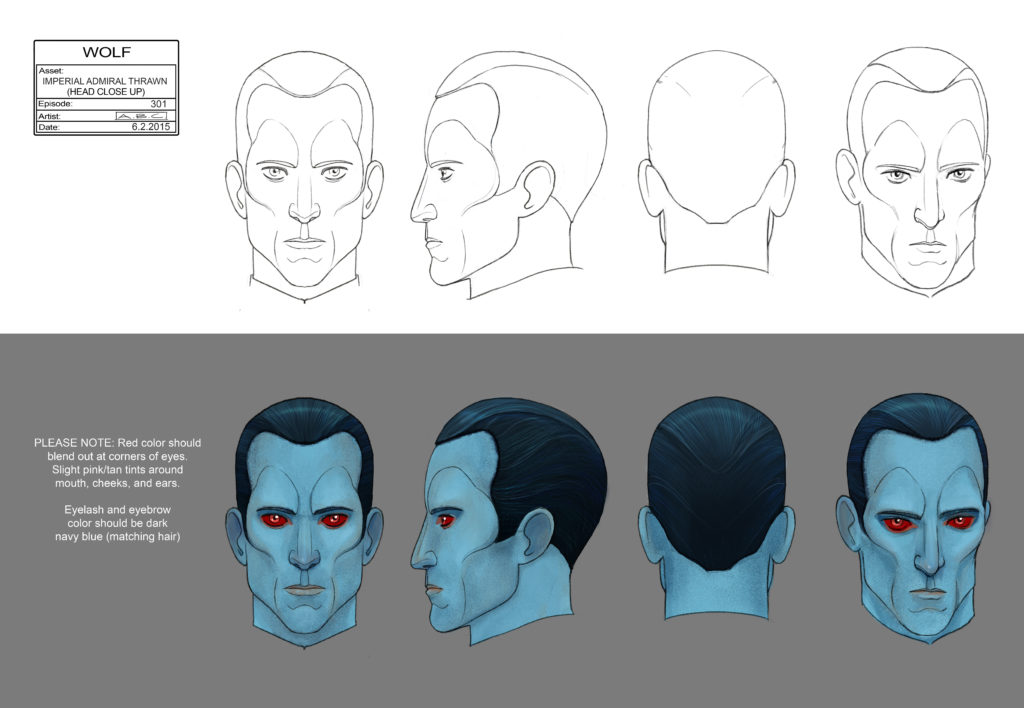 What are some of the highlights from your time working on Star Wars Rebels?
There have been a lot of highlights, (like working on Hera and the prototype AT-AT), but for me the greatest moment was getting to design Grand Admiral Thrawn. That character has a particular significance for me as a Star Wars fan. I remember going to a bookstore with my family on the day that Heir to the Empire came out, and then all of us fighting over who would get to read it first. I was beyond excited to get to design Thrawn for Rebels. The author Timothy Zahn came to see the episode while it was in early production, and I was able to meet him – and get his autograph on my original copy of Heir to the Empire.
I know you can't talk about the new series Star Wars Resistance. But can you explain the role of an art director on an animated series?
The most important work for art directors is done during the very early stages. One of the first steps is to start on look-development studies, rough character sketches, and early key art. From there, creating example art and early screen tests are especially essential, as is working closely with the supervisors as the pipeline is developed. Ideally, the concept art will look like the finished product, (and vice versa), so being a part of the entire process and knowing how the end result will look and move is important.
Another aspect of the job is creating an overview of the show's look/feel, as well as a definitive art style guide. Guides like these help sustain the visuals of the show throughout its course, and are handy for the artists to have as short-hand reference. During production, I manage the concept design team; help schedule the tasks; and review designs, color keys, matte paintings, and lighting. As a group, the producers, supervisors, leads, directors and I review the episodes at various stages. Also, I continue to design some of the characters, vehicles, or sets for each episode.
Finally, do you have any advice for people wanting to work as a concept artist or art director on an animated series?
There are a lot of aspects to this job, but I believe that problem-solving is one of the most important skills to have. Offering multiple creative options for each design task, making sure that all of the pieces fit together and are functional, and ensuring that the design fits into a larger visual world and tells its part of the story – these are all part of the day-to-day tasks for a concept artist. Showing that you have the ability to come up with a variety of creative and viable solutions is a skill that is valuable to any team.
Here's Amy talking about designing the Rebel Yavin base for "In the Name of the Rebellion" episode of Star Wars Rebels.
Day 138 – Sharmila Devar
Sharmila Devar was the voice of Ursa Wren on Star Wars Rebels. Devar has also appeared in the TV series Outsourced where she played Lata and Scandal where she played Lauren Wellman. Devar was kind enough to answer a few questions via email for 365 Days of Star Wars Women.
What was your introduction to Star Wars? Do you have a favorite film or character?
My bro and I both grew up as Episodes IV-VI kids.  Star Wars was a BIG deal.  I remember it playing on TV when I was young and we were OBSESSED. My bro even had a Millennium Falcon model.  We had a Yoda puppet & light sabers & some of the mini action figures.
My favorite SW movie is Rogue One.  I re-watch it all the time – I think I've seen it over 20 times.  It is so deep and moving – and tragic.  As much as I love the Skywalker clan, I always wondered about the folks who died for the Resistance.  I wanted to know their stories.
As a kid, Leia definitely was my favorite character – Carrie Fisher was a rock star.  But, I'm embarrassed to say I also had a thing for that laughing hyena-like pet of Jabba The Hut.
Before your work in Star Wars Rebels you appeared in recurring roles in the TV series Outsourced and Scandal fairly early on during that show's 7 season run. What were those acting experiences like? When you started your role in Scandal (one of President Fitz's assistants Lauren Wellman) was the show already hugely popular with fans? Did you have any big secrets to keep during your run on that show?
One of the best aspects of my job is that every opportunity (and character) brings unexpected joys.
On Outsourced the team created such a sweet good-natured family friendly sitcom. I still meet people (and not just South Asian ones) who tell me how much they miss that show.  The showrunner Robert Borden, the writers & the producers were really generous, and I got to work with directors who were comedic masters.  Plus, playing with those hilarious quick-witted comedy actors was a blast.  It was my first experience as part of a TV family – and I'm still friends with some of those folks to this day.
I started on Scandal during the time it exploded to become the #1 show on TV.  So it was quite an exciting job to have.  All of the actors I worked with – Tony, Jeff, Scott, the immensely talented Bellamy & of course Kerry (who is such a generous and funny person) – were at the top of their game and I learned SO MUCH from them.  I got to work with directors like Ava DuVernay, Tony (who in addition to playing President Grant directed some episodes) and Tom Verica, who always championed me & Lauren.  And, of course, Shonda's writing was masterpiece monologue within masterpiece scene. Dense and rich and complicated. Messy, heightened, but so very human.
But the most rewarding thing was how inspiring it was to so many women – particularly women of color.  I will always be humbled that I got to be part of such a cultural phenomenon.
As for secrets, I knew some – and I also knew to keep my mouth shut in case anything I didn't think was a secret was actually a secret!
How did you become the voice of Ursa Wren? Did you know you were auditioning for a Star Wars character at the time?
People always told me I would be good at voiceovers – I have a pretty wide range & a few of my on-camera characters have had unique voices.  So I had been auditioning for animated shows and films on and off through the years. I also have narrated audiobooks and done a few radio readings/plays – so it wasn't a completely unfamiliar world to me.
As for becoming the voice of Ursa  – thanks to Lindsey the SW Casting Director and my great agent Mike – I auditioned!  Quite blindly in fact.   I was given a few notes about the character, some lines (many which were just written for the audition) and some performance notes.  I think I knew it was for Rebels, but not much else.  Sometimes you get lucky and magic just happens…. I heard Ursa's voice very clearly in my head and decided to go for it.
How would you describe Ursa Wren as a character?
Ursa Wren is a powerful, sometimes cold, warrior queen. Honor and power are big things for her. She can have a dangerous temper. Like Queen Margaret from Shakespeare.  Like Cersei (right?) from GOT.  She has always known her #1 responsibility is to Mandalore.  For Mandalore, she would sacrifice her life.  She loves her children but struggles with her role as a mother.  When you are a person who is always rigid and in control, it is difficult to accept those who defy you.  Especially when they are your blood.  Especially a rebel like Sabine.  I always felt like that was her central conflict – love and pride for her wild daughter vs. love and duty for her country & traditions.
I know Rebels tried to do recordings with several actors present in the same room if possible. Were you able to record in the same room as other Rebels actors for your episodes?
We did. Dave was great creating that atmosphere.  From what I remember, for most of the sessions, everyone who wasn't previously committed to another project was there.  They all were so welcoming, tremendously talented and incredibly kind. And fun! We had a lot of laughs while recording.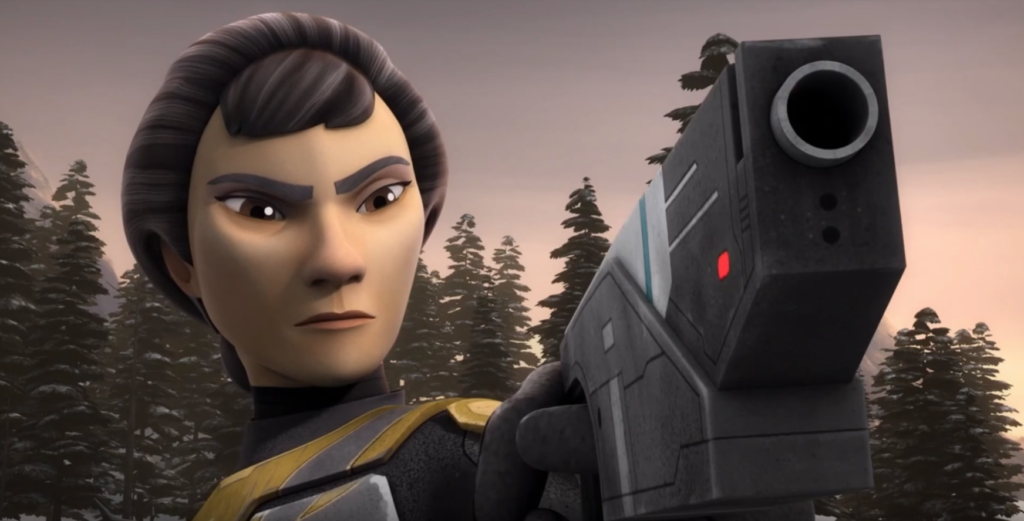 Do you have a favorite episode you worked on for Star Wars Rebels? Or perhaps a favorite line?
I still love that first episode, because it was the first time I got to see and hear my Ursa come to life. That was so exciting – I've only ever played a character like that on stage, so it was thrilling to see it realized on TV, where so many more could experience it.
Off the top of my head I can't think of a favorite line, but I do have a favorite moment.  When Ursa shoots – I think Gar Saxon – there is a moment when right before the shot, the Darth Vader theme plays. I was recording pickups in the studio and when I heard that, I couldn't stop smiling.  It was one of those moments I'll remember for a long time.
Would you be interested in playing Ursa Wren in future Star Wars projects?
YES PLEASE!  Anytime and anywhere.
Are you interested in doing more voice acting work?
I am.  I really enjoy the opportunity that it allows – you aren't limited by your physicality, your skin color, your looks, your age…  And the collaboration is really rewarding – it isn't just me and the writers/director creating a character.  Ursa Wren doesn't exist without the artists who animate her. So it is this incredible experience where anything is possible.
Have you had many interactions with Star Wars fans since you started with Star Wars Rebels?
Not too many, other than being the most popular Auntie among my friends' kids.  But I have received some moving and heartfelt letters from Star Wars fans.  I have a board in my office where I post all those letters so I can be reminded that I was part of this iconic world.
Can you share anything about upcoming projects you're working on?
I have a few projects that I've been working on with writer/producer/director friends – but they are all in the early stages.
I'm most excited that I will next be seen in Noah Baumbach's new feature starring Scarlett Johannson and Adam Driver.  I've been a big fan of Noah's work for a long time – and working with him did not disappoint. So I'm really looking forward to seeing it – and me in it!
You can find Sharmila on Twitter and Instagram @sharmiladevar.
Day 139 – Currahee
Currahee was a sergeant in the Galactic Empire in three books from the Servants of the Empire book series. Author Jason Fry created the strict and demanding character Currahee who was also known by the nickname "Curry."
Currahee appeared in the books Rebel in the Ranks, Imperial Justice, and The Secret Academy.
Day 140 – Jitt
Jitt was a Jawa mechanic who became enchanted with a gonk droid in the story "GONK!" from Star Wars Adventures #8. "GONK! was created by writer and artist Otis Frampton and letterer Tom B. Long.
Day 141 – Rae Carson
Rae Carson is the author of the YA Solo tie-in novel Most Wanted, the novella "Hear Nothing, See Nothing" that was a part of the anthology Canto Bight, and the short story "The Red One" that was part of the From a Certain Point of View anthology.
Carson is also the author of The Fire and Thorns Trilogy and The Gold Seer Trilogy.
Here's an interview with Rae Caron back from 2013.
You can learn more about Rae Carson's work on her website.
Day 142 – Allison Shearmur
Allison Shearmur was a producer on both Star Wars standalone films – Rogue One: A Star Wars Story and Solo: A Star Wars Story. She was also the executive producer on The Hunger Games: Catching Fire and The Hunger Games: Mockingjay – Parts 1 & 2.
These are just a few of Shearmur's film credits, but I don't think they do her career as a film producer justice. Shearmur was at different times in her career the co-president of production at Paramount Pictures, the president of motion picture production at Lionsgate, and in 2012 she went out on her own as an independent producer (and she was a very successful one).
Sadly Allison Shearmur died earlier this year from lung cancer. In a New York Times article published after Shearmur's death (which I highly recommend reading) her husband reported that she attended a meeting about visual effects for Solo the day before she died and that on the day she died she was talking about a script her former assistant wrote (she wanted to help find it a home). Allison Shearmur was clearly a woman committed to her craft and I hope that her career will inspire Star Wars fans for years to come.
Here is Shearmur talking about the 2015 version of Cinderella she produced.
And four minutes into this Rebels Recon you'll find Shearmur chatting with Chopper about the Death Star plans.
Day 143 – Nina Gold
Nina Gold was a casting director for The Force Awakens, The Last Jedi, and Solo: A Star Wars Story. She was also the casting director for the TV series Game of Thrones, The Crown, and dozens of other films and TV series over the last 20 plus years.
The video below is from 2016 when Gold received a special BAFTA Award. It has three parts: an introduction where actors, directors, and producers talk about Gold's work, Gold's acceptance speech, and a short interview with Gold.
Gold talks about casting Daisy Ridley and John Boyega in The Force Awakens and Game of Thrones creators David Benioff and Dan Weiss talk about the huge impact she had on the series. After watching this video I would be very surprised if Gold wasn't involved in the casting of the new trilogy of Star Wars films coming soon from Benioff and Weiss.
Day 144 – Thandie Newton
Thandie Newton played Val in Solo: A Star Wars Story. She's also currently starring as Maeve Millay in the HBO series Westworld. 2018 is arguably Newton's best year of her career so far (she's also starring in the dark comedy film Gringo with Joe Edgerton, Charlize Theron, and David Oyelowo this year) and Newton has been acting consistently since the early 1990's.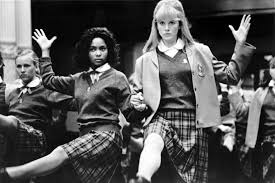 Newton's first role was in the Australian coming of age film Flirting where she starred alongside Nicole Kidman. Newton worked mostly in films at the beginning of her career appearing in Jefferson in Paris, Beloved, Mission Impossible II, the Charade remake The Truth About Charlie, and Crash.
She went on to act in several TV series including a recurring role in ER and starring roles in The Slap, Rogue, and Line of Duty.
Below is a TED Talk Thandie Newton gave in 2011 about the subject of embracing otherness.
And here's a lovely chat between Newton and Oprah Winfrey.
And finally a trailer for the series Line of Duty.
Day 145 – Emilia Clarke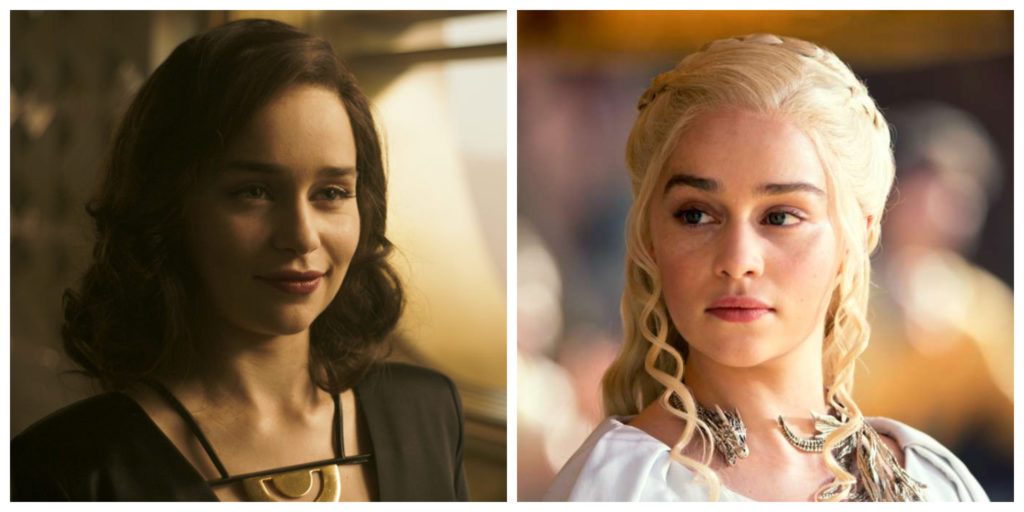 Emilia Clarke stars in Solo: A Star Wars Story as Qi-ra. Clarke is also the Mother of Dragons, Daenerys Targaryen, in the smash HBO hit TV series Game of Thrones. Her role in Game of Thrones came after a few TV episodes and shorts appearances. Post-Thrones Clarke appeared in the films Terminator Genisys, Me Before You, Voice from the Stone, and Above Suspicion.
Here's Clarke talking with Rolling Stone about Game of Thrones and realizing you have become famous (it's hilarious).
And being interviewed about Solo with Paul Bettany.
Day 146 – Iella Wessiri
Iella Wessiri was a Corellian Security Force Agent and later a spy for the Rebel Alliance in several Legends books. Her character has so far only appeared in Legends materials but she married a well-known canon character, Wedge Antilles.
Wessiri debuted in the novel X-Wing: Wedge's Gamble. She appeared in several other X-Wing books as well as I, Jedi, Star Wars: Union, and books from The New Jedi Order and Legacy of the Force book series.
Day 147 – Jocasta Nu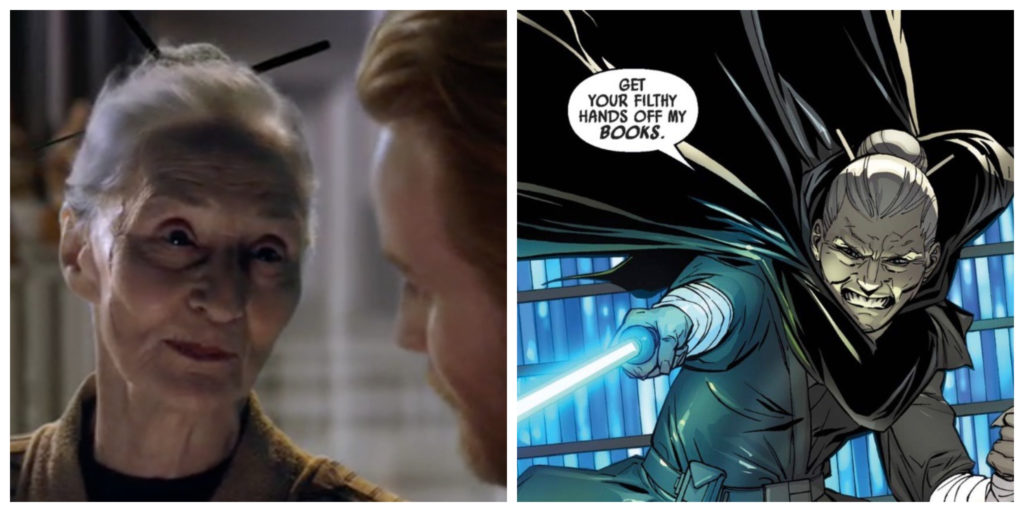 Jocasta Nu was a Jedi Master who worked as the Chief Librarian of the Jedi Archives. She appeared in Attack of the Clones and was portrayed by actress Alethea McGrath (Day 57). She later appeared in the comic series Darth Vader.
Jocasta Nu is a good example of a character who had a different story in Legends and canon. In Legends Jocasta Nu died in the Revenge of the Sith video game adaptation during Order 66. In canon Jocasta Nu survived Order 66. Read more about this on her Wookieepedia page.
Jocasta Nu also appeared in several episodes of The Clone Wars TV series where she was portrayed by actress Flo Di Re. In Legends materials she also makes appearances in the novel Darth Plagueis and several books from the Jedi Apprentice and Jedi Quest series.
Here's a deleted scene from Attack of the Clones that includes Jocasta Nu.
Day 148 – Komari Vosa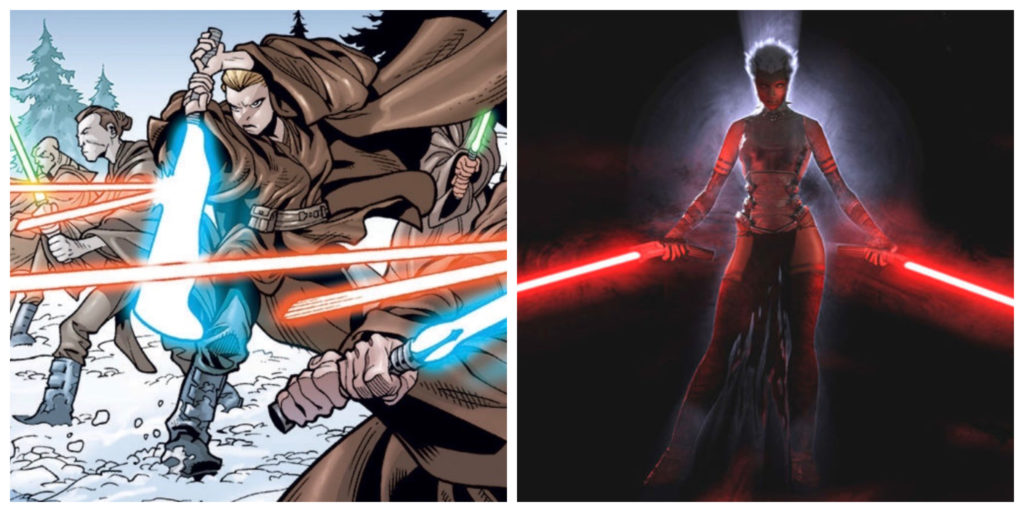 Komari Vosa was a Jedi Padawan who left the Jedi Order to become a crime lord. She appeared in the video game Star Wars: Bounty Hunter. In this game, Palpatine instructed Dooku to apprehend Vosa as he saw her as a threat to his plans. Jango Fett is one of the characters who are on the hunt for Vosa. Actress Tamara Phillips voiced Vosa in Bounty Hunter.
Komari Vosa also appeared in the novel Maul: Lockdown and there are flashbacks of Vosa as a Jedi Padawan in the comics Jango Fett: Open Season 3 & 4.
You can spot Vosa in some of the cutscenes from Bounty Hunter below.
Day 149 – Jayne-Ann Tenggren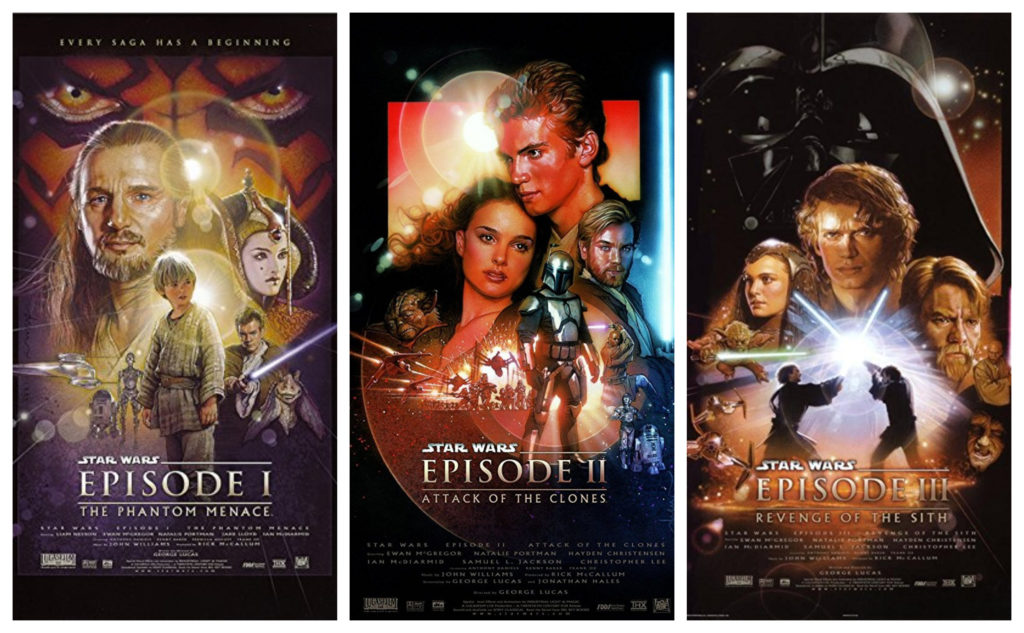 Jayne-Ann Tenggren was the script supervisor for all three Star Wars prequel films – The Phantom Menace, Attack of the Clones, and Revenge of the Sith. She has also worked as a script supervisor for dozens of other films including The Road to Perdition, Hulk, Blood Diamond, and Spectre.
What does a script supervisor do? Here's a quick definition:
Script Supervisors in film and television work as part of the camera department to make sure that the production has continuous verbal and visual integrity. They must ensure that when different takes and scenes are finally edited the production does not contain distracting continuity errors.
At about the 28-minute mark you can see Jayne-Ann Tenggren at work on the set of Revenge of the Sith and hear her chat about her job in the Revenge of the Sith documentary below.
Day 150- Ahsoka Tano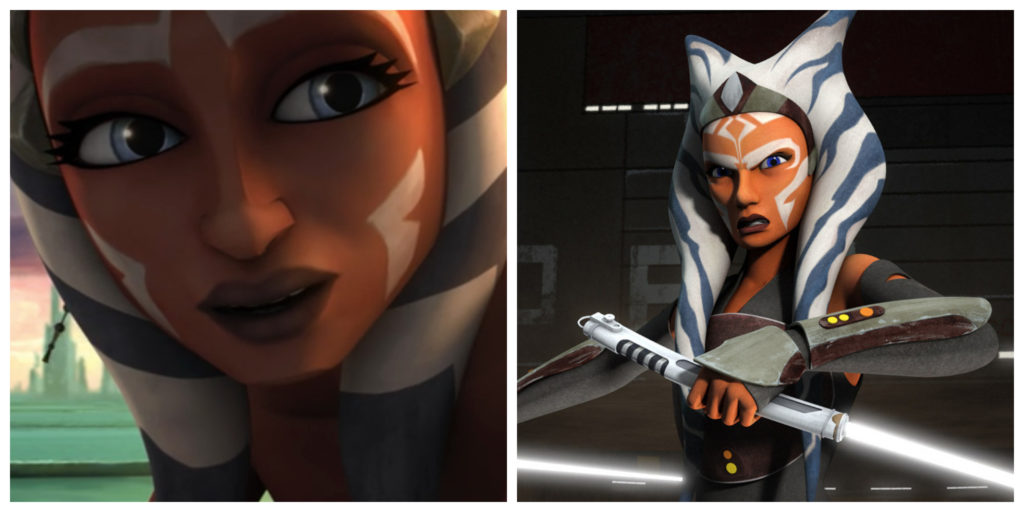 Ahsoka Tano was a Jedi Padawan who left the Jedi Order and later helped rebel cells fight against the Galactic Empire. Ahsoka debuted in the feature film The Clone Wars and appeared in the majority of episodes in The Clone Wars series. She also appeared in several episodes of Star Wars Rebels.
Ahsoka starred in the book by E.K. Johnston, Ahsoka, and the Forces of Destiny comic Ahsoka and Padmé. You can also find Ahsoka in several episodes of Forces of Destiny.
To say that Ahsoka Tano is a beloved Star Wars character is a huge understatement. There are dozens of articles that have been written about her and even sites dedicated to her such as Team Ahsoka.
Here's Ahsoka Tano in The Clone Wars film.
Ahsoka in the Forces of Destiny episode "The Imposter Inside."
And Ahsoka facing Darth Vader in Star Wars Rebels.
Read the 365 interview with Ahsoka author E.K. Johnston here.
Day 151 – Terryl Whitlach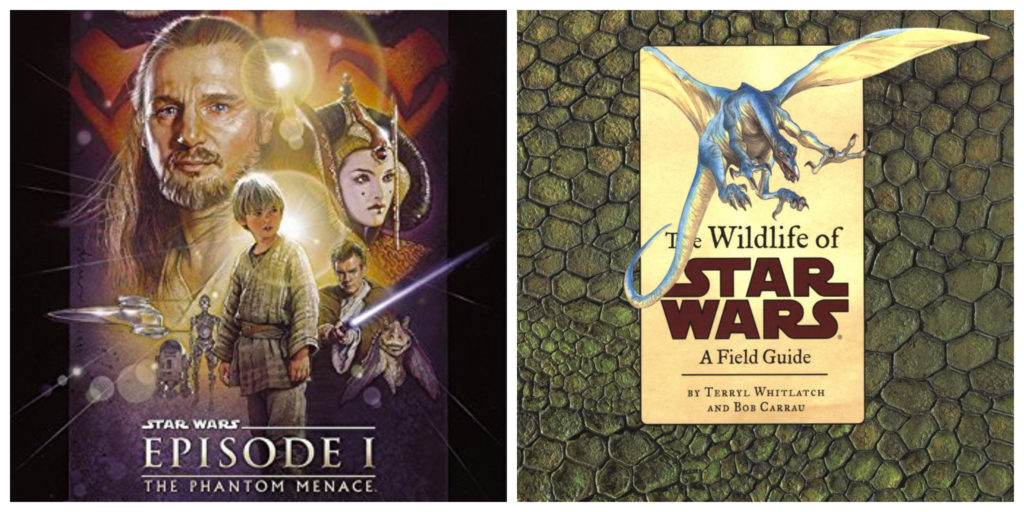 Terryl Whitlatch was a concept artist for the special editions of the original Star Wars trilogy and The Phantom Menace. She also co-wrote the amazing book The Wildlife of Star Wars: A Field Guide which features her creature concept artwork from The Phantom Menace.
Whitlatch also created images for the books The Jedi Path: A Manual for Student of the Force and Book of Sith: Secrets from the Dark Side.
If you haven't spent some time flipped through The Wildlife of Star Wars it is well worth seeking out a copy.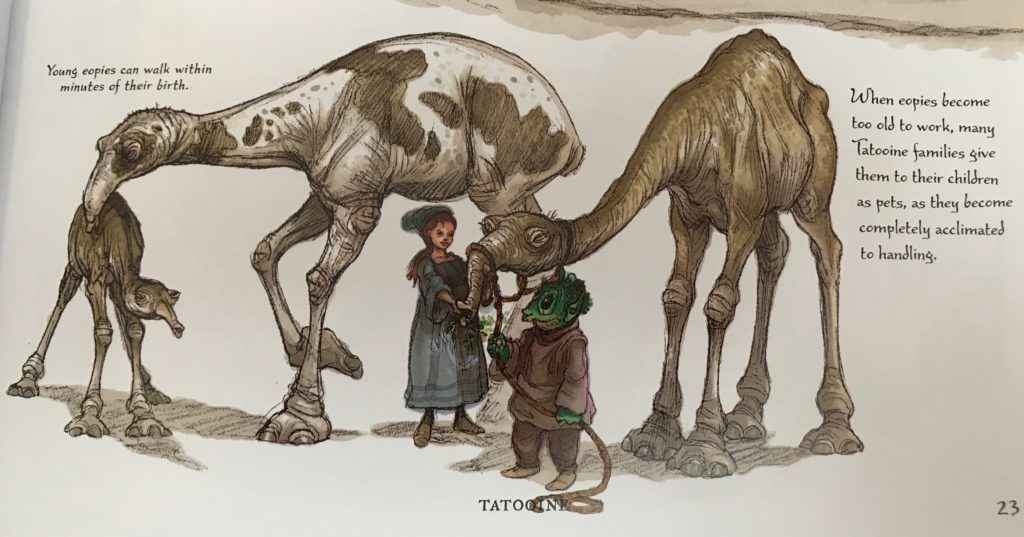 Click here to continue to the June 365 Days of Star Wars Women page.