Day 60 – Mara Jade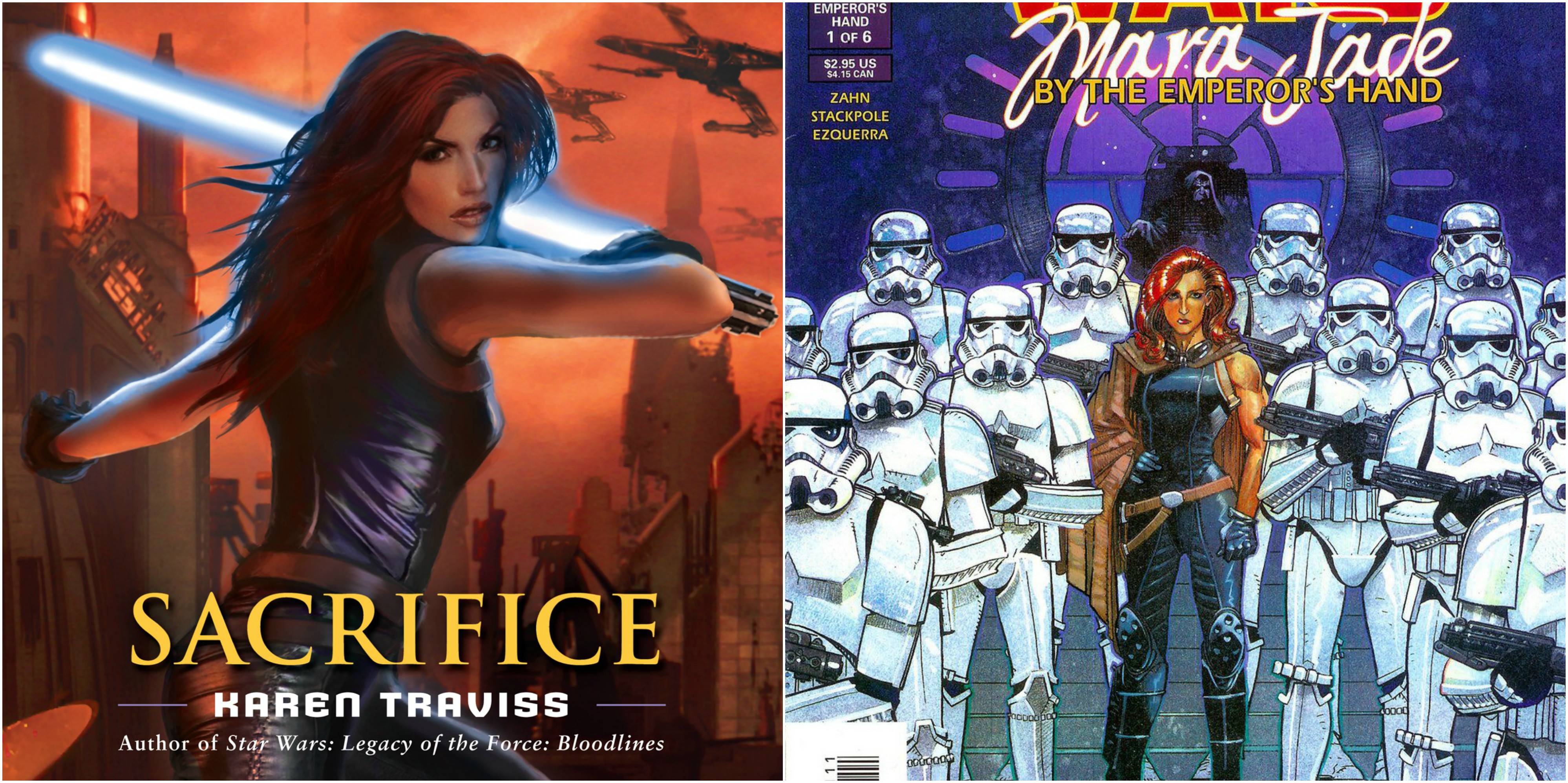 Mara Jade, one of the most well-known and important characters in stories now considered Legends, has been an assassin, a smuggler, and a Jedi Knight. She worked for Emperor Palpatine, she married Luke Skywalker, and she and Luke had a son named Ben (yes, Ben).
Mara Jade debuted in the Timothy Zahn novel Heir to the Empire. She appeared numerous comics and books including books in the following series: The New Jedi Order, Dark Nest, Legacy of the Force, and Fate of the Jedi. (See her Wookieepedia page for a good list of all of her appearances.)
If you're looking for a brief history of her character this video from Star Wars Minute is for you.
Comic Vine has a good visual list of comics Mara Jade appeared in.
For a bit of reading material, you can check out this article from Comicsverse or this article from Tricia Barr at FANgirl.
Mara Jade won a fan's choice action figure poll in 2011. Here's her Black Series figure.
And because I really like this You Tuber's Scottish accent, here's another video about the life of Mara Jade.
Day 61 – Kea Moll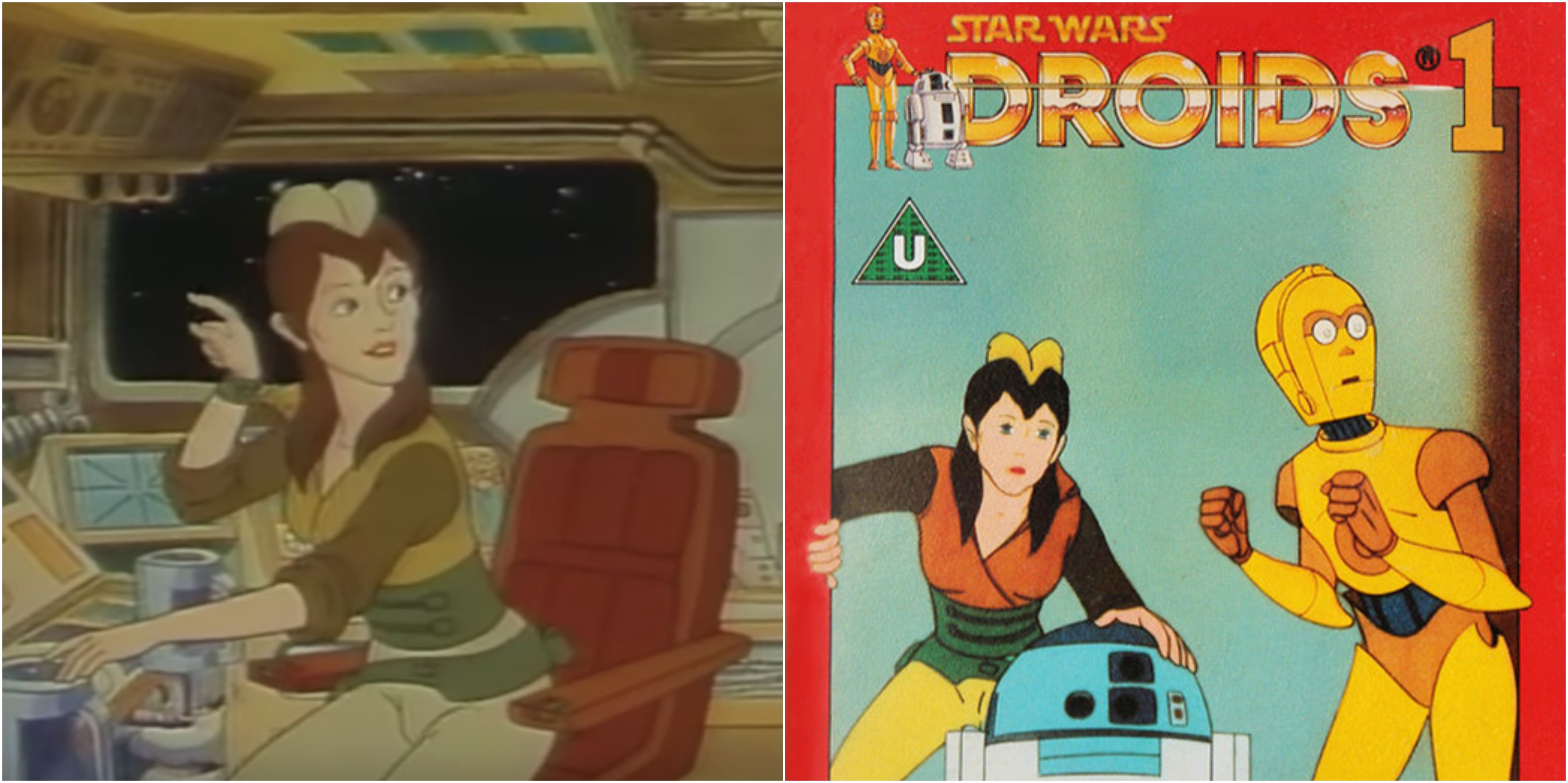 Kea Moll worked against the Empire with C3-PO and R2-D2 in several episodes of the 1985-86 series Star Wars: Droids. She also appeared in a few picture book adaptations of Droids episodes.
You can see Kea Moll in this episode of Droids below "The White Witch."
If you want to learn more about Kea Moll and the cartoon Droids head on over to Yub Cast (check out episode #4 where they talk a lot about Moll's character).
Day 62 – Jaldine Gerams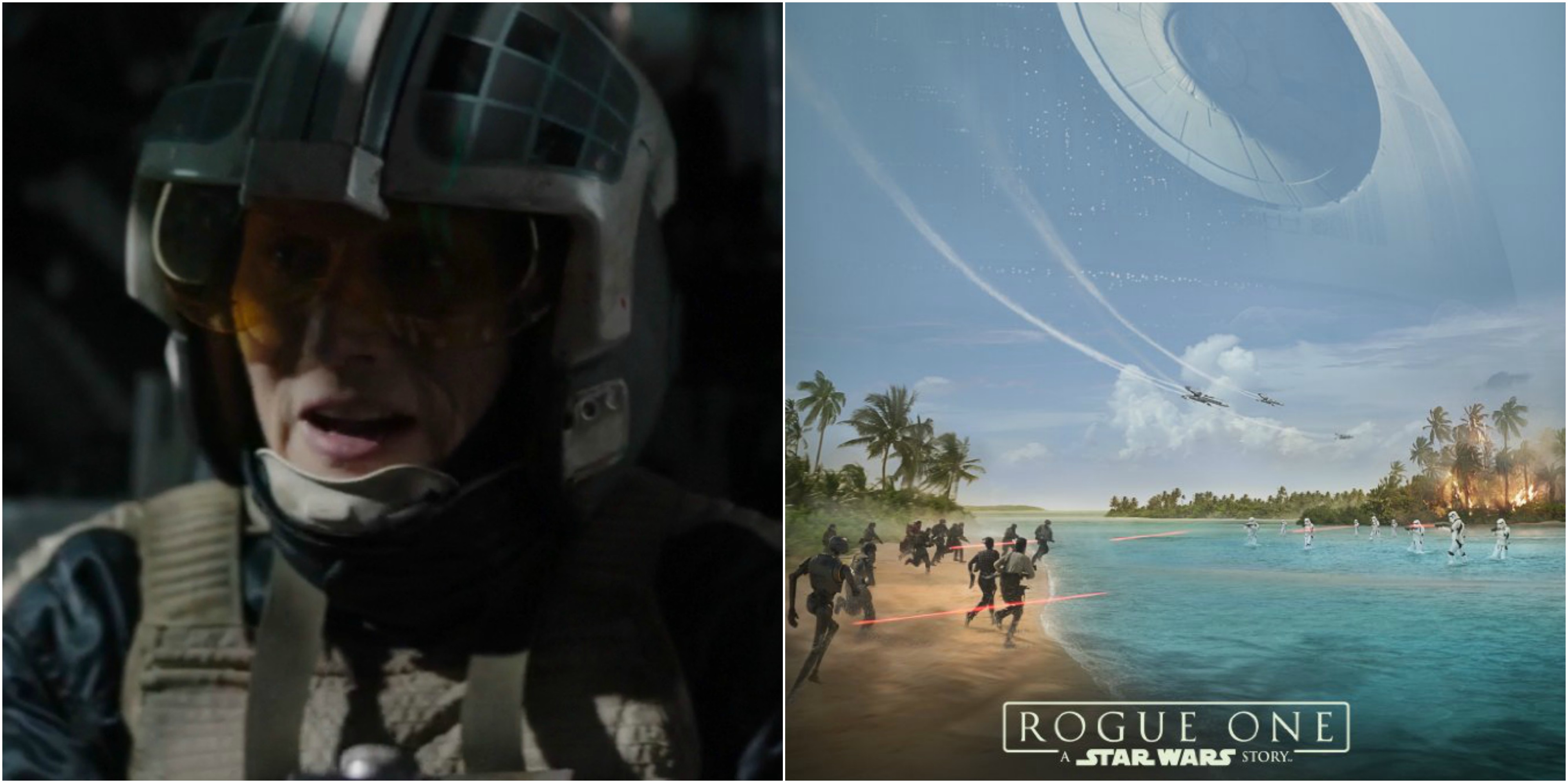 Jaldine Gerams (Blue Three) was a Rebel pilot in Rogue One. She flew an X-Wing during the Battle of Scarif and was portrayed by actress Geraldine James.
There's not much information about Gerams out there but she did get a collectible card.
Someone cut together all the X-Wing material from Rogue One and you can find Jaldine at about the 2:00 mark.
Day 63 – Gwendoline Christie
Gwendoline Christie played Captain Phasma in The Force Awakens and The Last Jedi. She is most well-known for her role as Brienne of Tarth in the TV series Game of Thrones.
Before Christie became a player in the Game of Thrones she played Lexi and Lucy in the British TV series Wizards vs. Aliens. Here's a clip of an episode of that series.
The same year Christie made her Phasma on-screen debut in The Force Awakens she also played Commander Lyme in The Hunger Games: Mockingjay Pt. 2. She played herself in the 2016 film Absolutely Fabulous: The Movie and Miranda Hilmarson in the 2017 series Top of the Lake.
Christie has three movies scheduled to release in 2018 – The Darkest Minds, The Women of Marwen, and In Fabric. And who knows she might turn up in Episode IX as well (and you will survive even if you hate the idea of Phasma surviving The Last Jedi).
Here's an interview with Christie about her role in Game of Thrones which also includes clips from the show.
And this is just a good excuse to share one of my favorite The Last Jedi press videos. Gwendoline Christie is delightful in this.
Day 64 – Shmi Skywalker
Shmi Sywalker was Anakin Skywalker's mother in The Phantom Menace and Attack of the Clones. After Anakin left with Qui-Gon Jinn to become a Jedi, Shmi stayed in Tatooine as a slave. Cliegg Lars later purchased her and then freed her. They married and lived happily until Shmi was abducted by Tusken Raiders which led to her death.
In Star Wars canon there isn't very much known about Shmi beyond the fact that she was a slave to both Gardulla the Hutt and Watto before she met Cliegg Lars and that she claimed Anakin did not have a father (midichlorians birth!) Shmi appeared in many adaptations (books and comics) of Episodes I and II and appeared as a vision to Anakin in The Clone Wars episode "Overlords" and as a vision to Darth Vader in Darth Vader: Dark Lord of the Sith 5: The Chosen One, Part V.
In Legends, Shmi is mentioned or appears via flashback in even more stories. In Tatooine Ghost, for instance, Leia finds a journal Shmi kept during some of her life on Tatooine.
Actress Pernilla August (see her Day 11 page) played Shmi in The Phantom Menace and Attack of the Clones and voiced her in The Clone Wars.
Day 65 – Kathleen Kennedy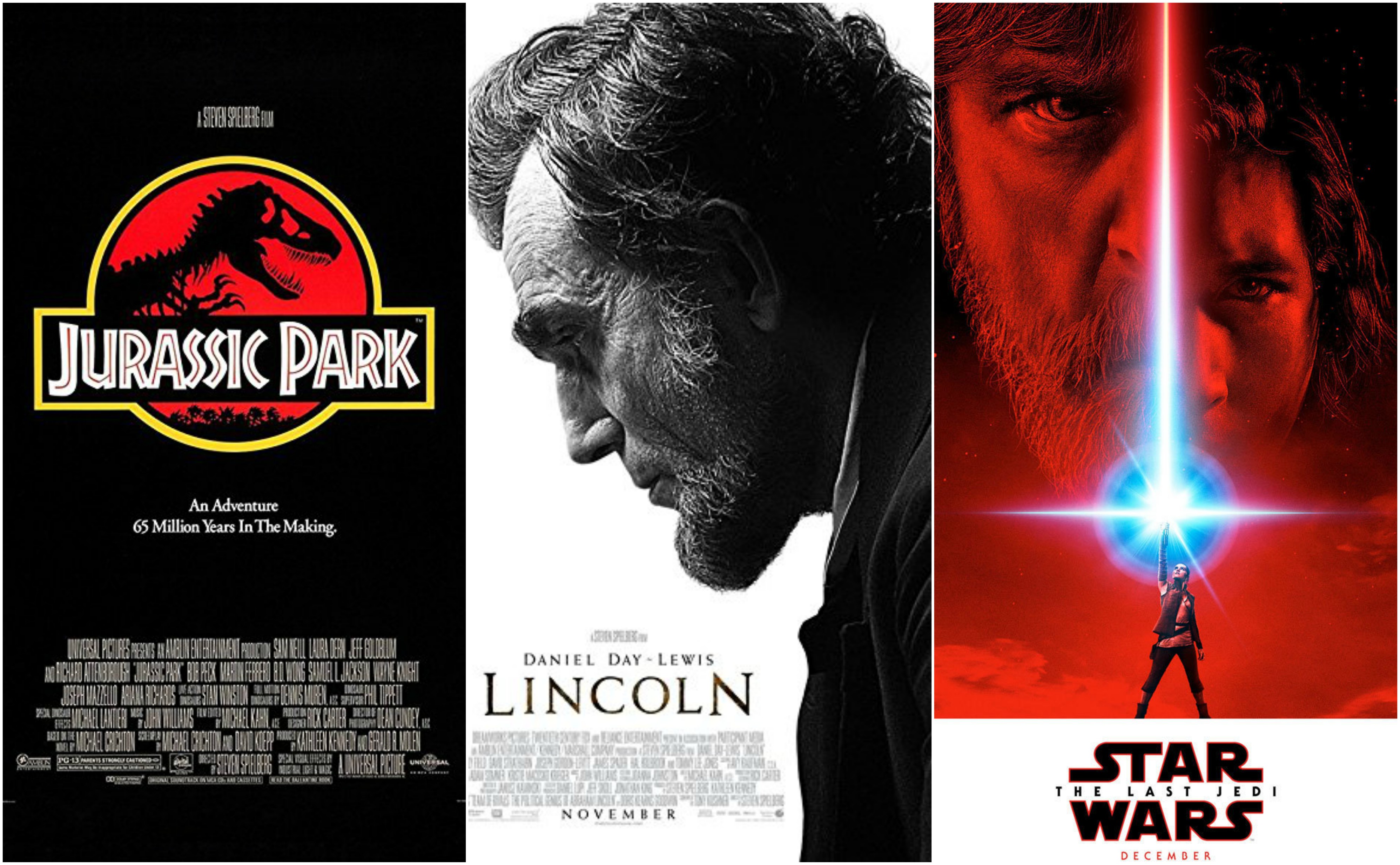 Kathleen Kennedy is the president of Lucasfilm and is the executive producer of The Force Awakens, Rogue One: A Star Wars Story, The Last Jedi, Solo: A Star Wars Story, and the upcoming Episode IX. She has worked as a producer on some of the biggest blockbusters over the last few decades including E.T. the Extra-Terrestrial, Schindler's List, and the Jurassic Park and Indiana Jones movies. The films she helped bring to the screen have grossed over 11 billion dollars worldwide.
I could write a book about Kathleen Kennedy's career. And someone really should. Her first film credit was as an assistant in Steven Spielberg's 1979 film 1941. In 1981 she was credited as an associate to Mr. Spielberg for Raiders of the Lost Ark. In 1982 she was credited as a producer of E.T. the Extra-Terrestrial. From there she continued collaborating with Spielberg and Frank Marshall (who she would later marry) when they founded and ran the production company Amblin Entertainment.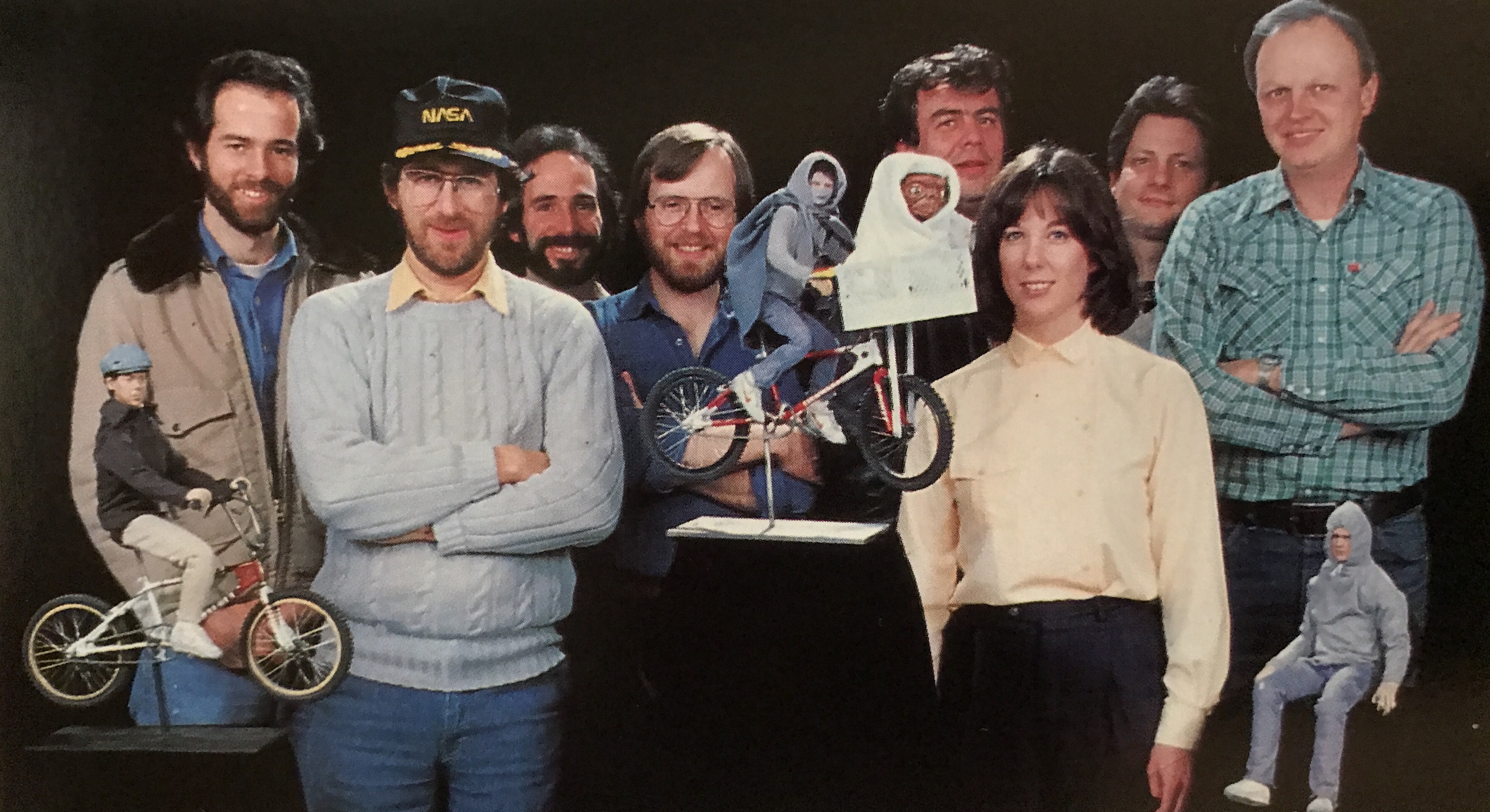 In 2012 Kennedy was named the president of Lucasfilm. Here is Kennedy's bio at Lucasfilm, an article about her in Fortune, and an interview from Vanity Fair.
Below is an interview Kenndy did for The Star Wars Show.
Day 66 – Rianna Saren
Rianna Saren was a Twi'lek who starred in the 2006 video game Star Wars: Lethal Alliance. The storyline of this Legends game that took place shortly before the events of A New Hope. Rianna and her droid Zeeo steal a set of plans for the Death Star and deliver them to Leia Organa. Sound familiar, Rogue One fans?
Like many Twi'lek characters in the Star Wars universe, Rianna was once a slave, in this case to Zarien Kheev, who she later sought out to get some revenge. Rianna and Zarien only appeared in Lethal Alliance, but Rianna also had interactions with Kyle Katarn (a stormtrooper who defected to the Rebellion) who played a much larger role in the Star Wars Expanded Universe.
Here's some gameplay of Star Wars: Lethal Alliance.
Day 67 – Elsa Charretier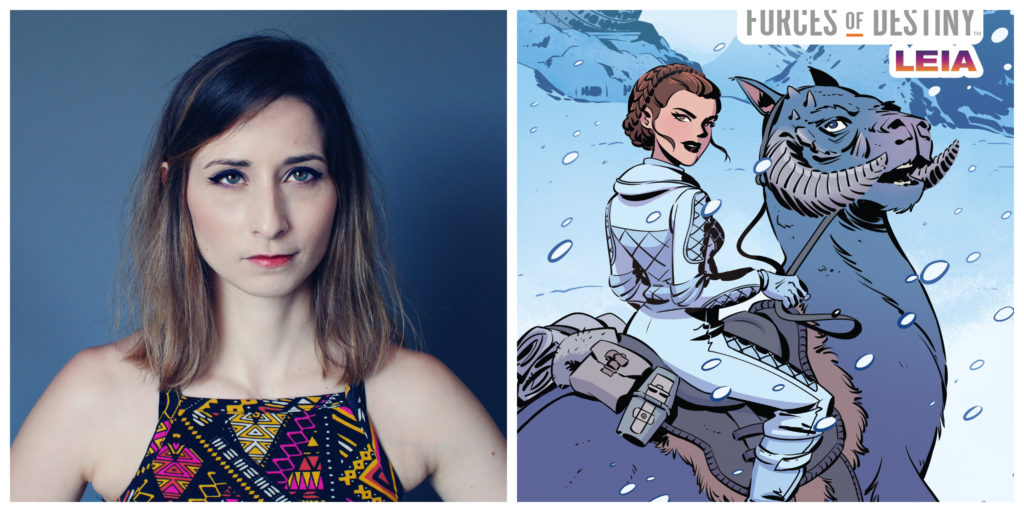 Artist Elsa Charretier has worked on a variety of Star Wars comics and books including Star Wars Adventures, Forces of Destiny: Leia, and Choose Your Destiny: A Han & Chewie Adventure. She has also done variant covers for Star Wars Annual 2 and Captain Phasma, Part IV.
Charretier has also created art for Harley Quinn, Starfire, and DC Comics Bombshell at DC Comics and The Infinite Loop a comic she co-created at IDW Publishing.
Elsa was kind enough to answer a few questions via email about her career for 365 Days of Star Wars Women.
What was your introduction to Star Wars? Do you have a favorite film?
I'm a sucker for Episode IV. It's just such a perfect introduction to Star Wars. You get to discover this world for the first time, and boy it is incredibly cool. I also loved The Last Jedi. I really really did. I was on the edge of my seat during the whole movie, and I can't wait to see it again. And I love that I got to see in a theater for the first time because seeing A New Hope more than 20 years after it premiered is a huge bummer.
How did you get your start in comics as an illustrator? Have you always been a fan of this medium?
Compared to most artists, I started drawing rather late- I was 25. The first professional work I ever published was The Infinite Loop, a creator-owned comic book that Pierrick Colinet and I did together. We crowd-funded it in France, and used the remaining money to go to New York Comic Con. The idea was to submit the story to an American publisher and hopefully get our feet through the door. IDW liked the book, and this launched our careers. After that, we got a lot of incredible opportunities and have been working professionally ever since. We're very lucky that it all worked out so quickly.
You have worked on graphic novels you co-created (The Infinite Loop) as well as already established characters and universes (Harley Quinn, Unstoppable Wasp, and of course Star Wars). How does your creative process change when you are adding to the history of an already beloved character?
The core of the work is pretty much the same. You still have to write a compelling story and draw accurate anatomy. Creating your own story may seem like you have a lot of freedom, but that freedom can be overwhelming. You need to create everything, character bibles, designs, environments, and make sure it works as an ensemble. This can be extremely time-consuming. But on the other hand, you get to do what you want and creates something that is more personal.
What I truly love about Star Wars is that you have the constraints of an established world, but it's sooooo vast that it's much less limiting than most properties. I love that when you need to write something specific, you get to have a dozen encyclopedias to guide you. If fell like as creators, Star Wars provides us with the best of both worlds.
How did you find out you were going to work on your first Star Wars project (which I believe was the variant cover for Star Wars Annual 2)? Were you seeking out a project with Star Wars or was it a lovely surprise?
This cover was a complete surprise, and I was thrilled. I mean, I got to draw Leia on my first Star Wars gig. And I feel I got to explore the universe a lot more when I started working with IDW on Star Wars Adventures. I got to develop stories from scratch, and I had so much fun I kept asking for more. I feel extremely lucky to get to work on such an incredible property.
You have done several variant covers for Star Wars comics (Star Wars Annual 2, Captain Phasma, Part IV, Star Wars Adventures 1 & 2). How does this process work? Do you get to read the comic or see other cover art before you work on your cover or do you just get an overall idea of the comic story before you go to work? Do you turn in a few versions of covers for editors to pick from or work based off a pitch?
Since comic book covers are done so much in advance (they are featured in the Previews catalog three months before the actual comics hit the shelves), cover artists rarely know what the book is about. Ideally, we would have a script, but that's only rarely the case. The editor will give us as much information as possible, and sometimes will have a concept in mind, but most of the time, it's up to you to come up with your own take on the character featured inside the book. We are asked to send a few thumbnails- I tend to do a couple. Once you receive approval on one of them, then it's off to pencils. I have seen some incredibly detailed thumbnails, but mine are usually just a bunch of indistinguishable lines. Most of the time I actually have to explain what the concept is. I've tried to go more into details, but I just get bored at the penciling stage. But this is a double-edged sword because sometimes you start detailing shapes and realize oh Lord, this doesn't work.
In addition to your illustration work, you also co-wrote two Star Wars comic stories with Pierrick Colinet – "Tales from Wild Space: The Flat Mountain of Yavin" that was part of Star Wars Adventures 2 and Forces of Destiny: Leia. How does wearing both illustrator and writer hats on a project change how you approach the project? Was it your idea to include Evaan Verlaine in The Flat Mountain of Yavin? Had you read the Leia comic series that introduced her character before you wrote The Flat Mountain of Yavin?
Pierrick and I are used to collaborating, and I've been more involved in the writing for about a year or two. This has been a fairly organic process so it's hard to say how differently I approach it. But yes, I definitely get to have a bigger impact on storytelling than when I get a complete script from another writer. It's just a different experience and flexes a different muscle. Having to adapt to another writing and storytelling style can teach you a lot and will help you question your choices and make new ones. And I've been very lucky to work with writers open to storytelling suggestions. I think I would hate being an "executor"- the collaborative process is essential to comics- at least I find it essential to my own creative process.
As for Evaan, I remember that we needed a pilot, and we wanted a woman. We had read the Princess Leia comics and loved the character. It was a pretty easy choice!
You and Pierre also collaborated on a Lando Calrissian story that will be in Star Wars Adventures 10 & 11 and a Padmé & Ankakin story in Star Wars Adventures 12 & 13. Can you tell us anything about these projects like other characters that will appear or where they occur in the Star Wars timeline?
Well, honestly, Pierrick and I both jumped at the chance of doing a story on Cloud City. And this was a huge thrill in itself. I can't tell much about the story besides the fact that we got to create two characters that I hope we'll have another chance of playing with in the future: Jiandy, a Nautolan kid that's causing some trouble to Lando, and Askroh, a sort of Cloud City crime Lord who's causing even more trouble to Lando. I had an incredible time both writing and drawing this story. And it's actually my first pages back on ink and paper after four years of inking digitally. Couldn't have picked a better project for it.
As for the Padmé & Anakin story, we get to explore romance a little bit- both of them go away for a little getaway to clear their heads after the Senate attack, but after, Star Wars being Star Wars, there's always someone getting in the way.
Did you ask to write new stories about Lando and Padmé & Anakin or were you asked to write about these characters?
Stories were assigned by the publisher, but both were completely fine by us! Of course Padmé & Anakin are a bigger challenge than Lando, because, well, you know why, but we get to develop a side of them we don't see much in the movies. And to be completely honest, I would be happy to work on any Star Wars character. This is such a rich and vast universe that you can have fun with probably anything. When we heard that we were to set the Forces of Destiny: Leia issue on Hoth, our initial reaction was- well, there's ice, ice, and then some more ice to draw. But eventually we wrote the story to make the best out of that visual constraint and use snow as a negative space throughout the pages.
Can you talk about any other projects you have coming up?
Pierrick and I co-wrote a creator-owned YA comic book that's going to be announced at the beginning of June and although I can't tell much about it, we are thrilled to see it coming out. It's a project we've been working on for a while, and are very excited about. We also have a few other things in development, but sadly can't say anything about! Then some more Star Wars I hope!
Do you have any advice for artists, especially women and young girls, who want to break into the comic business?
If you are true to yourself and create something that comes from within, there is an audience for you out there. Always trust that you have something to offer. But you can also trust that no one will come looking for you (there are a few exceptions but I suggest you don't rely on that!). Put your work out there, put it in the hands of the people that will be able to provide you a platform. One of the things society likes to tell women is that you don't want to look too confident. I say, look confident, act confident. And if you don't feel powerful and able, fake it. That's what I did 😉
Note: If you'd like to learn more about Elsa's creative process for Forces of Destiny: Leia check out this interview on StarWars.com by Kristin Baver. For more info about how she created the illustrations for the Han & Chewie Choose Your Destiny book check out this interview on StarWars.com (by me!)
You can find Elsa on Twitter @e_charretier. If you're interested in buying a print from Elsa Charretier or getting a commission head on over to Big Head Little Arms.
Day 68 – The Daughter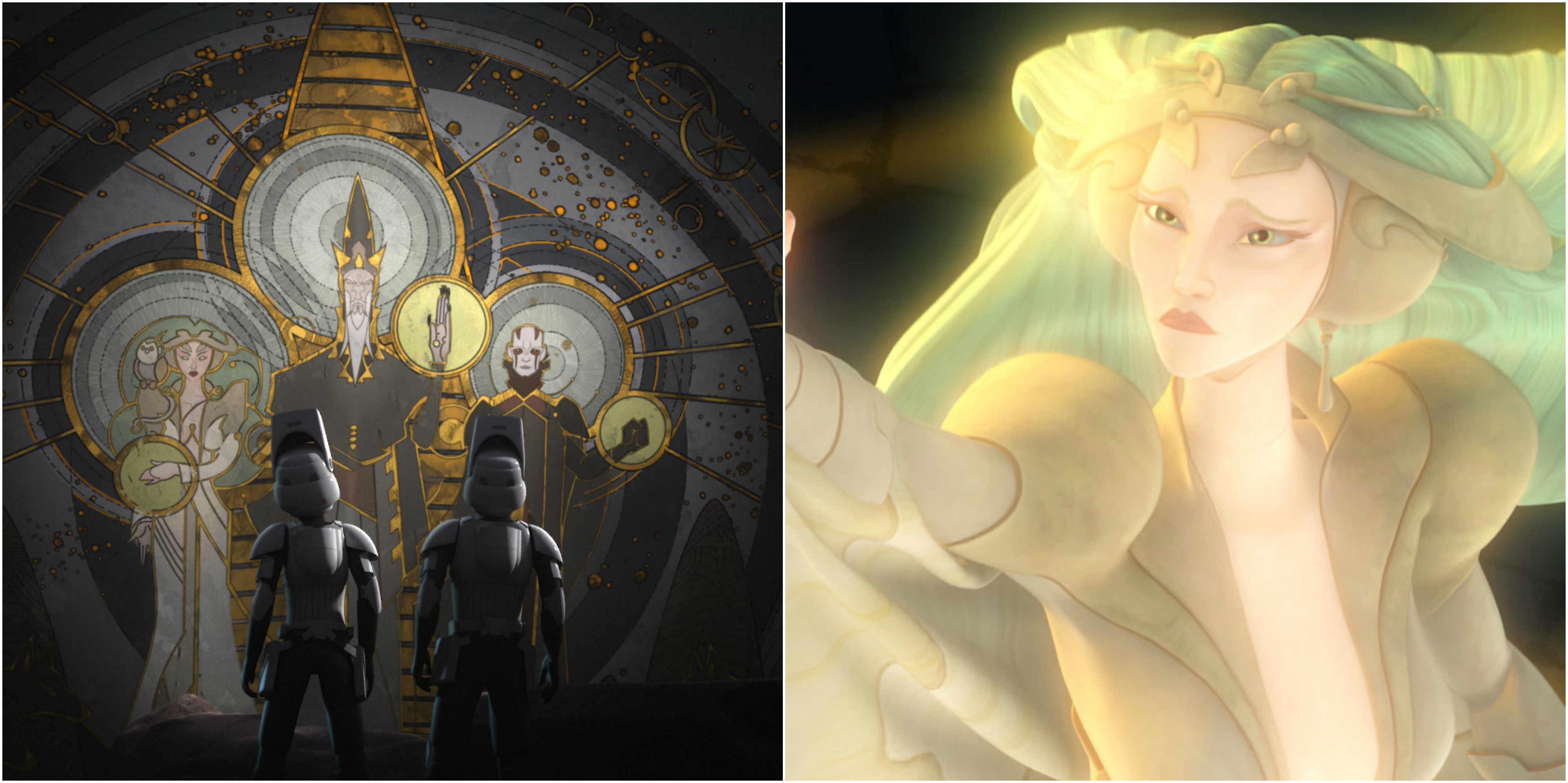 The Daughter is a Force wielder who lived on Mortis with her father and brother who were known as the Father and the Son. The Daughter appeared in three episodes of the TV series The Clone Wars and a mural of her played a large part in two episodes of Star Wars Rebels.
The Daughter was a personification of the light side of the Force and was voiced by actress Adrienne Wilkinson.
Here's a clip of The Daughter from The Clone Wars episode "Altar of Mortis".
Plus the Mortis spread from Star Wars: Galactic Maps.
Day 69 – Eldra Kaitis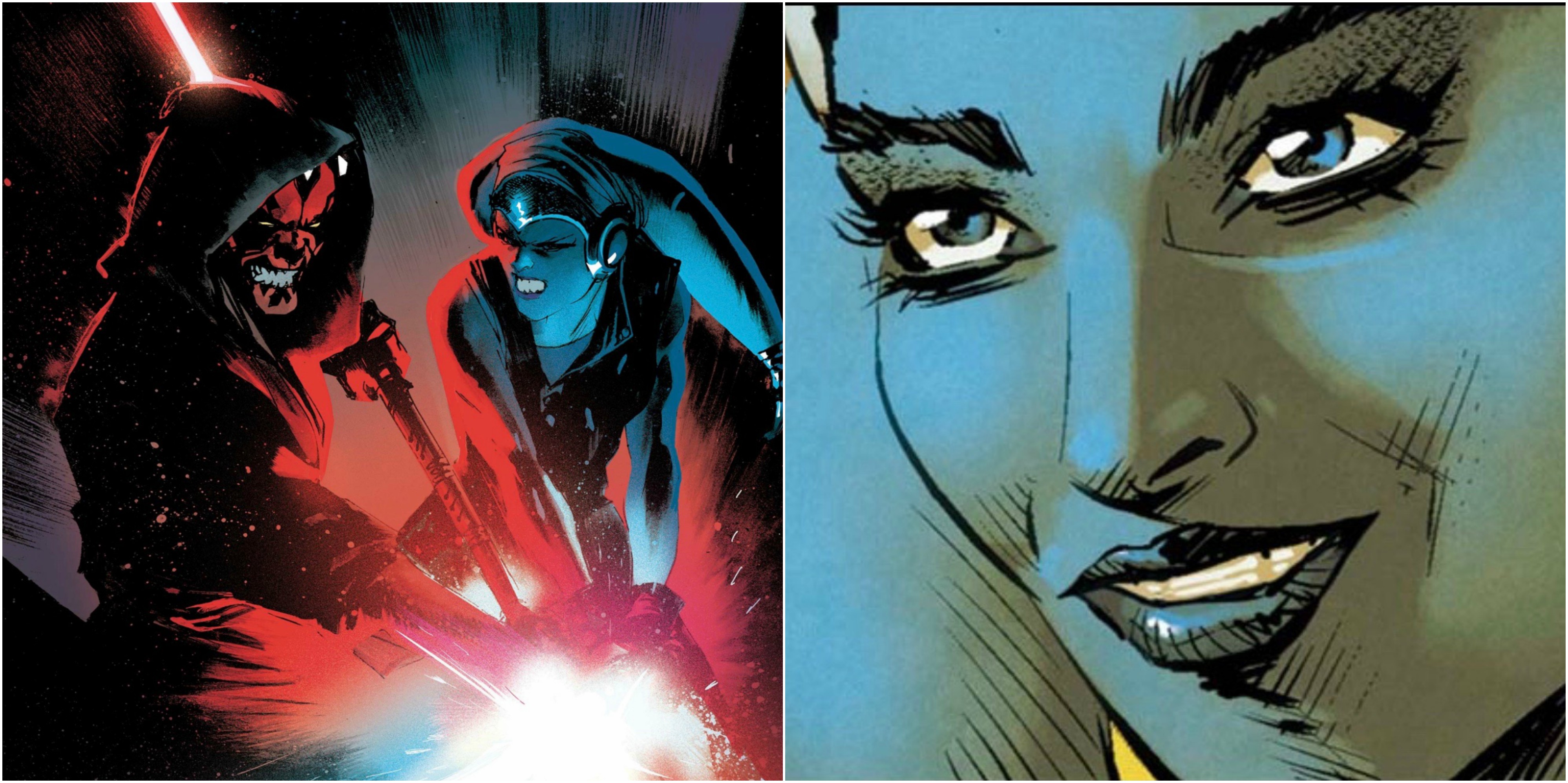 Eldra Kaitis was a Jedi Padawan who appeared in the Star Wars: Darth Maul five-part comic series. Kaitis was abducted before the events of The Phantom Menace. Darth Maul sought her out as he felt fighting her would be a good way to test his Sith skills.
SPOILER WARNING!!
Maul ended up killing her in the comic series, so any new appearances from Kaitis would need to occur before Episode I.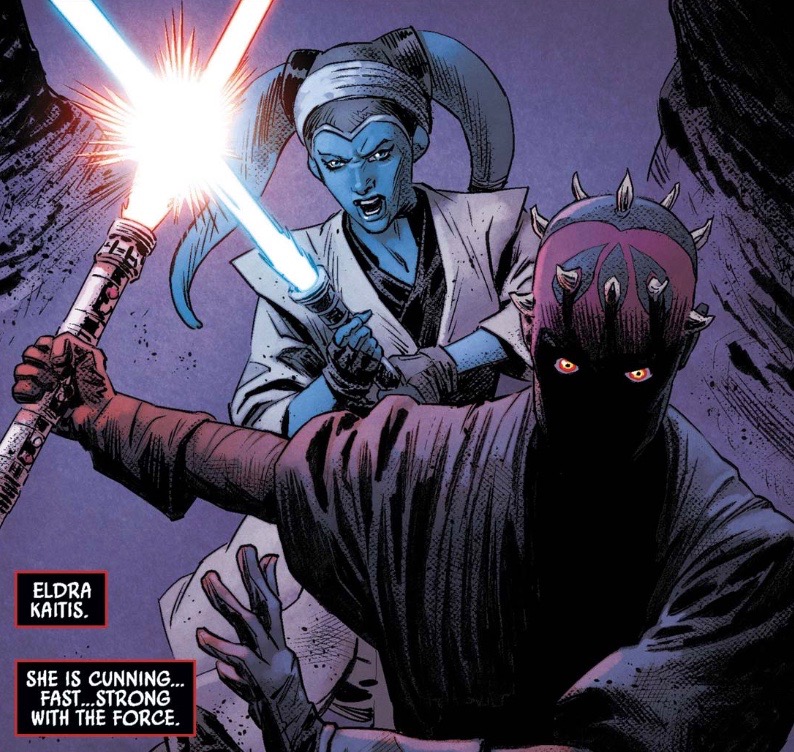 Day 70 – Miara Larte
Miara Larte was a pilot for the Rebel Alliance. She met Ahsoka Tana in Larte's homeworld of Raada in the novel Ahsoka by E.K. Johnston and witnessed the Yavin medal ceremony in the short story "By Whatever Sun" from the anthology From a Certain Point of View by E.K. Johnston and Ashley Eckstein.
Miara Larte is a great example of a character who could easily pop up in future Star Wars productions. Her two canon appearances stretch across a long time period. The novel Ahsoka takes place between Revenge of the Sith and Star Wars Rebels and "By Whatever Sun" takes place at the end of A New Hope.
Rebels finale spoiler below!!
New stories told about both Ahsoka (who we now know survives well past A New Hope) and Leia (who Larte met when Leia was a child after she was welcomed to Alderaan as a refuge) could reasonably include Larte. Miara also has a sister who played a role in Ahsoka and was mentioned as still being alive in "By Whatever Sun" who also works with the Rebellion named Kaeden.
Day 71 – Patricia Rose Duigan
Patricia Rose Duigan was a visual effects producer who served in many senior management positions at Industrial Light & Magic (ILM) throughout her career. Her first job with ILM was on A New Hope when she joined the production staff when she was 23. Duigan is the woman in the red circle below from this A New Hope ILM group shot.
By 1983 she was the ILM Production Supervisor for Return of the Jedi. I think she's the woman sitting in the front row of this photo.
Here's a hilarious story told by Duigan of her ALMOST going to the Academy Awards as well as the story of the beginnings of the ILM daycare center (I'm guessing this occurred while she was their Director of Marketing).
After Return of the Jedi Duigan was an associate producer for the 1984 TV movie The Ewok Adventure. From 1987 to 2007 Duigan produced a variety of TV specials including Star Trek 25th Anniversary Special and The Next Generation's Impact: 20 Years Later.
In 2008 Duigan teamed up with an off-shoot of ILM called Kerner Optical. With Kerner, Duigan worked as the visual effect executive producer on many effects-heavy films including Terminator Salvation, Avatar, Iron Man 2, and Transformers: Dark Side of the Moon.
Duigan co-authored the 1996 book Industrial Light & Magic: Into the Digital Realm with Mark Cotta Vaz.
Sources: Industrial Light & Magic: the Art of Special Effects, Memory Alpha Wiki, IMDB.
Day 72 – Caroleen Green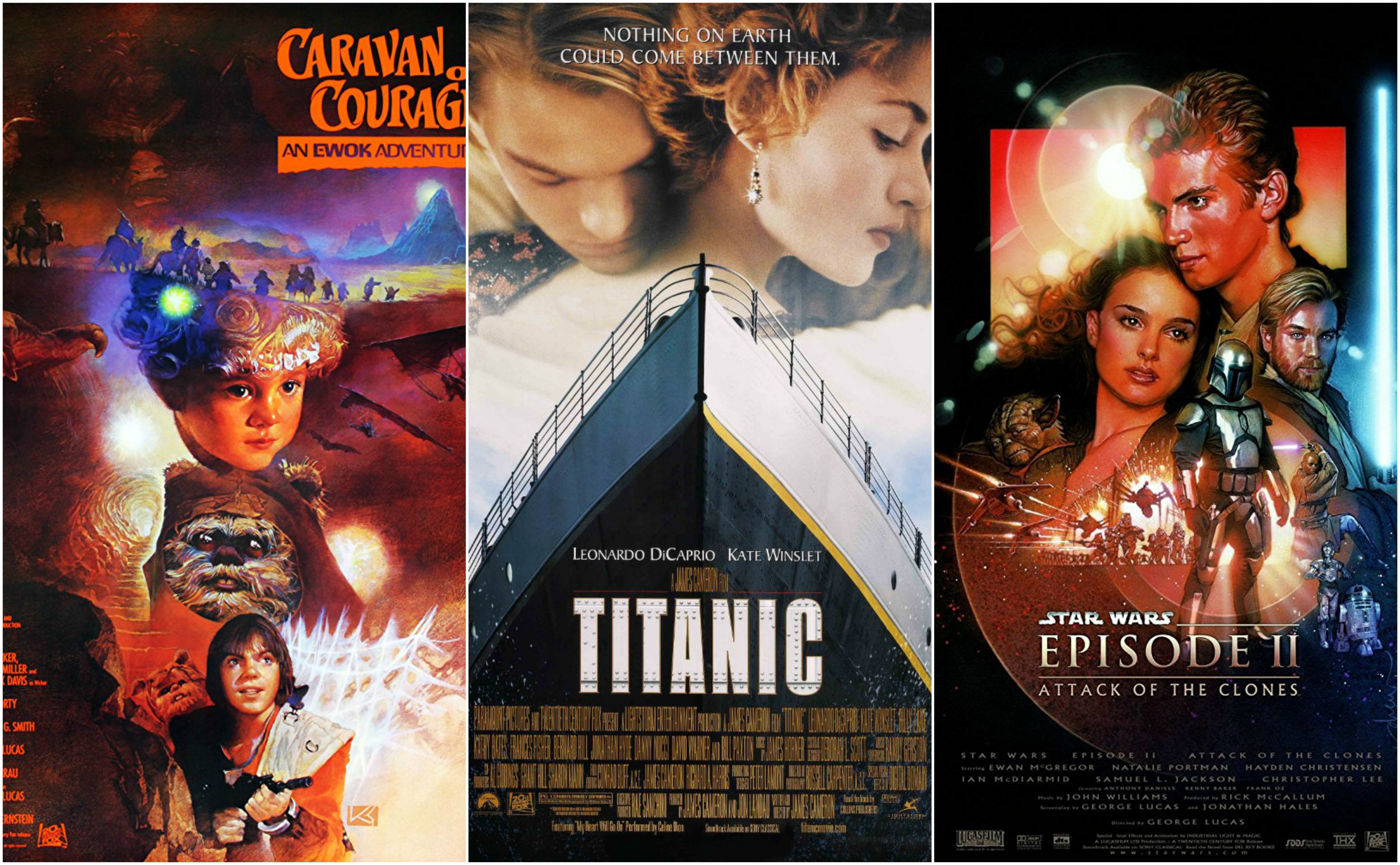 Caroleen Green, also know as Caroleen "Jett" Green is a matte painter. Her career has spanned over three decades where she successfully made the transition from a matte artist using paint on glass to a digital matte artist. Her Star Wars credits include The Ewok Adventure, The Phantom Menace, and Attack of the Clones.
Green started her career at Industrial Light & Magic (ILM) on the 1984 film The Neverending Story. While she was with ILM she worked on numerous film including Indiana Jones and the Temple of Doom, The Ewok Adventure, The Goonies, Howard the Duck, and Willow.
After the transition to digital matte painting, Green worked on blockbuster films including Independence Day, Titanic, The Truman Show, The Phantom Menace, and Attack of the Clones. I couldn't find any photos or behind the scenes videos of Green working on The Phantom Menace or Attack of the Clones sadly.
Greens most recent work has been on animated films including Kung Fu Panda, Rise of the Guardians, and The Book of Life.
You can see Green's portfolio and learn more about her work on her website.
Day 73 – Nina Saxon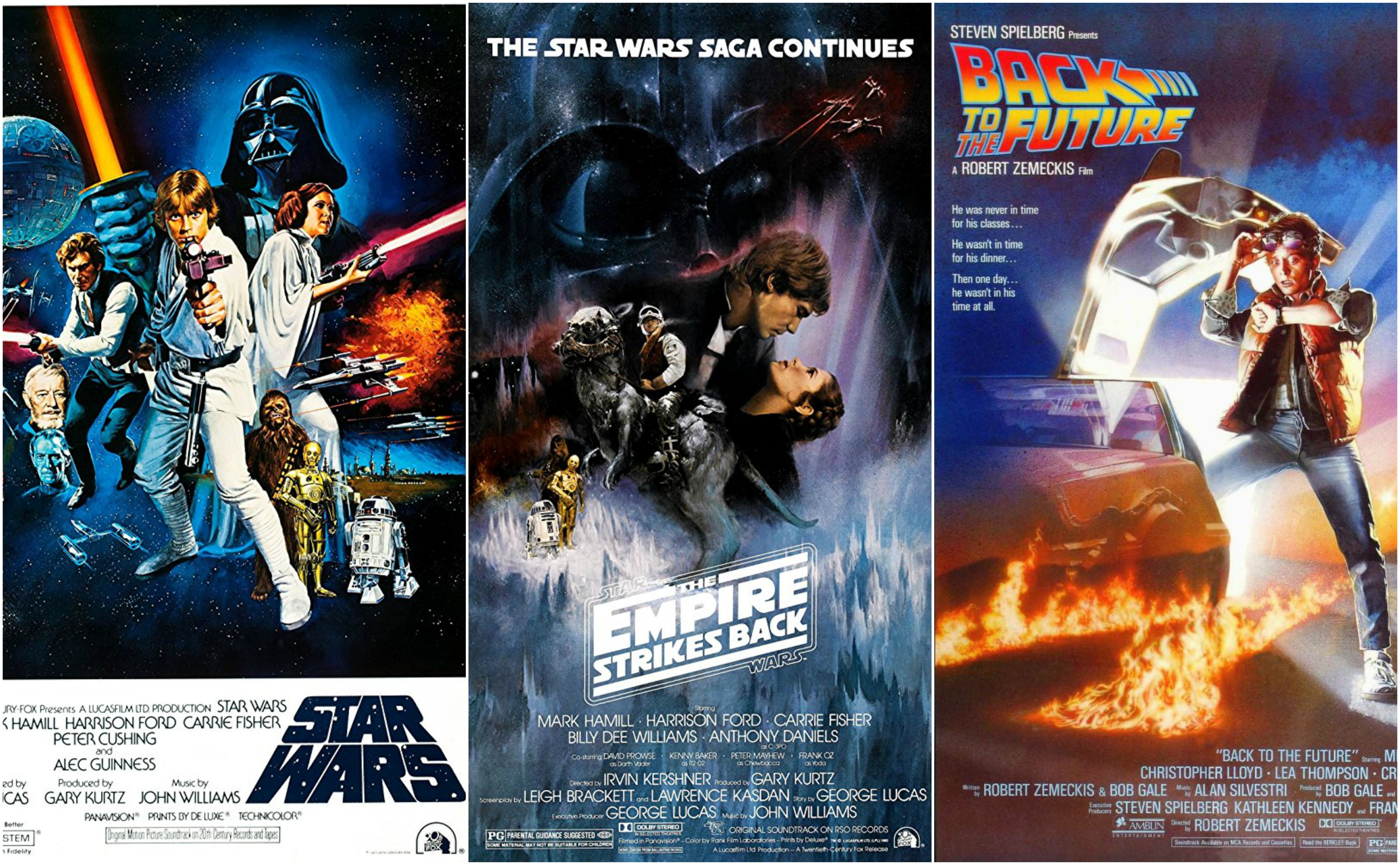 Nina Saxon worked on the visual effects teams for all three original trilogy Star Wars films. Saxon later founded the company Nina Saxon Design. Over the last thirty years she has created main titles for over 300 feature films and television series.
In this interview, Saxon talks about how her first effects job was in an optical house helping to animate "the red bullets" for Star Wars. Her work in A New Hope and Return of the Jedi was uncredited, but she received an official credit as an animator in The Empire Strikes Back and she could very well be somewhere in this Industrial Light & Magic Empire Strikes Back group photo below.
Some of the films Saxon designed main titles for include Romancing the Stone, Back to the Future, Beauty and the Beast, Forrest Gump, Contact, Practical Magic, The Princess Diaries, The Departed, and Salt. Her company also designed the main titles for the television series Wings.
Below is a sample reel from Nina Saxon Design. I'm guessing anyone who loves movies will remember some of these main title sequences.
Day 74 – Randy Ottenburg
Randy Ottenburg was a model maker for Return of the Jedi, The Phantom Menace, and Attack of the Clones. The first film Ottenburg created models for was E.T. the Extra-Terrestrial in 1982. She also worked on Indiana Jones and the Temple of Doom, Willow, The Rocketeer, and Elysium.
Here is Ottenburg working on a ship model for The Goonies.
And here's a brief story from Ottenberg about a field trip the crew took to prepare for their work creating Endor for Return of the Jedi.
Day 75 – Barbara Affonso
Barbara Affonso was a model maker for Return of the Jedi and Attack of the Clones. She was credited as a chief model maker for The Phantom Menace. Other films Affonso worked on as either model maker of chief model maker include Willow, Ghostbusters II, Hook, Jurassic Park, and Galaxy Quest.
Here's a photo of Affonso painting a log from Endor for Return of the Jedi.
Affonso's Wookieepedia page doesn't mention her work on Episodes I and II but notes that she made the headgear for Yarna d'al' Gargan and Oola in Return of the Jedi.
Don't be tricked and think you're looking at the Death Star in the photo below. It's the Borg sphere from Star Trek First Contact.
I really struggled to find any photos or video of Affonso working on The Phantom Menace or Attack of the Clones. I'd love to include this – so please let me know if there's some good information out there I can add to this article. Here's an autograph that has a photo of her working on Clones.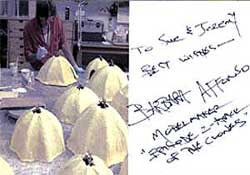 Day 76 – Kixiaralu
Kixiaralu (also known as Kixi) was a slicer on Coruscant in the video game Star Wars: The Old Republic. Her character was introduced in the novel The Old Republic: Fatal Alliance.
Here's some gameplay of The Old Republic that includes Kixi.
Day 77 – Tiplee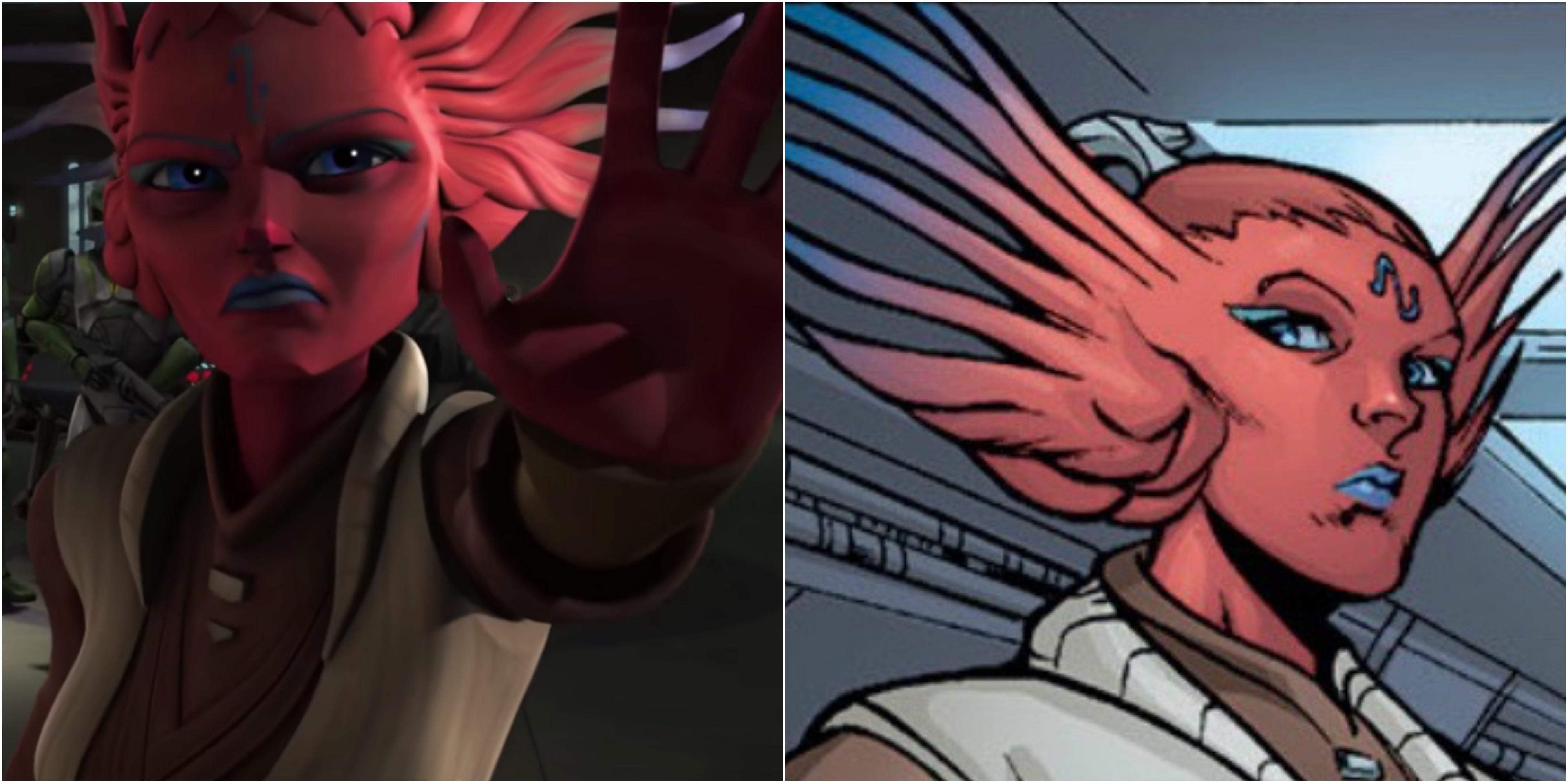 Tiplee was a Jedi Master who fought in The Clone Wars. She appeared in two Star Wars: The Clone Wars episodes and in Part Three of the comic Darth Maul – Son of Dathomir. She had a sister who was also a Jedi Master named Tiplar. Actress Anna Graves (who voiced many Star Wars characters including Satine in The Clone Wars) voiced both Jedi sisters.
Here are sisters Tiplar and Tiplee in The Clone Wars episode "The Unknown."
The character Tiplee was based on Sith concept art designed (but not used) for Attack of the Clones. The comic Tiplee appeared in was based off scripts of unproduced Clone Wars episodes. Learn more about Tiplee on her Wookieepedia page.
Day 78 – Qwi Xux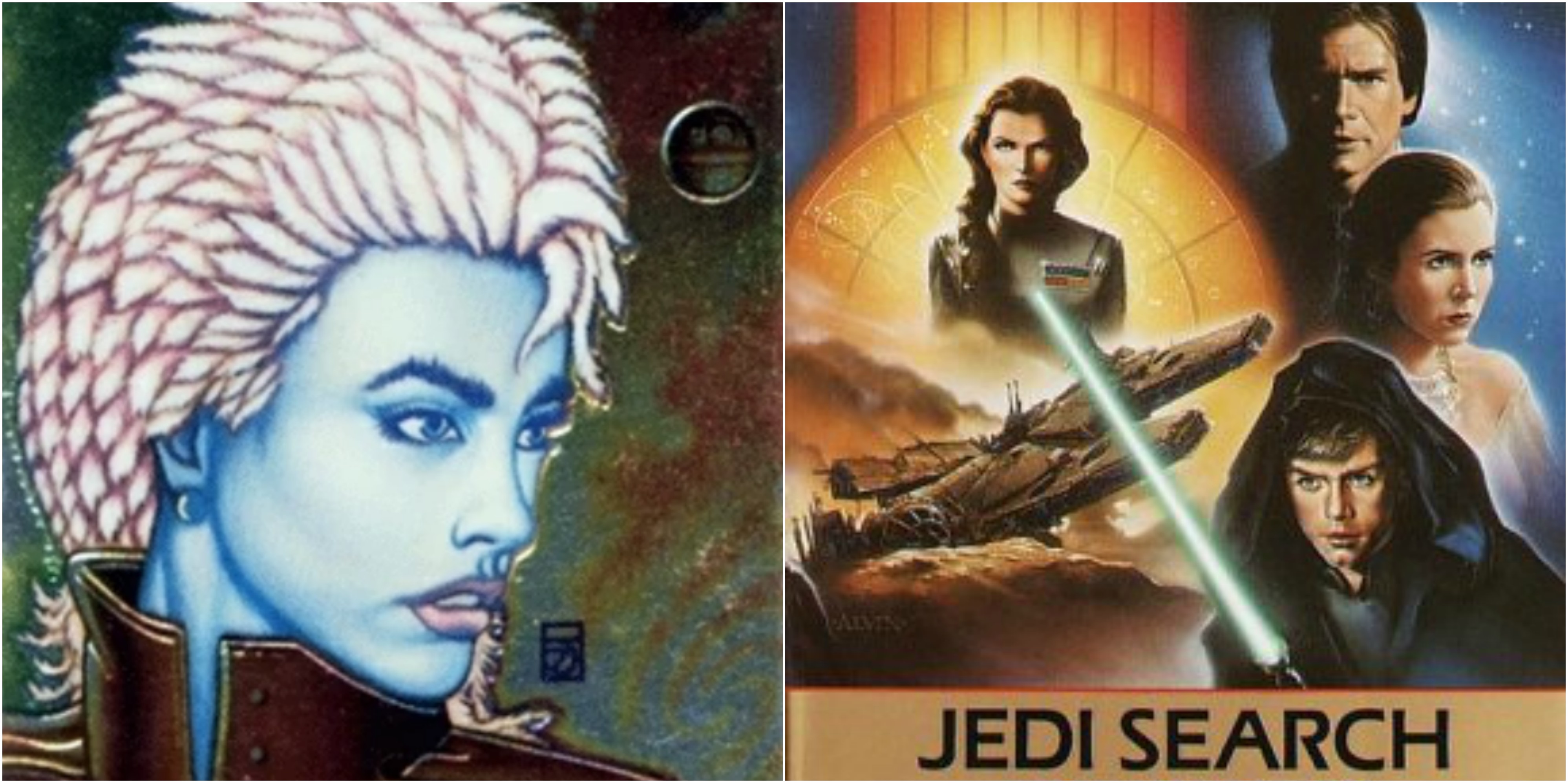 Qwi Xux appeared in several (now Legends) novels including Jedi Search, Dark Apprentice, I, Jedi, and Darksaber. She was manipulated by the Empire to develop superweapons but eventually helped the Rebellion after she discovered the destruction her inventions had created. Qwi and Wedge Antilles developed a close relationship for a time.
Writer Kevin J. Anderson said he was visually inspired by the Star Wars Holiday Special character Mermeia when he created the character Qwi Xux. Here's a screenshot of Mermeia in case you need a reminder of what she looks like or have managed to avoid the Holiday Special entirely.
Qwi Xux also appears in this Tor.com article that lists all the characters that have at one point in the Star Wars universe been responsible for creating the Death Star.
Day 79 – Jessica Henwick
Jessica Henwick is an actress who played X-Wing pilot Jessika Pava in The Force Awakens. She also played Colleen Wing in Iron Fist and The Defenders and Nymeria Sand in Game of Thrones.
According to her IMDB page Henwick's first acting role was an uncredited part in the film St Trinian's 2: The Legend of Fritton's Gold. She then appeared in ten episodes of the TV series Spirit Warriors.
Henwick has also written and produced two short films, The Heart of the Forest in 2016 and Baliko which is scheduled to release later in 2018.
Here's Henwick talking about doing her own stunts in Iron Fist.
Day 80 – Jennifer Heddle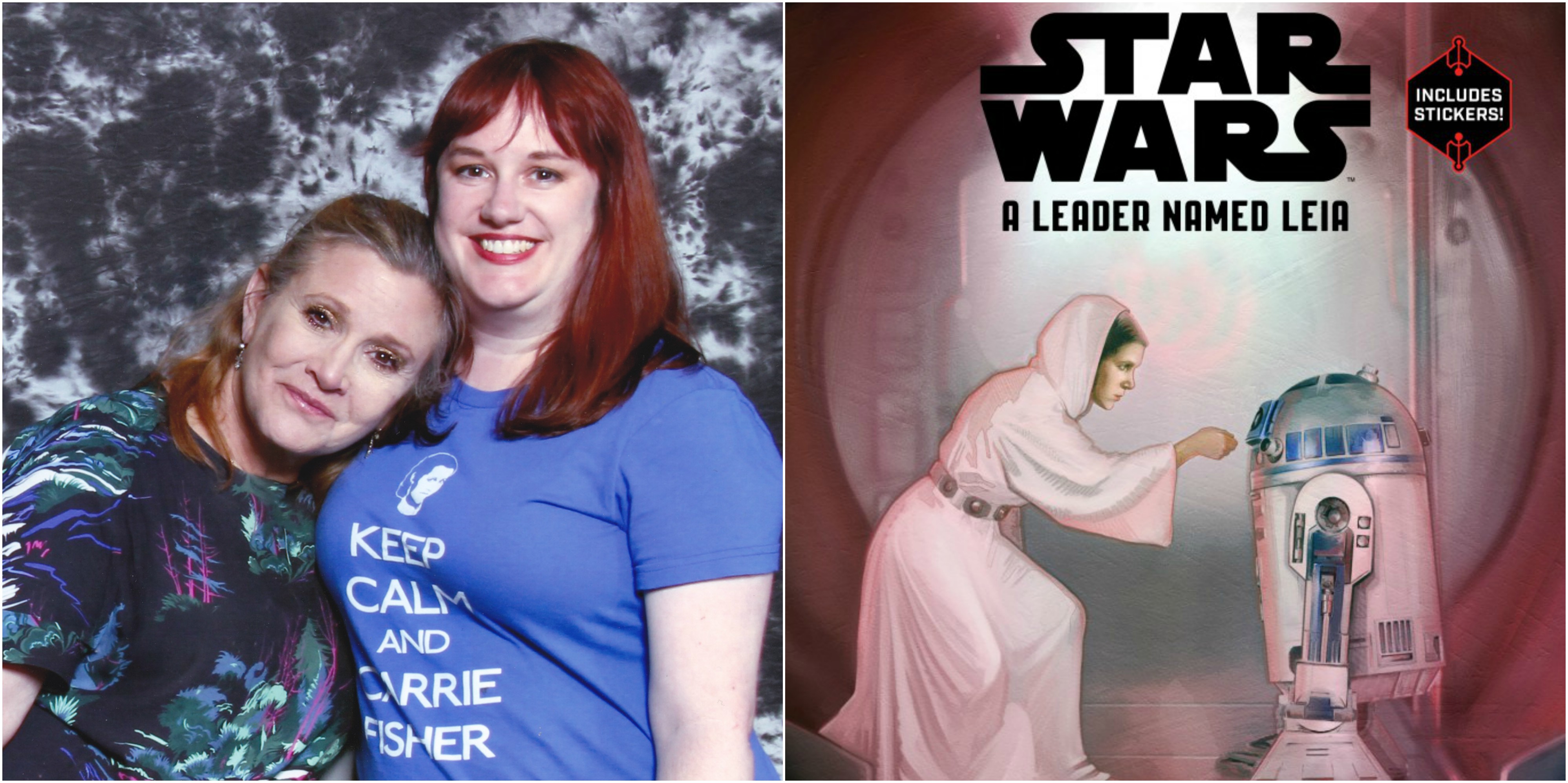 Jennifer Heddle is the Executive Editor for fiction at Lucasfilm. In addition to her work as an editor, she has written three Star Wars young reader books – Star Wars: A Leader Named Leia, Star Wars Rebels: Ezra and the Pilot, and Star Wars Rebels: Sabine's Art Attack. Heddle was kind enough to answer a few questions via email for 365 Days of Star Wars Women.
How long have you been a Star Wars fan and have you always read Star Wars books?
I've been a Star Wars fan since the first movie came out in 1977. I was four years old when I saw it and was instantly obsessed. I was likewise obsessed with the novelizations of the original trilogy, so in that sense I have been a fan of Star Wars books my whole life! I read the original novels that kicked off with Heir to the Empire for a few years, but eventually fell off from them, which enabled me to look at the program with fresh eyes when I was hired.
Anyone who follows you on Twitter knows you are a big Leia fan. Why is she such a special character to you?
She's the reason I've never thought that girls couldn't do everything. Her fire and determination made her a guiding role model throughout my life. I think what I treasure most about the character is her strength despite everything she has endured. She has her vulnerabilities and her weaknesses and her deep losses, but it never stops her from doing what needs to be done.
Your current title is Executive Editor for fiction at Lucasfilm. Is it correct that includes books, comics, and roleplaying games?
When I first started at Lucasfilm I handled all adult fiction, which included books, comics, and roleplaying games. My role has since shifted to be all book fiction, from kids to YA to adults. Another editor works with Marvel now, but I still love reading the issues.
There are so many Star Wars related books out there can you give me some examples of publishers or projects you have been working with recently? I think there is a lot of confusion about Star Wars books since there are so many publishers and imprints and I'm hoping to understand the overall structure a bit more.
Our structure can definitely seem confusing! There are five editors, including me, under our creative director Mike Siglain. Most of what we do is work with our licensee publishers by helping develop concepts, assisting them with resources, and reviewing and approving material at all stages of the publishing process. I work with Del Rey on the adult novels of course, as well as Quirk Books on the Shakespeare Star Wars titles, Scholastic on the Jedi Academy series, and all LEGO Star Wars, among other things.
In addition to my work with licensees, I also acquire and edit middle grade and YA fiction for our "in-house" imprint, Disney Lucasfilm Press. For those titles I am an editor in the traditional vein, working directly with authors and agents.
You came to Lucasfilm in 2011 as Senior Editor of LucasBooks, a few years before the EU become known as Legends and the new Star Wars canon was announced. How early did you know this change was going to happen and how do you think it's going so far? Do you still work with Legends titles?
From what I remember, I knew not too long before the news went public. Legends material is still being published in countries outside the US where Star Wars is newer to them, but we are probably going to be winding that down too now that there is so much canon material out there. We don't want to confuse people.
Can you give me an idea of what you might be doing for your job on an average day?
E-mails, e-mails, e-mails! I come in every day to a slew of e-mails from publishers, Disney publishing folks, authors, etc, and everyone needs something different. I may have to request visual reference from an upcoming film from an author, or approve cover copy from Del Rey, or approve the design of a French edition of one of our books, or pass along continuity questions I can't answer to the Story Group. We Lucasfilm editors are the hub for many different publishers and we have to make sure that everyone has what they need at all times. When I'm very lucky I get to actually read and edit manuscripts!
What has been your favorite project you've worked on since you joined Lucasfilm?
Oh wow, I don't know how to answer that question! Well, everyone knows I love Leia so obviously Bloodline and Leia: Princess of Alderaan by Claudia Gray are very special to me. But to give a non-Leia answer I will mention the Shakespeare Star Wars series by Ian Doescher, which is so incredibly well done. When Quirk first approached us with Ian's work, I was the one who really advocated for it here and I've been thrilled to see it be such a success.
In addition to your work as an editor, you have also written several Star Wars books. How did that come about and do you have a favorite book you have written? Any books you would like to write in the future?
This question makes what I've done sound much more glamorous than it really is! As part of my position here I've written three leveled readers for Disney Lucasfilm Press and something for a forthcoming project from Chronicle Books, as well as a short story for Star Wars Insider. The first two readers I did mostly as a writing challenge to see if I could distill the Rebels shorts down into easy reading, and when I was offered the chance to write the Leia reader I couldn't say no. I'd like to write original fiction in the future but I am absolutely terrible when it comes to the kind of discipline one needs to be a successful writer. Maybe someday…
How far do you plan out books for the Star Wars universe? What's the average time between when you or someone else comes up with an idea for a book and readers are able to buy the book?
A lot of what we do is obviously bound to film schedules and to various franchise priorities so we have to be nimble! I'd say right now we're figuring out our slate for early 2019 and beyond.
Can you give me a sense of when Star Wars fans can expect more book announcements?
Very soon!
Is there a woman from the Star Wars universe you'd love to see get her own book?
The easy answer is all of them! Stay tuned.
Are you ever surprised with what book or comics Star Wars fans don't connect with?
One of the truths about publishing is that you can never completely know if readers will connect with a book or not.  So when they don't it's not so much a surprise as an "oh well." You always hope everyone will love everything, but that is never going to be the case.
For women and girls reading this who want to break into publishing what advice would you give them?
Unfortunately it seems like you need a higher degree or some kind of publishing course on your resume these days to break into book publishing, which was not the case when I got started. So I think the best practical advice I can give is to not hold out for what you think is your dream position. If you want to be an editor but there's only a marketing position available, take it. If you want to be an agent but there are only positions available at publishers instead of with agencies, do that, and vice versa. It's about getting in the door, making contacts, and being around books. My first publishing job was as a marketing assistant for library reference books.
You can find Jennifer Heddle on Twitter @jenheddle .
Day 81 – Sigel Dare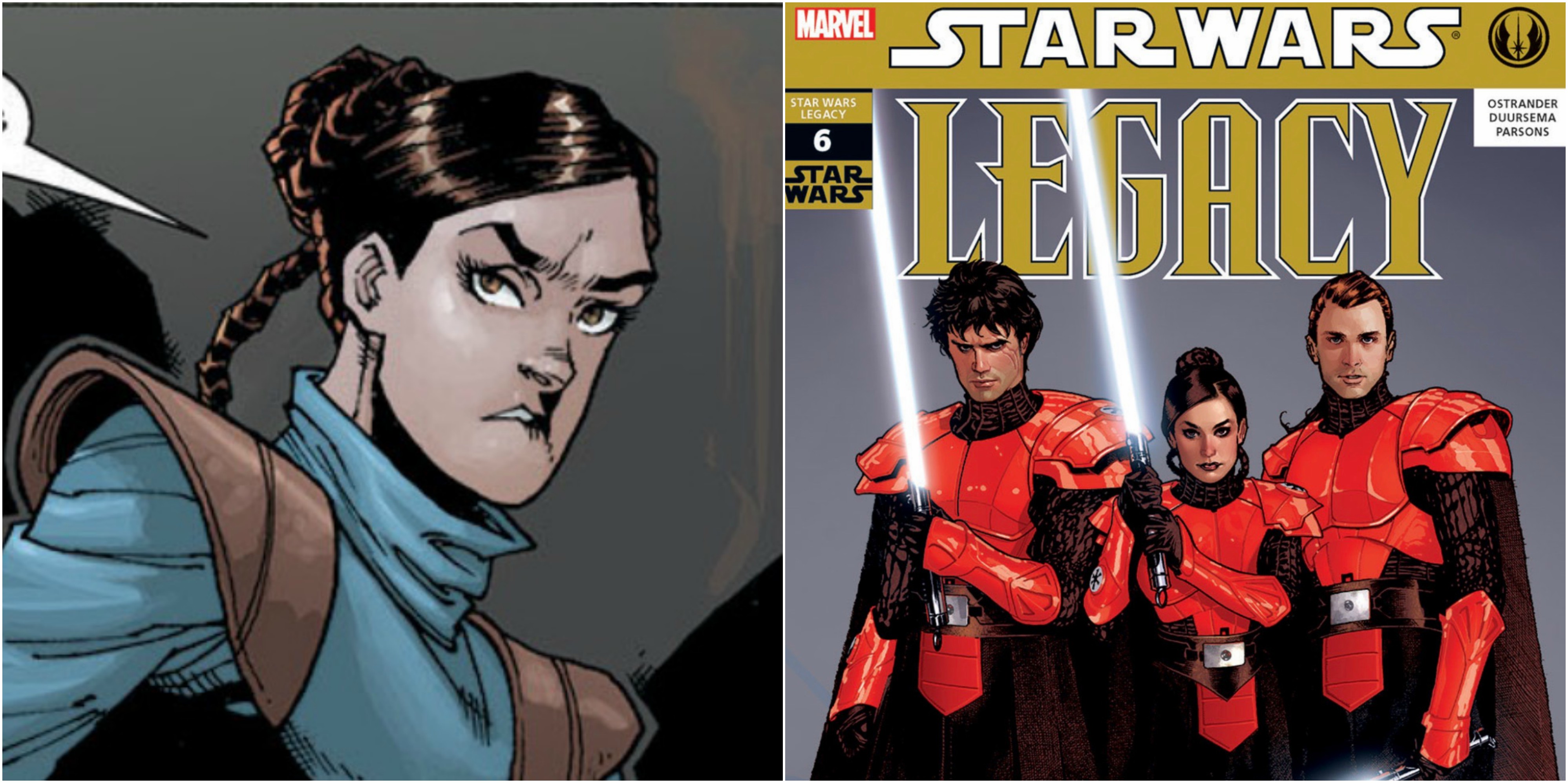 Sigel Dare is a character from the Legacy comics series (which are now Legends). She was an Imperial Knight who served Emperor Roan Fel.
If you don't know who the Imperial Knights were Star Wars Explained has a video for that below! But overall I think it's fair to think of them as Gray Force Users who did not embrace either the light or dark sides of the Force.
If you don't know who Emperor Roan Fel is you can learn more about him here. It's all really confusing if you aren't familiar with the Legacy comics series which takes place over 130 years after the Battle of Yavin. If you want a breakdown of this comic series head on over to this wiki at Comic Vine.
Here's a photo of a Sigel Dare action figure that was part of a two-pack with Darth Krayt.
Day 82 – Catherine Taber
Catherine Taber has voiced many Star Wars characters over the years although she is most well-known as the voice of Padmé Amidala in The Clone Wars film, TV series, video games, and Forces of Destiny. She has voiced several other female characters in Star Wars video games including Mission Vao in Knights of the Old Republic, Princess Leia in The Force Unleashed, and Vette in The Old Republic. She was the voice of Numa in both The Clone Wars and Star Wars Rebels and Taber was the voice of a Hangar Officer and a Starkiller Technician in The Force Awakens. She was kind enough to answer a few questions via email for 365 Days of Star Wars Women.
How long have you been a Star Wars fan?
A long time!  I definitely credit that as a huge factor in the roles I have gotten.  Knowing and loving the Star Wars "world" was an asset for me from day one.
How did you get into voice acting? Is it true that Mission Vao in Star Wars: Knights of the Old Republic was your first voice acting role?
I actually fell into voice acting after a talent agent suggested it because he said I was well spoken and knew I could do accents.  I was just pursuing on-camera acting initially, but then got a meeting with a great voice agent, Sandie Schnarr.  She decided to take a chance on me and Mission Vao was my second voice over audition.  I think the first was a commercial for Papa Johns Pizza, which I did not get, but thankfully Darragh O'Farrell of LucasArts also took a chance on me!  So yes. Mission was first VO role and my first venture into that far away galaxy, but not my last!
You have worked on both TV series and video games. How is the process different in a video game as an actor? Do you enjoy working in one medium more than the other?
With video games you are usually in the recording booth by yourself, and for TV you more often record with other actors. They both have some benefits.  With video games I have had the opportunity to have some major in-depth character arcs because of the large amount of content.  But I do really love being in the room with other actors and having that chance to play off one another.  Although now some video games are starting to record that way as well, which I think is such a good move.  It adds so much more life to the performances, but it can be really hard to coordinate schedules!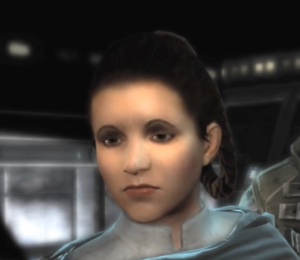 A lot of fans associate you mostly with Padmé Amidala since you portrayed her for so many years, but you've also voiced Leia and many other Star Wars characters such as Numa in Star Wars Rebels. What was it like in 2008 voicing both Leia (for the video game The Force Unleashed) and Padmé (in the Clone Wars feature film)? Did you approach these roles in different ways?
They initially were having a hard time casting teen Leia in TFU, but I didn't read for it initially because the Game team, which was totally separate from the animation team, knew me actually more as Mission Vao, but I finally got the call to give her a shot and I just felt I knew the character so well, her speech patterns for that timeframe in Star Wars, her personality so I was so excited for the opportunity…and then thrilled to book it! I always think of Leia as a combo of Anakin and Padmé…she can have Padmé's grace and royal countenance but she also has that super fiery and impetuous side that comes out and she is less able to control that then Padmé, in that for better or for worse I think she favors her father. Also, I have already outed myself that I did my hair in Leia buns and wore white for my audition, even though it was just done via audio over phone patch…but I secretly believe that made the difference!
Do you have a favorite Leia and/or Padmé episode or project you worked on?
Well you haven't gotten to see Star Wars Detours yet, and I sure hope you all do someday.  But I play a teen Leia in that and it is a comedy.  It is so smart and funny and full of inside Star Wars jokes and lore and the whole team making it was just a dream, so I loved that project!   Padmé is still my favorite character and I really loved so many Clone Wars episodes it is hard to pick a favorite…I love episodes from the beginning like "Destroy Malevolence" all the way to THE last season with the Clovis Arc.
Were you surprised there was going to be more Padmé content when you were approached about Forces of Destiny?
I think as an eternal optimist I always hope for more Padmé content so I am not sure I was surprised, but I was for sure thrilled. I will never get tired of playing Padmé.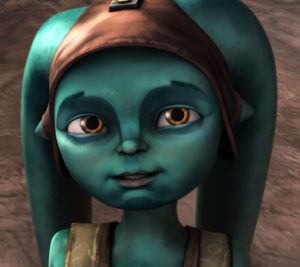 Favorite Star Wars character you have voiced that's not Leia or Padmé? Any Star Wars character you would love to play?
Numa! I LOVE Numa and was so happy Dave Filoni brought her back for Rebels. I would still love to see more of her story and life explored. As for others, no specific character, but I would still love to play a Jedi who wields her own lightsaber, especially if I got to do that in live action. I am kind of already training…you know just in case the need arises someday!
Favorite non-Star Wars voice role and acting role in general?
Oh boy that is hard…I love so many of my girls!  Penelo from Final Fantasy, Jesse from Minecraft and Lori Loud on the Loud House are stand out.  And I got to play a great character and do some of my own stunts in an indie feature coming out this year called Haven's End and I really enjoyed that too.  I would love to do more actiony stuff…its just really fun!  And on the opposite end of the spectrum, I had the chance to work on the audio version of an amazing best selling book last year (it's such a great story!) Before We Were Yours by author Lisa Wingate with another now favorite character, a 12-year-old girl named Rill.  Basically, I love my job!
Can you tell me a little about your experience working on The Force Awakens?
It was an amazing day.  Matthew Wood who is not only the supervising sound editor for the Star Wars films but also General Grievous brought some of us Clone Wars Alum together and gave us the chance of a lifetime.  We got to play together AND work on The Force Awakens.  It doesn't get much better.
What projects do you have coming up?
Well, as I mentioned I am excited about Haven's End and am continuing to work on The Loud House, we just found out we are renewed for out 4th season! There is not much else I can say yet….just as always stay tuned!
Are you still working on Games for Soldiers? If you'd like to tell readers about this program I can link to the website and include any information you'd like to share.
Sure, thanks!  I collect donations of video games and comics and send them to our soldiers deployed in the Middle East.  You can get more info about supporting or donating at Games for Soldiers.  Especially if you happen to work for a game company (;
Thank you so much for including me in 365 Days of Star Wars Women, Amy!  It has always been one of my favorite things about the Star Wars Universe that there are so many amazing female characters, representing all different types of women, culminating most recently with Forces of Destiny, made about female characters, and written and co-produced by strong talented women like Jen Muro and Carrie Beck. Although there is always room for improvement and evolution (for all of us I think!), from the beginning, with our beloved Carrie Fisher as Princess Leia, for me personally, Star Wars has been a place where strong women hold there own with, work together with and appreciate strong men, and with more new movies and series on the way, I am looking forward to seeing this continue.   May the Force be with us all!
You can find Catherine Taber on Twitter @cattaber.
Day 83 – Cato Parasitti
Cato Parasitti was a Clawdite bounty hunter during the Clone Wars. She appeared in three episodes of The Clone Wars TV series and the Forces of Destiny episode "The Imposter Inside". Like all Clawdites, Parasitti was able to shape-shift in order to impersonate others.
Here's Cato Parasitti in "The Imposter Inside."
Day 84 – Padmé Amidala

Padmé Amidala was a Queen and later a Senator for her homeworld Naboo. She was one of a group of senators who tried to stop Chancellor Palpatine when his evil intentions against the Republic became clear. Padmé was secretly married to Anakin Skywalker and died shortly after giving birth to their two children Luke and Leia.
Padmé was played by Natalie Portman in all three prequel films – The Phantom Menace, Attack of the Clones, and Revenge of the Sith. She was, in fact, the only women with a speaking role in Sith . There are a lot of strong opinions about how Padmé's character arc ended in the prequels, but that shouldn't overshadow the perception of her character as a whole. Carly Lane talked about the strength of Padmé in this article for Syfy.

In animated Star Wars projects Padmé appeared in the 2008 film The Clone Wars, dozens of The Clone Wars TV episodes, and several Forces of Destiny shorts. In all of these productions, Padmé was voiced by Catherine Taber who did an interview with 365 Star Wars Women for Day 82. In my opinion, some of the best Padmé content has been told in these animated stories. In 2016 Allyson Gronowitz wrote about the feminist redemption of Padmé  Amidala in The Clone Wars.

In novels (besides the prequel novelizations – which have some fans of their own) Padmé appears briefly in Christie Golden's novel Dark Disciple which was based on unproduced The Clone Wars episodes. In comics, besides the comic adaptation of the prequels and Forces of Destiny episodes, Padmé pops up now and again, but mostly as a vision,  a mention of her, or as an image in a painting.
There's a bit more Padmé to find in Legends materials. There are young reader books told from Padmé's point of view (A Queen's Diary) and books that look at her relationship with her handmaidens (Queen in Disguise). Padmé is mentioned or makes appearances in various novels, video games, and comics, but there are not a lot of Padmé specific stories out there (like a comic series about Padmé and her handmaidens – hint, hint Marvel!). My favorite Legends Padmé story I have run across is "Spy Girls" from Clone Wars Adventures Vol. 7 which I also mentioned in my post for Sheltay Retrac.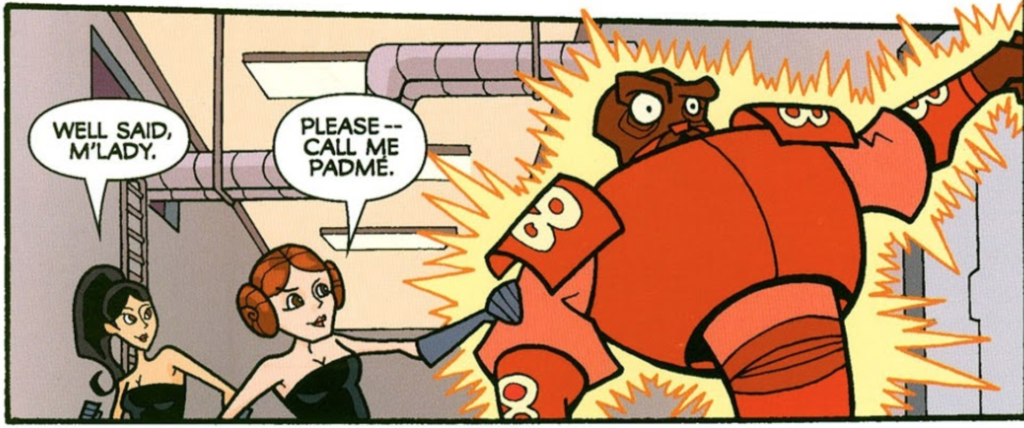 One area of Padmé's life that has received a lot of attention is her wardrobe. When it comes to fashion Padmé has no equal in the Star Wars universe. A Queen indeed.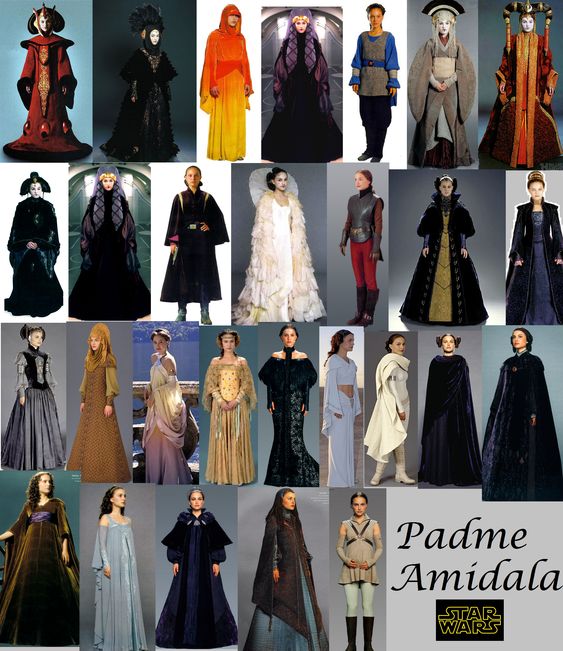 For fans hoping for new Padmé content, keep an eye on Forces of Destiny. The episode below "Unexpected Company" was released earlier this month.
Many fans (myself included) hope that more stories are told about Leia and Luke learning about their birth mother. This piece, illustrated for Star Wars Celebration 2015, by Karen Hallion just makes me want those stories even more.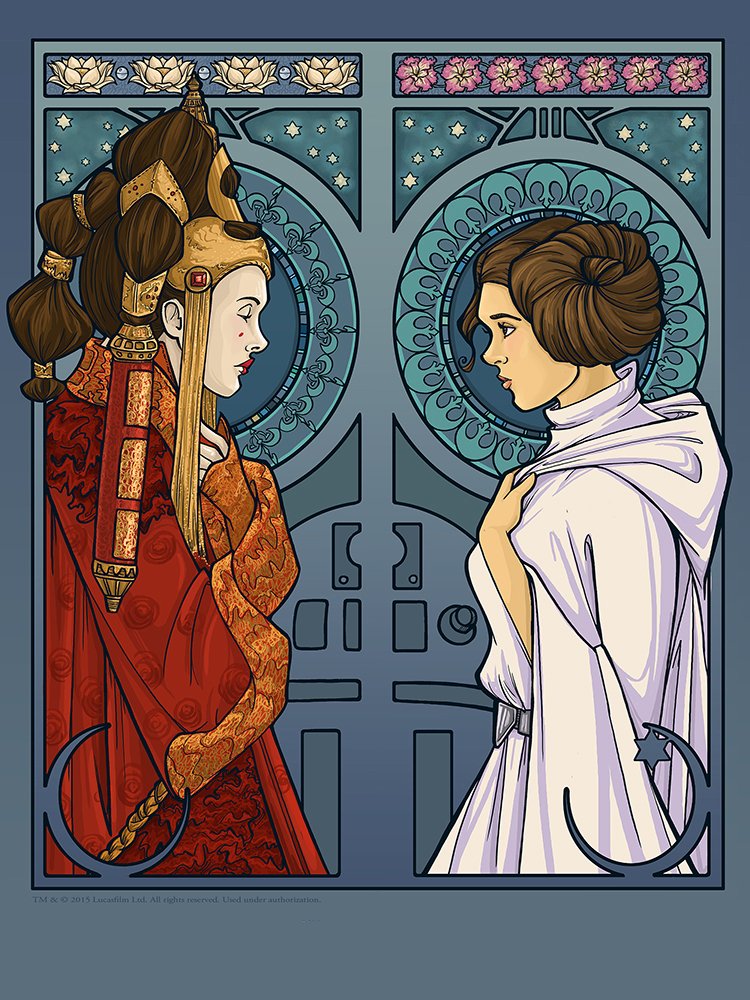 I think fans love Padmé in part because she is extremely relatable. Padmé is every young woman trying to broker peace (in their jobs or in their families) in rooms mostly full of men who underestimate her, a woman trying to balance her career and her personal life, a pregnant and scared soon to be first mom who is separated from her support system (give me stories about House Naberrie!), and a woman who realizes she missed a bucketful of red flags in her relationship and has to find the courage to leave the man she loves. I think few women will make it through their lives without identifying at least somewhat with one of these experiences (although hopefully not as extreme as the challenges Padmé faced)! Padmé perseveres through a lot in the prequels, and I think there is a lot more of her story to be told.
Luckily for Padmé fans, the lack of Padmé content has not stopped Star Wars fans from writing about her, talking about her, dressing like her, and creating art inspired by her. Here is just a taste of the Padmé love out there for Star Wars fans to discover.
Podcasts
If you're looking to hear fans talk about Padmé your first stop is easy. Podmé is a podcast all about Padmé Amidala. Bright Tree Radio's first Ladies Night episode focused on Padmé as did Episode #16 of the podcast Kanata's Castle. Sapphic Skywalkers took a look at Padmé through a queer lens in their podcast episode The Big Three, Part 1: Padmé. The women at Skytalkers also talked a lot of Padmé in their machete series looking at The Phantom Menace, Attack of the Clones, and Revenge of the Sith.
Fan Art
There is no shortage of fan art of Padmé Amidala from her disguise as a handmaiden in The Phantom Menace to her pregnancy in Revenge of the Sith. Padmé fan art can easily be found all over social media and I can't get enough of it.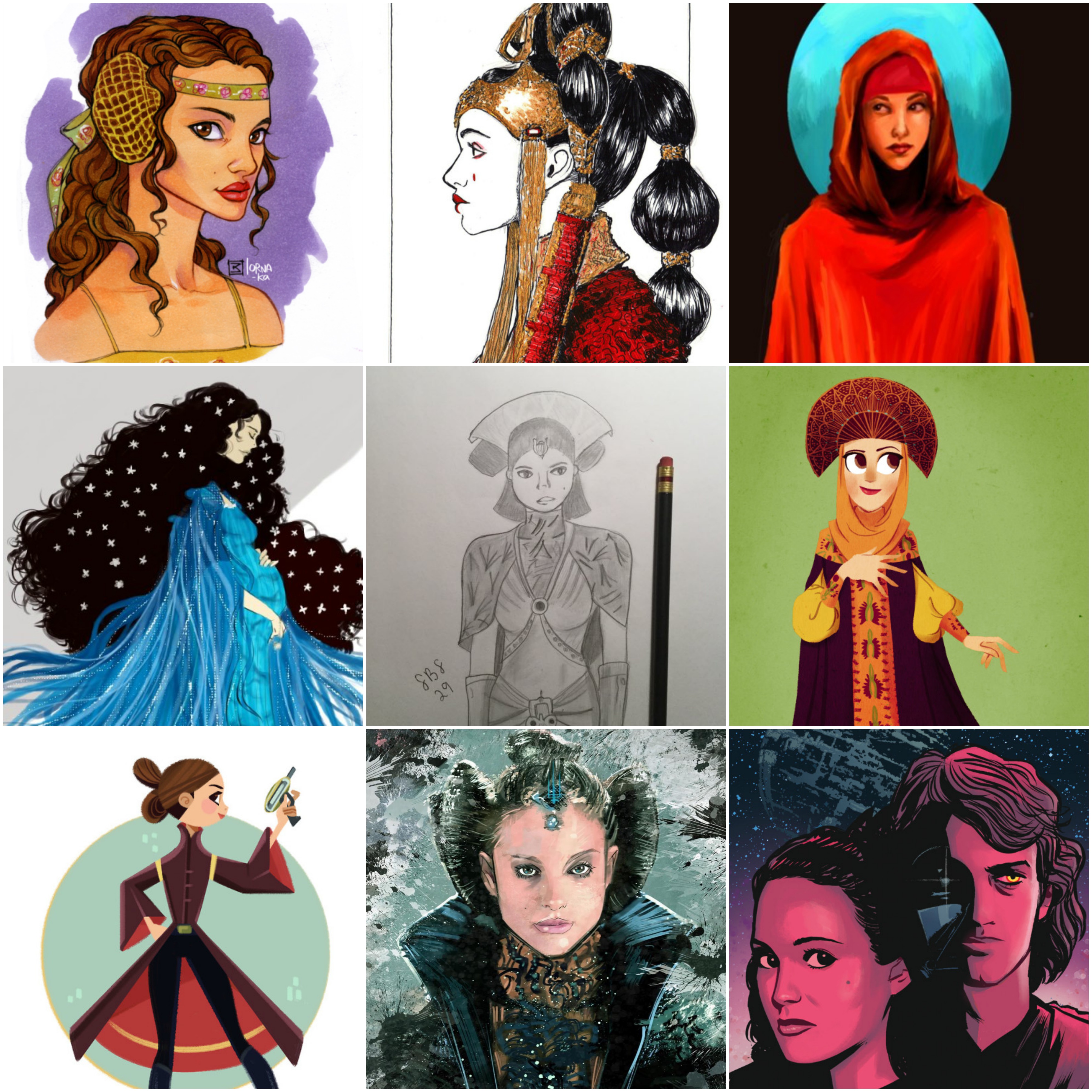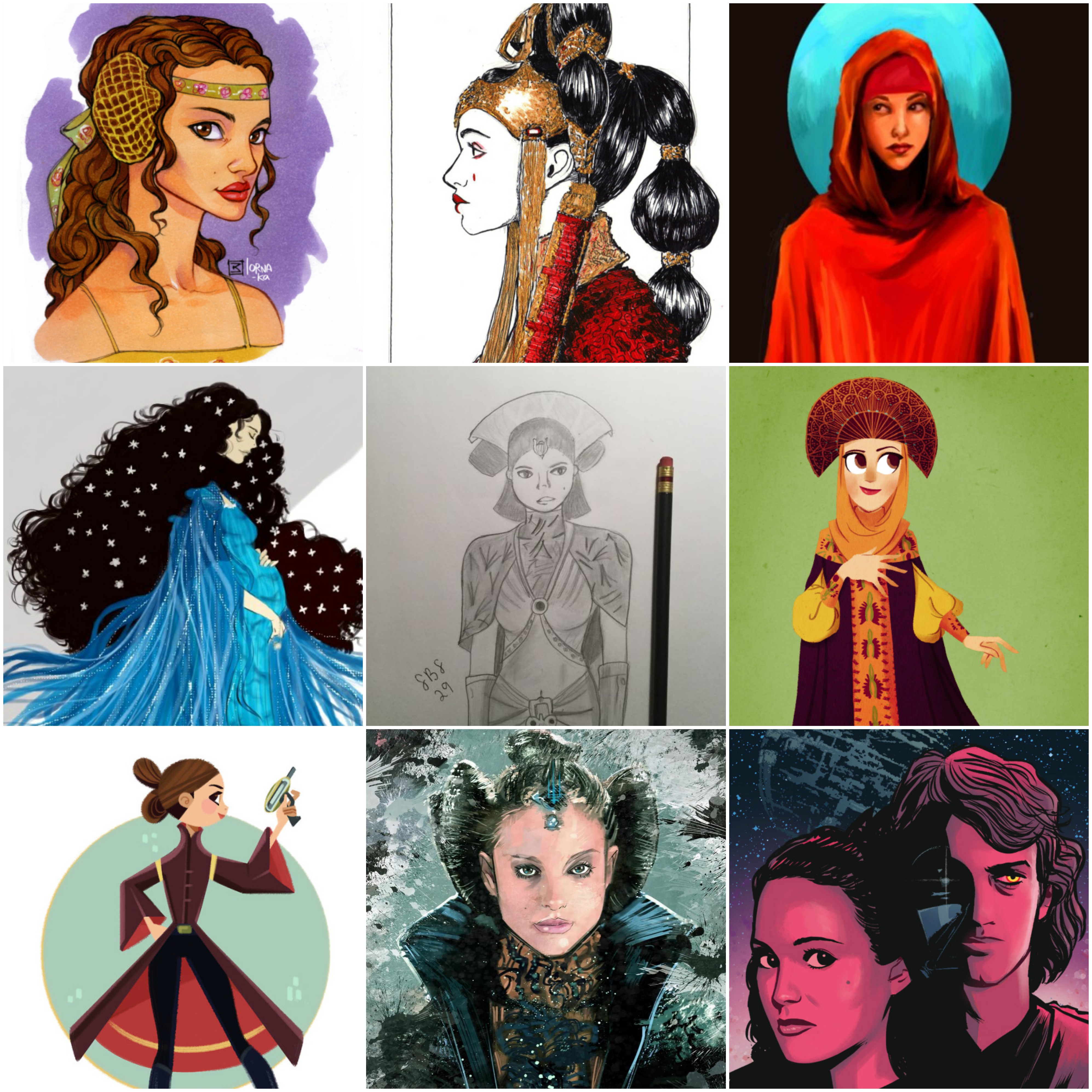 Credits left to right – Top row: lorna-ka, Megan Lloyd,  stvrlore
Middle row: starshinekory, @grapefruitrain , Emma
Bottom Row: trimcoast, venamis, jordangibson
Cosplay
Cosplaying as Padmé can be challenging since her outfits are so intricate, but it's always worth it.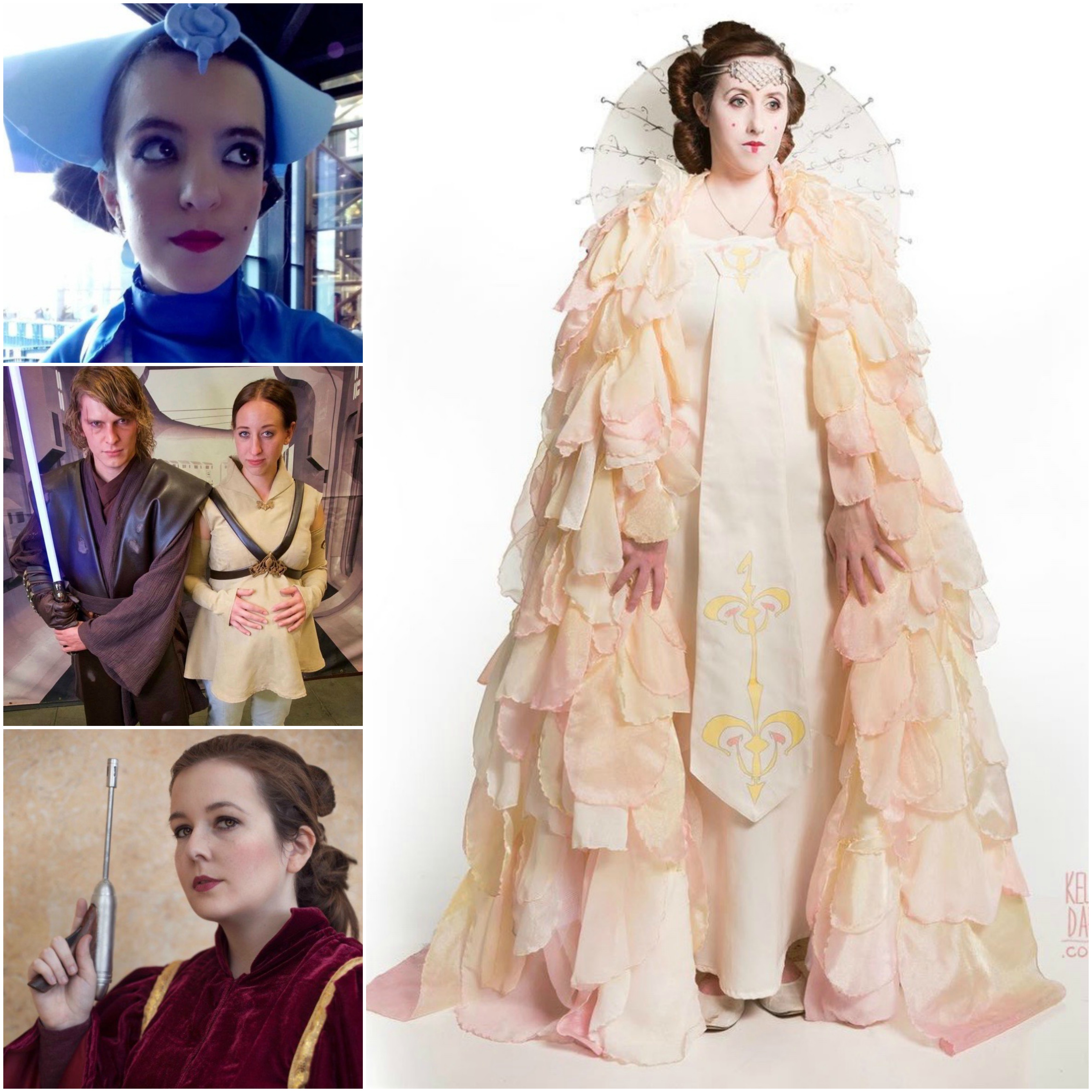 Sometimes you can even find a whole bunch of Padmés in one place.
Articles
There are tons of great articles that have been written about Padmé Amidala. Here are just a few of them.
How J.J. Abrams Could Redeem Padmé in Episode IX by Lex.
The Case for More Padmé Amidala by Sarah Dempster.
Why I'm Inspired by Padmé Amidala by Radio Ryloth.
Articles about Padmé's death, funeral, and what we don't know about Padmé from Imperial Talker.
Padmé's Prayer from Becca Benjamin.
Finally, have you ever seen a Padmé tattoo? Because this is a pretty great one.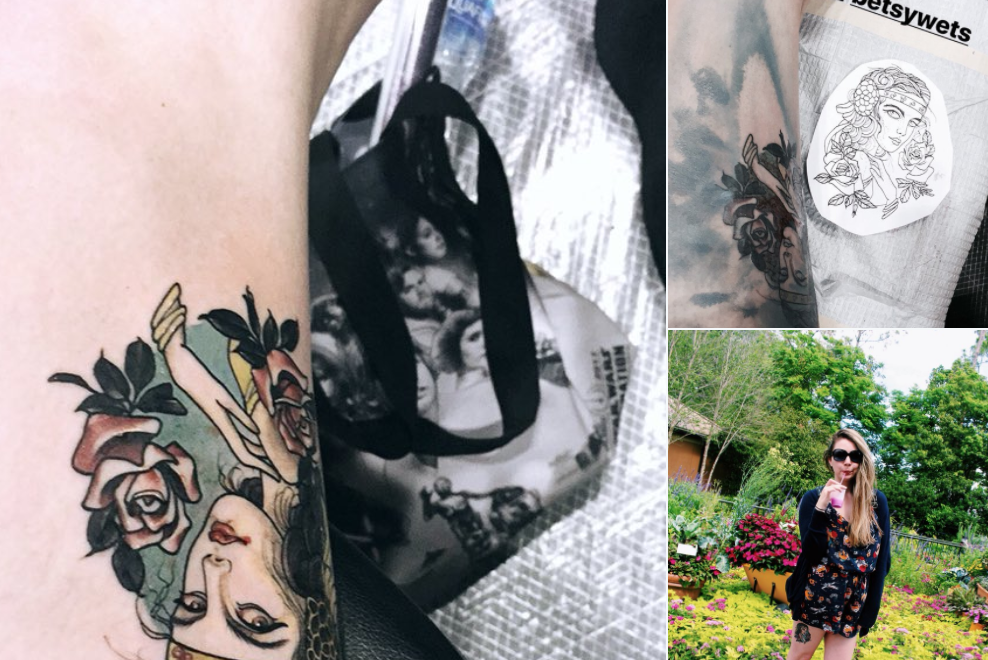 Thank you to the many, many people who helped me pull together the articles, images, and podcasts links for this article. I tried to provide credit and link back as much as possible. If I missed something let me know and I'll fix it!
Day 85 – Queen Jamillia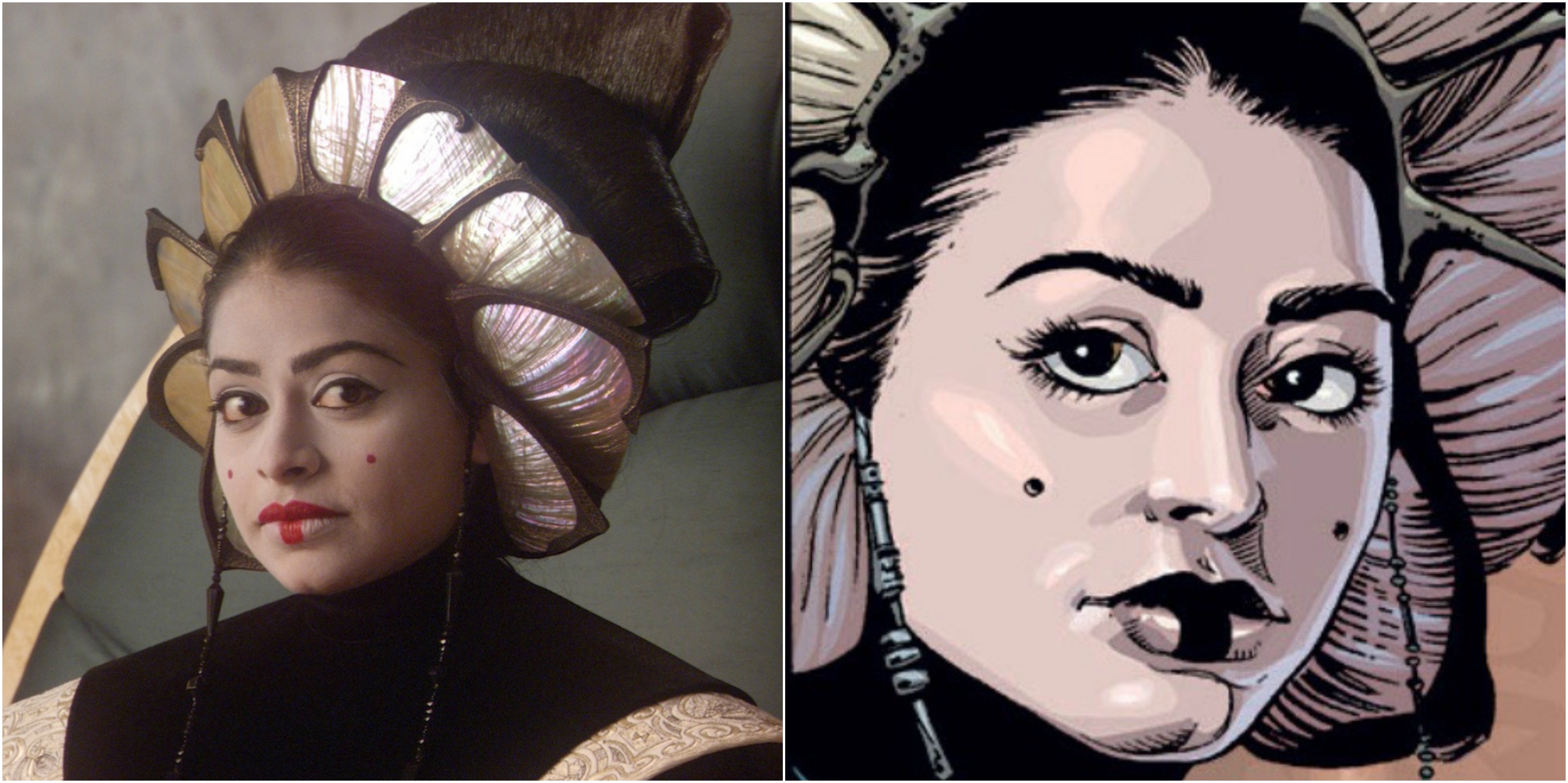 Queen Jamillia was the Queen of Naboo after Padmé Amidala and before Queen Neeyutnee. She appeared in the film Attack of the Clones and its comic adaptation. Actress Ayesha Dharker played Jamillia in Attack of the Clones. There isn't a lot known about Jamillia other than she was the person who convinced Padmé to serve Naboo as a senator.
Day 86 – Nari Sable
Nari Sable was an adventurer and friend of Lyra Erso (Day 14) in James Luceno's novel Catalyst: A Rogue One Story. Star Wars has always been a bit short on female friendships so this is nice to see.
To learn more about the book Catalyst you can read 6 reasons Catalyst is essential reading if you plan to see Rogue One from Jennifer Heddle (Day 80) or an interview with author James Luceno.
Day 87 – Tynnra Pamlo
Tynnra Pamlo represented Taris in the Imperial Senate and appeared in the film Rogue One: A Star Wars Story. She was played by actress Sharon Duncan-Brewster.
Pamlo also appeared in the novel Leia, Princess of Alderaan and part 4 of the Rogue One comic adaptation. You can learn a little more about Pamlo from Rogue One: The Ultimate Visual Guide.
Day 88 – Annalise Ophelian
Annalise Ophelian is a documentary filmmaker, psychotherapist, and consultant. She is currently directing and producing the upcoming 6-part docuseries about female Star Wars fandom Looking for Leia. Her previous films include Diagnosing Difference and MAJOR!.
Annalise answered a few questions via email for 365 Star Wars Women about her Star Wars fandom and the making of Looking for Leia.
What is your first Star Wars memory? (Both seeing a Star Wars film and your first memory of being a Star Wars fan).
I saw the original film, which we just called Star Wars back in the day, in the theater in 1977 when I was four years old. And while I have vague memories of my first viewing, my most vivid memories were of the following summer, when it was playing in bargain matinee rotation at the theater within walking distance of my family's house in Fort Collins, Colorado. They'd program films for kids off school for the summer, it was a lot of Chitty Chitty Bang Bang and the Apple Dumpling Gang, and all I wanted to do week after week was go see Star Wars. I have a great sense memory of the look, feel, and smell of the newsprint the showtimes calendar was printed on. My mom would ask me what I wanted to do and all I wanted to do was go see Star Wars. By the time Empire and then Jedi came out I was fully in the age group to be really captivated by the movies, but I think I was always equally compelled by how they were made, that they were movies. I remember seeing Corvette Summer, and thinking "Oh right, Mark Hamill isn't Luke Skywalker, he's an actor, he's playing a role." So my first memories of fandom are of voraciously consuming anything I could about how the movies were made. The little "making of" featurettes on the VHS tapes were like gold to me.
Are you a Star Wars fan of just the films or have you dived into the books, TV shows, and comics as well?
I started out as a fan of the OT films, and then I sort of missed out on the EU. I remember finding Heir to the Empire and loving it, it was the first time I realized there were Star Wars books, so I went looking for more and found the EU and was overwhelmed by the size of it. I'm the sort of audience that likes an author or a filmmaker to tell me what the story is, the "official" version, so the fact that some of the books contradicted themselves was horrifying to me! This is a problem I've always had with comic books as well, too many characters die and are resurrected and multiverses are great to a point but then it's just like none of this counts, you're just going to re-do it anyway! But this is just the sort of audience member I am, I really love canon, simply as a point of organization. Not that it's right or better, it just gives me a guideline, like, read these stories and we'll work hard to keep the story consistent.
But this is a huge digression. I loved the OT, and like most folks of my generation the PT did not hit the mark with me, although I did love Darth Maul. But it seemed like Star Wars was over, and I moved on to Star Trek TNG and Buffy and the like. I was late to the Clone Wars, but when I found it I was really in love with it, and it helped me appreciate the story of the prequels. Like, it's this really great story about colonialism and empire building and how best intentions can give birth to incredibly oppressive regimes. I finished Clone Wars after it had already ended, so I got to binge most of it, and picked up with Rebels, which I also love. And I'm really enjoying the new Marvel comics, they are some of my favorite new editions to the story. There was a minute when I thought I was going to keep up on the new canon books, but that minute has passed, I just don't have the time. But I love Claudia Gray, Bloodline and Leia: Princess of Alderaan were just splendid. I'm a huge Dr. Aphra fan, and I really love how we get more characters in the comics. Phasma has a great arc in her comic, that really enhances the story of the film for me. And we get all these women, and queer women and women of color in the comics that we don't get on screen.
Have you been active in Star Wars fandom before Looking for Leia (conventions, social media forums, writing, etc.)?
I'd never participated in social media based fan communities before starting work on the series. I went to conventions, somewhat casually, starting in the 1990s, starting with Star Trek conventions and moving on to my local comicons, zombie conventions, when they were still pretty tiny regional gatherings. I went to WonderCon a couple of years in a row and then in 2015 my younger brother (@PloPoPro), who has always been my con buddy, suggested we save our money and wait a couple of weeks and go to Celebration in Anaheim instead. And that was sort of a game changer for me, up until that point I always went to cons and sort of sifted my way through things to find what I liked, and at Celebration I was really reunited with how Star Wars was my first and most central fandom, and being in that space with only Star Wars content was just amazing. Being on Star Wars Twitter ™ has been a similarly amazing experience, I've gotten to connect with folks all around the world, and particularly with women and other queer folks and non-binary folks who I'd never have found without social media.
Is there a current female Star Wars character you think would be a good fit for a stand-alone movie?
Honestly anyone from the comics. Dr. Aphra, Sanna Solo, Evan Verlaine, Breha Organa, Shara Bey. Also Hera Syndulla is everything, but I sort of love her too much in animation to ever want to see her in live action. I think the stand alone movies work best around iconic characters, I'm really excited for an Ewan as Obi-Wan stand alone for instance, or around interstitial moments in iconic story arcs. I loved Rogue One, that film was as much about the characters as it was about filling in this pivotal piece of the story, I think Chuck Wendig's work does that, too. But you know, we haven't had women in recognizable enough roles to hold down a stand alone, outside of Leia. Like, I'd love an Aayla Secura stand alone, but I think it would be me and like 10,000 hard core Aayla Secura fans sitting in a theater and I don't imagine a studio is going to justify that expense!
Why did you decide to direct Looking for Leia? Was there a specific inspiration (like another documentary) or a specific moment that inspired the idea of this project?
When I came home from Celebration 2015 I had this tremendous con drop when I realized I wasn't going to get to talk about Star Wars with the person standing next to me for 12 hours a day, and I was also really struck by the number of women I'd seen and spoken to there. The gender balance was still predominantly cis dudes, but there was a much greater consideration, guys listened to what I had to say and folks were kind and generous and it left me feeling really hopeful. And it left me wondering: If I'm clearly not an anomaly as a female Star Wars fan, who are all these other women, what's their story?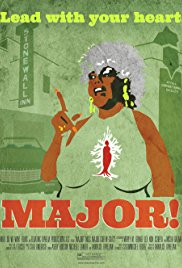 At the time I was in the final stages of post production on my film MAJOR! (http://www.missmajorfilm.com), and that was a hard production, emotionally. There were several deaths in our community and in our family during the course of production, and I felt like I was creating through grief and also feeling very aware of the fact that at that point I had helmed two features about trans experience, and this is something that I think cis people shouldn't do, so I was in constant conversation with myself and with my partner (@StormMiguel, who was my co-producer) and our Advisory Board about connection and accountability to community. And then the 2016 election started gearing up, and in the fall I decided look, I want my next project to be one where I'm really in my lane, I'm making a project that includes the position I'm standing in, and I want to do something with cultural significance but that is really joyous, because the vicarious trauma had really left me feeling like I just couldn't make another film.
So this idea of Looking for Leia was born. Originally I developed it as a road trip doc, I was going to drive around the U.S. talking with Star Wars fans and collect enough material that Carrie Fisher, or her reps, would say absolutely Ms. Fisher will talk with you on camera and we'd end talking with her about her iconic role. As I was touring MAJOR! this was the concept I was developing. And then the election happened, and then Carrie died, and like so many people I was gutted. And I felt like the project died with her. And after a couple of weeks of doing that ugly crying in public with no provocation thing, my partner said "you know, there's never been a better time for this film. You have to do this, you have to go to Celebration in Orlando and talk with women about what she meant to them, what their fandom means to them." And around that time I saw the first announcement for the Drowning in Moonlight gala, and I spoke with the organizers, who invited us to come and film, and it took off from there.
How has the production of Looking for Leia differed from previous projects you have directed?
I've never worked on any topic as mainstream as this, I mean, you can't get much more mainstream than Star Wars. And of course, the new movies have all come out during the pre-production and production of this series, and I don't think I was prepared for what a huge global juggernaut it would be. How could I not be prepared for that? So suddenly my story is less about outsider culture and more about what's it like to love the most commercially successful trans media franchise of all time? Navigating all of those spaces from my scrappy queer indie filmmaker position is a constant exercise in mustering confidence and stepping up to the plate, but then, I think that's filmmaking for anyone who isn't a cis guy. What's the same about this project is that I work with participant involvement. My work examines phenomenology and there's a parallel process around stories of representation and how that representation is made. So I ask folks who speak on film to review their spoken contributions in the edit, because folks might talk with me for an hour and I might use three minutes of that footage, and the edit is a tremendously subjective place. I'll never claim objectivity and that's not my goal, my goal is to have multiple subjectivities all sharing space and fleshing out a story, and for participants to look at themselves on screen and say yes, that's authentically me.
Can you share any highlights from the making of Looking for Leia so far?
Oh god, I'm fresh in it so it's hard not to think of all the things I wish I could have done more of. I wish I had a Clone Army for a crew and we could spread out all over the globe. I know that for every one woman on screen there's 10,000 amazing stories we'll never hear. I wish that gendered terms that don't re-inforce gender binaries were more available in the cultural short hand. But you asked me about highlights, okay, happy beeps. I mean, I got to wear lekku, and I sprained my MCL in lightsaber class, and I got to hear all of these incredible women talk about something they love that brings them joy. There's a moment in almost every interview where folks cry, and it's rarely around a story that's painful. It's almost always when women are talking about what it feels like to see yourself represented. We can hashtag how representation matters, but this isn't an intellectual concept, it's rooted in our deepest sense of self.
I think women, and especially women of color, queer women, trans women and non binary folks, disabled women, we're so used to being erased in the media we love and consume. And Star Wars has some truly iconic female leads, and also isn't different from any other popular culture in who isn't in the picture, it's a both/and. But when women talk about what it feels like to see yourself reflected back, to be allowed to occupy the role of hero, to lead the lightsaber class and be the Jedi and build a robot with your own two hands, and the power and essential human dignity of that moment makes you realize how adeptly you've learned to live without it. And that's a really emotional moment, and I've shared that moment with a lot of women over the past year, it's powerful and I'm deeply grateful for it.
If you could go back in time and interview Carrie Fisher what questions would you have liked to ask her? What does Carrie Fisher mean to you as a Star Wars fan?
Well, I tried a few times to answer this and just start crying. While I've been a Star Wars fan all my life, I became a Carrie Fisher fan in 1990 when I read Surrender the Pink and saw Postcards from the Edge, those two things happened in the same year. I was in my first year of college and Carrie Fisher was owning herself in this fierce way I'd never seen in a public figure before. Before Carrie I'd never seen anyone who so proudly led with her crazy, and demanded respect for it, for madness being a perfectly acceptable way of being in the world. It was liberating, there was a real conversation in queer community at that time about outting and being out, and I saw Carrie Fisher being out about her mental health and substance abuse concerns, and that had a huge impact on me. I love her interviews, I love her humor and her writing and I'm so grateful we still have that. I'm hoping her voice can still be a part of the project in archival interview form, because she had so much to say about gender and media representation. I'm so grateful for her performance in The Last Jedi, it was so masterful. I was a child who grew up with 19 year old Princess Leia, I got to watch one of my childhood heroes grow up to be a general. I'll never be disappointed in that.
When did you decide to change Looking for Leia from a documentary to a series?
In January, when I sat down to work on my first assembly, I realized that to fit this to ~85 minutes I was going to need to be highly selective in what stories were told, and huge amounts of what we shot were going to end up on the cutting room floor. The first thought is always "well, I'll make outtake shorts," which is really ambitious and never happens the way you think it's going to. And then I started outlining it as a series and it just flowed, it opened up my ability to tell different parts of the stories with some breathing room. And I love the series format, I think it's very current and how we're consuming media today. The episodes are a half hour long, so they're easy to watch, and they're thematically programmed, so if you're really not interested in cosplay you can skip that episode and get right to droid building. It served the story better, and the footage we had better. But of course, it also necessitates a bit more interviewing and writing to stitch all the story pieces together, and we'll need more b-roll and art.
How can people find out more about and help support the production of Looking for Leia?
Right now we're doing our post production crowd funding on Seed and Spark, which is a really important part of building audience and enthusiasm for this project as much as money. So, it's free to follow us on the campaign, and we're aiming for 1000 followers so we can be eligible for thousands of dollars in post-production resources and additional grant money. And people supporting us financially is everything, we're not backed by a studio and individual contributions go directly to paying our amazing crew and covering licensing costs and all the things it takes to bring a project like this to life. Also, we love networking. Folks who are connected to media, to post-production services, and at this point to academics and cultural pundits who would like to swoop in and help us tie some of our narratives together in our pick up interviews, those connections are incredibly helpful. The Seed and Spark is live until 9 pm April 20th and we want to hugely over fund this and have 1000+ followers. It's a huge show of confidence from the audience that people want to see something like this get made, and that audience vote of confidence will absolutely follow us into pitch meetings with networks and streaming services.
A woman has never directed any Star Wars production (films, TV series episodes, Forces of Destiny, etc.) Why do you think that is and do you think that's a problem for Star Wars going forward?
I think the lack of women behind the camera, and the lack of women of color and folks of color generally and queer and trans folks, is absolutely a problem for the entire industry. It matters who tells the story, and up until this point, we've had an incredibly homogenous group of white cishet men controlling all of filmmaking. And I'm not bashing on white cishet dudes, but I am saying opportunities are given to this group, confidence is placed in them, they're allowed to fail over and over and be given third and fourth and fifth chances with millions of dollars in budget, when your directing and producing pool is that culturally consistent you're not looking at who is best for the job, you're looking at who has the most access to the resources and avenues that lead to the job.
Think about the patience and nurturing Spielberg got on Jaws. We love telling the story of this trainwreck production, the shark didn't work and they let him keep shooting, the studio kept the faith and we ended up with a genre changing film and the birth of one of the most prolific directors of the 20th century. And now imagine what it would be like if young Latina women or young queer or non binary folks were given that much leeway to try and possibly fail. Imagine if we fuck up the shark, and are still given millions of dollars to go over budget, given the resources to try and try again until we nail it. I don't just want more women, and especially more women living at the intersection of multiple sites of identity, to be behind the camera. I want us to get behind the camera with full studio support and be allowed to fuck up the shark. I think that's how we find the next generation of auteurs, by supporting and encouraging experimentation and bold story telling.
You can find Annalise Ophelian on twitter @Dr_Ophelian  and Looking for Leia @LookingForLeia .
You can watch Annalise's documentary MAJOR! right now on Amazon Prime.
Below please check out the trailer for Looking for Leia. The Seed & Spark campaign is active until April 20th and just following the campaign (which is free) is remarkably helpful in getting Looking for Leia a great streaming home. Bias alert: I'm currently working as a researcher for Looking for Leia. But I have no doubt I would be just as enthusiastic about its success if I wasn't involved with the production because, well, I like to write about women in Star Wars 🙂
Day 89 – Satine Kryze
Dutchess Satine Kryze was the leader of Mandalore during The Clone Wars. She was a pacifist and had a complicated history with Obi-Wan Kenobi. Satine appeared in several episodes of The Clone Wars. I would argue that her character is one of the most interesting of the entire series.
Satine had a sister named Bo-Katan who appeared in both The Clone Wars and Star Wars Rebels. Actress Anna Graves was the voice of Satine in The Clone Wars.
Satine appeared in a few young readers books including The Clone Wars: Planets in Peril and The Clone Wars: Darth Maul: Shadow Conspiracy and she was also mentioned in two Legends books – Kenobi by John Jackson Miller and The Last Jedi (yep, there's another The Last Jedi) by Michael Reaves and Maya Kaathryn.
Here's the moment from "The Mandalore Plot" when Obi-Wan Kenobi and Satine are reunited.
If you'd like to know her entire story this bio video from Star Wars Explained is for you.
Click here to continue to the April 365 Days of Star Wars Women page.