Day 152 – Genevieve O'Reilly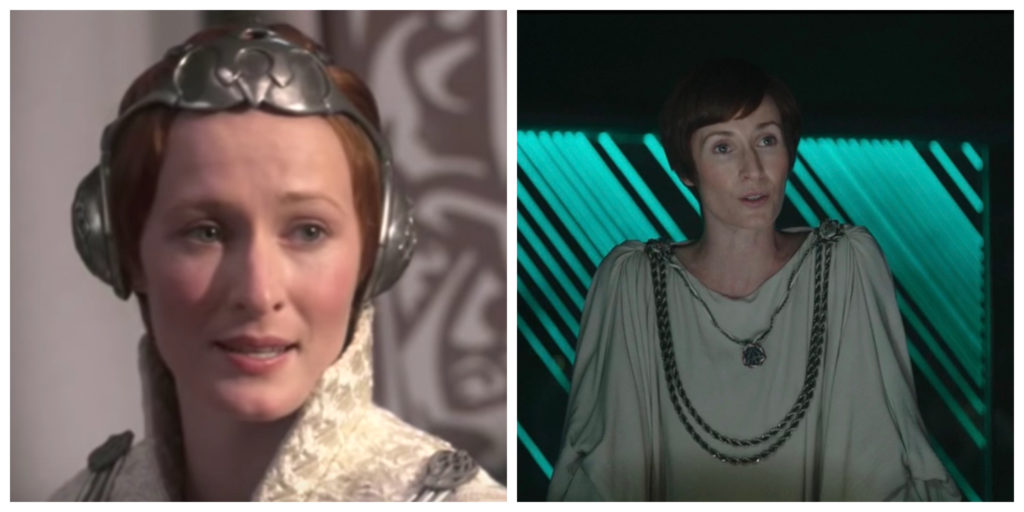 Genevieve O'Reilly played Mon Mothma in a deleted scene from Revenge of the Sith and Rogue One: A Star Wars Story. She also voiced Mon Mothma in a few episodes of Star Wars Rebels.
O'Reilly has appeared in many TV series over the years including Glitch, Tin Star, and Banished.
You can find O'Reilly playing Mon Mothma in this compilation of scenes from Revenge of the Sith.
Day 153 – Marasiah Fel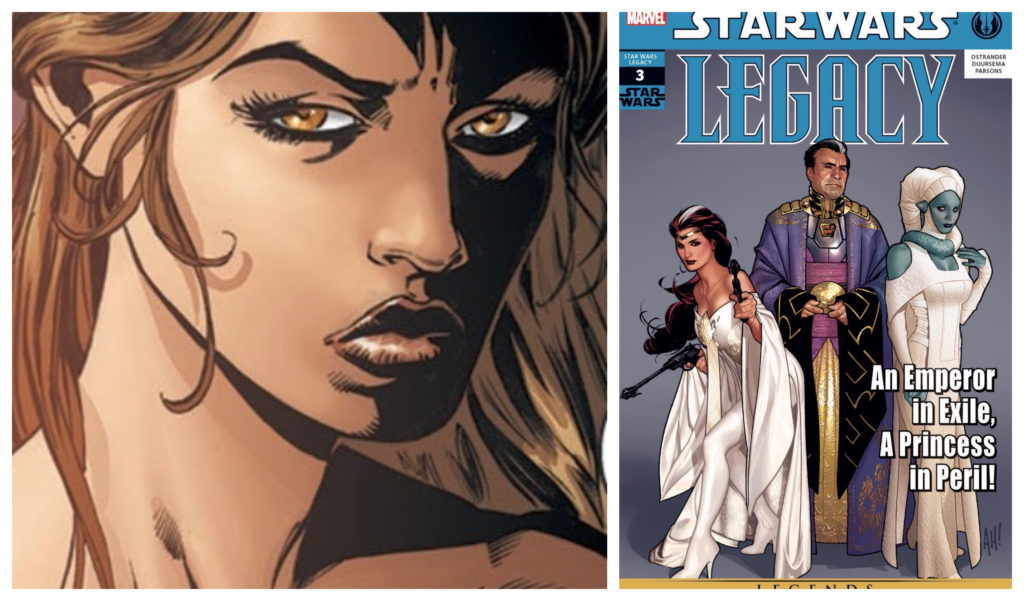 Marasiah Fel was the Empress of the Fel Empire. She appeared in over a dozen Star Wars: Legacy comics (which are now all considered Legends). Before she became Empress, Fel was trained as an Imperial Knight as she had a strong connection to the Force.
You can learn more about Imperials Knights from this video from Star Wars Explained.
Day 154 – Mon Mothma
At various points in her life Mon Mothma served as a senator, the leader of the Rebel Alliance, and Chancellor of the New Republic. She debuted in Return of the Jedi and has since appeared in numerous Star Wars productions including films, TV series, books, and comics.
Caroline Blakinston played Mon Mothma in Return of the Jedi. Genevieve O'Reilly played her in Revenge of the Sith (the scenes were deleted from the final cut), Rogue One, and she voiced Mon Mothma in a few episodes of Star Wars Rebels. Actress Kath Soucie voiced Mon Mothma in the TV series The Clone Wars.
Some of the canon books you can find Mon Mothma in include Rebel Rising, Lost Stars, Leia, Princess of Alderaan, Moving Target, and the Aftermath trilogy. Mon Mothma has also appeared in several issues of the Star Wars main comic series and several episodes of the non-canon TV series The Freemaker Adventures.
Here's a video explaining a bit of Mon Mothma's history from Star Wars Explained. (note that this video is from 2016 so it's missing the more recent content, but it's still a good overview of her life).
Day 155 – Rae Sloane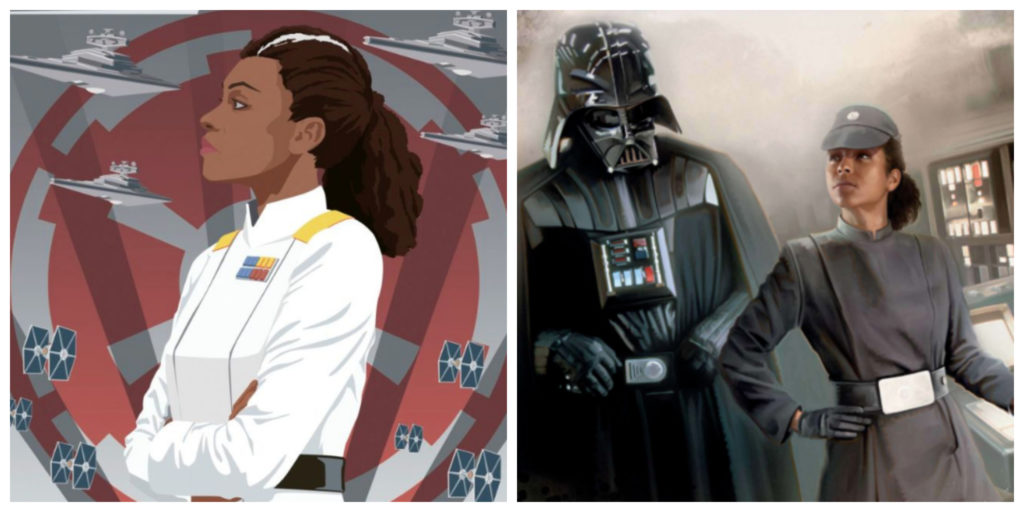 Rae Sloane was an Imperial officer who rose through the ranks of the Imperial Navy eventually becoming a Grand Admiral. She debuted in the novel A New Dawn, which took place between Revenge of the Sith and Star Wars Rebels. Sloane also appeared in all three Aftermath books that took place between Return of the Jedi and The Force Awakens.
Other places you can find Rae Sloane are the comic Kanan 12, the short stories "Bottleneck" and "The Levers of Power" which were included in The Rise of the Empire bind-up, and the short story "Orientation."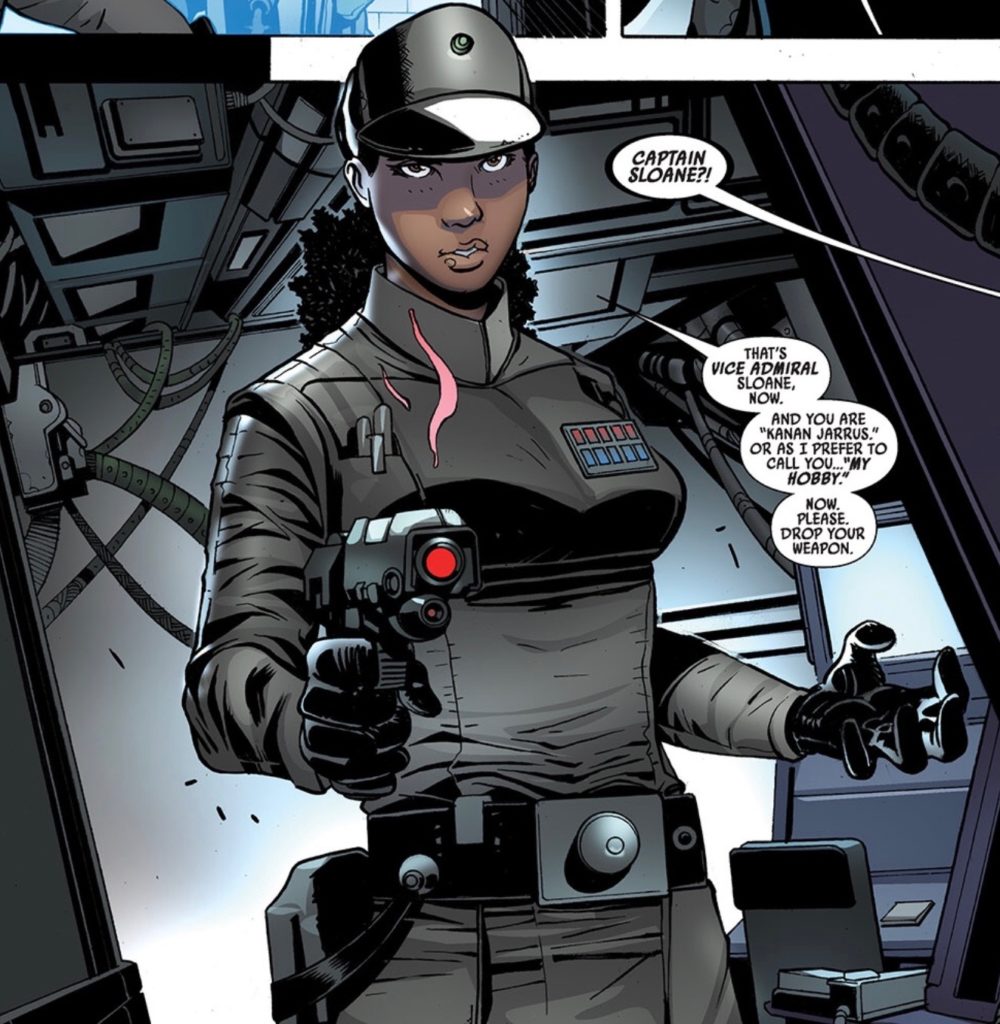 Rae Sloane is frequently mentioned as one of the best new characters in the Star Wars universe – for good reasons! Learn more about her on her Wookieepedia page,  read about her five greatest moments in this article from StarWars.com, or watch this video about her from Star Wars Explained.
Day 156 – Maketh Tua
Minister Maketh Tua was tasked to watch over Lothal while Governor Arihnda Pryce was away in Star Wars Rebels. She appeared in six episodes of Rebels and made an appearance in the novel Thrawn. She was also mentioned in the books Sabine: My Rebel Sketchbook and Servants of the Empire: Imperial Justice.
Tua was voiced by actress Kath Soucie who also voiced Mon Mothma in The Clone Wars and Mira Bridger in Rebels. You can also find Maketh Tua in the non-canon LEGO Star Wars: Droid Tales "Mission to Mos Eisley."
Here's Tua in the Star Wars Rebels episode "Siege of Lothal".
Day 157 – Julie Dolan
Julie Dolan has voiced Princess Leia in Star Wars Rebels, Star Tours, LEGO Star Wars: The Freemaker Adventures, and several video games. Julie was kind enough to answer a few questions via email for 365 Days of Star Wars Women.
What was your introduction to Star Wars? Do you have a favorite film, character, or time period?
I saw the original Star Wars film (Episode IV – A New Hope) in May of 1977 when it premiered. Honestly, It wasn't my style of film in the beginning. I wasn't into Science Fiction or "Other Galaxy" movies. After I saw the film I went to Europe for a month to study Shakespeare so I didn't really think about the movie again. When Episode V & VI came out, I went to see them and did like them because I was already familiar with the characters. . .but again . . I didn't become a huge fan. . . yet. When Episode I, II & III came out. .. nope. . didn't even bother to go.
I, now, of course LOVE the original trilogy, but honestly. . Rogue One impacted me more than any others. Because it told the story behind that weakness in the Death Star that we all KNEW was there. I never bothered to think HOW the weakness came to be in the Death Star when I watched A New Hope . . and I loved the story leading up to when they handed the plans over to Princess Leia. When I booked the first role of Princess Leia I did A LOT of studying and watched all of the movies several times. (There were only 6 at that time) I did love Attack of the Clones because it gave me some insight on Leia's mother Padmé.  It allowed me to see where Leia got her strength and passion from.
How did you get into voice acting? Can you share some of your non-Star Wars voice acting work you've done?
I worked in Theme Parks for years dancing in children's shows (Costume Character work) It lead to TV shows where I would get asked to do a voice here and there. My sister said to me "You keep booking these voice overs jobs, why don't you put some effort in. . . get a demo made, get an agent and see what happens".
So I took my first Voice Over Workshop with Bill Holmes, recorded a demo, got an agent and booked a national On-Star Commercial with Tiger Woods and Jeff Gordon. I've done a few commercials, a couple of random characters on Cowboy BeBop and was in a very popular episode of Sofia The First where Prince James has a spell put on him and he becomes a baby. I did the baby voice.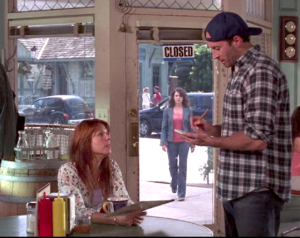 You also appeared in several episodes of Gilmore Girls as Anna and two episodes of Without a Trace as Sharon Brooks. Can you give a quick description of those characters or episodes for fans of those shows?
I was in five episodes of Gilmore Girls spanning over Seasons 4, 5 and 6.
Luke has a sister (Liz played by my friend Kathleen Wilhoite) and I played one of Liz's best friends in a couple of episodes. My character's name was "Anna" and then they brought me back for a couple of quick one liners on different episodes. I loved working on that show.
On Without A Trace I did recurring episodes playing a "Madame" running a sex-trafficking house with Henry Thomas ("Elliot" in E.T. – the Extra-terrestrial).
I read in an interview you did with Endor Express that you are the voice of Princess Leia in the Star Tours cutscene where she talks about the Rebel Spy (as a hologram). I am definitely one of the people who assumed that was Carrie Fisher's voice! Can you share how you got that job and how you were able to voice such an iconic character?
One day my agent called me and asked me if I could sound like Princess Leia. My first response was. . "Ummm probably not." ha ha. She sent me the famous hologram speech – "General Kenobi, years ago you served my father in the Clone Wars". . and told me to work on sounding like her and record it and send it back. So I did.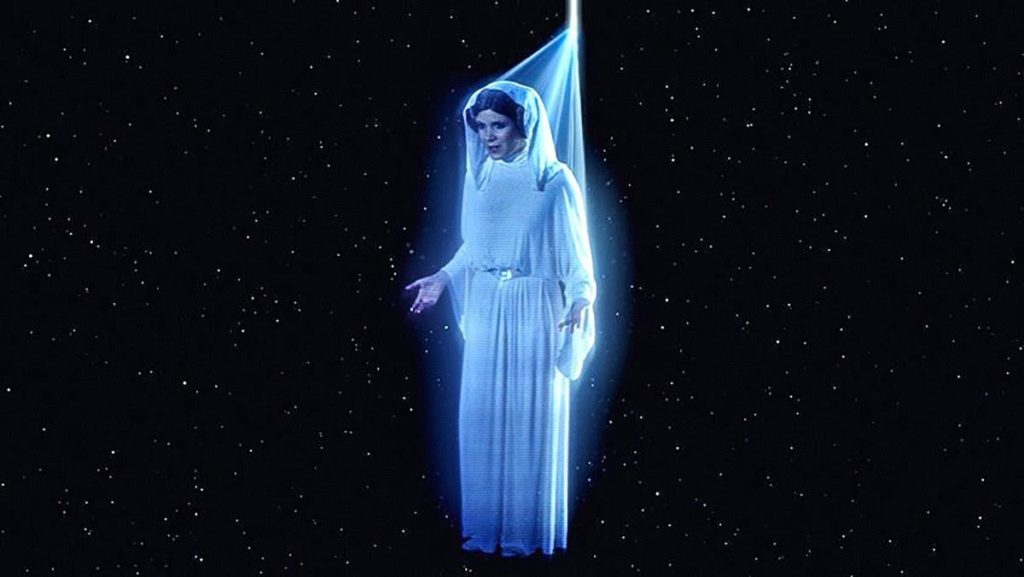 I played that speech over and over talking along with it trying to match the pitch, the rhythm, the gait, the emotion until it sounded like one person. We were not told what the project was. I recorded it and sent it in and didn't hear anything for a long time.
Then several weeks later my agent called me and told me I had a callback. I went to Disney Imagineering Studios in Burbank and met with a team of Disney / Lucasfilm folks and a dialect coach and 2 other actresses.
We were the final chosen 3. The Dialect coach (Eliza Schneider) coached me to sound like Carrie in A New Hope with the quasi English accent that Carrie had. (Carrie had just come back from England studying theatre so she had a slight accent that bled over into the movie).
We still didn't know what project this was for. After I recorded the speech in the studio – I stepped out of the booth and saw a video of the famous hologram scene but they had manipulated Carrie's mouth to make it look like she was saying what I just recorded. I said "Is that my voice or is that Carrie's?" and they said "Yours". We were all blown away. It sounded just like her.
After I left. . I STILL didn't hear anything for a while and STILL didn't know what project this was for!
Finally I got the call that I booked it. . and went back in and re-recorded it in the same studio and that is the speech you hear on the "Star Tours – The Adventures Continue" ride at Disneyland, Disney Tokyo, Disney Paris & Disney World.
Apparently they read over 200 girls the first time around. Didn't find what they were looking for. Then brought in Carrie. She didn't quite sound like she did in A New Hope. They had another round of auditions – 200 more girls . . . and I was in that group.
How did you end up being cast as Leia for the Star Wars Rebels episode "A Princess in Lothal" and the LEGO Star Wars: The Freemaker Adventures episode "Crossing Paths"? Once you had done Star Tours did all of these other jobs follow?
Dave Filoni heard my voice on the Star Tours ride and brought me in to meet me and do an "in-house" project for Disney/Lucas Film. After I didn't that project he asked me to do Star Wars Rebels. After I did Star Wars Rebels, I kept getting calls do to several other projects as Leia (young Leia AND older Leia) and LEGO Star Wars: The Freemaker Adventures was one of them.
What are some highlights from your experience on these two shows?
Working with the cast on both shows was amazing. For Rebels, we were all in the room together so it was almost like doing a radio play. Bringing Princess Leia to life for Star Wars Rebels is one of the most exciting acting jobs (if not THE most exciting) I have ever had. I put in a lot of work after I booked Rebels. I watched every Star Wars movie several times and read everything I could on Princess Leia. As an actor. . if you are creating the character from scratch, then you can come up with a past history and make choices on who the character is but when it's such an iconic character as "Princess Leia". . you better do your homework and find out everything you can about her . 🙂
You also voiced Princess Leia in the video games Disney Infinity 3.0 and Star Wars: Uprising. Were these the first video games you provided voices for? Were there any challenges or surprises about voicing a character in a video game vs. a television episode?
These were the first video games I had ever done. I was surprised to find that I had to yell a lot. (over gunfire ha ha).
Do you have a favorite Leia from the work you have done in these different productions?
Star Wars Rebels by far. It changed my life.
From social media it looks like several women who have voiced Princess Leia in different Lucasfilm productions have gathered together for a few events. What's it like to chat with other women who have portrayed the same character? In my head, you all have amazing matching Leia jackets.
Ha ha. . no jackets yet but that's a good idea! We call it "Leia's Who Lunch". There are 4 of us and we just love each other. We briefly shared our "Leia" stories with one another but quickly moved on to other acting tops. We are really getting to know each other. I did a play after our first lunch and they all came to see it. One of the gals is a magician and performed at the Magic Castle and we all went to see her. Very supportive group.
Can you tell us about any projects you have coming up?
I am in re-shoots for a film I did in January Chompy and the Girls. Should be coming out soon I think! I am also a keyboard player and I play in several Cover & Tribute Bands. "INXSIVE" – A Tribute to INXS, "Summer of 69"- A Tribute to Bryan Adams, The UnderCoverGirls – (Classic Rock) to name a few. I will also be making an appearance at TOYXPO in Santa Clara August 24, 25, 26 & at GRAND RAPIDS CON on November 9, 10, 11th.
You can find Julie Dolan on Twitter @JustCallMeLeia and on her website.
Day 158 – Kelly Marie Tran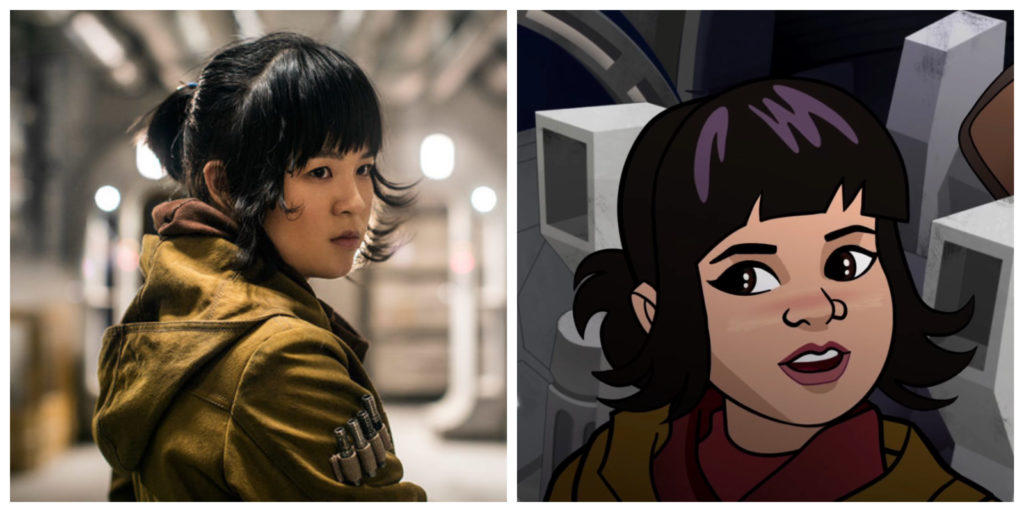 Kelly Marie Tran played Rose Tico in The Last Jedi and voiced Rose in the Forces of Destiny episode "Shuttle Shock."
Before The Last Jedi Kelly appeared in a few TV movies and a handful of TV series episodes in Gortimer Gibbon's Life on Normal Street, Adam Ruins Everything, and About a Boy.
Kelly is set to appear in an episode of the TV series Sorry for Your Loss later this year.
Here's how Kelly Marie Tran became Rose Tico in The Last Jedi.
And here's Kelly at the premiere of The Last Jedi holding it together far better than I would have had I been in her shoes!
And finally, here's Kelly talking about how she kept her role as Rose a secret from her family and friends during filming. She also briefly talks about being an Asian actress in a Star Wars film and how it's impossible to prepare for the fame that will result from being cast in a role like this.
Day 159 – Suralinda Javos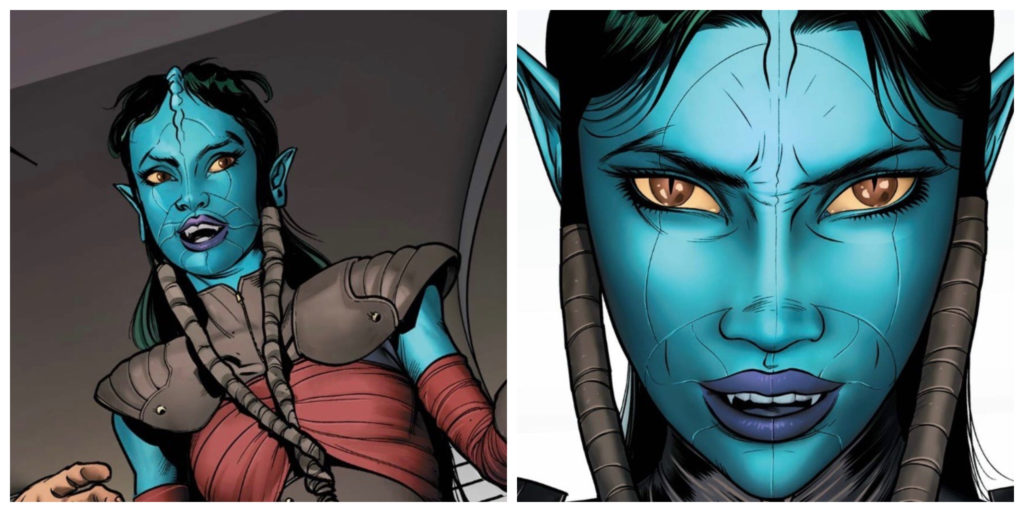 Suralinda Javos was a journalist who fought for the New Republic after the Battle for Endor in several issues of the Poe Dameron comic. She debuted in Poe Dameron 7: The Gathering Storm and appeared in the story ars War Stories, Legend Found, and The Awakening.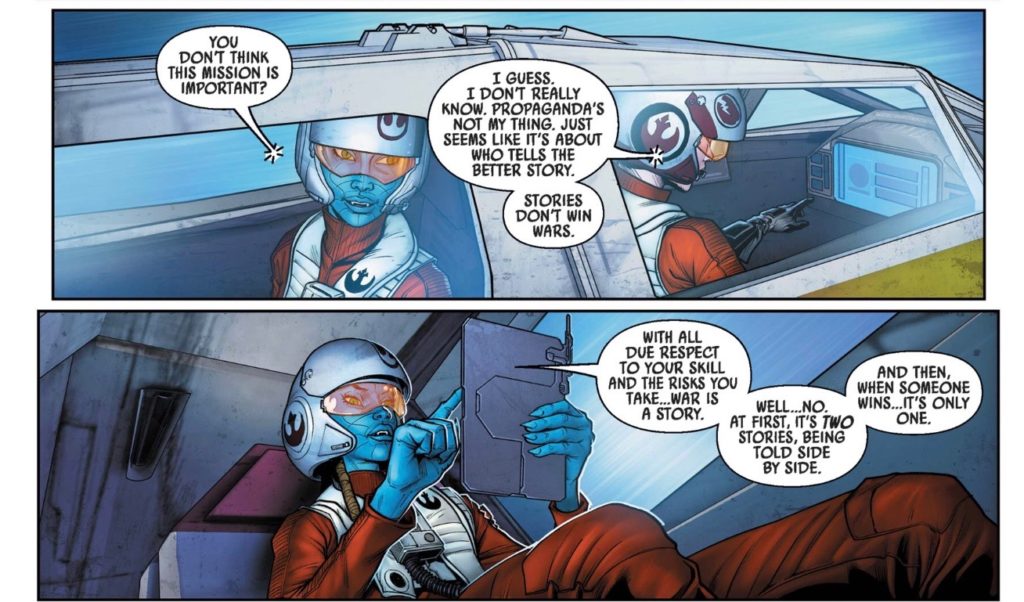 Day 160 – Lanoree Brock
Lanoree Brock was a Je'daii Ranger who lived over 25,000 years before the Battle of Yavin in the Legends novel Dawn of the Jedi: Into the Void.
Brock debuted in "The Adventures of Lanoree Brok, Je'daii Ranger" which was a short story that took place during the start of the book Dawn of the Jedi. She also appeared in a short story that took place before the events of Dawn of the Jedi called "Eruption".
Day 161 – Zam Wesell
Zam Wesell was a shape-shifting bounty hunter played by actress Leeanna Walsman who tried to assassinate Padmé Amidala in Attack of the Clones.
Zam Wesell appeared in the Prequel Trilogy graphic novel and a few mobile games such as Star Wars: Galaxy of Heroes. Her first appearance was in a now-Legends one-shot Star Wars: Jango Fett. That one-shot was followed by Star Wars: Zam Wesell. Wesell can be found in several other Attack of the Clones related books such as the young readers book Jango Fett: Bounty Hunter and video games such as LEGO Star Wars: The Complete Saga.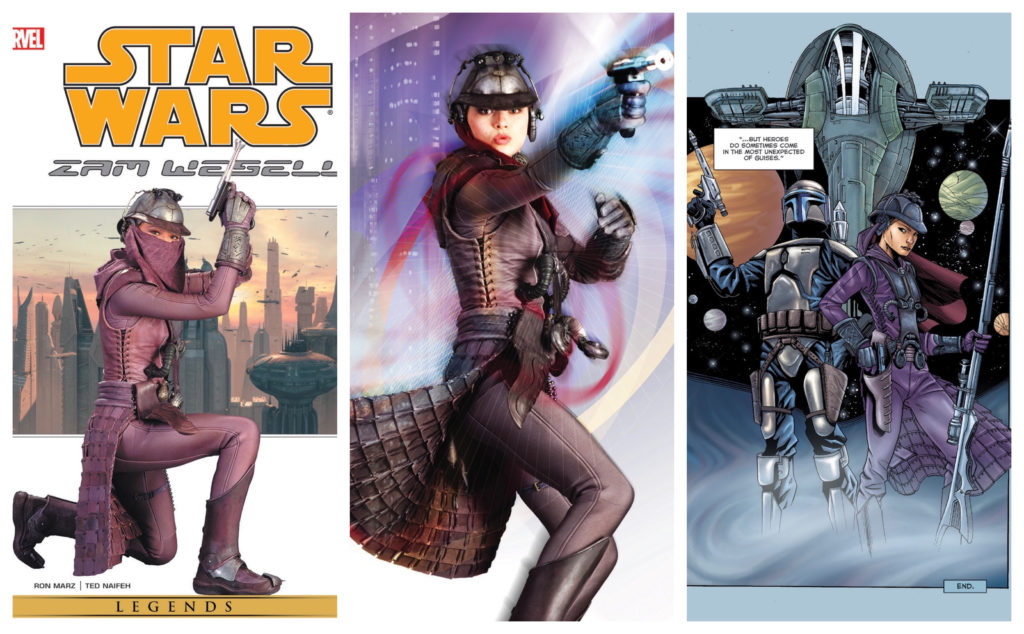 Day 162 – Ingvild Deila
Ingvild Deila played Princess Leia in Rogue One: A Star Wars Story. Deila had a small role in Avengers: Age of Ultron (World Hub Tech) and she's starring in the thriller Escape from Brazil scheduled to release in 2019.
Learn more about how ILM took Deila's performance and came away with a scene that looked like a young Carrie Fisher in this interview with John Knoll.
And here's an interview Deila did with the podcast with Skywalking Through Neverland.
Day 163 – Tahiri Veila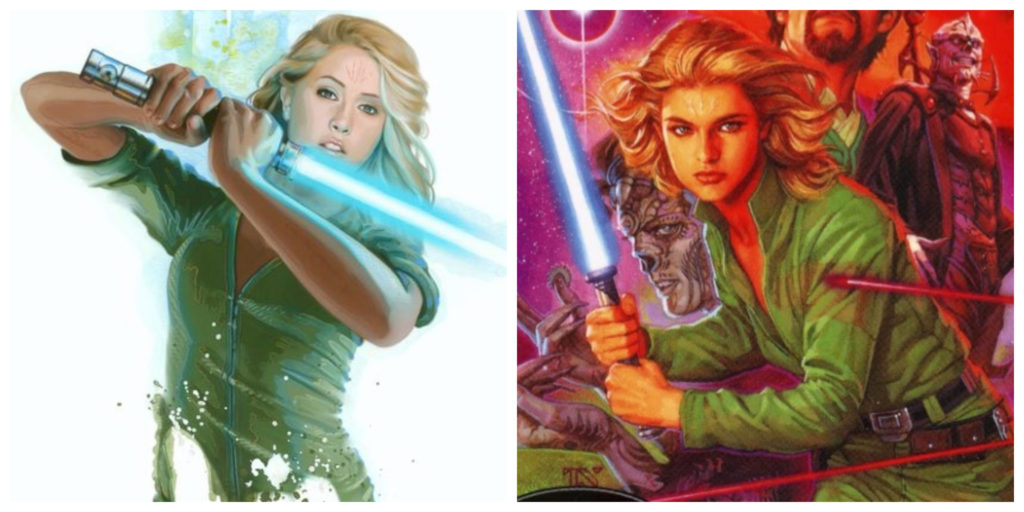 Tahiri Veila was at different times a Jedi Knight and a Sith apprentice who appeared in many Legends books. Tahiri debuted in Junior Jedi Knights: The Golden Globe and appeared in six other Junior Jedi Knights books.
She also appeared in many books in The New Jedi Order, Dark Nest, Legacy of the Force, and Fate of the Jedi book series. You can also find Tahiri in the book Crucible, which was the last of the Expanded Universe books before Disney embraced a new Star Wars canon timeline.
Read all about Tahiri Veila's history on her Wookieepedia page.
Day 164 – Satele Shan
Satele Shan was the Grand Master of the Jedi Order during the Cold War and the Galactic War in the video game Star Wars: The Old Republic.  If you're not familiar with these wars they were between the Galactic Republic and the Sith Empire and took place thousands of years before the Battle of Yavin.
Satele debuted in the webcomic The Old Republic, Threat of Peace and also appeared in several The Old Republic novel tie-ins including Deceived, Fatal Alliance, and Annihilation. She also can be found in several issues of the comic The Old Republic: The Lost Suns.
If you're wondering about Satele's last name, I'm happy to share that Satele Shan was a descendant of Revan and Bastila Shan (who I have already profiled). Learn more about her story in this video from Star Wars Explained.
Day 165 – Sabine Wren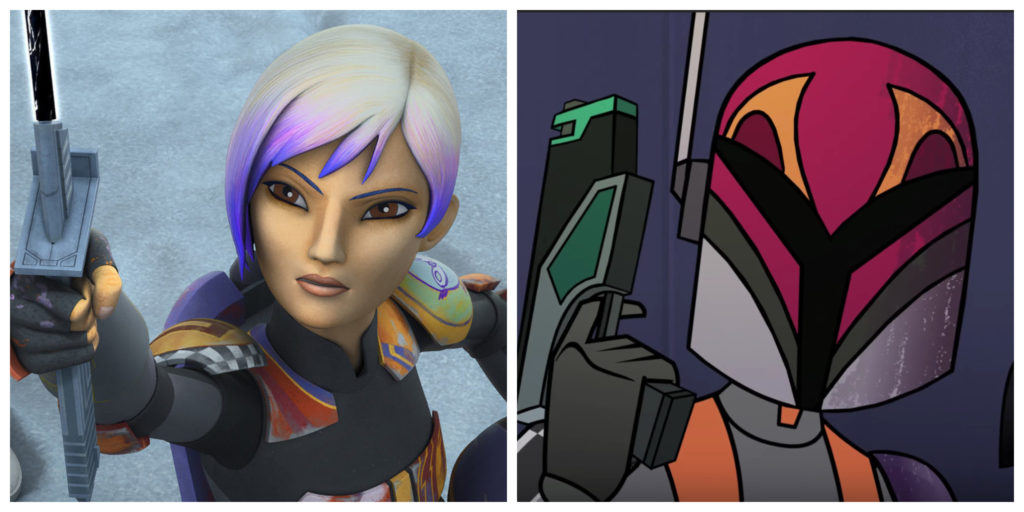 Sabine Wren was a Mandalorian warrior and member of the Ghost crew in Star Wars Rebels. She, along with Hera, Kanan, Ezra, Zeb, and Chopper carried out numerous missions against the Empire that would help lead to the creation of the Rebel Alliance. Sabine Wren was voiced by actress Tiya Sircar.
Sabine's onscreen debut was in the short "Art Attack" which you can see below.
Sabine was a talented artist and had a knack with explosives. Throughout four seasons of Star Wars Rebels, viewers learned more about her family on Mandalore, her history with the Empire, and saw her grow into a leader who never forgot her friends.
You can also find Sabine in a few Servants of the Empire books, the Kanan 12-part comic series, Sabine My Rebel Sketchbook, several Forced of Destiny shorts, and the comic story "Endangered" which appeared in Star Wars Adventures 7 & 8.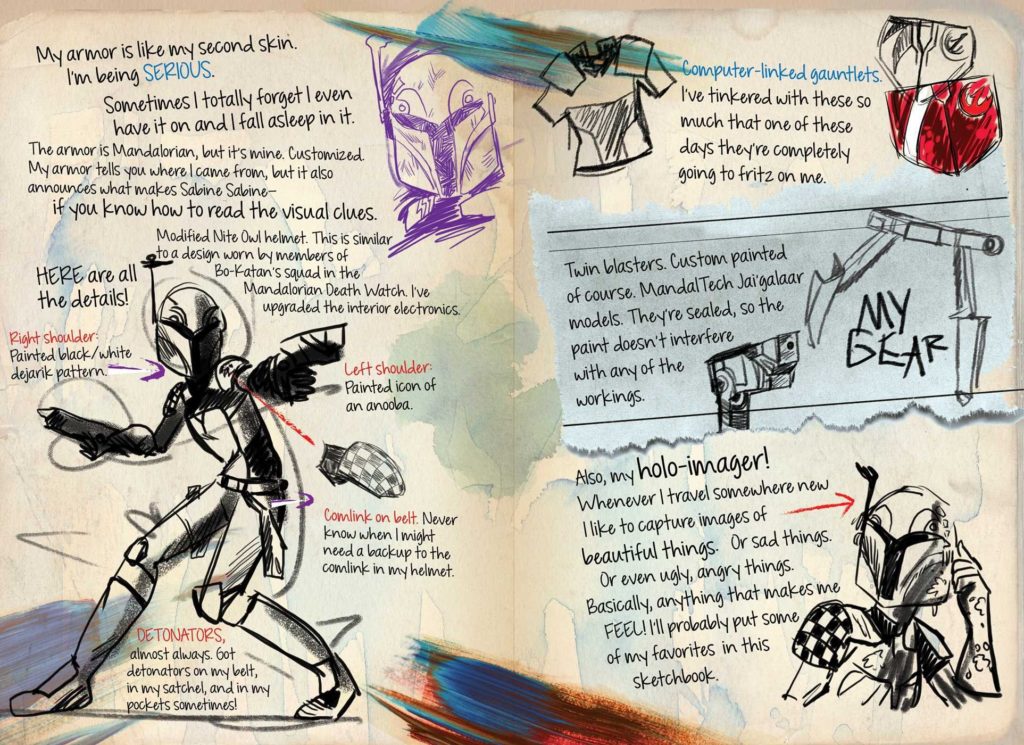 Here's Sabine Wren in the Forces of Destiny short "Art History."
Day 166 – Lallani
Lallani was a Quarren crime boss who appeared in the book Star Wars Choose Your Destiny: A Han & Chewie Adventure. Lallani surrounded herself with Mandalorian mercenaries and used an electro-whip to help get her point across. She was a rival of Jabba the Hutt and causes some problems for Han Solo and Chewbacca's when they ended up stranded on a remote jungle planet.
Day 167 – Bonnie Piesse
Bonnie Piesse played Beru Lars in Attack of the Clones and Revenge of the Sith. In addition to acting, Piesse is also singer and songwriter. She has appeared in the TV series Sundays and Twisted Tales and has a role in the TV movie The Virgin Chronicles which is currently in pre-production.
Here's an interview Piesse did with the podcast Unmistakenly Star Wars. And below is a quick interview Piesse did during The Force Awakens premiere from ScreenSlam.
Learn more about Bonnie Piesse on her website.
Day 168 – Linda Bel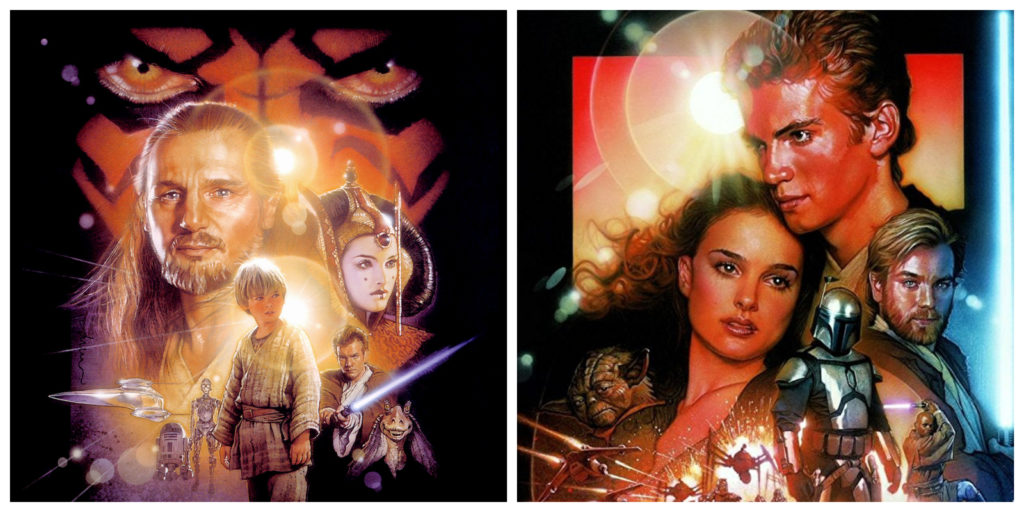 Linda Bel was a lead animator for The Phantom Menace and Attack of the Clones. She also worked as an animator on Harry Potter and Chamber of Secrets, The Lost World: Jurassic Park, and The Lion King.
Linda Bel was one of three animation leads that supervised a team of over 10 other animators that brought Yoda to life in Attack of the Clones. You can read more about their work in this article.
You can see Linda Bel at work at about 34 minutes into the video below talking about the challenges of creating the first digital version of Yoda in Attack of the Clones.
Day 169 – Dinée Ellberger
Dinée Ellberger was a pilot with Bravo Squadron during the Invasion of Naboo in The Phantom Menace. Ellberger was portrayed by actress Celia Imrie in The Phantom Menace.
Dinée Ellberger also appeared in the video games Star Wars: Starfighter, Star Wars: Episode I: Battle for Naboo, and the comic and manga adaptations of The Phantom Menace.
Day 170 – Sila Kott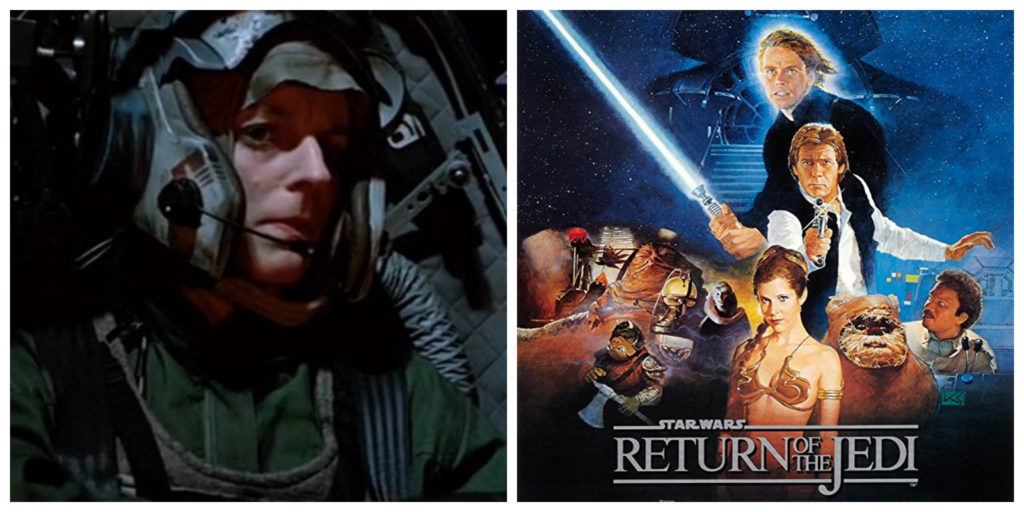 Sila Kott was an A-Wing pilot who flew as Red Three in the Battle of Endor in Return of the Jedi. Kott was played by actress Poppy Hands, but her dialogue was dubbed over with a male voice. Despite that unfortunate dialogue choice, Kott is still canonically a woman – and she's the only female pilot seen flying in Return of the Jedi.
Sila Kott didn't get a lot of screen time but she did get an action figure in this Battle Over Endor 4-Pack.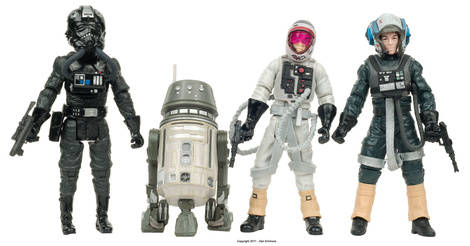 Day 171 – Tallissan "Tallie" Lintra
Tallissan "Tallie" Lintra was an A-Wing pilot for the Resistance in The Last Jedi. Actress Hermione Corfield played Tallie, and she's a perfect example of a character who didn't have a lot of screen time but still managed to win the hearts of the audience. Tallie also appeared in an expansion pack for the video game Star Wars: Battlefront and the comic adaptation of The Last Jedi.
Day 172 Karé Kun
Karé Kun was a pilot who flew for the Resistance as a part of Black Squadron in the Poe Dameron comic series. Kun debuted in the novel Before the Awakening by Greg Rucka. She has appeared in the vast majority of the Poe Dameron comic issues that will be ending later this year.
Day 173 – Jessika Pava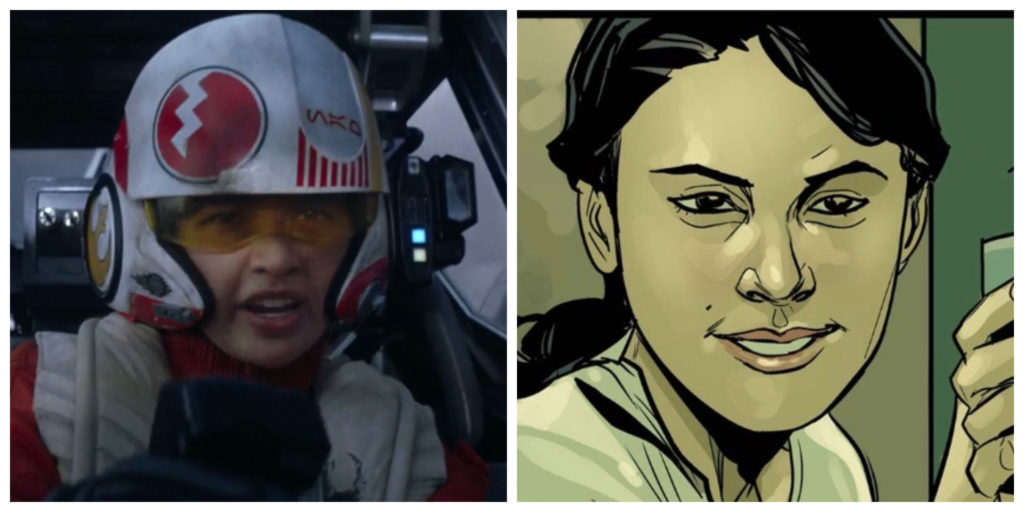 Jessika Pava was an X-Wing pilot for the Resistance in The Force Awakens and the Poe Dameron comic series. Pava's first appearance in a Star Wars story was in the Jason Fry novel The Weapon of a Jedi: A Luke Skywalker Adventure. She also appeared in the Greg Rucka novel Before the Awakening.
In the Poe Dameron comic Pava was a part of Black Squadron. In The Force Awakens Jessika Pava was played by actress Jessica Henwick.
Day 174 – Annie Wu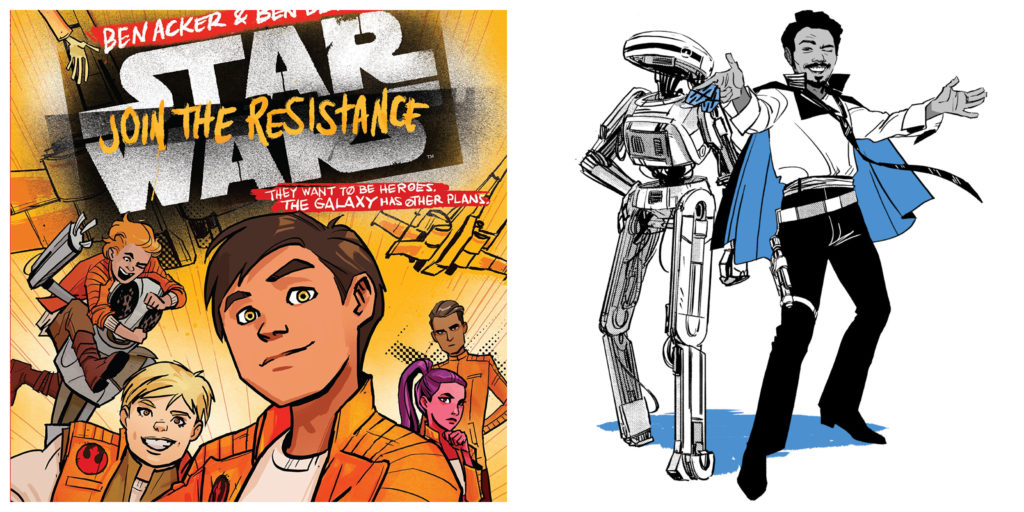 Annie Wu is a writer and artist who illustrated the Star Wars: Join the Resistance book series and the upcoming Justina Ireland book Star Wars: Lando's Luck. Wu also illustrated the Star Wars Adventures #4 variant cover.
Some of the other comics Annie Wu has worked on include the DC Comic series Black Canary and Marvel's Hawkeye. Wu also created the series Dead Guy Fan Club which is coming out later this year.
See more of Annie Wu's work on her website.
Day 175 – Sariss
Sariss was a Dark Jedi in the Legends video game Star Wars: Jedi Knight: Dark Forces II. She also appeared in the novels Dark Forces: Rebel Agent and Dark Forces: Jedi Knight. Actress Valerie Wildman played Sariss in Jedi Knight: Dark Forces.
You can find Sariss in this compilation of cutscenes from Jedi Knight: Dark Forces II. If you haven't seen live action cutscenes from a video game this is a fun one to start with.
Learn more about Sariss's story on her Wookieepedia page.
Day 176 – Winter
Winter was Leia Organa's adopted sister in several Legends books and comics. She was the daughter of Bail Organa's aide Sheltay Retrac. After Retrac's death Bail and Breha Organa adopted Winter and raised her with Leia. Winter fought with the Rebel Alliance for years and was an operative for Alliance Intelligence.
Author Timothy Thrawn created the character Winter in his Thrawn book trilogy that came out in the 1990's. She went on to appear in many books and comics (see a full list on her Wookieepedia page).
Day 177 – Asajj Ventress
Asajj Ventress, like all the best Star Wars characters, was a lot of things throughout her life. Most notably Ventress was a Nightsister, assassin for the Sith, and a bounty hunter. Ventress debuted in The Clone Wars feature film and appeared in many episodes of The Clone Wars TV series. She was also one of the main characters in Christie Golden's novel Dark Disciple.
Learn about Asajj Ventress's entire story in this video from Star Wars Explained.
Day 178 – Angelique Perrin
Angelique Perrin is an actress who voiced Adi Gallia in several episodes of The Clone Wars as well as Mama the Hutt in The Clone Wars episode "Hunt for Ziro". Perrin also voiced characters in the TV series Doc McStuffins and Sofia the First.
Here is Angelique being interviewed by James Arnold Taylor in an episode of Clone Wars Conversations.
Day 179 – Katie Lucas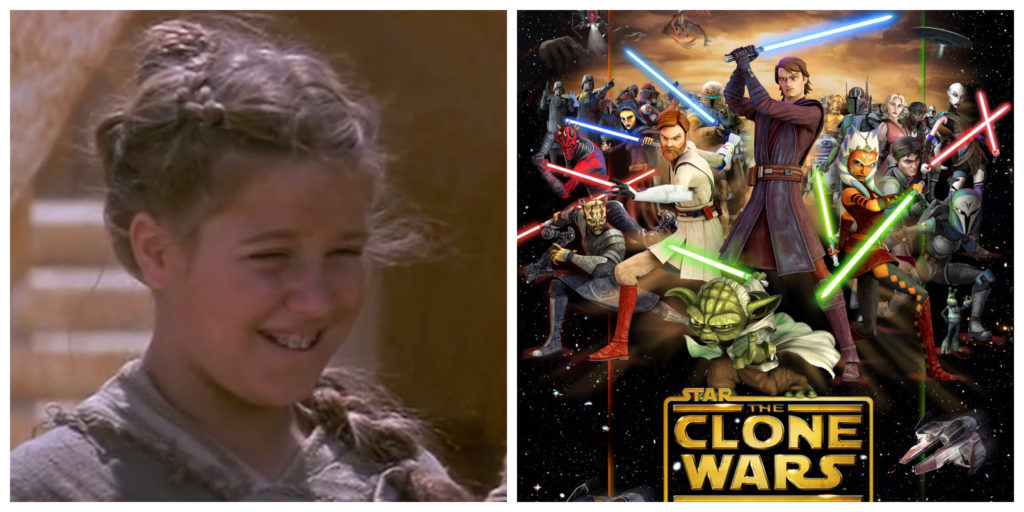 Katie Lucas wrote 14 episodes of The Clone Wars and appeared in all three prequel films in small roles.
The episodes from the Nightsister story arc are some of the episodes Lucas wrote for The Clone Wars. Katie Lucas also wrote the forward to Christie Golden's novel Dark Disciple which was based on unproduced Clone Wars scripts written by Lucas. Here's a clip from one of the episodes of The Clone Wars Lucas wrote called "Nightsisters."
Day 180 – Lana Beniko
Lana Beniko was a Sith Lord in the video game Star Wars: The Old Republic and several of its expansion updates. Actress Ludia Beniko played Beniko in The Old Republic.
Here's a clip of Beniko from Star Wars: The Old Republic.
Day 181 – Darth Talon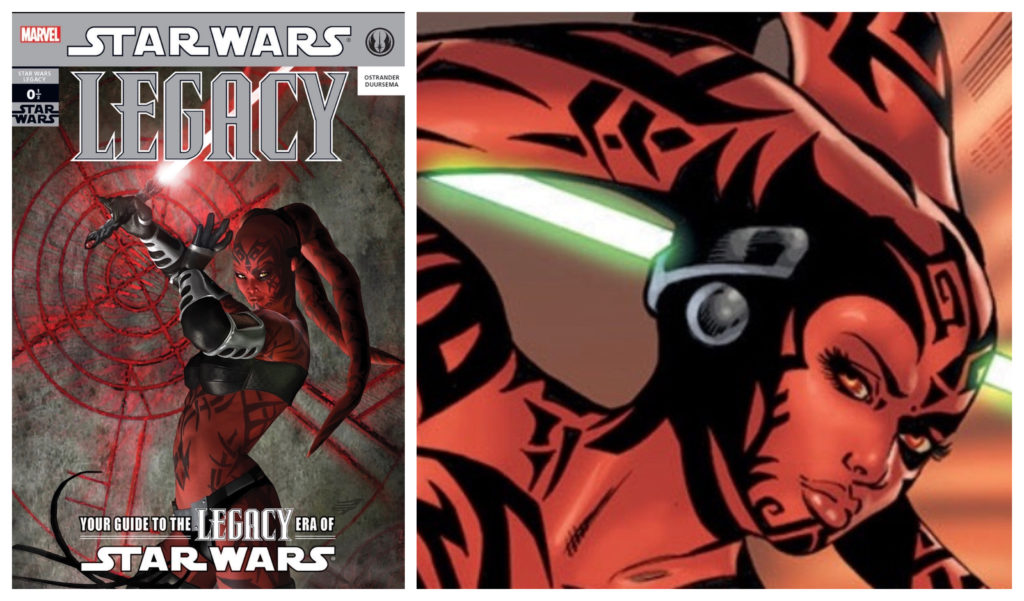 Darth Talon was a Sith Lord and one of Darth Krayt's two Hands in the Star Wars: Legacy comic series. Darth Talon was created by writer John Ostrander and artist Jan Duursema. She appeared in several Legacy story arcs including Vector, Storms, and Extremes. She also appeared in issues of Star Wars Legacy – War.
There were a few Darth Talon figures made over the years including the one below from Sideshow Collectibles.