Day 1 – Leia Organa
Leia front and center is the only way to start this project.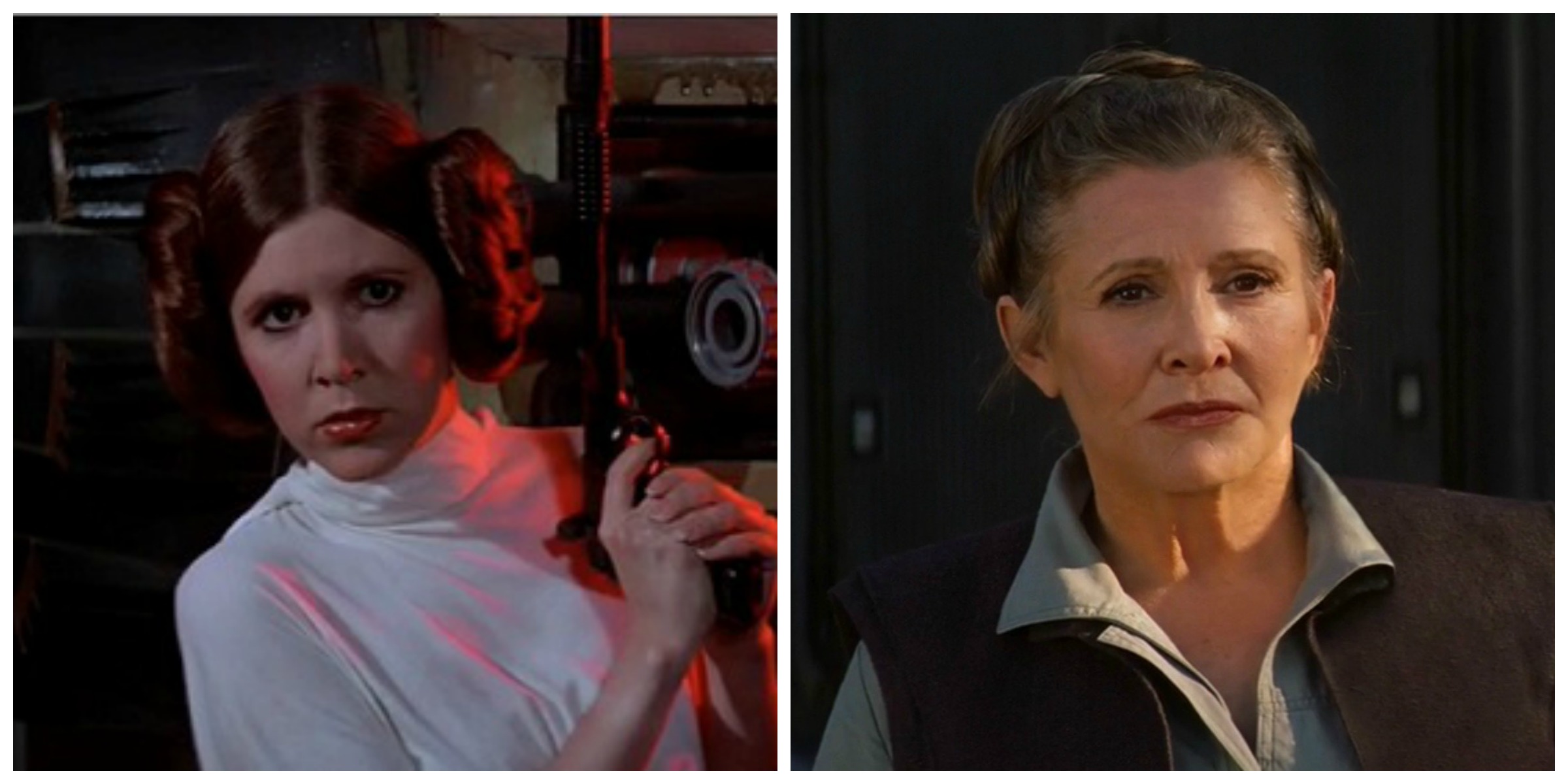 Princess. Senator. General. Rebel. Hero.
One of my favorite Leia scenes is one that didn't make the final cut in The Force Awakens. 
Leia connects to the Star Wars universe in many ways. She has been a senator, leader of the Rebellion and the Resistance, and is related to many other Star Wars characters. Leia is the daughter of Anakin Skywalker and Padmé Amidala. She was adopted right after she was born by Bail and Breha Organa who raised her on Alderaan. Leia is also Luke Skywalker's sister, Han Solo's wife, and Ben Solo's mother.
The Force is strong with Leia. If you'd like to read more about that I suggest "There is Another" which is a story from From a Certain Point of View and this recent article by Tricia Barr on FANgirl Blog that takes a closer look at Leia in The Last Jedi.
Carrie Fisher is virtually synonymous with Princess Leia after playing her in Episodes IV-VIII. Julie Dolan voiced Leia in a few projects including an episode of Star Wars Rebels, Shelby Young currently voices Leia in Forces of Destiny, and Ingvild Deila helped bring Leia to life in Rogue One. (Look for these women in #365StarWarsWomen future postings).
Leia is all over the Star Wars universe. Here are just a few places you can find her.
Films – Star Wars: Episode III Revenge of the Sith (baby Leia still counts!) Episode IV A New Hope, Episode V The Empire Strikes Back, Episode VI Return of the Jedi, Episode VII The Force Awakens, Episode VIII The Last Jedi, and Rogue One (CG Leia also counts).
TV – Star Wars Rebels "A Princess on Lothal", several Forces of Destiny episodes, and of course the Star Wars Holiday Special.
Books – Recent book releases include Leia, Princess of Alderaan, Bloodline, and Moving Target: A Princess Leia Adventure. Leia is also in many Legends books including The Thrawn Trilogy: Heir to the Empire, Dark Force Rising, and The Last Command as well as the post-A New Hope 1978 novel Splinter of the Mind's Eye.
Comics – Princess Leia, Star Wars, and Shattered Empire.
Video Games – Star Wars: Uprising and Star Wars Battlefront II.
Find out more about Leia on her page at Wookieepedia.
Day 2 – Cathy Munro
You never see her face, but Cathy Munro played two different characters in The Empire Strikes Back.  Bounty Hunter Zuckuss and the short Wiorkettle in Cloud City (who you'll probably only see in Empire merchandise).
StarWarsInterviews.com has a fun print interview with Cathy Munro where she talks about her experience working on The Empires Strikes Back, including memories of being the only woman on set.
Here's an interview with Cathy Munro from the Lexington Comic and Toy Convention Video in 2017.
Cathy Munro's personal website.
Day 3 – Ciena Ree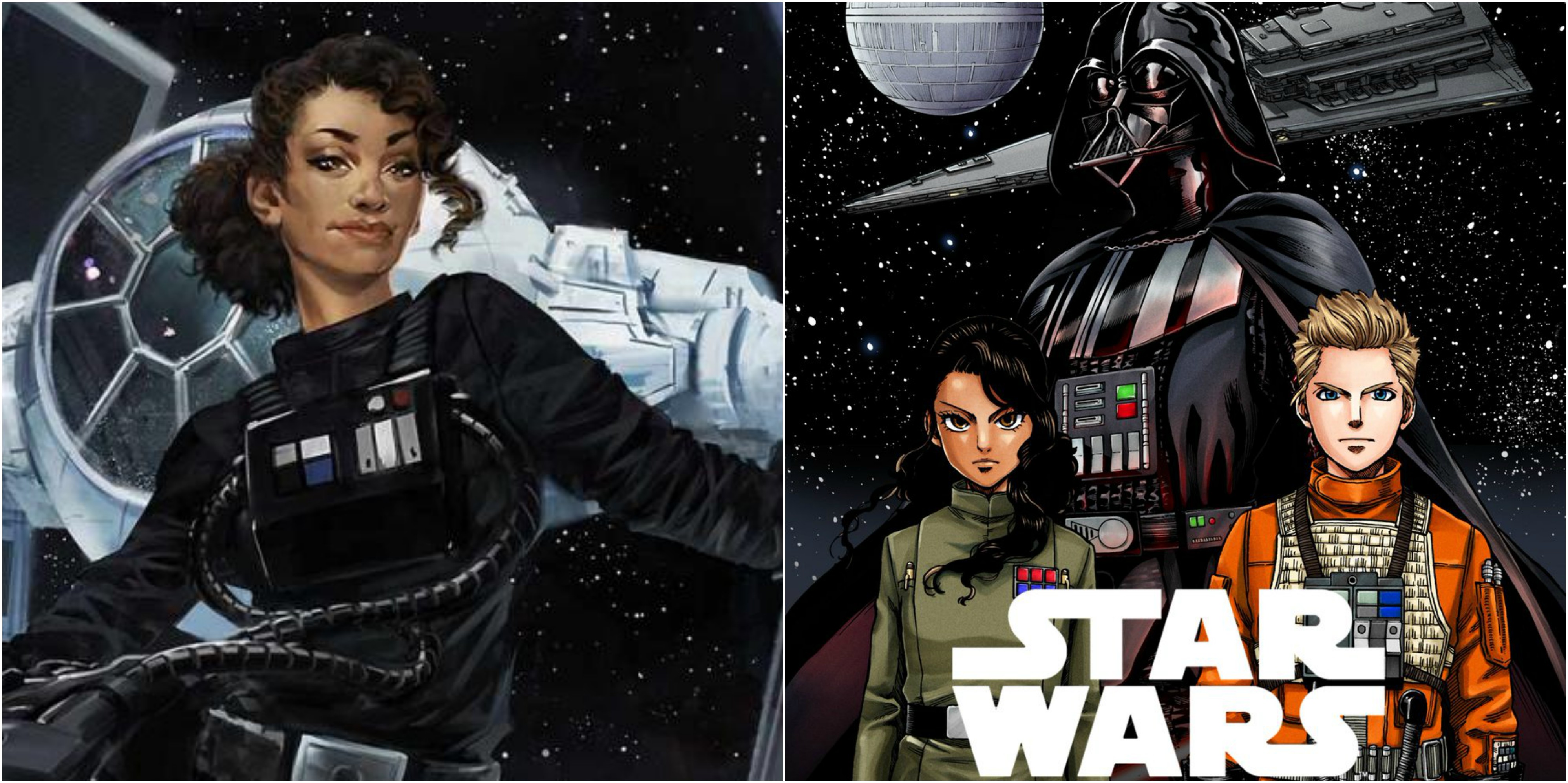 Ciena Ree is an Imperial pilot and one of the main characters of the 2015 Disney Lucasfilm Press novel Lost Stars by Claudia Gray. Lost Stars spans the time before, during, and after the events of the original Star Wars trilogy. A Manga version of Lost Stars was released in Japanese in 2017. Yen Press is releasing an English adaptation on May 1st, 2018.
Star Wars released an official image of Ree commissioned by Fantasy Flight Games by artist Aurore Folny in 2016. Ree appeared in an expansion pack of the board game Star Wars: Armada.
Lost Stars is regularly named by Star Wars fans as one of their favorite canon novels and Ciena Ree's strong and dynamic character is one of the reasons this book is so beloved. If you haven't read it check it out!
Day 4 – Aurra Sing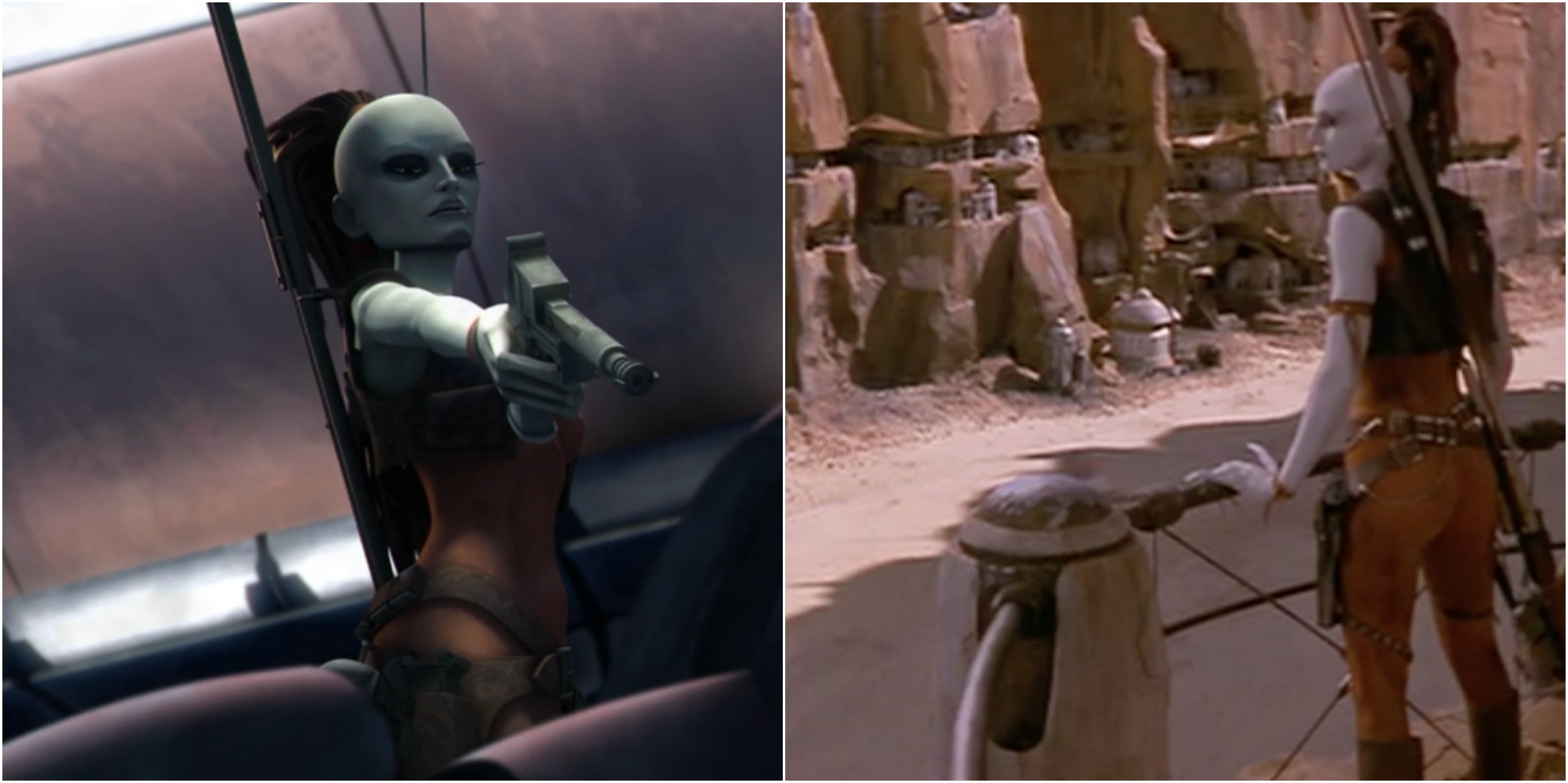 Aurra Sing is a bounty hunter who first appeared in a blink-and-you'll-miss-it cameo in The Phantom Menace. She played a much larger role in several episodes of Star Wars: The Clone Wars where her connection to a young Boba Fett is revealed. 
Aurra Sing also appeared in the last four of the five-issue comic series Darth Maul and the mobile games Star Wars: Galactic Defense and Star Wars: Force Arena.
Those truly impressed with Aurra Sing (and bounty hunters in general) may want to check out the book Aurra Sing: Dawn of the Bounty Hunters, which comes with a pretty cool looking figure of Aurra Sing.
You can learn much more about Aurra Sing on her Wookiepedia page.  
Day 5 – Rystáll Sant
Rystáll Sant (she's half human/ half Theelin) first appeared in the 1997 Special Edition of Return of the Jedi. Sant was one of the backup performers in the musical number "Jedi Rocks" and caught the attention of bounty hunter Boba Fett in a later scene.
Sant also appeared in a background shot of an opera scene in Revenge of the Sith. I'm not making this up. Here she is on page 29 of the Revenge of the Sith Visual Dictionary complete with the interesting "Crime syndicate concubine hairstyle" caption.
If you're interested in finding out how Sant went from the high life in Coruscant to Jabba's Palace in the wastelands of Tatooine you're in luck. Both the 2011 Star Wars Character Encyclopedia and the 2016 Updated and Expanded version have bits and pieces about Sant's history for you. Her character spread includes mentions of her adoptive parents, the Black Sun crime organization, and even Lando Calrissian.
Is this Legends? Is this Canon? I don't really know, but Wookieepedia seems to think we've gotten into Legends territory for those who track these things.
If you need more Rystáll Sant in your life I also found this Power of the Force Cinema Scene.
Day 6 – Evaan Verlaine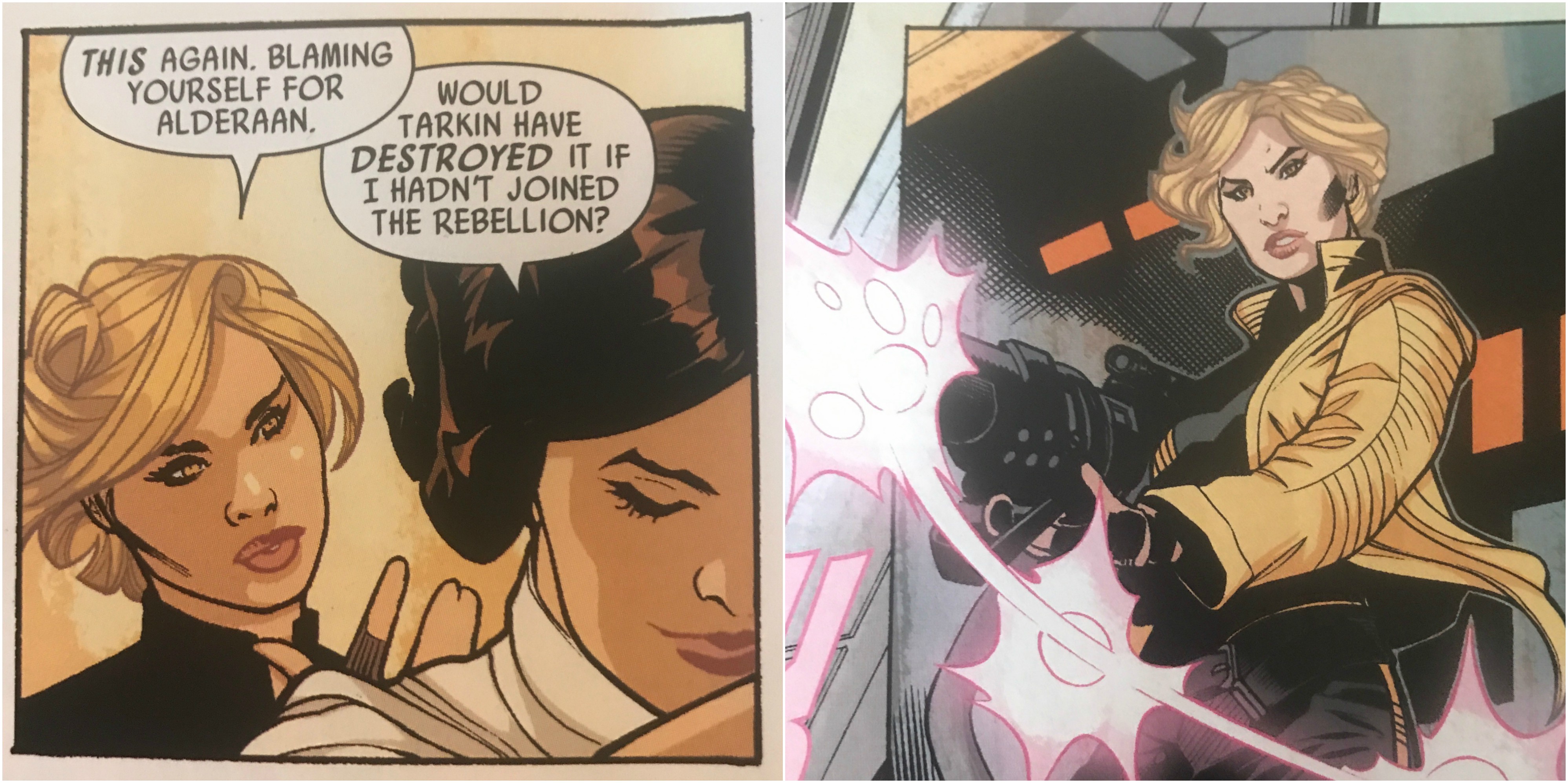 Evaan Verlaine is a pilot for the Rebel Alliance who fought in the Battle of Scarif and Yavin. Evaan was born on Leia's home planet Alderaan and was mentored by Queen Breha Organa.
Evaan Verlaine is an example of a character retconned into Star Wars canon as A New Hope (in particular) showed no evidence of any female Rebel pilots. (I looked for them once). I don't think I'm alone when I say it's great to see Leia both work with and become friends with another female character in Star Wars.
Evaan was introduced and heavily featured in the five-series comic Princess Leia. She was also the main character in Tales from Wild Space: "The Flat Mountain of Yavin" the second story in Star Wars Adventures 2 that followed a story about Unkar Plut and Rey.
For both the Battle of Scarif and Yavin Evaan flew as Y-Wing pilot Gold Three of Gold Squadron – but again you won't actually see her in Rogue One or A New Hope. "Grounded" Greg Rucka's short story about the Battle of Yavin from From Certain Point of View does mention Evaan by name.
In the book Star Wars: Galactic Maps Evaan is right along Wedge Antilles and Jek Tono Porkins (who were seen in A New Hope) in the Battle of Yavin spread.
Evaan's Rebel pilot helmet can be seen in the Rogue One: Ultimate Visual Guide.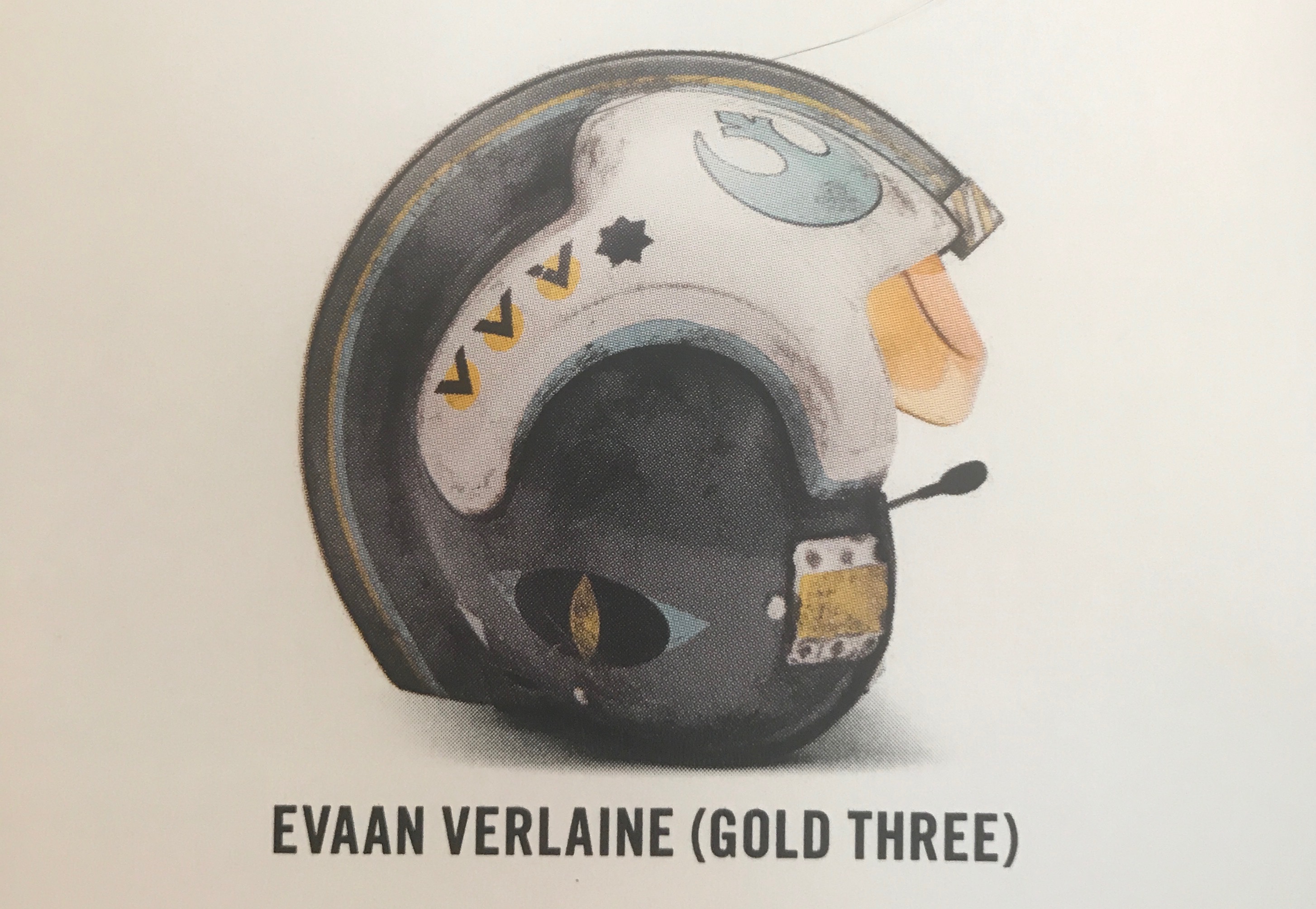 Evaan survived the events of the original trilogy as she also pops up again in Check Wendig's novel Aftermath: Life Debt which takes place between the events of Return of the Jedi and The Force Awakens.
For gamers, Evaan can be found in the Star Wars: Force Arena mobile game. If you'd like to see a sample (it's over an hour) of gameplay of Leia and Evaan from Force Arena here you go!
Day 7 – Bazine Netal
And, as always, there is more to learn about Evaan on her Wookieepedia page.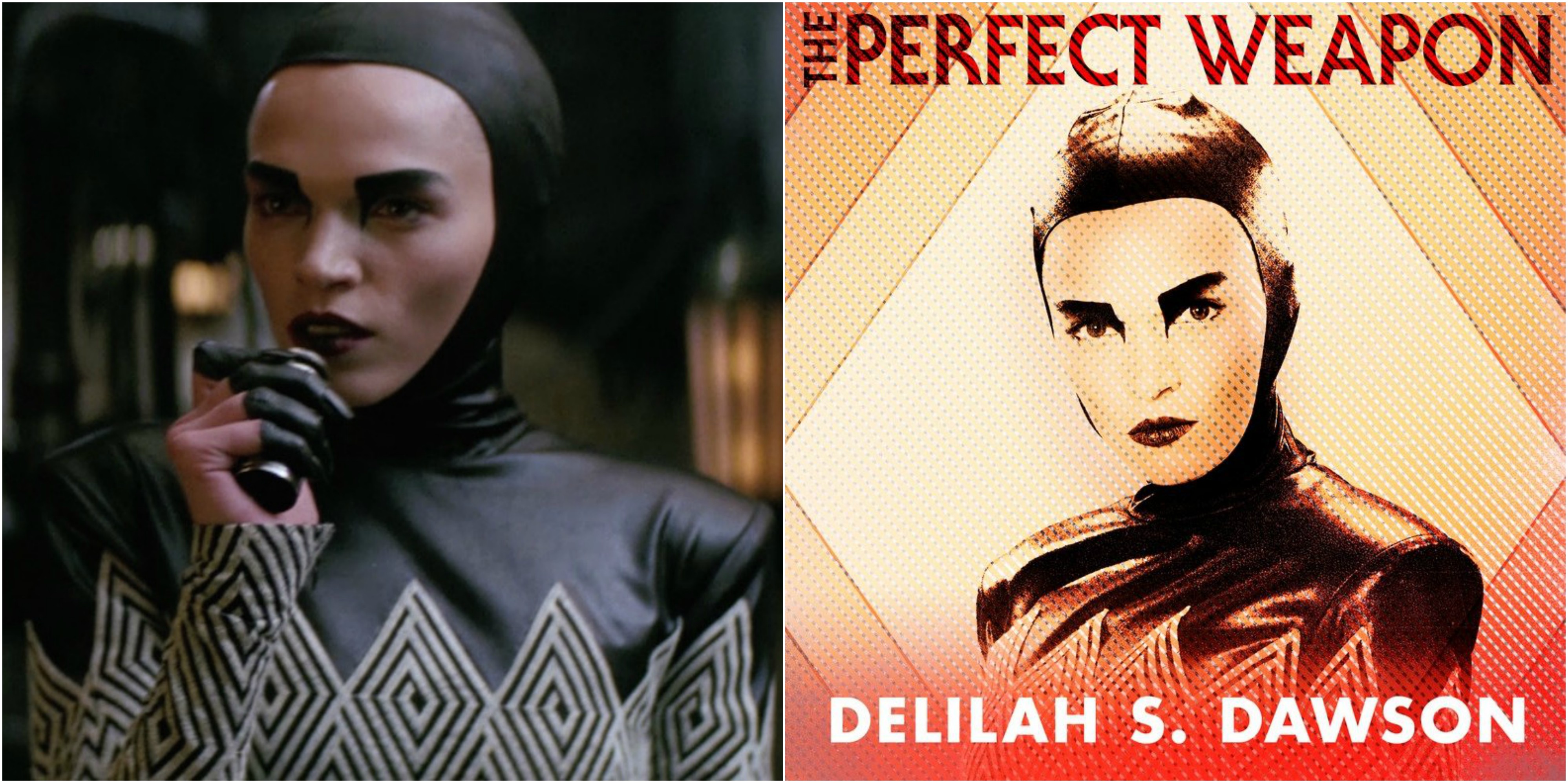 Bazine Netal is a spy and mercenary that reported the whereabouts of BB-8 to the First Order in The Force Awakens. Bazine was also featured in the short story The Perfect Weapon by Delilah Dawson.
You can also find Bazine in the young readers book Chaos at the Castle and Part III of The Force Awakens comic book adaptation.
There are no Bazine action figures but there are quite a few trading cards featuring her likeness.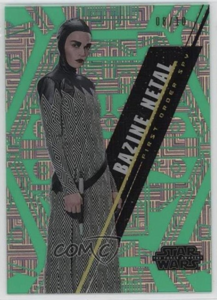 Find out more about Bazine Netal's history on her Wookieepedia page.
Day 8 – Maryann Brandon
The Force Awakens, Passengers, Star Trek: Into Darkness, and the TV show Alias are just a few of the projects Maryann Brandon has worked on as an editor. Brandon frequently collaborates with director J.J. Abrams and editor Mary Jo Marky who she worked with on Star Trek, Star Trek: Into Darkness, The Force Awakens, and the upcoming and as yet untitled Star Wars: Episode IX. Both Brandon and Marky were nominated for an Academy Award for their work in The Force Awakens.
Other films Maryann Brandon has edited include Passengers, Kung Fu Panda 2, and the upcoming thriller The Darkest Mind. Brandon directed two episodes of Alias ("The Road Home" and "After Six") and was credited as Associate Producer on ten other Alias episodes in 2005. Brandon also directed the 2012 short film Baby Love.
The UCSB Script to Screen Series did a Q & A (below) with Maryann Brandon that occurred in between the release dates of The Force Awakens and The Last Jedi.
There are two parts to this interview with both Maryann Brandon and her fellow The Force Awakens editor Mary Jo Marky.
And finally, in an interview with Women's Business Daily, Maryann Brandon discusses her career as an editor, including her work on The Force Awakens.
Day 9 – Bastila Shan
Bastila Shan is the first woman in 365 Days of Star Wars who is a purely Legends character (meaning her character has not appeared in any official canon Star Wars productions since the 2014 decision to classify all previously named Expanded Universe books/comics/video games "Legends". Here is the official announcement of this change if you're not familiar with this topic.
Bastila Shan's first appearance was in the roleplaying video game Star Wars: Knights of the Old Republic (widely referred to as KotOR) that debuted in 2003. She was also in the KotOR sequel Star Wars: Knights of the Old Republic II: The Sith Lords that came out in 2004.
These video games took place way before the events of A New Hope and its prequels – about 4,000 years before to be exact(ish). Shan was a Jedi who had the power of battle meditation which assisted her allies and hindered her foes.
For a quick biography of Bastila Shan you can watch The Legend of Bastila Shan from Star Wars Minute.
Here's a link to slightly longer account of Bastila Shan's adventures in Bastila Shan: A Star Wars Story from The Scoundrel's Cantina.
Bastila Shan also appeared in "Shadows and Light" a part of Star Wars Tales 23 comic from Dark Horse Comics and the adventure "The Betrayal of Darth Revan" which was part of the Star Wars Roleplaying Game Saga Edition by Wizards of the Coast.
If you're looking for a book with Bastila Shan in it you can seek out The Old Republic: Revan which is one of the books based on the MMORPG (massively multiplayer online role-playing game) Star Wars: The Old Republic.
For a full written account of the life of Bastila Shan see her Wookieepedia page.
Day 10 – Christie Golden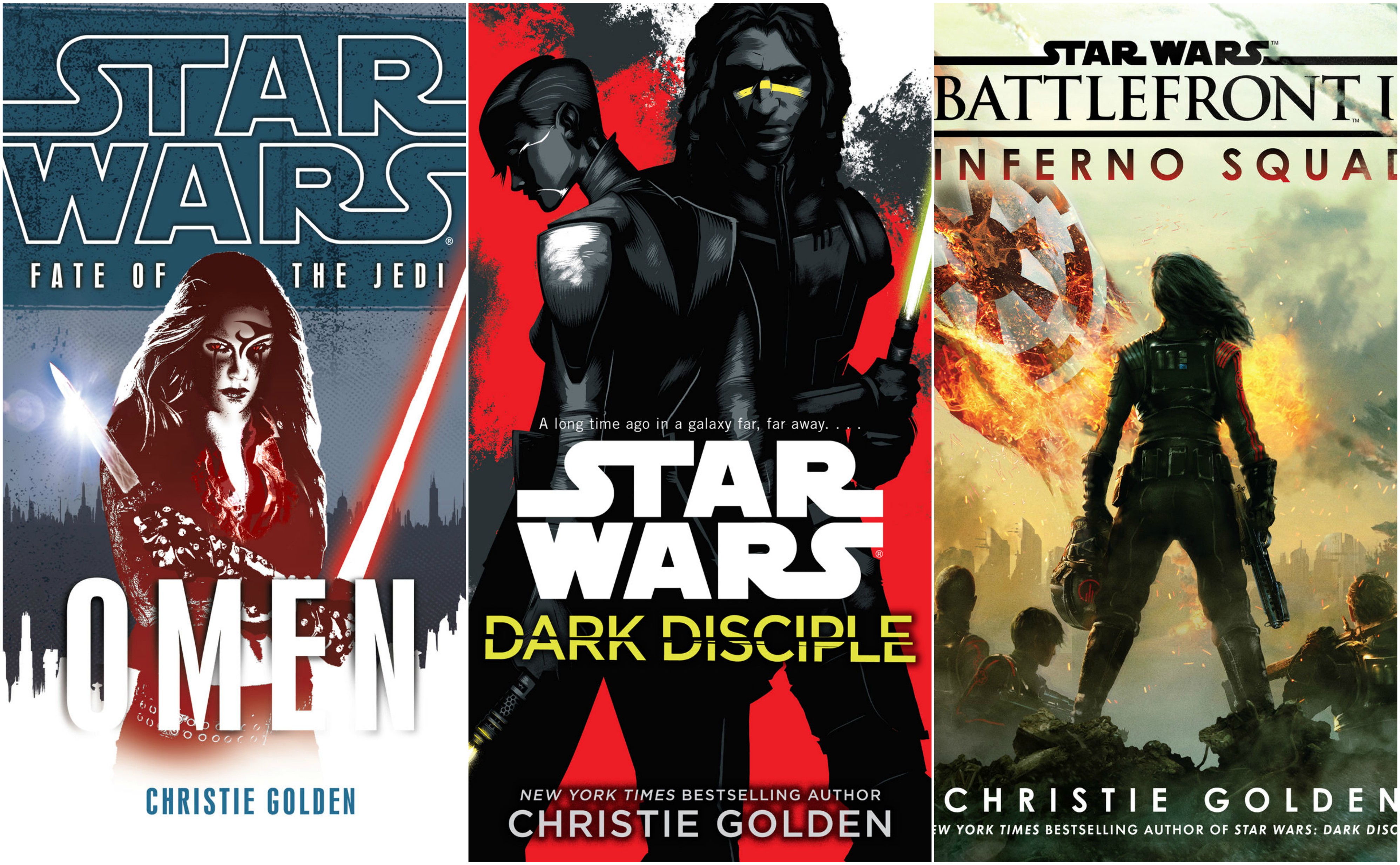 Writer Christie Golden has authored books for Star Wars, Star Trek, Warcraft, and Starcraft. Golden also writes original works, such as her Final Dance series, in addition to expanding the worlds of already established entertainment properties.
Golden has written Star Wars books in both the Legends and canon timelines. For Legends, Golden wrote three books in the Fate of the Jedi series: Omen, Allies, and Ascension.
Her canon works include Dark Disciple (a Clone Wars era novel featuring former Sith apprentice Asajj Ventress and Jedi Knight Quinlan Vos) and Battlefront II: Inferno Squad (a prequel to the Battlefront II video game). Golden has also written several Star Wars short stories including "The Bucket" which was a part of the From a Certain Point of View anthology.
Find out more about Christie Golden on her writer's website.
Day 11 – Pernilla August
Pernilla August may only be known to Star Wars fans as Anakin Skywalker's mother, Shmi Skywalker, but she has also acted and directed in dozens of films and TV episodes over the last few decades.
August played Shmi Skywalker in Episodes I and II of the Star Wars prequels, The Phantom Menace and Attack of the Clones, and voiced Shmi in the episode "Overlords" of the television series Star Wars: The Clone Wars. Fun fact: these Star Wars films were the first acting roles where Swedish-born August spoke her lines in English.
August has worked internationally as an actress since 1975, and in 1992 she won Best Actress at the Cannes Film Festival for The Best Intentions, written by Igmar Bergman.
August worked on a previous George Lucas production before her Star Wars debut when she appeared in two episodes of The Young Indiana Jones Chronicles in 1993. More recently August has appeared in several episodes of the TV series Glitch and The Legacy.
Pernilla August has also worked as a director on several projects including 2010's Beyond which won several awards in film festivals throughout the world.
Find out more about Pernilla August on her pages on IMDB and Wookieepedia.
Day 12 – Steela Gerrera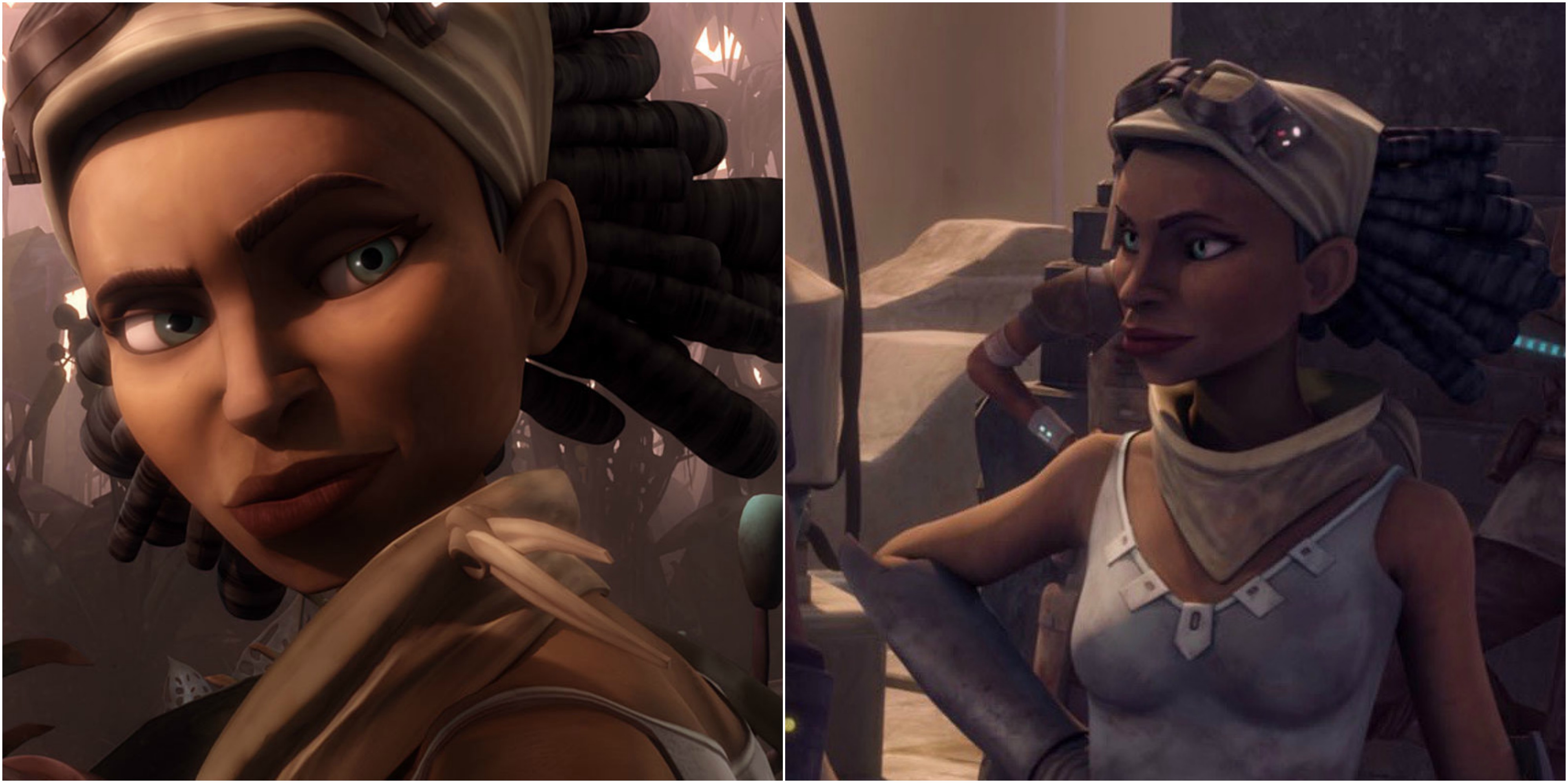 Steela Gerrera was a character from the Clone Wars era of Star Wars. She appeared in the Onderon arc episodes of the television show Star Wars: The Clones Wars. Steela was the leader of a rebel group that fought against Separatists that were occupying her homeworld of Onderon.
Actress Dawn-Lyen Gardner voiced Steela in four of the five episodes Steela appeared in (Steela appeared in a fifth episode via flashback). Steela also appeared via hologram in the "Ghosts of Geonosis" episode of Star Wars Rebels.
Steela shared a lot of screen time in Star Wars: The Clone Wars with Ahsoka Tano and she was also notably the sister of Saw Gerrera who debuted in Star Wars: The Clone Wars and also appeared in Star Wars Rebels and the feature film Rogue One.
Read about the importance of Steela as a character in this article from The Wookie Gunner, and learn more about her overall story on her page at Wookieepedia.
Day 13 – Oola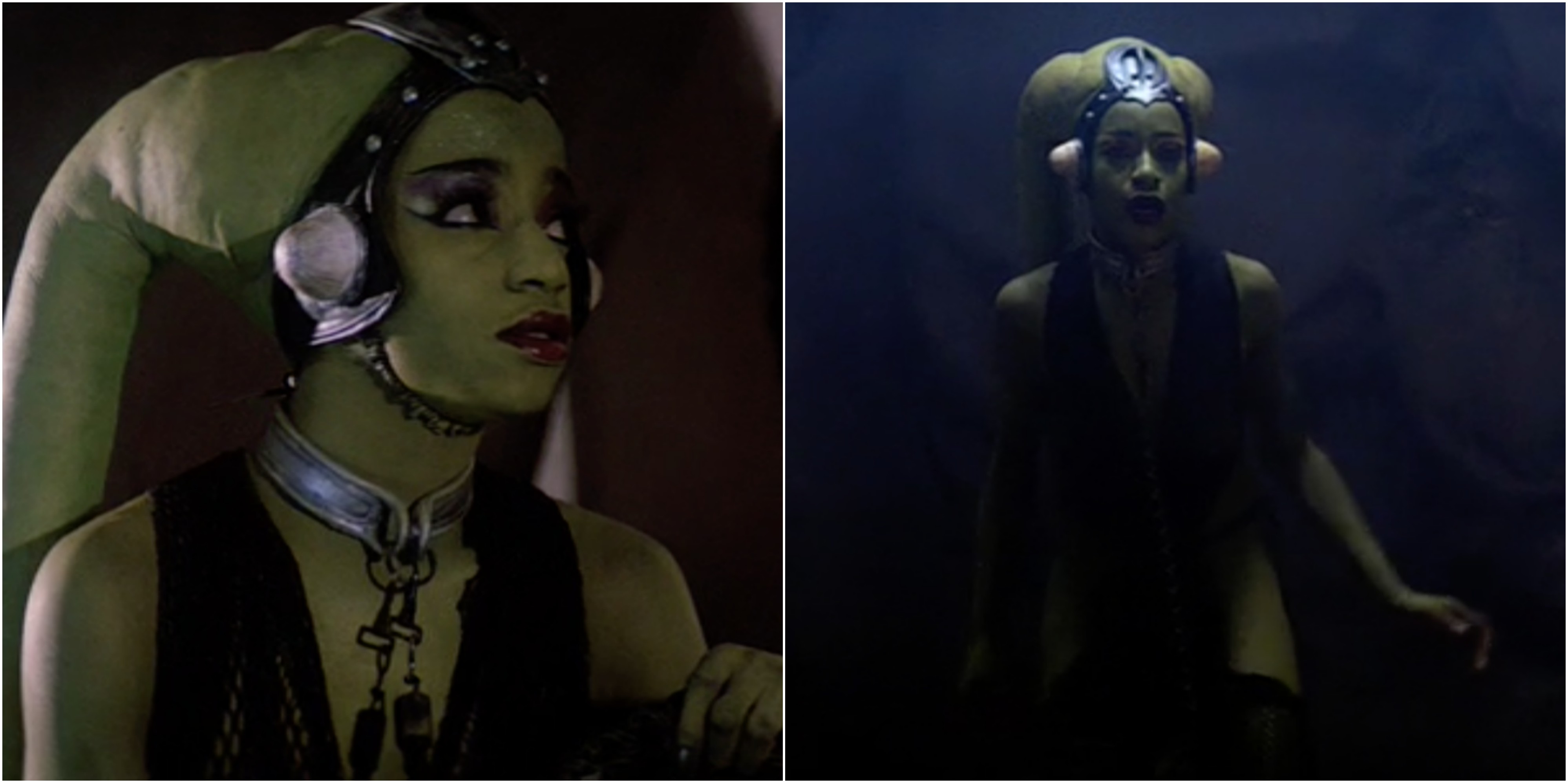 Oola was a Twi'lek (one of the first seen in Star Wars) who debuted in the third original trilogy Star Wars film, Return of the Jedi. Oola was a slave in Jabba the Hutt's palace who was forced to dance for him around the time of Han Solo's rescue.
In the 1990's when the Special Edition of Return of the Jedi was in the works the actress who played Oola, Femi Taylor, returned to shoot additional scenes in the rancor pit.
Taylor revealed in an interview with TheForce.net that Oola was originally supposed to escape Jabba's Palace – and it's shame she didn't as she is one of the few female characters in both Return of the Jedi and the entire original trilogy.
If you're looking for an Oola toy for your collection you can find her in this amazing Funko three pack with Luke Skywalker and the Rancor.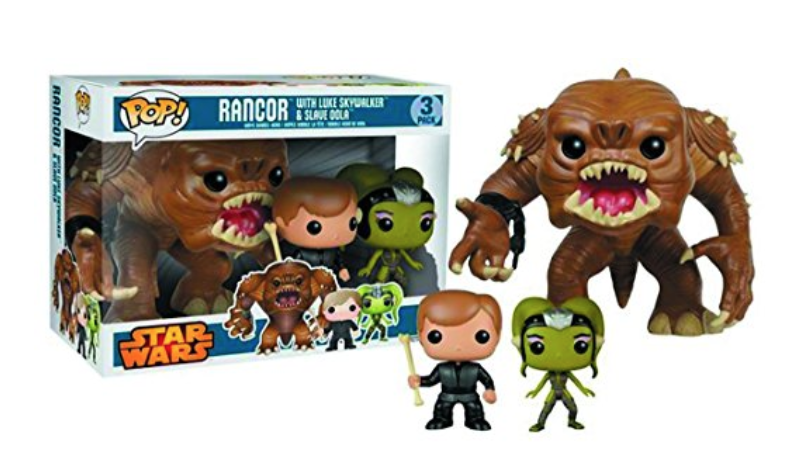 You can learn more about Oola in the Star Wars Character Encyclopedia, Star Wars: Absolutely Everything You Need to Know, and her page on Wookieepedia.
Day 14 – Lyra Erso
Lyra Erso is best known for her role in Rogue One: A Star Wars Story but her first Star Wars appearance was in Catalyst, the novel prequel to Rogue One. Lyra was a scientist who was the wife of Galen Erso and the mother of Jyn Erso.
While Lyra doesn't last long in Rogue One (as happens so frequently in Star Wars films that have mothers in them) she makes a strong and memorable impression.
Lyra plays a much, much larger role in Catalyst – which is one of my favorite canon Star Wars novels. Catalyst focuses on the relationship between Lyra, Galen, and Orson Krennic before the events of Rogue One and makes watching (or re-watching) the film even more enjoyable.
You can learn more about Lyra in the Rogue One Visual Guide and read about how she was originally imagined as a Jedi in The Art of Rogue One: A Star Wars Story.
Day 15 – Trisha Biggar
Trisha Biggar was the costume designer for all three Star Wars Prequels: Episode I The Phantom Menace, Episode II Attack of the Clones, and Episode III Revenge of the Sith. Biggar's costumes for Padmé  Amidala alone would have placed her in a special place in the hearts of Star Wars fans (especially cosplayers). Biggar also had a cameo in The Phantom Menace as an aide to Orn Free Taa.
Before her work on the Star Wars prequels, Biggar designed the costumes for a few The Aventures of the Young Indiana Jones TV movies and recently she has worked on the TV series Da Vinci's Demons and Emerald City. TV Guide talked with Biggar about the elaborate costumes for Emerald City. Biggar has also designed costumes for several theatre companies throughout her career, including opera productions.
Somehow Biggar was not nominated for an Academy Award for her work on the Star Wars prequels, but she was nominated for her work in Revenge of the Sith by the Costume Designers Guild Awards and she won the Saturn Award for Best Costumes for both The Phantom Menace and Attack of the Clones.
There are many resources for fans who want to learn more about the making of the costumes in the Star Wars prequels starting with Biggar's book Dressing a Galaxy: The Costumes of Star Wars. That book is hard to come by, but Amy Ratcliffe's article for Star Wars.com that uses Dressing a Galaxy as a source has you covered with six things you might not know about the prequel trilogy costumes.
This webisode below shows Biggar working with George Lucas and many of people who worked to design and construct the costumes for The Phantom Menace.
Here's a similar webisode from Attack of the Clones.
And one more from Revenge of the Sith.
Many of Trisha Biggar's costumes can be seen in person in the Star Wars and the Power of Costume exhibit which has been traveling the world. I saw it last year and can't recommend it enough. If you can't make it there in person you can check out this behind the scenes video from Rocky Mountain PBS. There are also some great photos and information about the costumes in the exhibit from Kristen Baver's article on the official Star Wars site.
Day 16 – Mira Bridger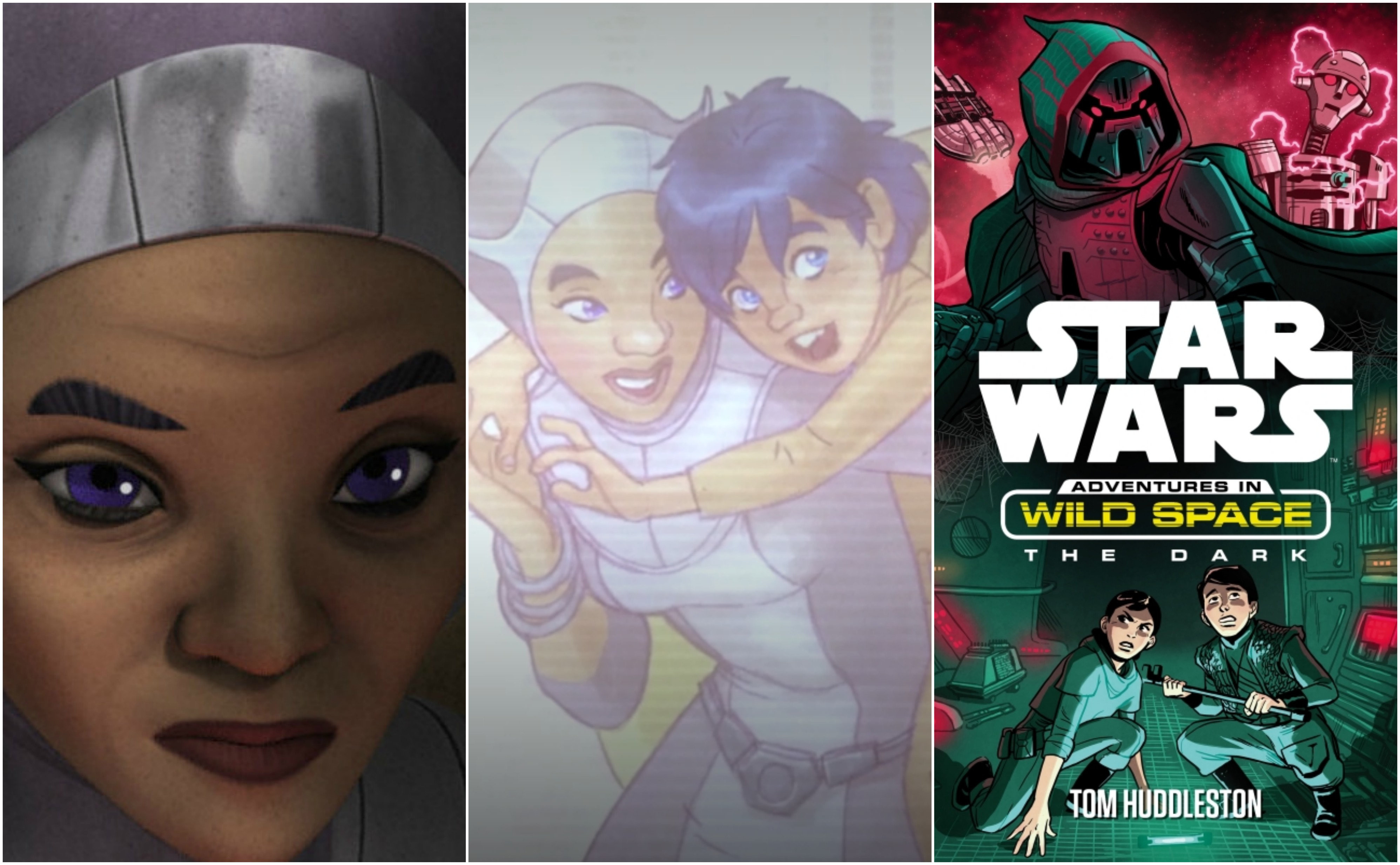 Mira Bridger was an early rebel and Ezra Bridger's mother on the TV series Star Wars Rebels. Mira and her husband Ephraim lived on Lothal and were imprisoned by the Galactic Empire after sending underground messages speaking out against the Empire. She and Ephraim both died during an attempted prison escape.
The fate of both of Ezra's parents was a mystery to him for many years. Her appearances on Star Wars Rebels consisted of her voice, images of her, visions, and mentions by Ezra or other characters.
In books that pre-date Star Wars Rebels Mira appears in two Adventures in Wild Space novels The Steal and The Dark. Mira and Ephraim are great examples of characters who have stories that have only been hinted at in official Star Wars canon.
Learn more about Mira's history on her Wookieepedia page.
Day 17 – Nika Futterman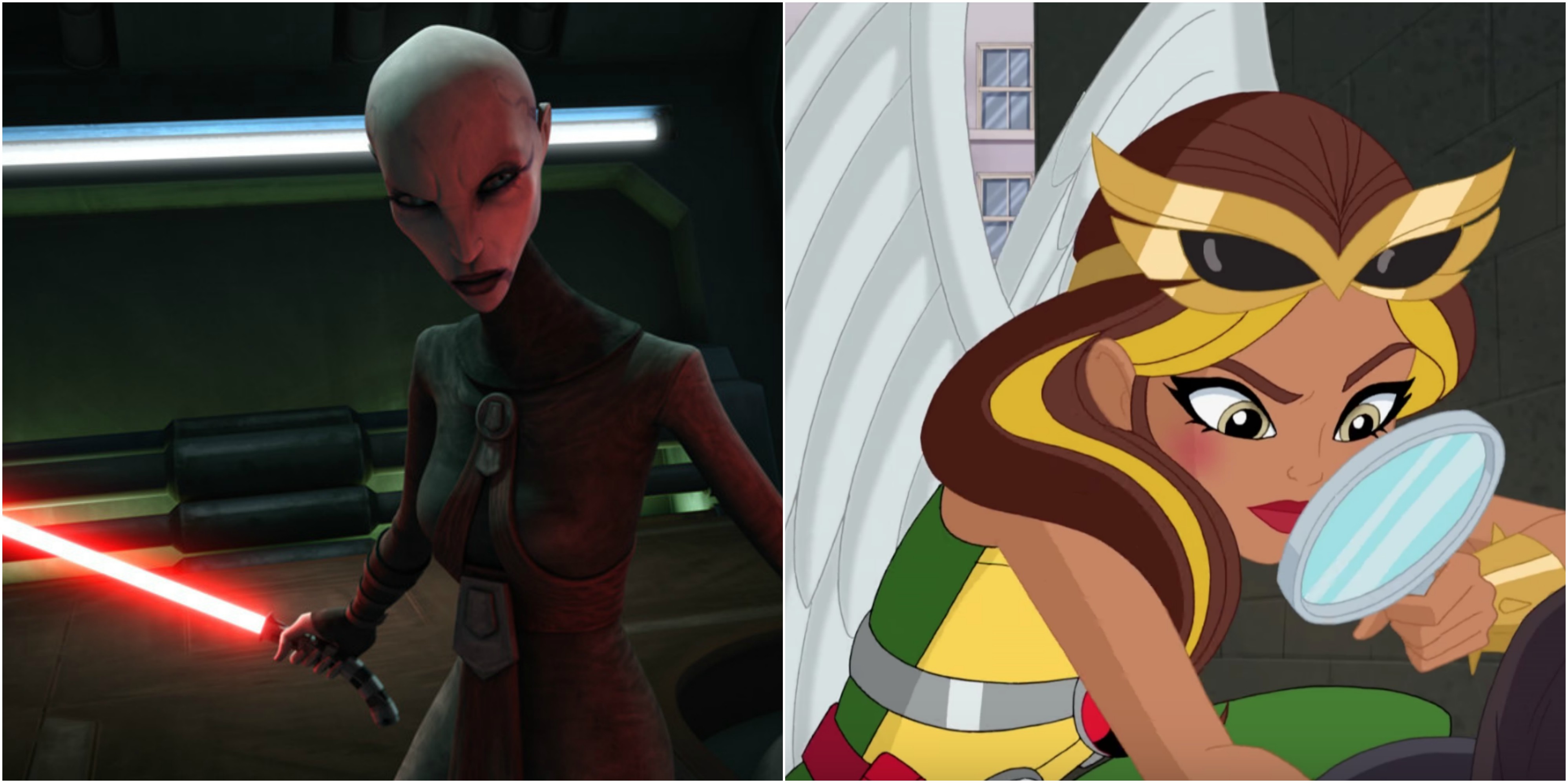 Nika Futterman is an actress who voiced Asajj Ventress in the Star Wars: The Clone Wars TV show and several Star Wars video games. Futterman was also the voice of several other characters in The Clone Wars including Gardulla the Hutt and Chi Eekway Papanoida. Other Star Wars projects Futterman worked on included two episodes of Star Wars Rebels (Presence) and the Legends video game Star Wars: The Old Republic (Lady of Pain).
Futterman's list of acting credits is well worth a scroll on her IMDB page. Other notable productions Futterman has worked on over the years include Sofia the First (Madame Ubetcha), Lost in Oz (West), The Loud House (Luna), and DC Super Hero Girls (Hawkgirl).
In addition to acting, Nika Futterman is also very serious about poker as you can see from this page on her personal website.
Here's a fun short interview of Futterman and Catherine Taber shot by Ashley Eckstein talking about Ventress.
VO Buzz Weekly and Bombad Radio also interviewed Futterman about her work as a voice actress.
Day 18 – Gardulla the Hutt
Gardulla the Hutt, whose full name is Gardulla Besadii the Elder, was a female Hutt crime lord who lived on Tatooine. She appeared in The Phantom Menace and was also featured in the Star Wars: The Clone Wars episode "Hunt for Ziro."
Before the events of The Phantom Menace Gardulla purchased Anakin and Shmi Skywalker as slaves and then later lost them in a bet to Watto. Gardulla is seen in The Phantom Menace briefly in Jabba the Hutt's box during the podrace where Anakin won his freedom from Watto. In "Hunt for Ziro" Gardulla interacted with Jedi Masters Obi-Wan Kenobi and Quinlan Vos. She was voiced by Nika Futterman who was profiled on this site on Day 17.
There's a lot more Gardulla to be found in Legends materials. Gardulla appeared in the novel Darth Plagueis, several books in the young reader Episode I Adventure series, and in a few Star Wars comics.
Find out more about Gardulla the Hutt on her Wookieepedia page.
Day 19 – Kelly Thompson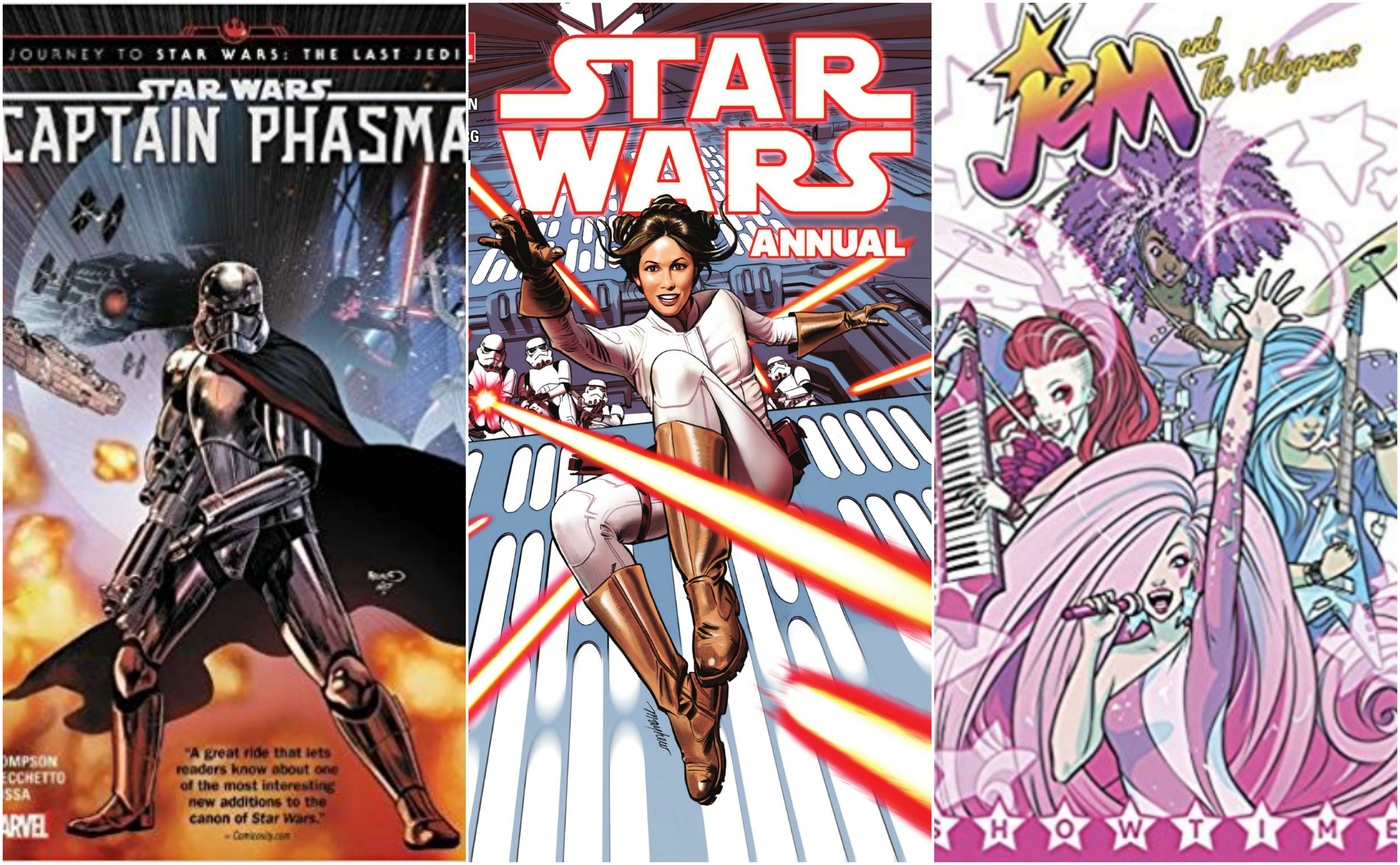 Kelly Thompson is a writer best known to Star Wars fans for her work on the Captain Phasma comic series. She also authored Star Wars Annual Vol. 2.
Other comics Thompson has written include Jem and the Holograms, Heart in a Box, Captain Marvel and the Carol Corps, Hawkeye, and Mega Princess.
Here's an interview with Thompson about the Phasma comic from StarWars.com.
Day 20 – Cindel Towani
Cindel Towani was the star of two (now considered Legends) TV movies that took place on Endor. Caravan of Courage: An Ewok Adventure debuted in 1984 (a year after the release of Return of the Jedi). A year later in 1985 Ewoks: The Battle for Endor premiered.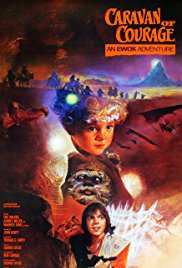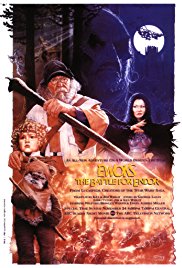 In Caravan of Courage Cindel (played by Aubree Miller) and her brother Mace spent most of the movie trying to reunite with their parents after a starcruiser crash on Endor. Not surprisingly the Ewoks help the kids find their parents.
In Ewoks: The Battle for Endor Cindel played an even bigger role after Sanyassan Mauraders attacked an Ewok village and killed her brother and parents. (I did not remember these movies being so dark.)
Cindel ends up leaving Endor and the Ewoks (why?!?!?!) and grows up to be a journalist on Coruscant. Read more about Cindel on her Wookieepedia page.
Here's a trailer from Caravan of Courage.
You can see the full movie Ewoks: The Battle for Endor here (with a starry background) or if you just have a few minutes here's the trailer.
Cindel was also the focus of a fun fan theory that she could be part of the origin story for Phasma.
Day 21 – Sabé
Welcome to the first day of 9 Days of Handmaidens on 365 Days of Star Wars Women! Today we're looking at the most well-known of Padmé Amidala's handmaidens, Sabé.
But first, who are the handmaidens? The Naboo Handmaidens appeared in all three Star Wars prequels films. Handmaidens were chosen to protect and support their monarch. Women who were chosen as handmaidens at times looked similar to the queen (so they could serve as decoys) and also acted as overall aides and confidants. Handmaidens may appear to be silent and meek servants to the queen, but they are ready, willing, and, able to come to her defense – even if that means endangering their own lives.
In The Phantom Menace, Queen Amidala had five main handmaidens: Sabé, Rabé, Eirtaé, Saché, and Yané. It's challenging in many scenes to ID these women in screenshots, but it's mostly easy to find Sabé who serves as a decoy to the queen throughout large sections of the film. In the screenshot below Sabé is on the far left and the true queen, Padmé Amidala, is second from the right. I believe the other handmaidens (left to right) are Rabé, Saché, and Yané.
Sabé (played by Keira Knightly, pre-Pirates of the Caribbean fame) can also be spotted in regular handmaiden attire in the celebration scene at the end of The Phantom Menace (below left).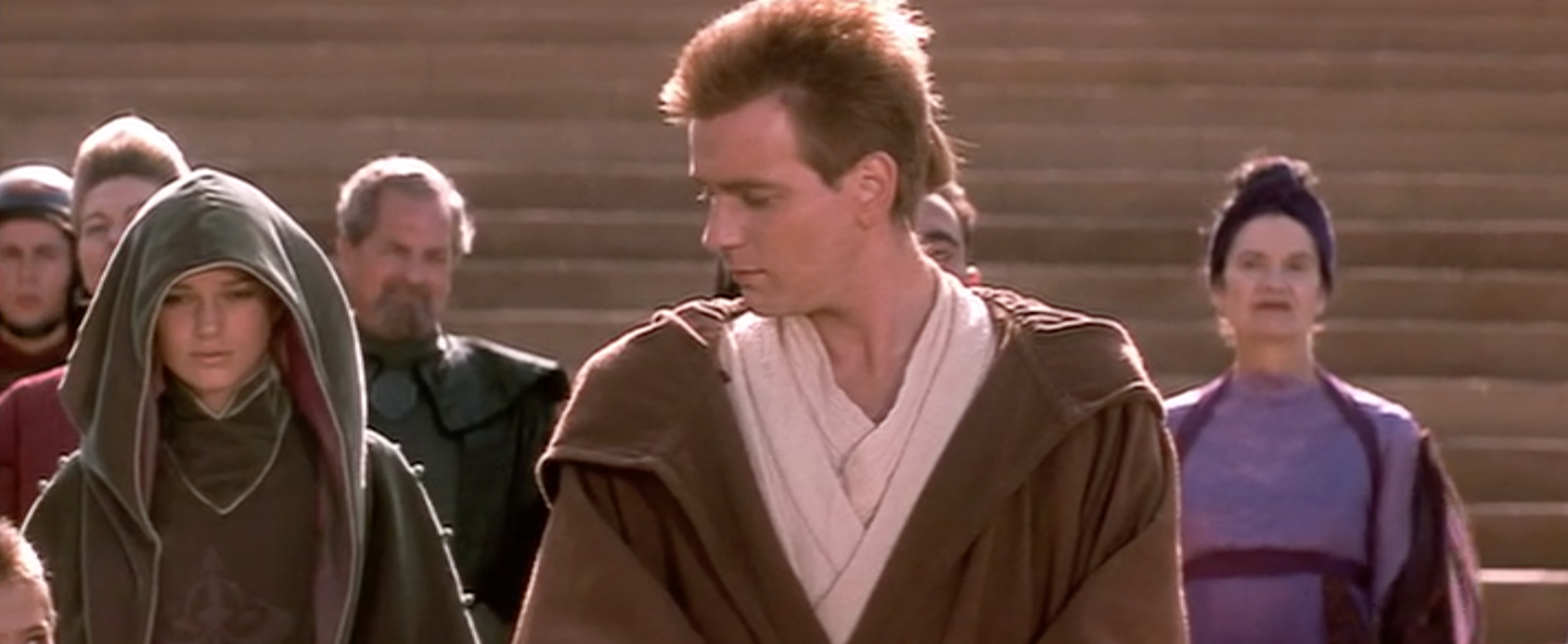 Here's Sabé, again dressed as the Queen's decoy, in the Prequel Trilogy Graphic Novel (which is overall quite lovely if you haven't seen it).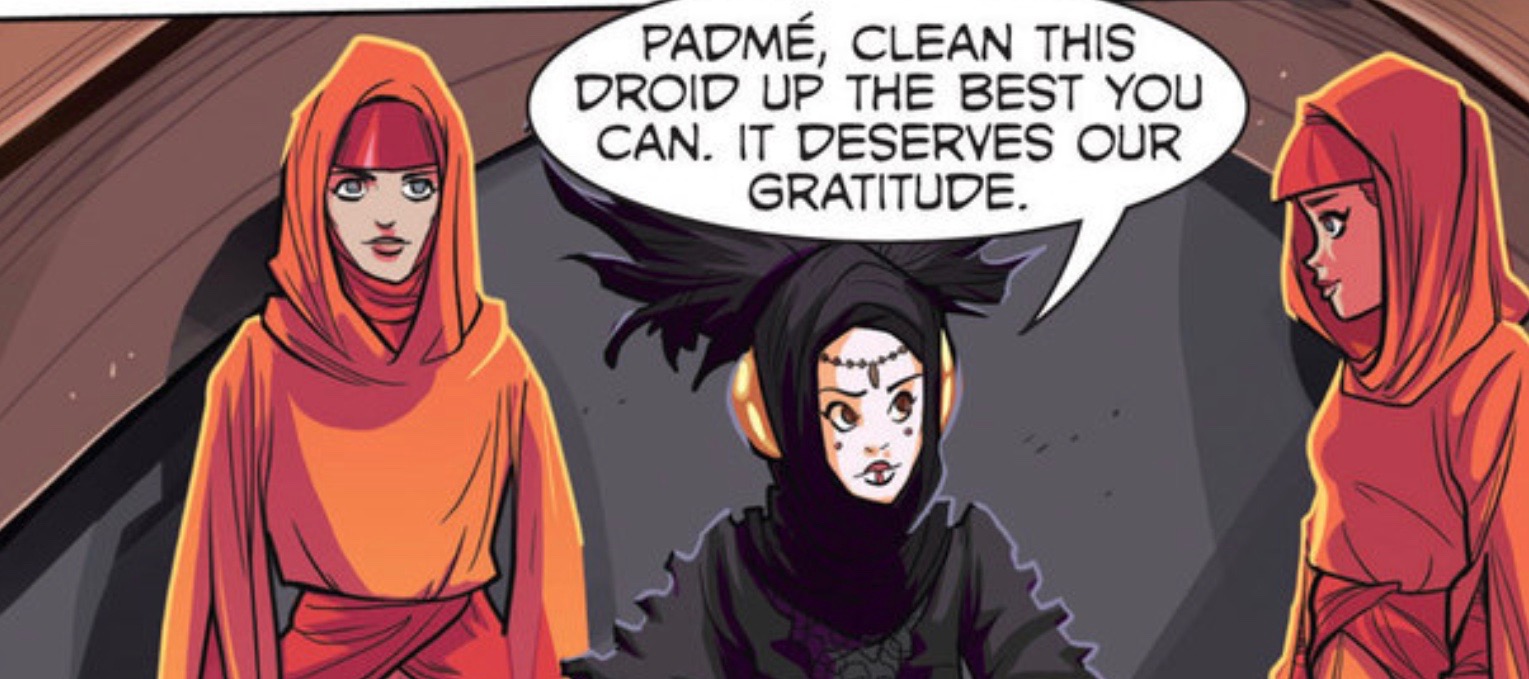 Sabé also appeared in several young readers books that came out during the release of The Phantom Menace including The Queen in Disguise where Sabé, Padmé, and several other handmaidens do some training. (It's as wonderful as you might imagine it would be.)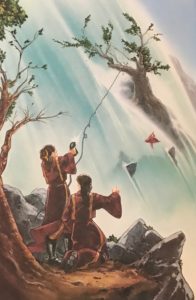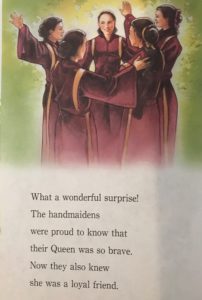 Sabé is the only handmaiden that gets her own page in the Star Wars Character Encyclopedia and you can read more about her life on her Wookieepedia page.
Day 22 – Rabé and Eirtaé

Today I'm taking a closer look at two of Queen Amidala's handmaidens in The Phantom Menace, Rabé and Eirtaé. Yesterday I  focused on Sabé and gave a primer on Naboo handmaidens if you need one.
Rabe and Eirtaé, along with Sabé, are the three handmaidens that accompany Queen Amidala to Coruscant midway through The Phantom Menace. Amidala's other two main handmaidens, Saché and Yané, are only seen in the Naboo scenes. Eirtaé was played by actress Friday "Liz" Wilson and Rabé was played by Cristina da Silva.
Here's Eirtaé (below left) in Theed Palace on Naboo.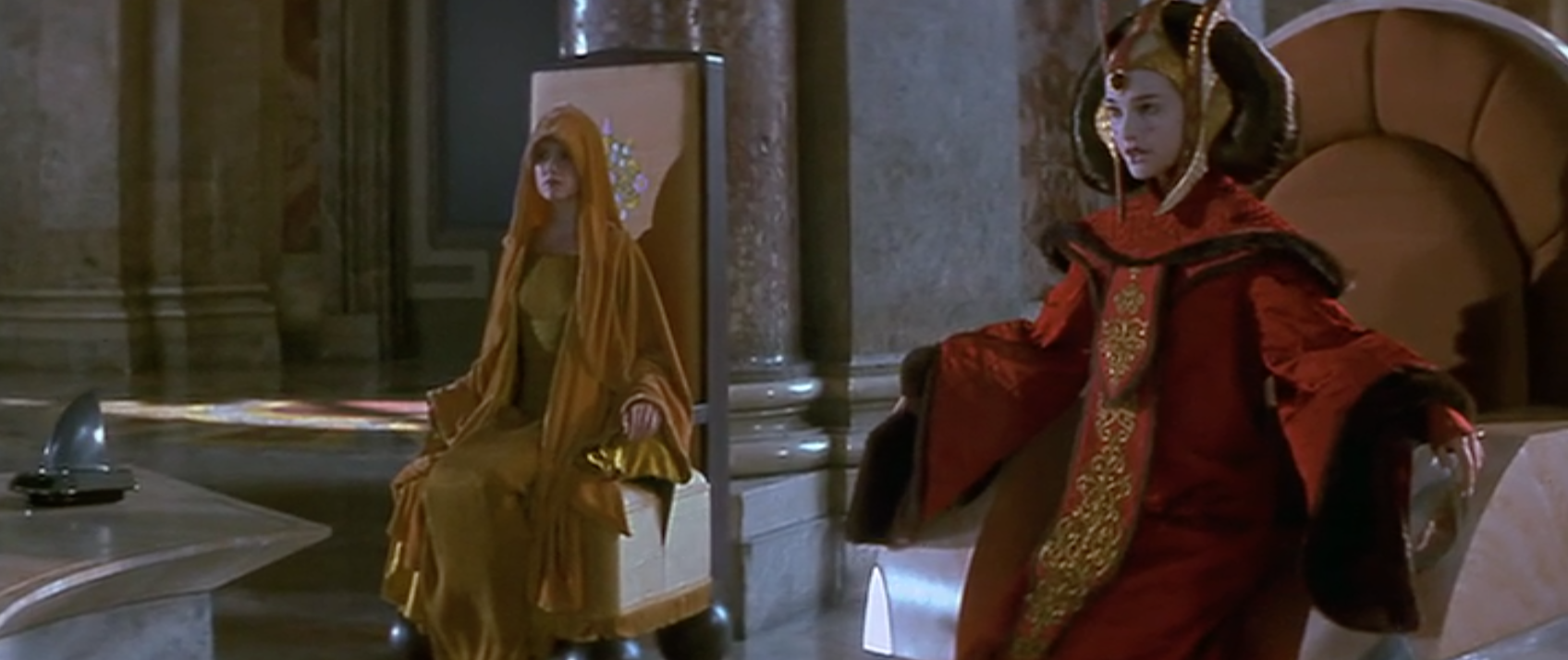 Rabé (below right) is one of the rare handmaidens who has a few lines of dialogue in the prequel films.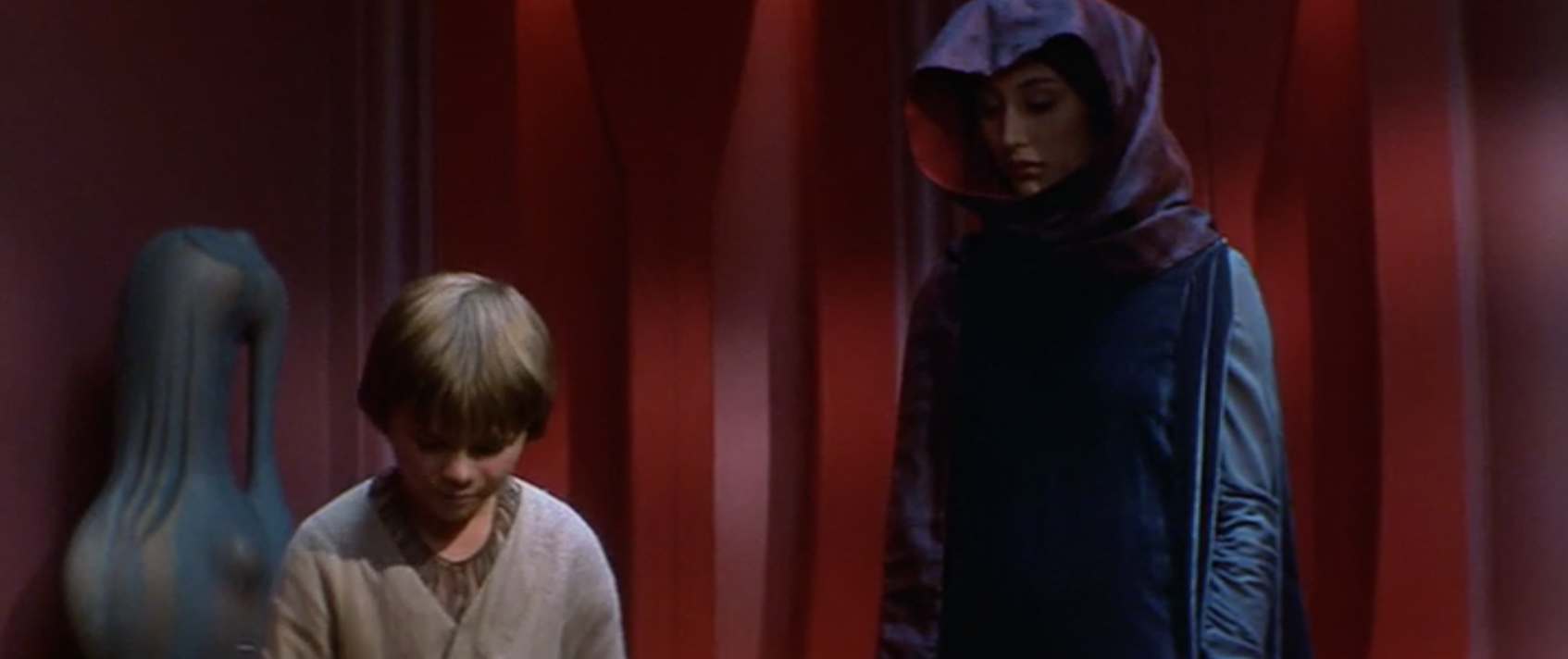 It's much easier to identify handmaidens without their hoods on (which intentionally obscure their identities). From left to right – Rabé, Eirtaé, Anakin, Sabé (as the Queen's decoy), and Padmé (in disguise).
Eirtaé (with brown hair) and Rabé also make appearances in the young readers book Queen in Disguise as well as several other books from The Phantom Menace.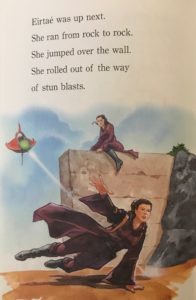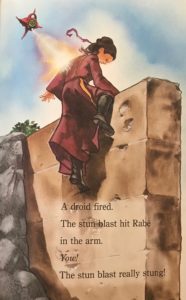 Rabé fans can also try and get their hands on this action figure.
Day 23 – Saché and Yané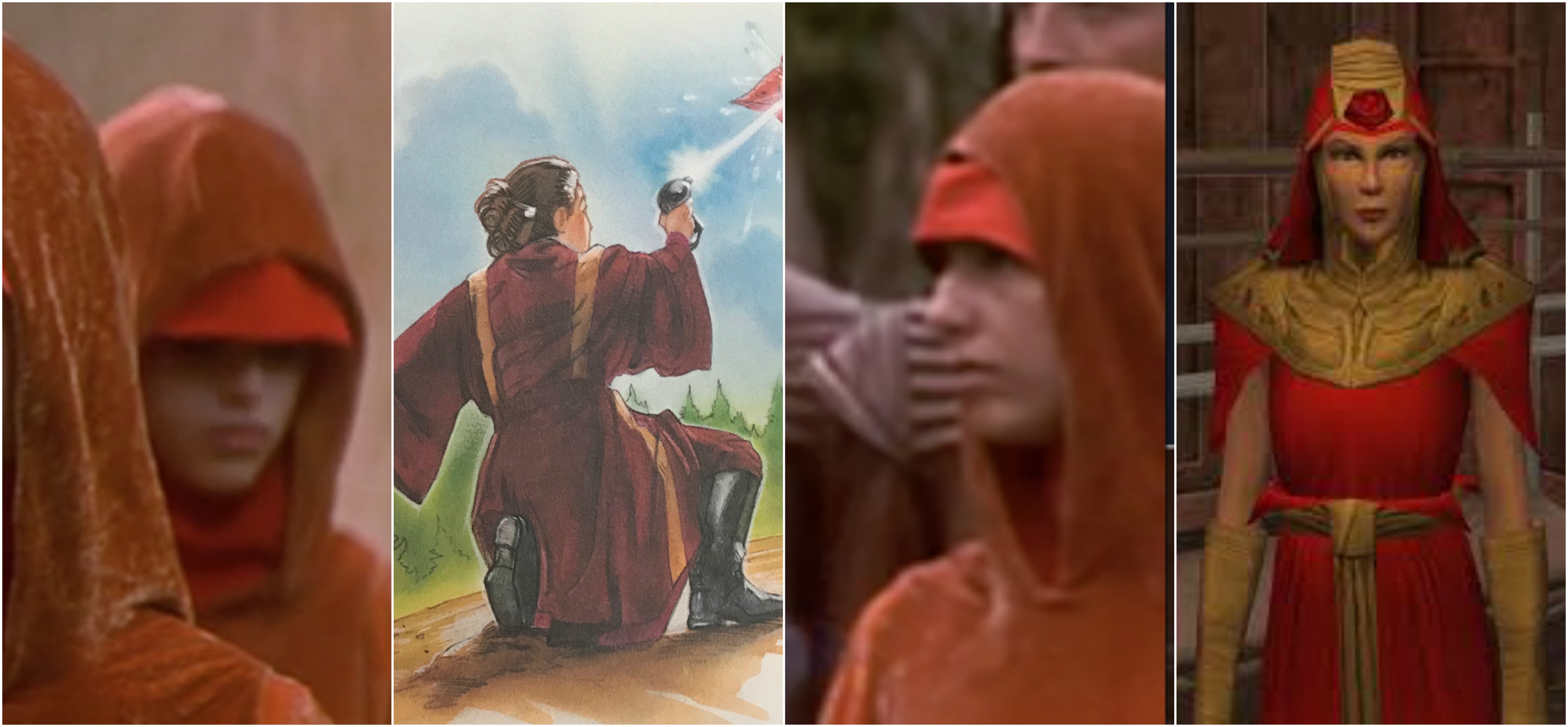 Saché and Yané are two of Queen Amidala's main handmaidens in The Phantom Menace. They are the hardest to find in the film because they do not accompany Queen Amidala to Coruscant mid-way through the film with Sabé, Rabé, and Eirtaé. Because Saché and Yané stay in Naboo, there are fewer scenes to find them in, and in most of these scenes their faces are partially obscured.
I believe that the women in the screenshot below (left to right) are Sabé, Rabé, Saché, Padmé, and Yané.
Sofia Coppola played Saché and Candice Orwell played Yané in The Phantom Menace. Coppola is now known more for her directing (Lost in Translation, The Beguiled) than her acting. The Phantom Menace is the only credit, acting or otherwise, for Orwell on IMDB.
It's very difficult to spot Yané in the film, but you can get a fairly good look at her from this Battle of Naboo card from the Young Jedi Collectible Card Game.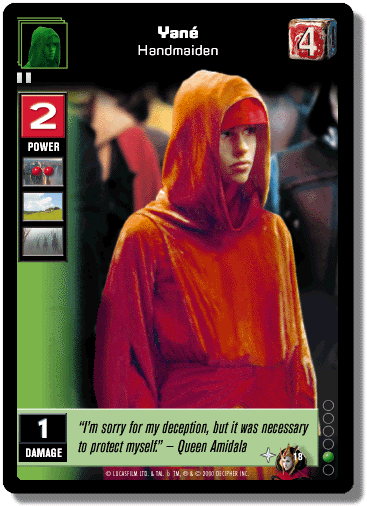 Yané also gets some love in the Young Readers book Queen in Disguise.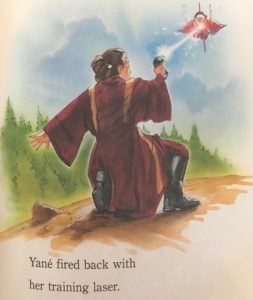 Saché can be spotted in the screenshot below seated on the right.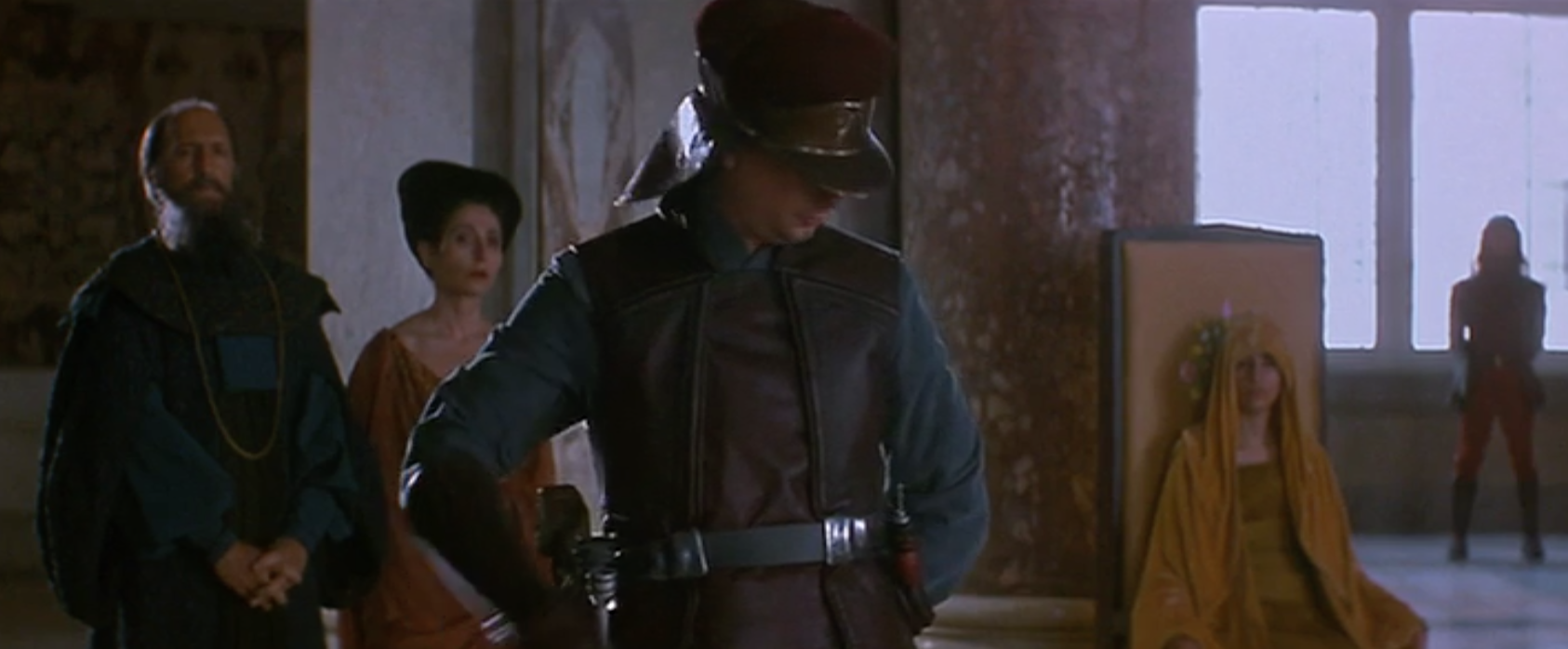 Saché was also a character in Star Wars Galaxies, a MMORPG game.
Wookieepedia has more information about both Saché and Yané. The photo of Saché from Star Wars Galaxies is from her Wookieepedia page (the only one I could find) and both pages for Saché and Yané include a list of all of the books and comics where they make appearances.
Day 24 – Fé and Dané
If you've never heard of the Naboo Handmaidens Fé and Dané you're not alone. Fé only appears in one shot at the very end of The Phantom Menace and Dané did not appear in the film at all. I'm including them in this project to shine a light on how pick-up shots (filming done after principal photography has ended) can change a film and how new characters are created for games based on large film franchises.
Let's take a closer look at the scene below where Amidala and a group of four handmaidens welcome Palpatine home before the big Naboo celebration.
In the first screenshot below you can see three handmaidens.
A fourth handmaiden to their right is revealed in this next screenshot.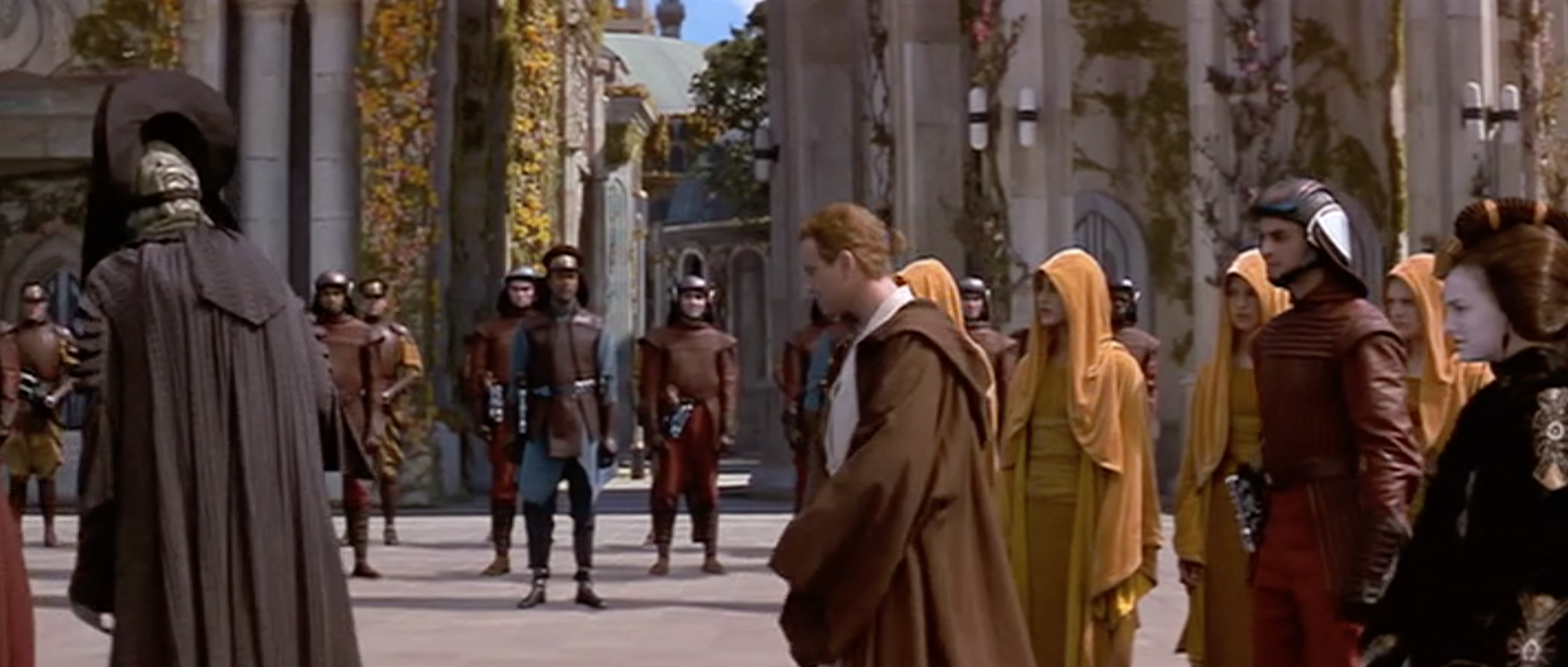 A third screenshot shows a handmaiden on the far left that looks like the one who is on the far left of the first screenshot. But who is the handmaiden to the right of her? It sure doesn't look like any of the other four handmaidens. This handmaiden is Fé played by actress Fay David. She stood in as a handmaiden at some point and it appears got a Star Wars character named after herself (well done). She even has her own Wookieepedia page.
The shot above is all we get of Fé as she seems to have disappeared in the following shots.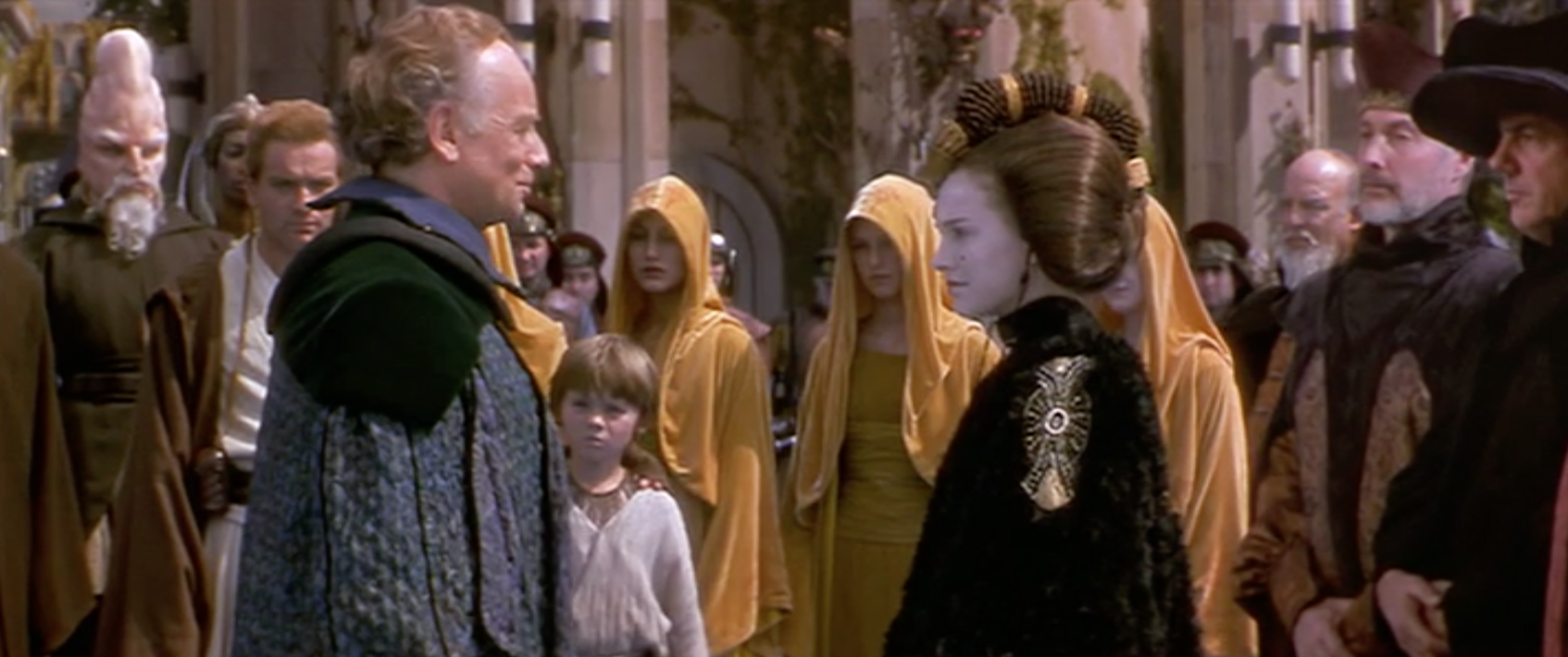 I was going to guess that some of the handmaidens in yellow in this sequence might be Eirtaé or Yané but I think it's likely that these are all different actresses who filled in for pick-up shots.
Here's a photo from Star Wars Year by Year A Visual History in a section that describes five days of pick-up photography done for The Phantom Menace that was needed to clarify action and expand on new ideas. These four women look to be the same four women in the above screenshots (notably without Fé who must have filmed her scene at a different time).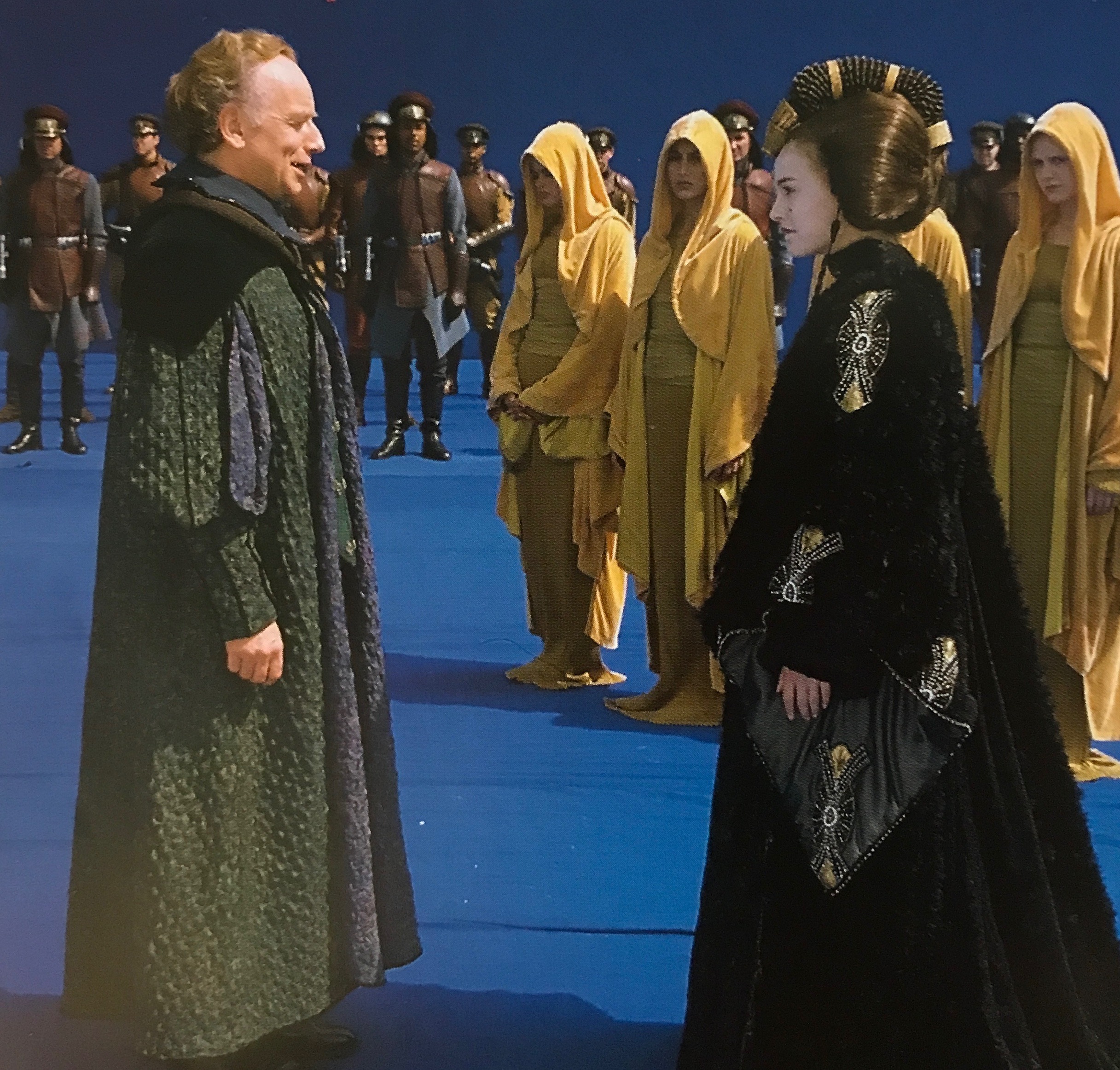 I also found this Lisa Lloyd autograph for sale (she was credited as a film extra on The Phantom Menace) here.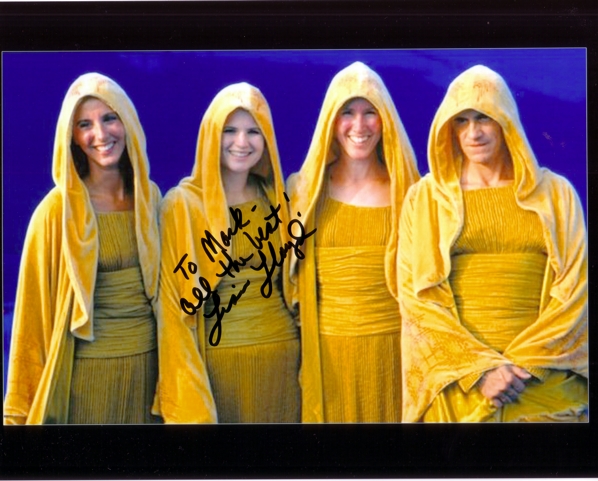 If some of the handmaidens from this scene don't have names I officially want to recommend Saffé, Romé, Elsé, and Amé as possible names as a fun reference to my daughter, my favorite cat, my niece, and myself.
The story of Dané is much more straightforward. She was a character created for the game Star Wars: Invasion of Theed Adventure Game, a roleplaying game released in 2000.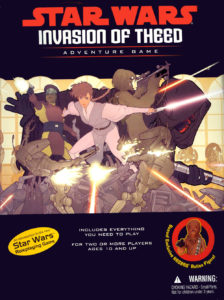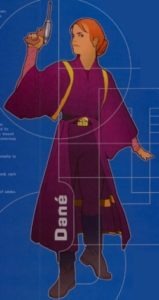 I'm not sure why a brand new handmaiden was created for this game, but she seems to have had a very full life serving as a handmaiden, mercenary, and assassin at various points in her life. Read more about Dané on her Wookieepedia page.
Day 25 – Cordé and Versé

Versé and Cordé are the first handmaidens profiled in this project from Attack of the Clones.
In the beginning of the film, we see a woman who looks like Padmé Amidala.
But this is not Padmé, it's her handmaiden Cordé serving as her decoy. As Cordé walks down a ship ramp there's another woman right behind her that you can barely see (circled below). This is Padmé's handmaidens named Versé.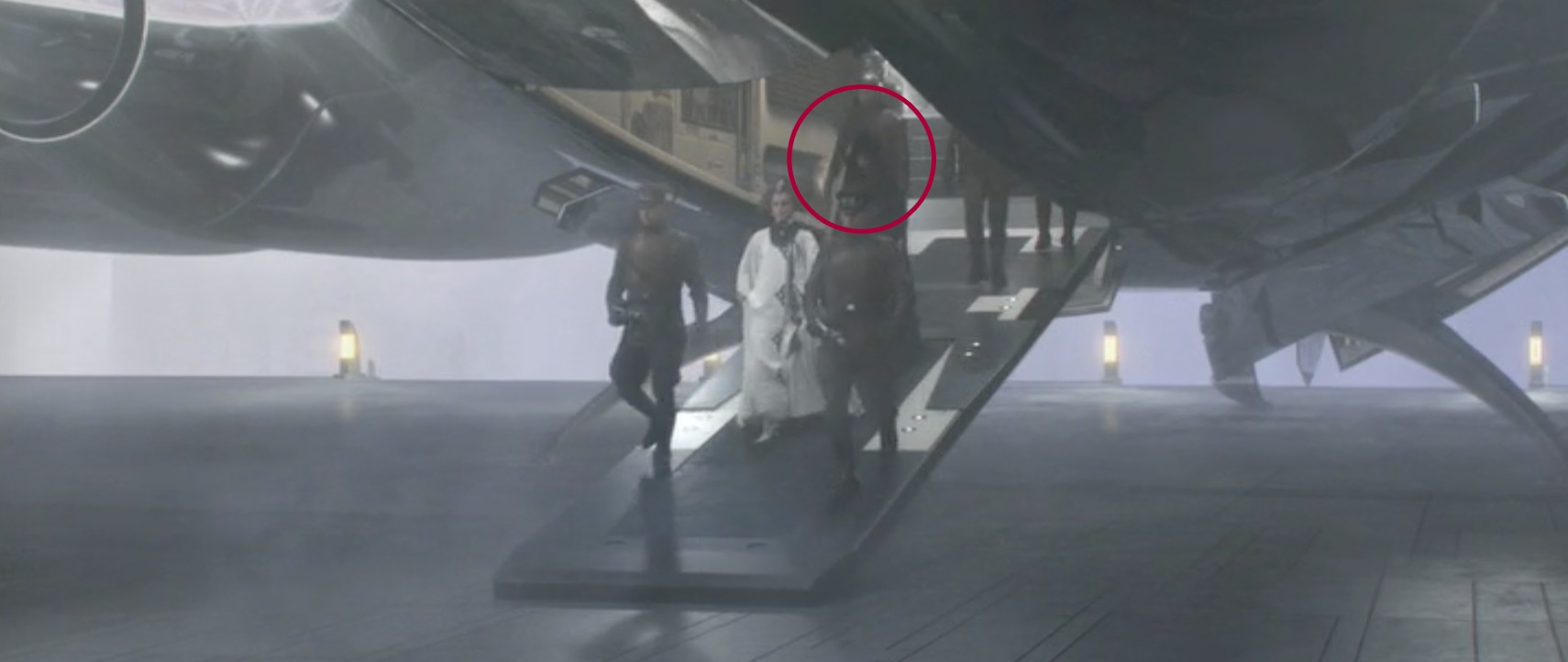 As the women are walking down the ramp there's an explosion that kills both Cordé and Versé. Padmé and Cordé (played by Veronica Segura) are able to exchange a few words before Cordé dies, but we never see any more of Versé. I couldn't find any records of the name of the actress who played Versé.
Here's the same scene in the Prequel Trilogy Graphic Novel.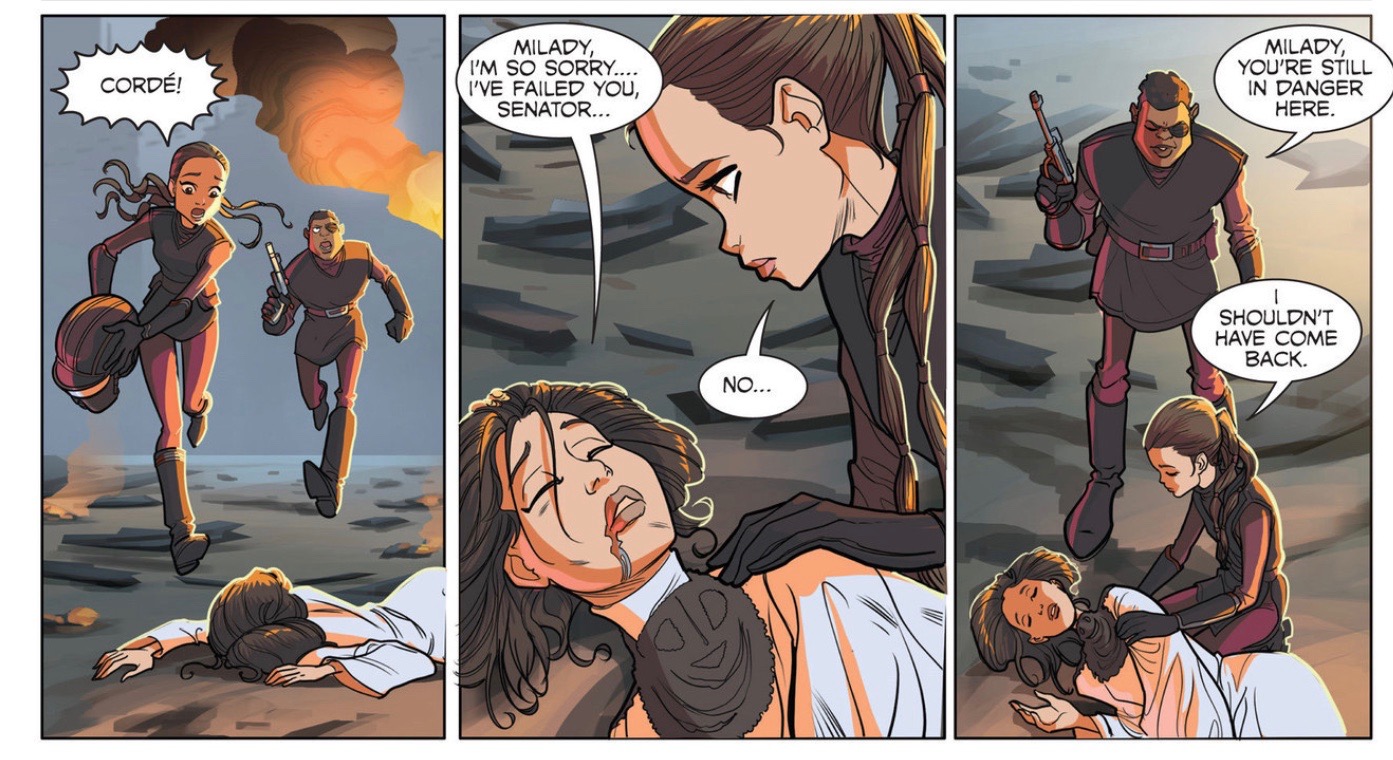 Day 26 – Dormé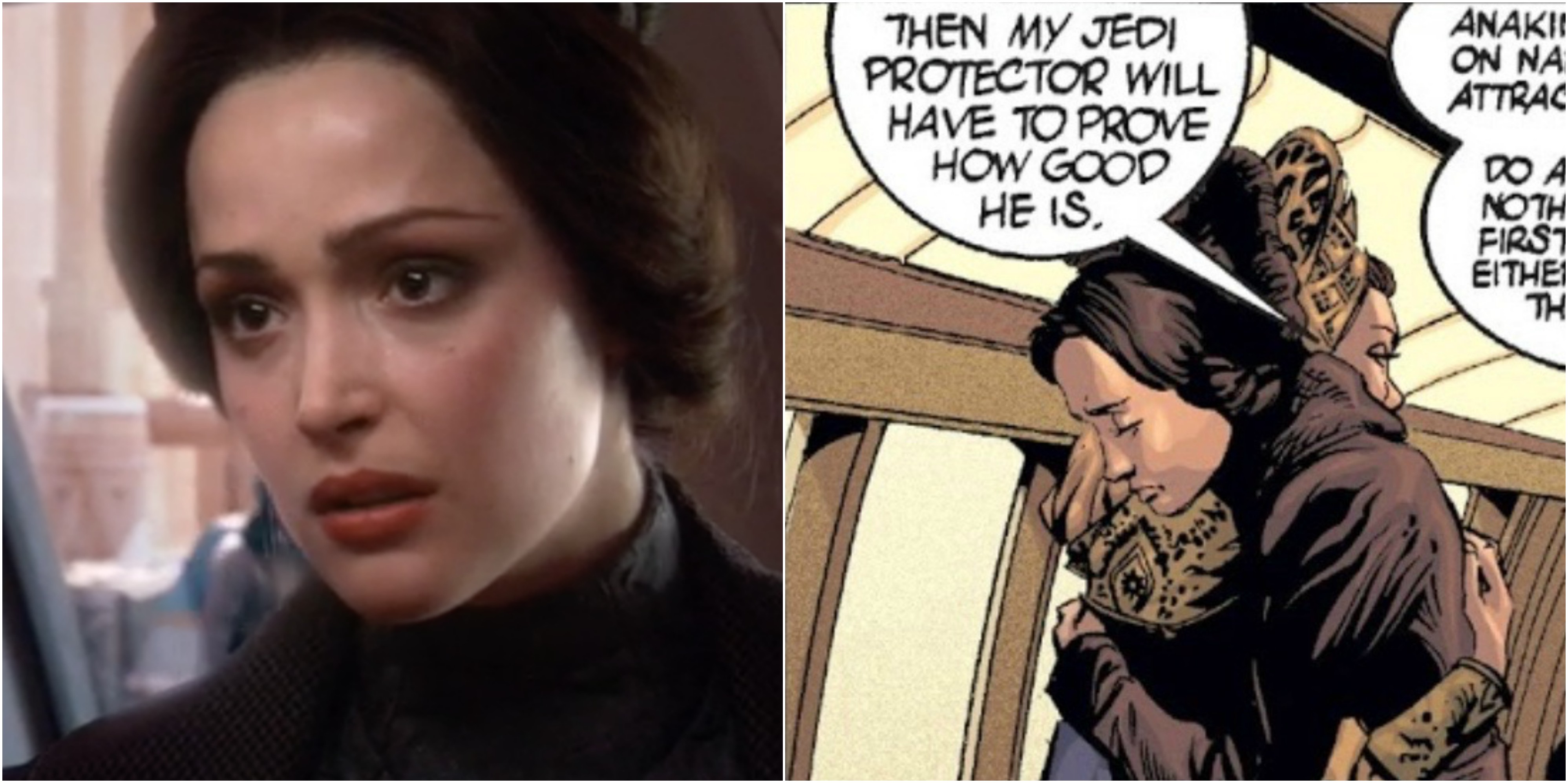 Dormé had the largest handmaiden role in Attack of the Clones. She appeared in several scenes and had a few brief conversations with Senator Padmé Amidala.
While many of the previous handmaiden scenes in The Phantom Menace and Attack of the Clones focused on the decoy/protection part of the handmaiden job, Dormé's scenes gave us a look at the handmaiden as counselor and confidante to Senator Amidala. She's as close as we got in the prequels to Padmé having a conversation with a female friend.
Dormé appeared in the Prequel Trilogy Graphic Novel but the best comic version of Dormé appeared in Issue #1 of the Attack of the Clones comic. In the scene below you truly get a sense of how close Padmé and Dormé's relationship was.
Dormé didn't get an action figure but she did get a few trading cards.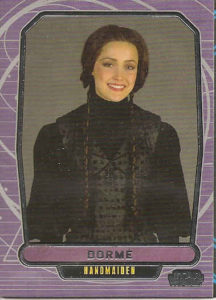 Day 27 – Teckla Minnau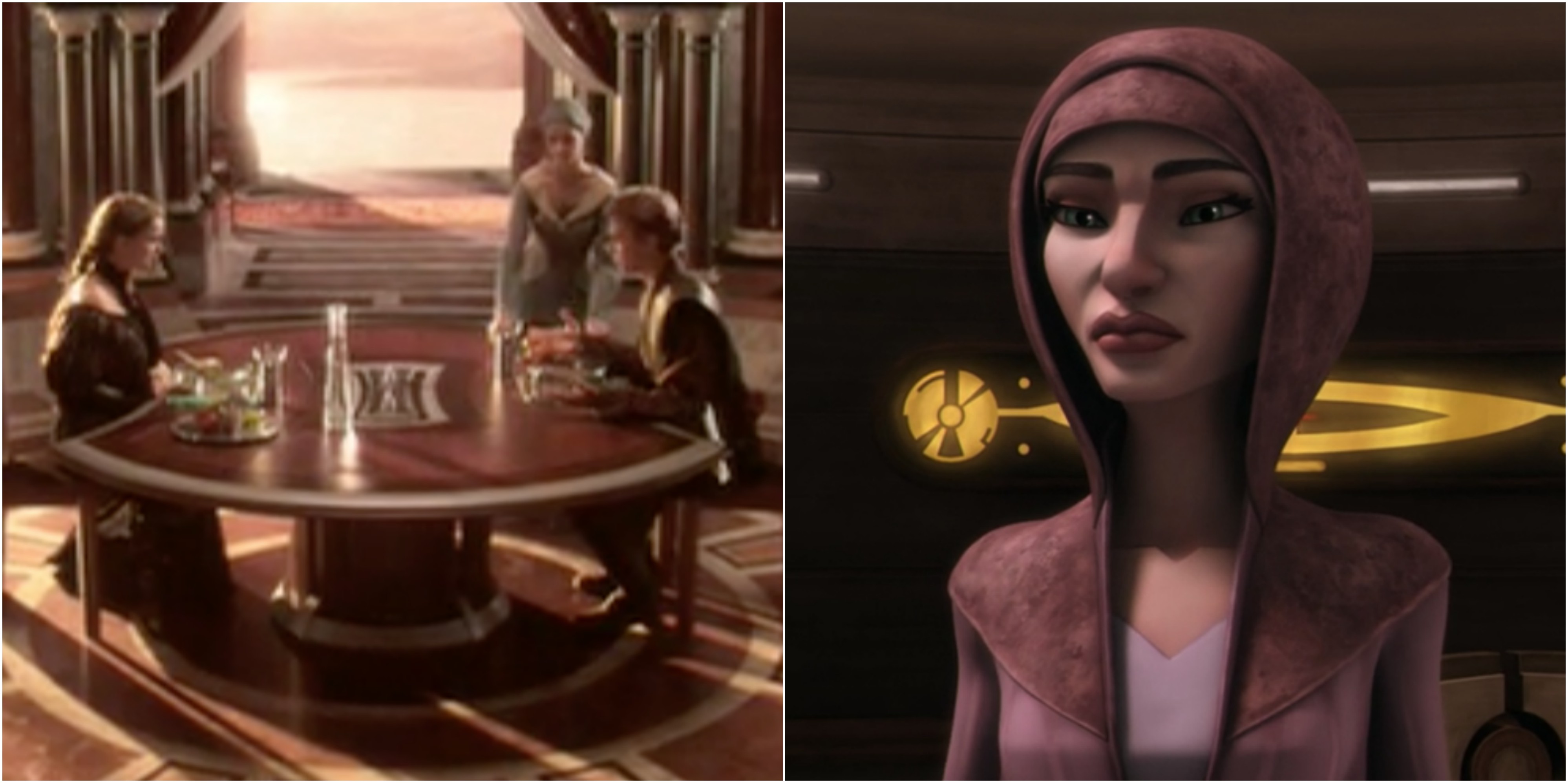 Teckla Minnau is a handmaiden introduced in Attack of the Clones after Cordé, Versé, and Dormé. You can barely see Teckla in the film though. She appears briefly serving Padmé and Anakin some food during the Naboo lake sequence.
The majority of Teckla's Star Wars scenes occurred in two episodes of Star Wars: The Clone Wars.
In the "Pursuit of Peace" Teckla talks with Padmé about war's effect on everyday people.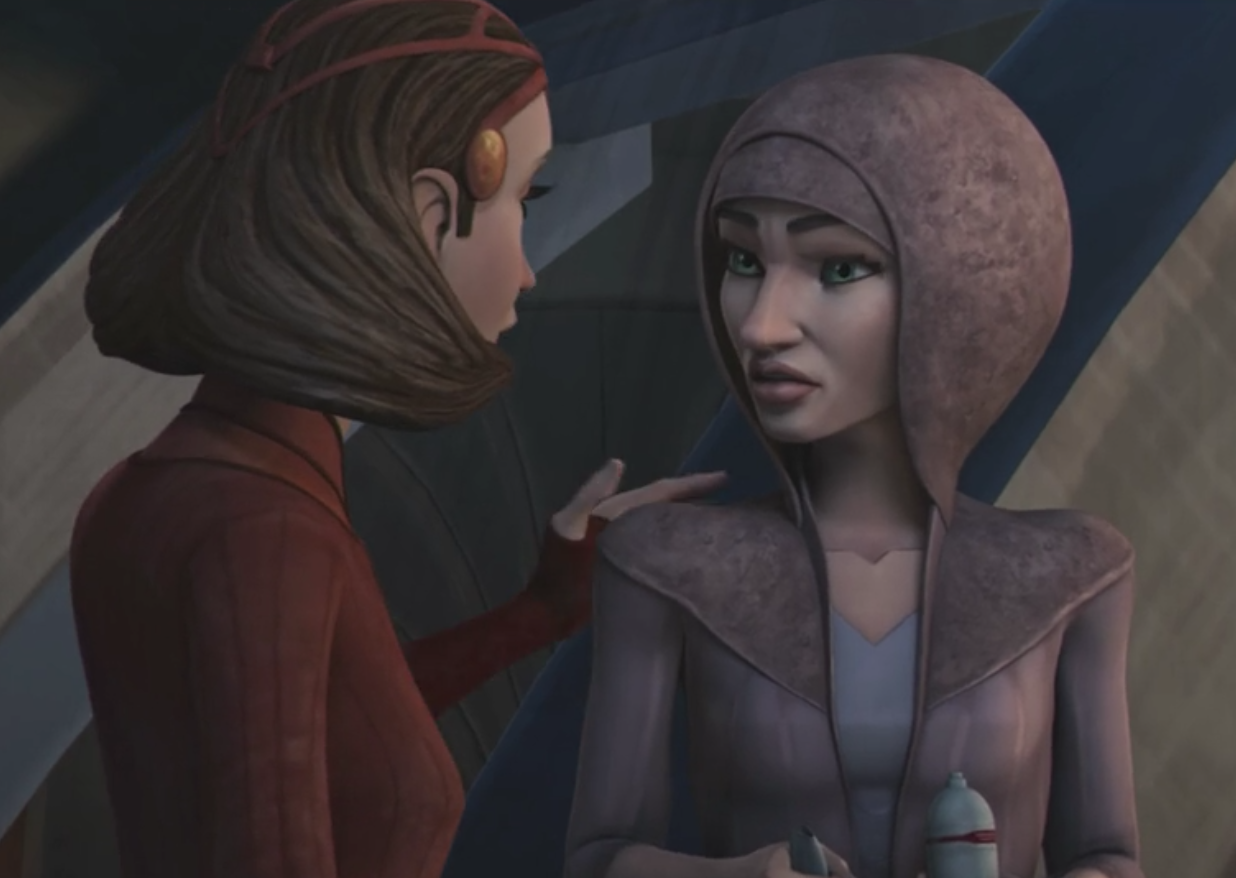 In "An Old Friend" Teckla accompanies Padmé to Scipio and sadly loses her life during an attempt to recover important Banking Clan files.
I couldn't find the name of the actress who played Teckla in Attack of the Clones, but Ashley Moynihan voiced her in both episodes of The Clone Wars.
It was great to see more interactions between Padmé and one of her handmaidens in these two episodes of The Clones Wars and I think it was overall a fun choice to decide that she was the same handmaiden who briefly appeared in Attack of the Clones.
You can learn more about Teckla Minnau on her Wookieepedia page.
Day 28 – Moteé and Ellé

Moteé and Ellé were two of Padmé's handmaidens in Revenge of the Sith. Moteé (Kristy Wright) appears in only one scene, sitting behind Padmé Amidala in her Senate box. Ellé sadly cannot be seen at all in the film. The best look you'll get of Ellé (played by Chantal Freer) is from the publicity photo above.
It's hard to find signs of any handmaiden in Revenge of the Sith. I talked about this topic and how the lack of handmaidens in the film affected Padmé's character development in this breakdown of female roles in Revenge of the Sith for FANgirl.
The Revenge of the Sith Visual Dictionary notes that both Moteé and Ellé knew about Padmé's secret marriage to Anakin and facilitated meetings between the two by serving as decoys. But this relationship between Anakin, Padmé and her handmaidens was never seen on the screen. Padmé is seen as scared and alone throughout large sections of Revenge of the Sith – a far cry from the strong and decisive Queen of Naboo from The Phantom Menace. I wonder how the inclusion of female allies to Padmé may have changed the overall feel of many of Padmé's scenes.
Here's a full screenshot of the scene where Moteé appears in the film sitting behind Padmé.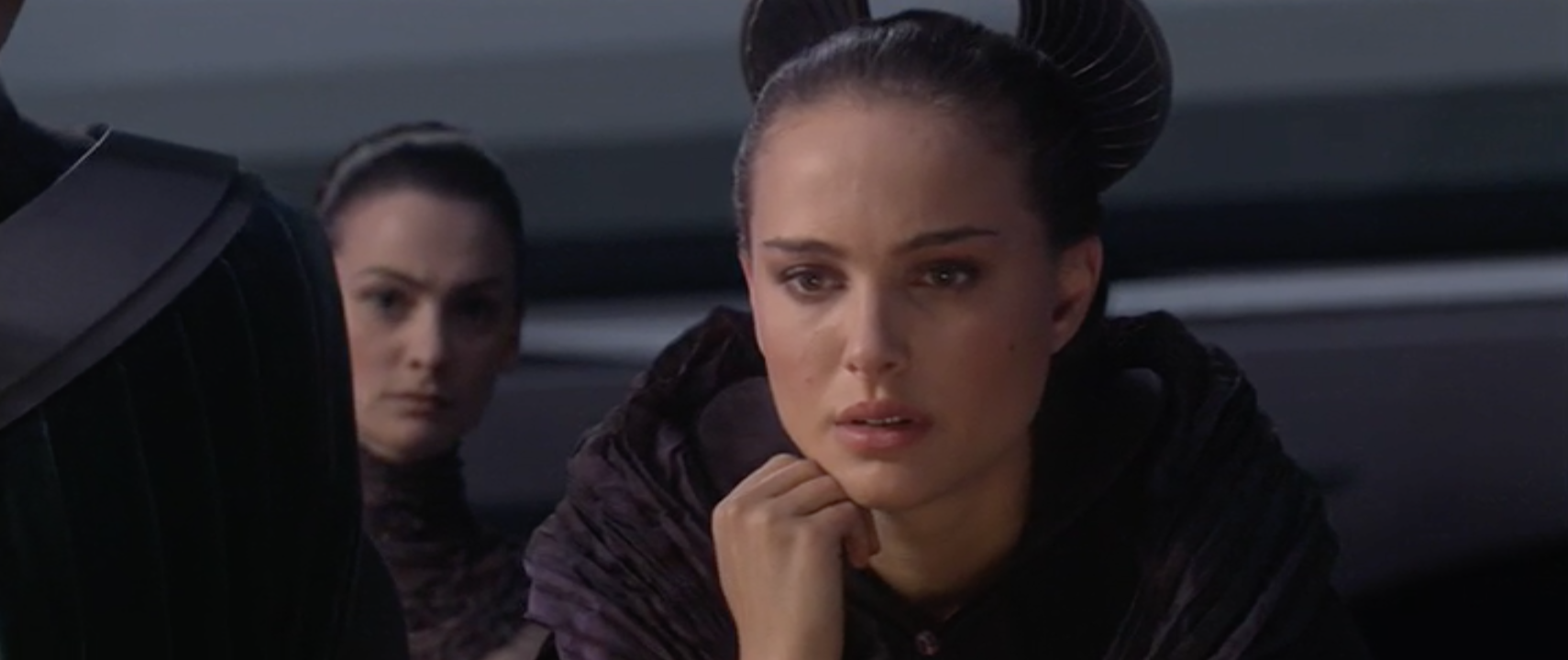 In the Revenge of the Sith Comic #4 it looks like both Moteé and Ellé are in the Senate box. I went back to this scene in Sith and it's possible Ellé was sitting on the opposite end of the box but we can't see her because we never get a wide shot of the entire Senate box. However, Jar Jar Binks was definitely not in the film version of this scene in Revenge of the Sith.
Moteé also appeared in the Prequel Trilogy Graphic Novel as well as Star Wars: Republic Dreadnaughts of Rendeili, Part 3 which is pictured below.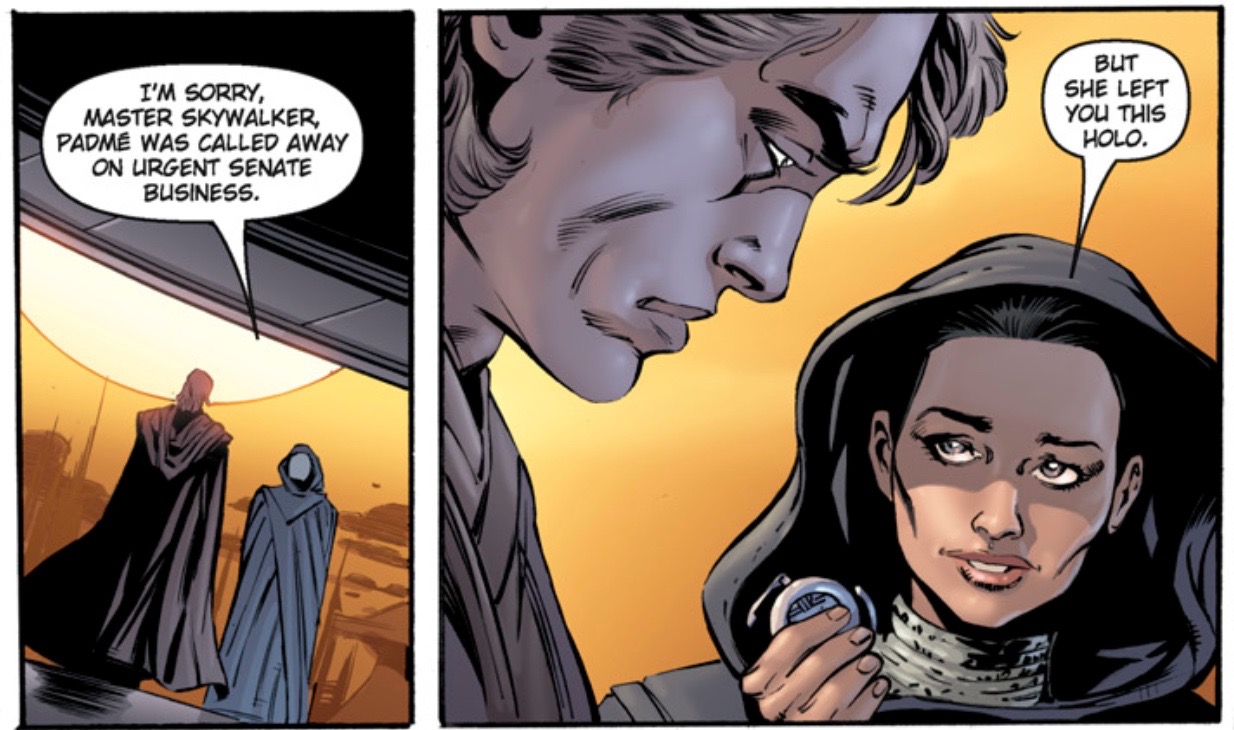 Moteé and Ellé can also be spotted in the back of this deleted scene from Revenge of the Sith.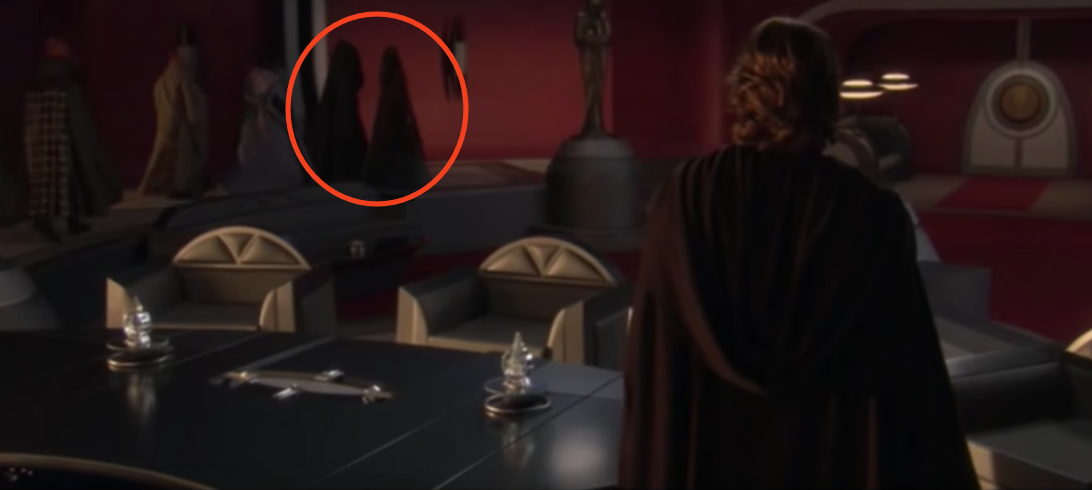 Padmé also makes a passing reference to Moteé and Ellé to C-3PO in Revenge of the Sith novelization.
It's clear Moteé and Ellé were meant to have larger roles in Revenge of the Sith but ended up almost entirely on the cutting room floor.
Day 29 – Umé, Hollé, and Miré
Despite the fact that it's nearly impossible to spot any of Padmé's handmaiden in Revenge of the Sith, five handmaiden roles were created for the film. On Day 28 I took a look at Moteé and Ellé. The remaining three handmaiden roles were Umé, Hollé, and Miré.
Both Umé and Hollé can be spotted in Padmé's funeral procession.
Umé (unknown actress) is standing to the left of Queen Apailana below.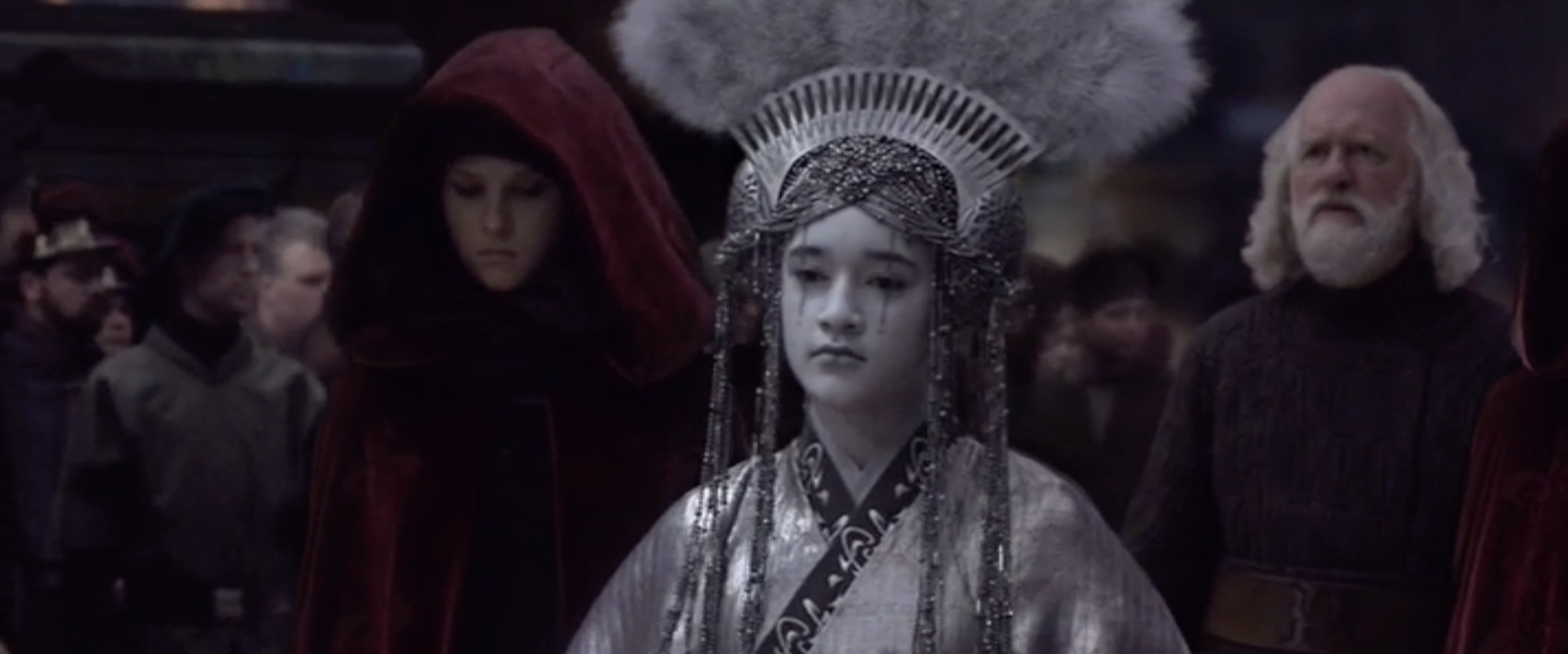 Hollé (unknown actress – perhaps Holly Stringer?) is to the right of Jar Jar Binks in the screenshot below.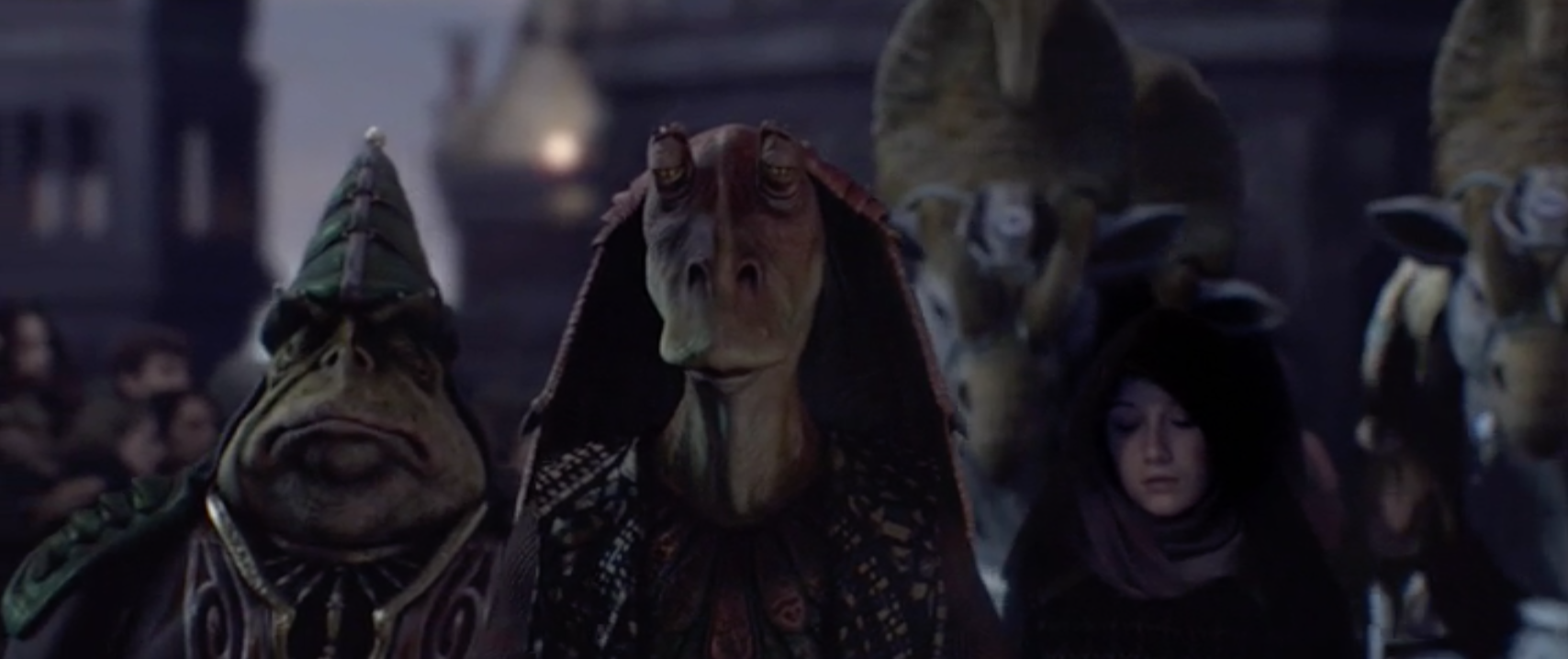 Miré (also unknown actress) did not appear in Revenge of the Sith. I don't know if Miré even shot any scenes for the film. I believe this character only ended up with a name because she appeared in a few Star Wars reference books. Miré, Umé, and Hollé all appeared in Trisha Biggar's prequel costume book Dressing a Galaxy. They all also appeared in the Star Wars Visual Encyclopedia.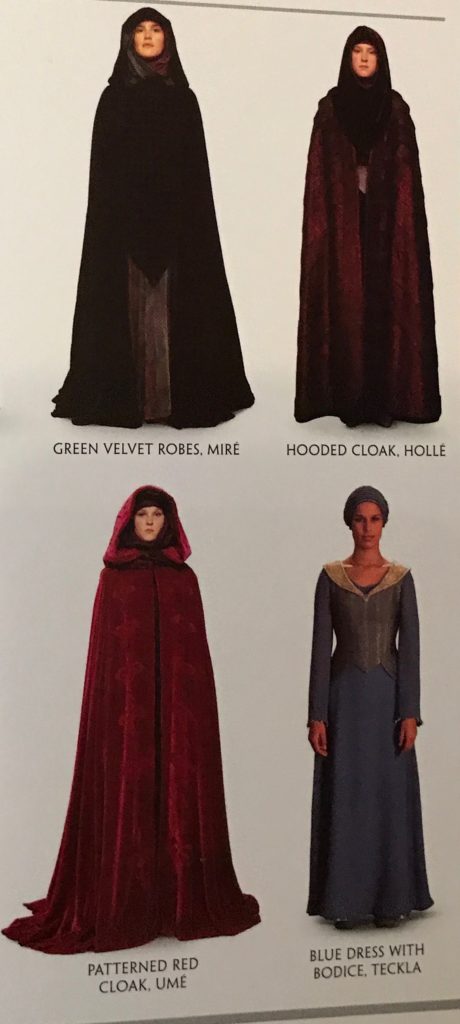 .
If anyone has the names of these actresses (Holly Stringer is credited simply as "handmaiden" on IMDB – maybe she's Hollé?) let me know! I'm also curious if Umé, Hollé, and especially Miré shot more scenes for Revenge of the Sith.
Day 30 – Leigh Brackett
Leigh Brackett was a writer who crafted the first draft of The Empire Strikes Back. But writing a screenplay for a Star Wars film was just a tiny part of Brackett's lengthy and impressive writing career.
Brackett started writing science fiction short stories in the early 1940's. She authored dozens of short stories throughout the 1940's and 1950's and wrote over ten novels.
Leigh Brackett also wrote the screenplay for several classic films including The Big Sleep (1946), Rio Bravo (1959), Hatari! (1962), Eldorado (1967), and The Long Goodbye (1973).
Sadly Brackett died only weeks after she submitted her draft for The Empire Strikes Back to George Lucas. Lucas ended up essentially starting over and not using the script she wrote for The Empire Strikes Back, but many fans argue you can see some elements from her draft in the final film.
This article from io9 is a good read to learn more about Brackett's impressive career and her involvement in The Empire Strikes Back. You can download her draft of The Empire Strikes Back script here.
Day 31 – Natasi Daala
Natasi Daala was an admiral in the Imperial Navy who debuted in Kevin J. Anderson's The Jedi Academy Trilogy (books that are now considered Legends).
Daala was the first woman to become an admiral in the Imperial Navy. Wilhuff Tarkin was her mentor and at one point lover. She was a ruthless officer over her long career who didn't care for Force users whether they fell on the light or dark side.
Daala appeared in over a dozen Legends books, including several Fate of the Jedi novels, and was mentioned in many more.
You can learn more about Daala's story arc in this video from Star Wars Explained.
There's even more to learn about Daala on her Wookieepedia page.
Click here to start the February 365 Star Wars Women page.