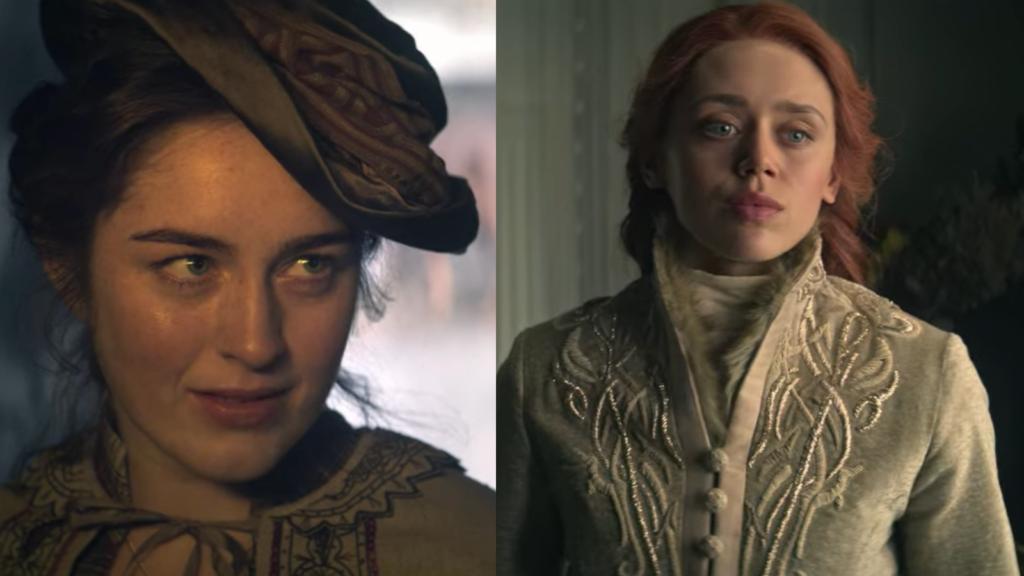 Welcome to another installment of the "Women of" series at 365 Star Wars (the one series that's not always about the galaxy far, far away). This series takes a look at where female characters are (and sometimes where they aren't) in films and TV series. These articles are mostly chronological but are not full plot recaps (especially for productions that don't have many female characters). But they do include spoilers so consider yourself warned. Check out the first installment of The Women of Shadow and Bone here.
Episode 3–The Making at the Heart of the World
Episode 3 opens with Alina waking up in the Little Palace. After only a few minutes to herself, a group of women burst into her room. One of the women is Genya, a Grisha Tailor with the rare gift of being able to (temporarily) modify a person's appearance.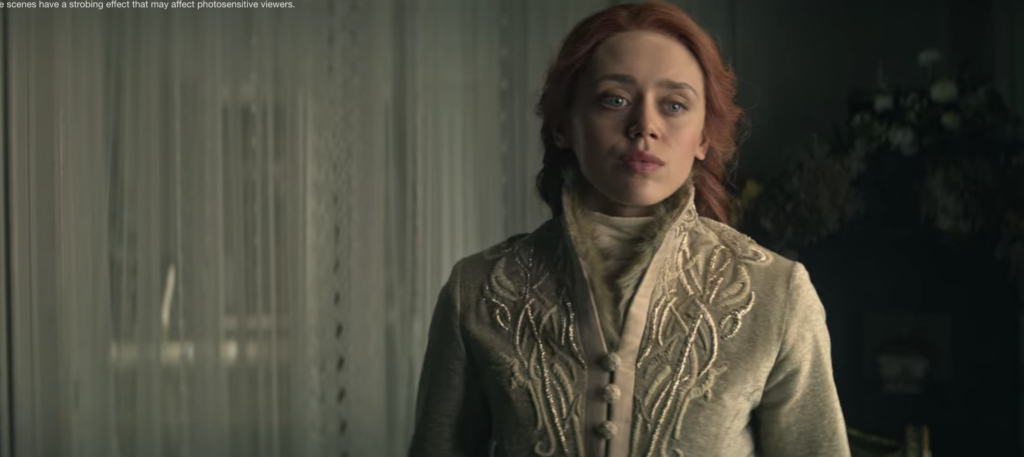 While Genya is kind to Alina, the attendants are rude and racist when it comes to the Shu and Alina.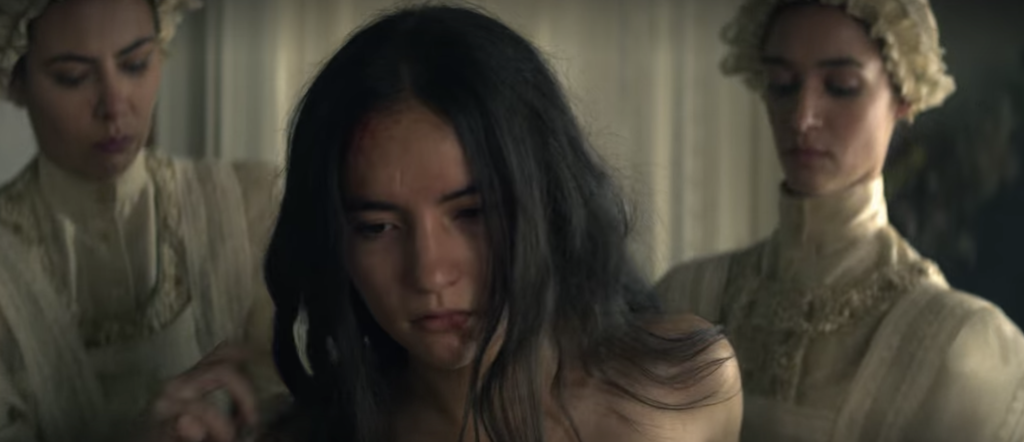 While Genya doesn't challenge the racist remarks made to Alina she at least kicks the other attendants out of her room and refers to them as miserable shrews. Genya explains that she was gifted to the Queen by Kirigan (red flag Alina!) and she doesn't have control over her staff. Genya assures Alina she won't make drastic changes to her appearance and doesn't fight Alina when she requests to keep one of the scars that reminds her of Mal Genya's gifts could easily erase.
The first female friendship of Shadow and Bone is born. Never take female friendships for granted in a TV series or film because they can be quite elusive to find in a shocking amount of them!
Back at Novokribirsk (West Ravka) Kaz, Jesper, Inej, and the Conductor make a plan to contact Nina, a Heartrender who grew up in the Little Palace.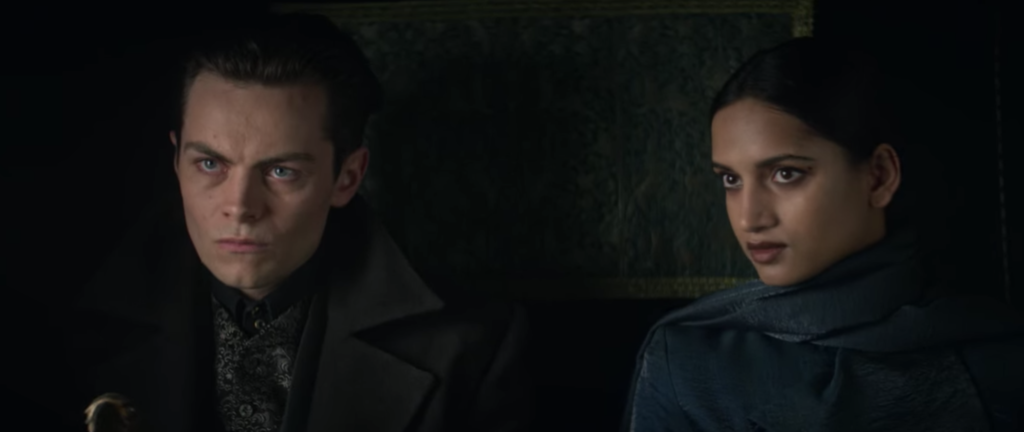 Nina is described by the Conductor as a radical. Someone who values individual independence over someone else's cause or army.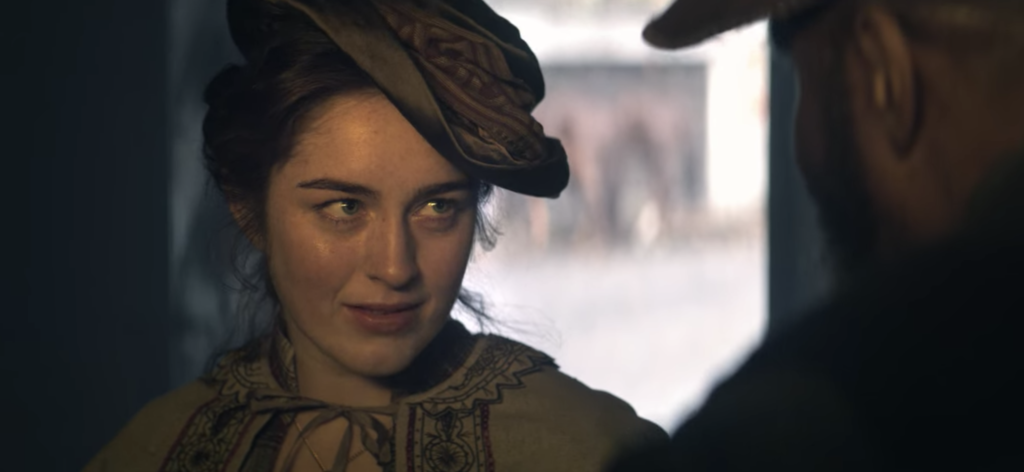 But before Kaz catches up with Nina she is kidnapped by Drüskelle (Grisha hunters).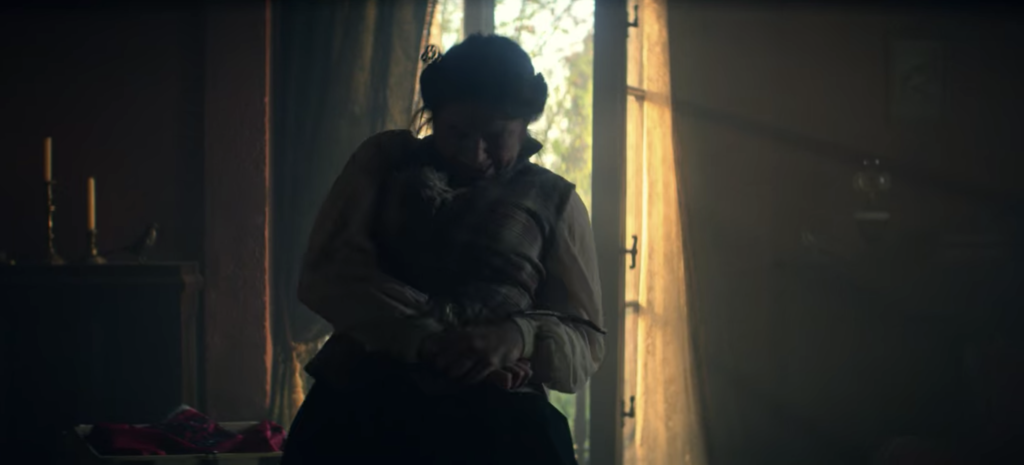 Despite Nina's abduction Kaz, Jesper, and Inej are still all-in on the plan to cross the Fold. The Conductor, not so much at first, but he agrees in the end.
After Genya finishes a few modifications to Alina's appearance, Kirigan takes her to meet the King and Queen of Ravka who appear to be as obnoxious and awful as Genya hinted at earlier. (I don't have a specific screenshot of the servants in the Grand and Little Palace but the woman standing behind the queen is representative of them in the show. They are all dressed in white and keep to the background.)
Alina is able to summon the light when Kirigan takes hold of her arm which delights the King and Queen, their subjects, and the Grisha also present.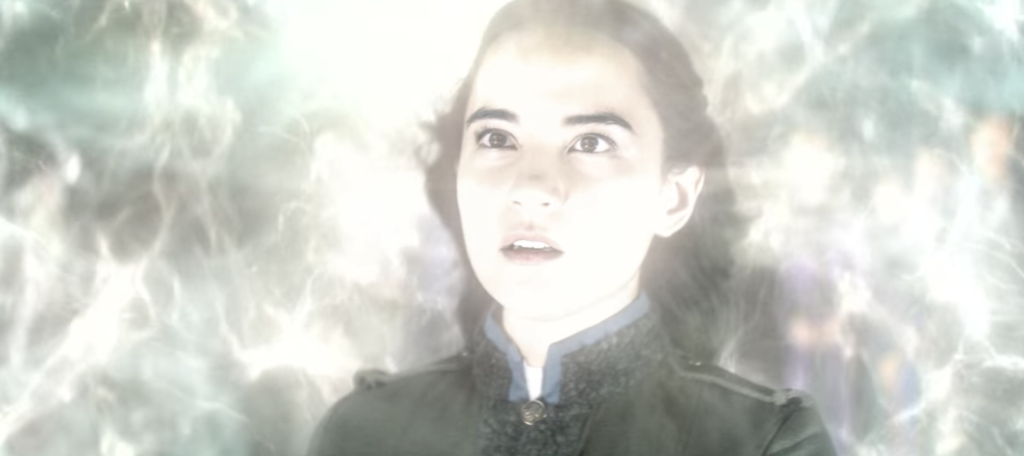 Fun fact: the first Grisha to hug Alina in this scene is Grishaverse author Leigh Bardugo.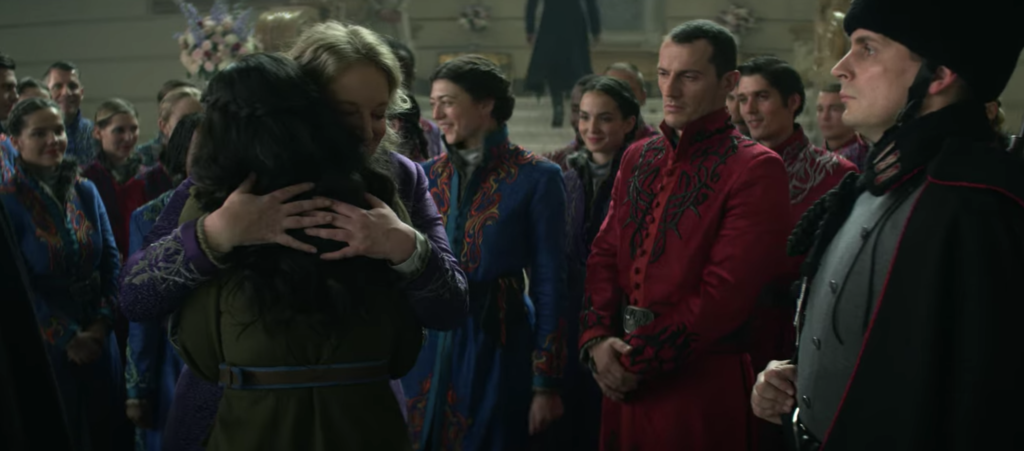 Everyone seems delighted with Alina … except (of course) Zoya. It's becoming clearer and clearer that Zoya sees Alina as a personal threat more than a savior for the Grisha.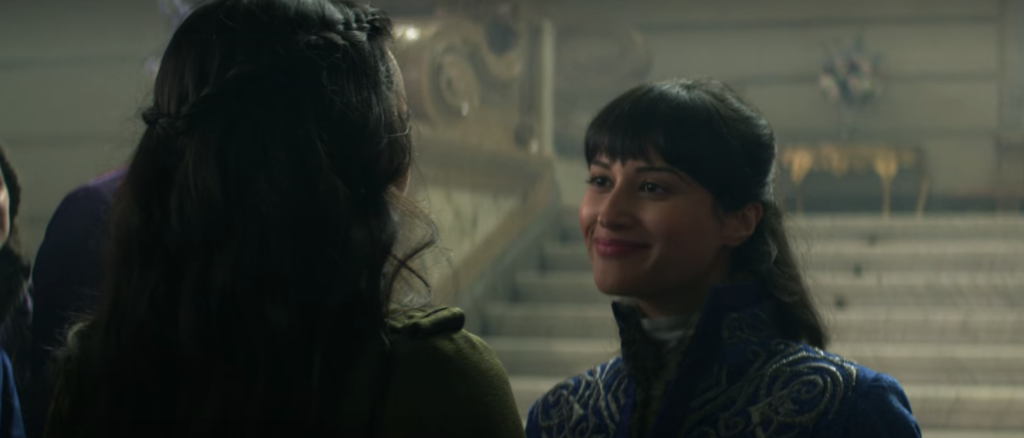 I'm including the next screenshot because it contains a wonderful moment with Inej about her past and because Milo the goat was played by twin female goats. Don't believe me? Read this article. (You're welcome.)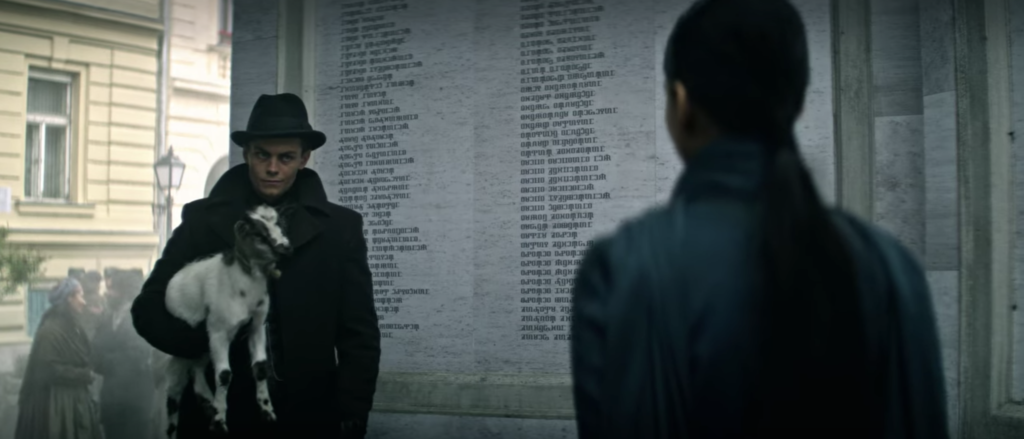 In the next scene we catch up with Nina who has been chained up in the bottom of a boat carrying at least two other female Grisha prisoners.
Back at the Little Palace, Nadia and Marie take Alina to her first Grisha combat training.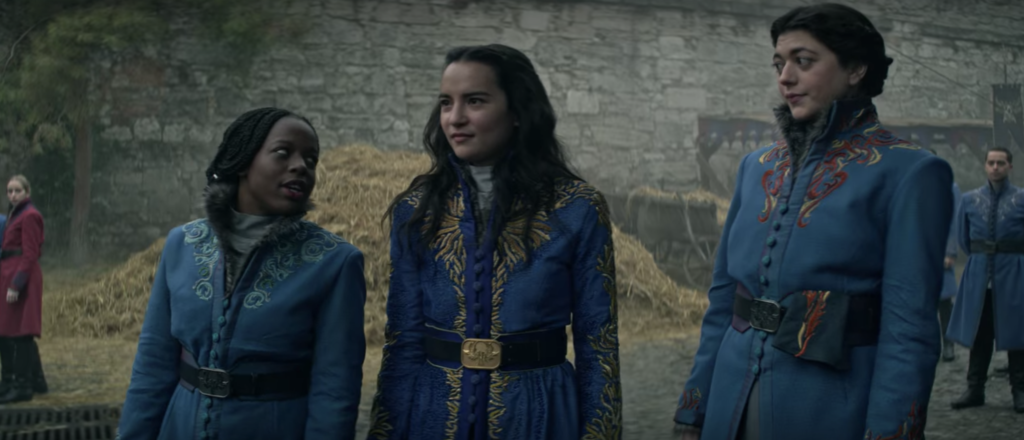 Alina picks Zoya as her first sparring opponent and it doesn't go very well for her. But Alina doesn't back down and Zoya loses her temper quite quickly and uses her powers to toss Alina across the yard. (That REALLY doesn't go over well).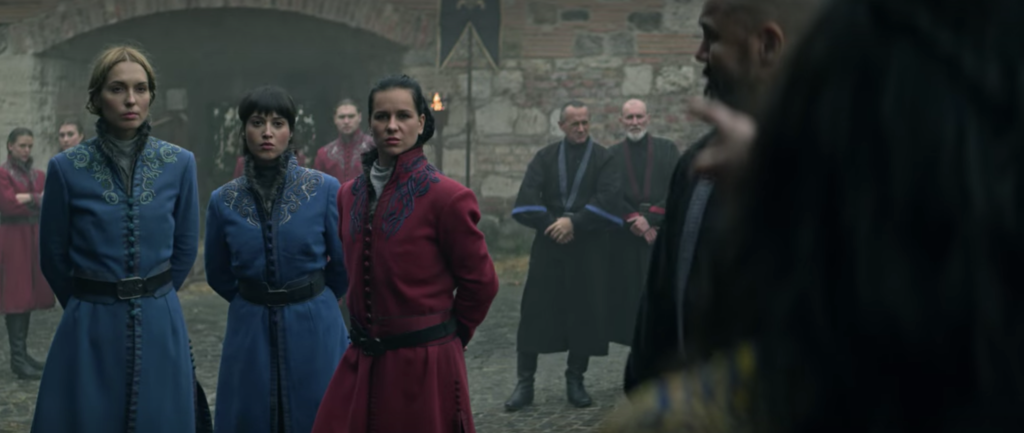 Up next for Alina is a visit with Baghra, who trains all Grisha. Baghra is delightfully and thoroughly unimpressed with Alina during this first meeting.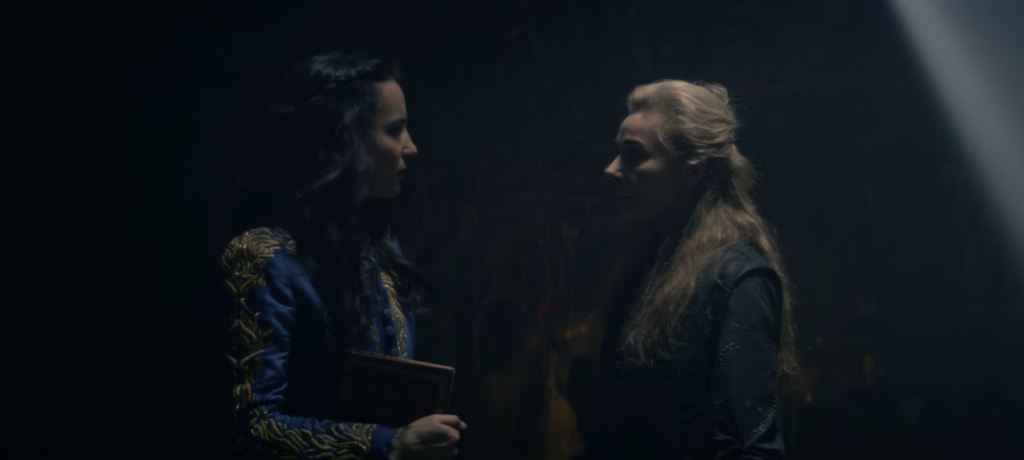 As the episode ends Nina is still imprisoned on the boat heading for a trial that will surely lead to her death, Inej has successfully crossed the Fold, and Alina is feeling more confused than ever about who she is and where she belongs.
Coming soon … Episode 4.