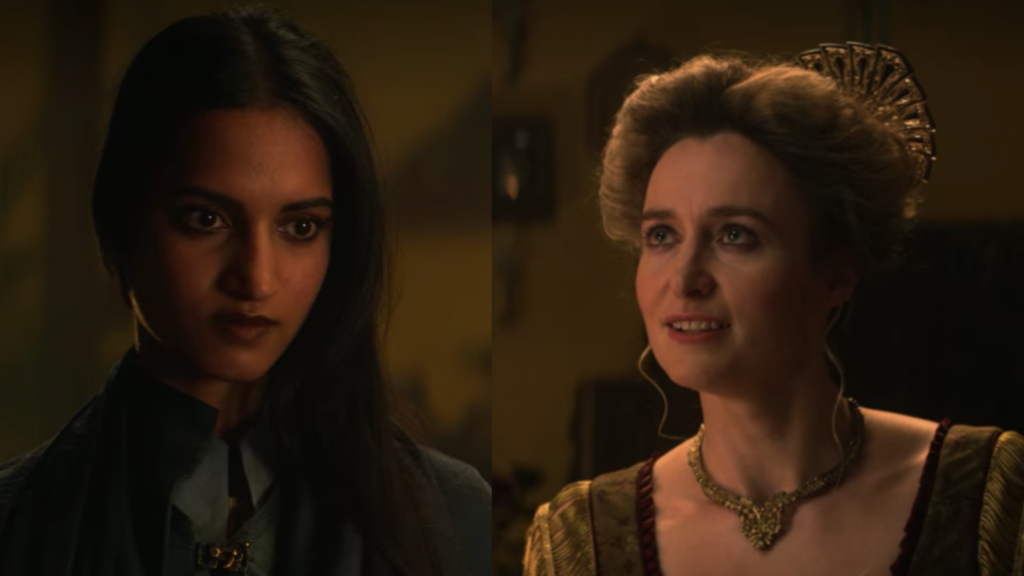 Welcome to another installment of the "Women of" series at 365 Star Wars (the one series that's not always about the galaxy far, far away). This series takes a look at where female characters are (and sometimes where they aren't) in films and TV series. These articles are mostly chronological but are not full plot recaps (especially for productions that don't have many female characters). But they do include spoilers so consider yourself warned. Check out the first installment of The Women of Shadow and Bone here.
Episode 2–"We're All Someone's Monster"
Episode 2 begins with a flashback to the orphanage where Alina and Mal grew up. In this scene, a boy is telling some of the kids about the test they will someday take to reveal if they are Grisha.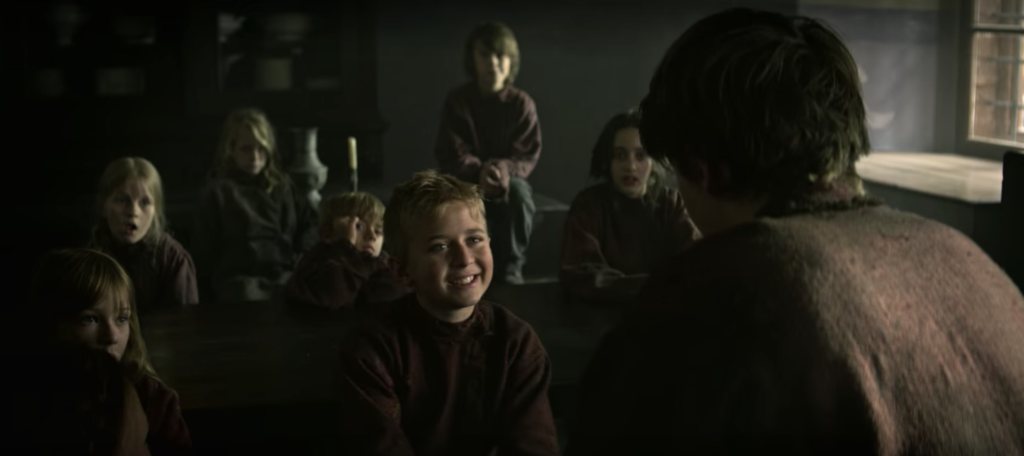 Alina and Mal hide from the visiting Grisha testers, however, so there is no chance they will be split apart.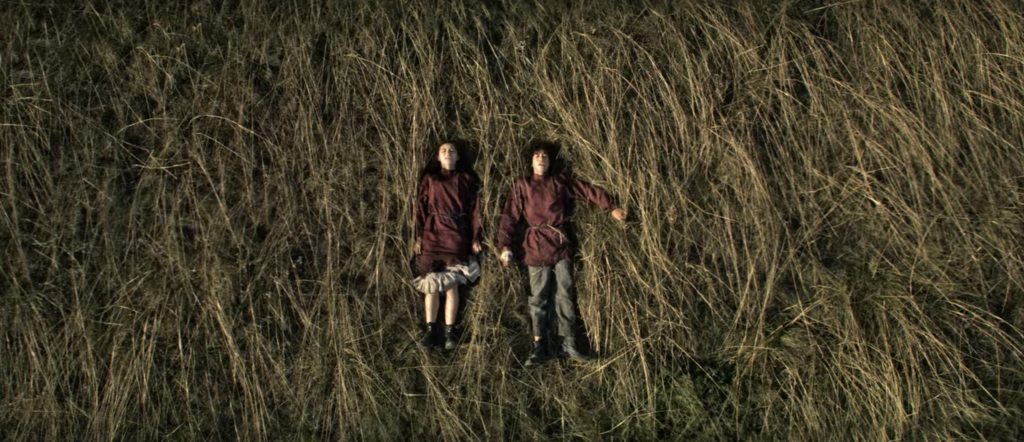 The sandskiff, now back at Kribirsk in East Ravka, has a few survivors including Alina, Mal, and Zoya who calls for a Healer to attend to Alina. (This is the first time we see a Grisha Healer in action)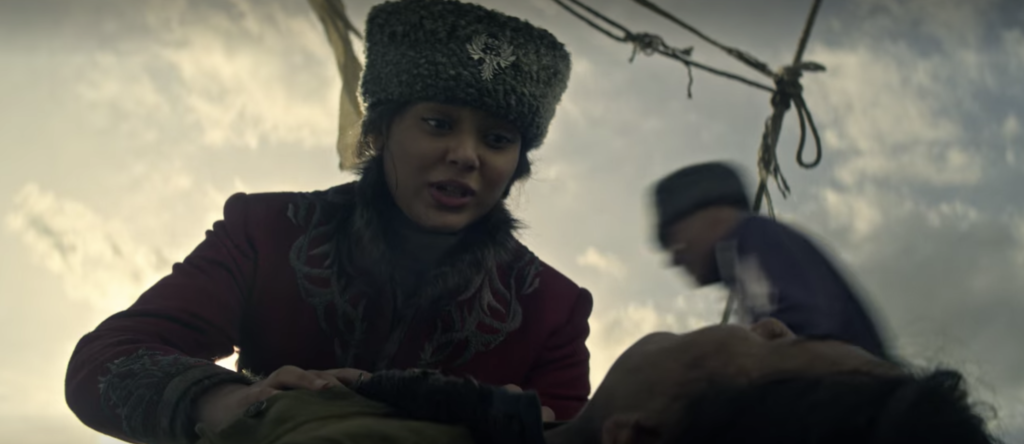 Back at Ketterdam, Inej tries to reason with Kaz about the dangers of crossing the Fold and reminds him that she is not free to travel as she pleases like he is.
After being attended to by the Healer, Alina is taken to General Kirigan. While Alina has no memory of summoning light while in the Fold several Grisha point to her as the source and a cut from Kirigan proves that Alina is, in fact, a Sun Summoner.
Zoya is one of the Grisha who witnessed the light coming from Alina on the skiff and now with Kirigan.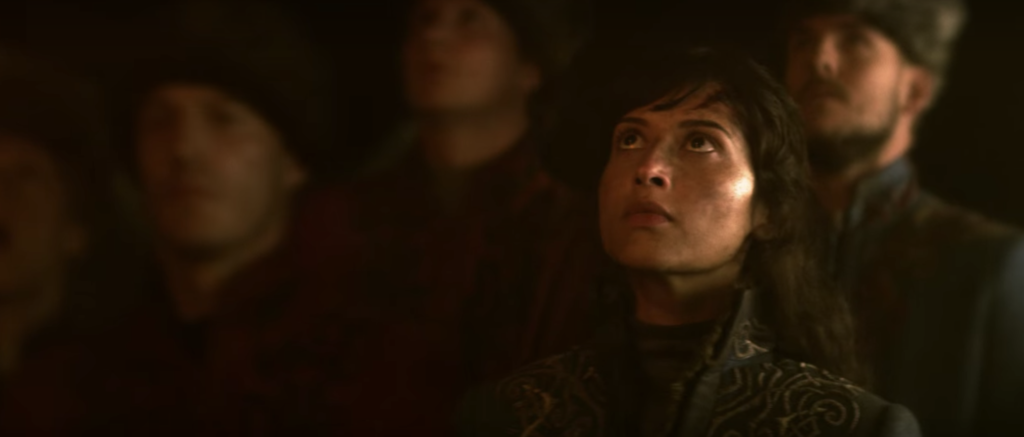 Kaz, still trying to figure out how to cross the Fold safely, questions a woman (with a skill for card counting) who points him in the direction of The Conductor who helped her cross the Fold with her daughter. This scene is one of my favorites with Kaz as it shows how his attention to detail helps keep him a step ahead of other local criminals.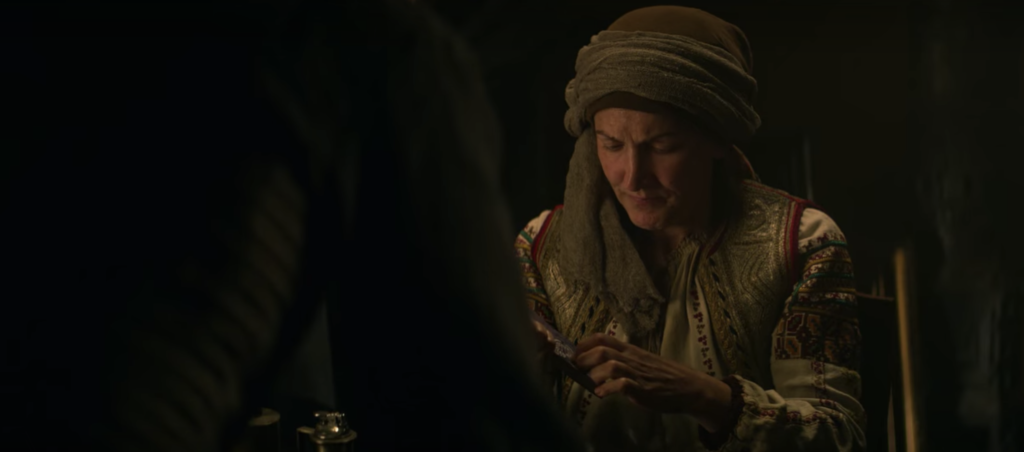 Inej is then called to Tante Heleen's office. (She is the one Inej is bound to because of an indenture contract.) It's pretty clear from the women outside The Menagerie what kinds of activities take place here and why Inej is so motivated to free herself from this contract.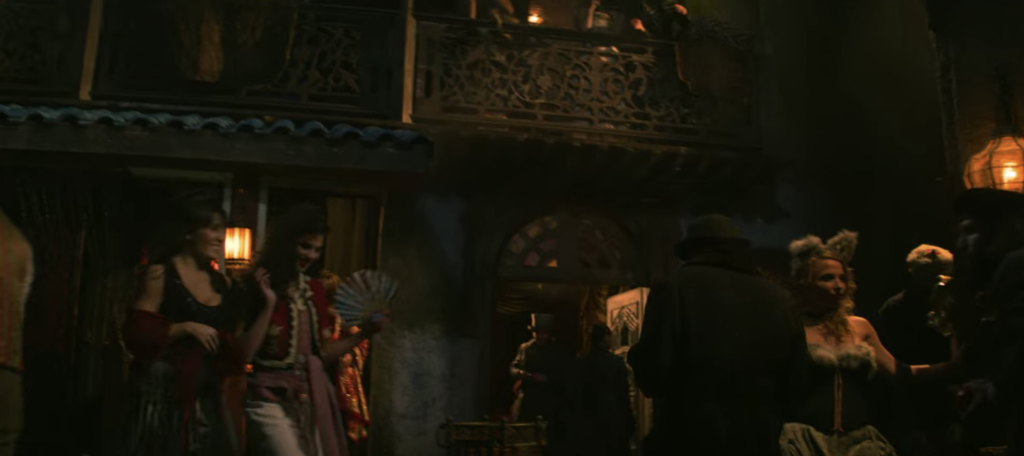 Here Heleen reminds Inej what she already knows quite well–she can't leave town without Heleen's permission. Heleen then offers Inej her freedom if she kills a man in exchange. A man who turns out to be … the Conductor. (We also get our first look at Inej's amazing set of knives in this sequence)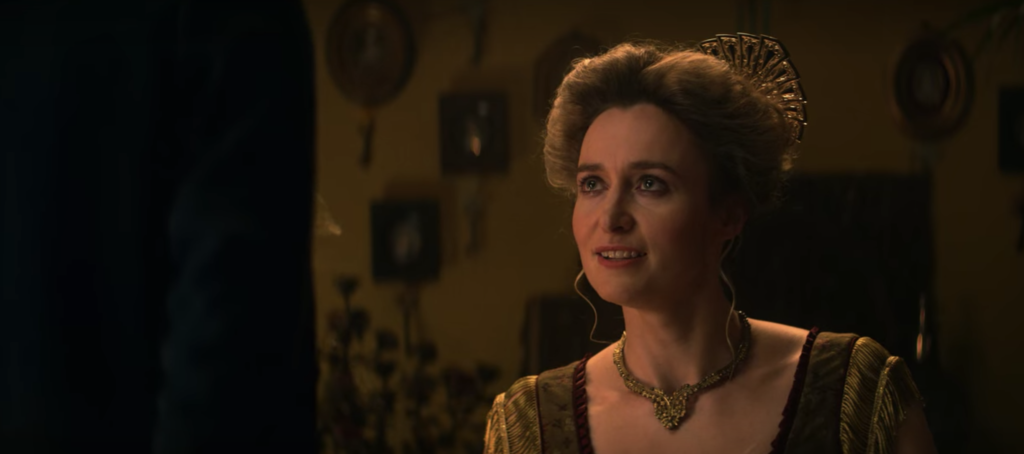 On the hunt for the Conductor, Kaz visits Poppy. (The card counting woman told Kaz earlier she stayed with Poppy after her journey across the Fold with the Conductor).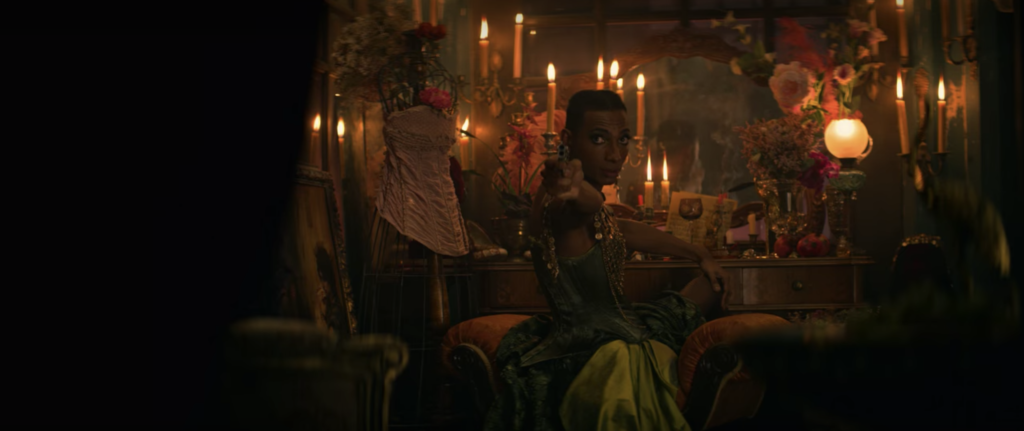 Like Inej, Poppy tries to reason with Kaz that he's in over his head with this job, but when it becomes clear the Conductor's life is in danger Poppy tells Kaz where to find him.
Inej is a master with her knives and can sneak up on anyone but she's not a killer. Or at least she doesn't want to be. She questions the Conductor in a scene where we learn that Inej and her brother were kidnapped and separated when she was a teenager.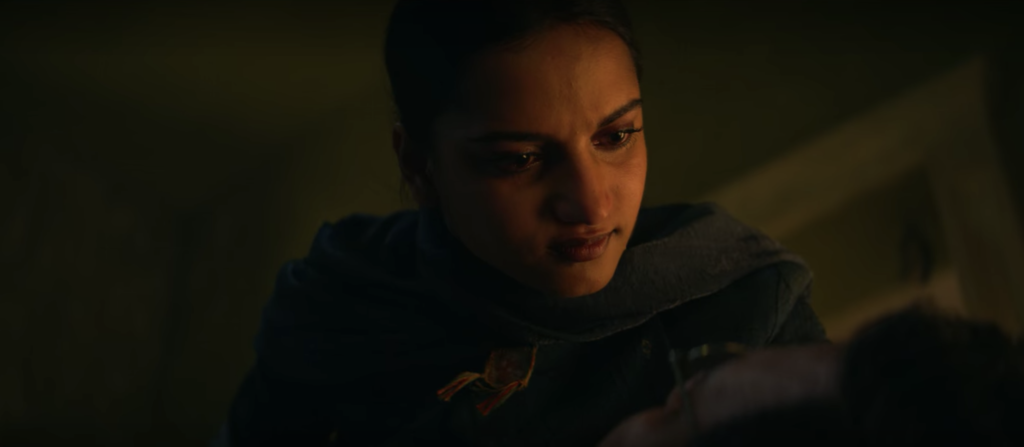 When Kaz appears Inej agrees to not kill the Conductor. To be fair, it didn't seem like Inej really wanted to kill him. But since killing the Conductor was a path to her freedom from Helene Inej backing off here shows just how much she trusts Kaz.
After an attack from the Drüskelle (Fjerdans who hunt Grisha) Kirigan and Alina arrive at the Little Palace. The only safe place for Grisha and a place where Alina can train and learn to control her new gifts as a Sun Summoner. But Alina feels more like a prisoner than a savior at first.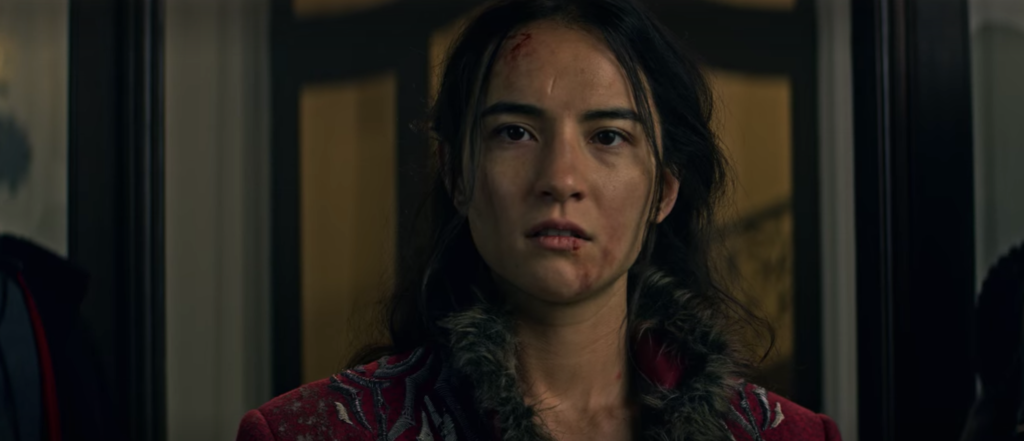 Back in Ketterdam, Kaz places his financial future in the hands of Heleen. He gives her the deed to the Crow Club in order to take Inej with him across the Fold.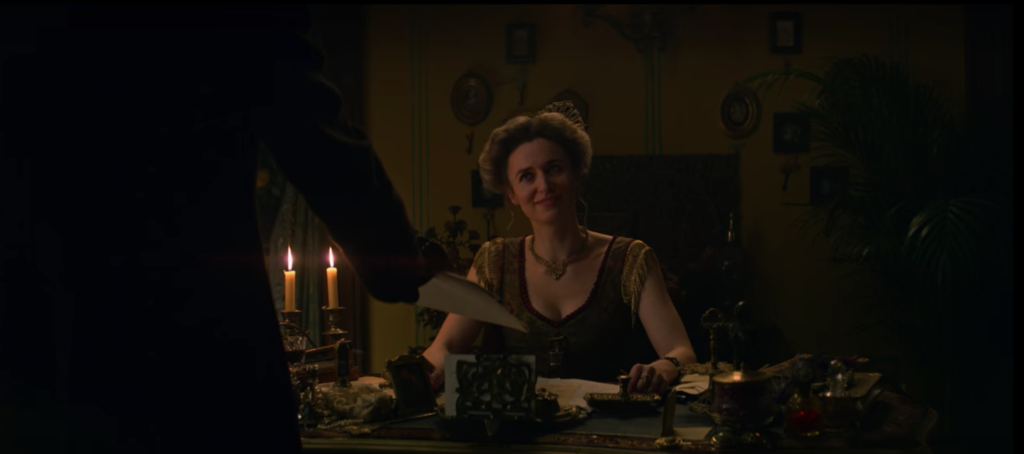 As the episode ends Kaz and Inej are risking it all for the chance of a million kruge and the freedom that comes with it while Alina feels very much alone in the Little Palace and questions if her Sun Summoner powers are really more of a curse.
Check out Episode 3 here!